Home
Authors
Posts by Casey Hoffman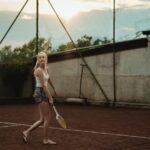 Daniil Sergeyevich Medvedev is a professional tennis player born on 11th February 1996 in Moscow. He made a name for himself using an unorthodox forehand with a little spin which became one of the go-to moves over the course of his career. His game consists of powerful baseline play...
Stefanos Tsitsipas was born on August 12th, 1998, in Athens. His parents, Julia and Apostolos, were also experienced tennis players with professional careers. Julia was a top-ranked junior in her youth and represented the Soviet Union as a professional player. His father, Apostolos, was also pro and same as Julia,...
Aryna Siarhiejeŭna Sabalenka is a Belarus professional tennis player born on 5th May 1998, in Mins, Belarus, from parents Sergy and Yulia. She was introduced to tennis by her father, and she eventually ended pursuing a professional career. Her career-high rankings were number 2 in singles and number 1...