Tennis Tips was created by Tennis enthusiasts who were frustrated by the quality of the information found online. Meet our team!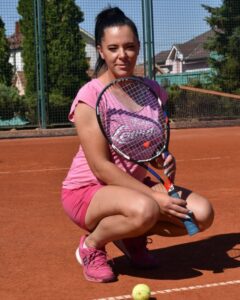 Hey there! My name's Darinka and I've been playing Tennis for around 15 years. Having also previously watched my dad play while I was young, it's fair to say that I know my way around the court!
After recently searching for a new racquet online, I found there to be a real lack of useful information from a buyers perspective.
It's with my passion for Tennis and my willingness to help others enjoy the sport that I decided to start documenting my experience of testing a wide range of products as well as tips I've learned along the way.
I don't consider myself to be a professional Tennis player by any means. But I am a seasoned online publisher who has plenty of experience in gathering together editorial teams that are qualified to teach you the best techniques.
For this project, I've tried to put together content I couldn't find online when I was attempting to learn more and improve my game.
I hope to succeed in this mission and provide you with the best information as I know you're just as passionate about your game as I am mine.
Darinka Aleksic
Founder of Tennis Tips
Keep in Touch