Selecting the right tennis racquet is crucial for players of all levels. This guide will simplify the process based on your skill level. Whether you're a beginner looking for comfort and control or an advanced player seeking a competitive edge, we'll cover the essential factors to help you choose the ideal racket.
By the end, you'll know to pick a racket that elevates your game, no matter where you stand in your tennis journey. Let's dive in!
Understanding the Basics
Before we get into details, let's talk about two crucial things for choosing a tennis racquet: the head size and racket weight. These aspects affect how the racquet works and who is best for it.
Racket Head Size
OVERSIZE: 105" or larger
MID PLUS: 98" to 104"
MIDSIZE: 85" to 97"
Racket Weight
LIGHTWEIGHT FRAME: 9 – 9.7oz / 255 – 275g
MEDIUM FRAME: 9.8 – 11oz / 275 – 310g
HEAVYWEIGHT FRAME: 11oz / 310g or heavier
Your Tennis Skill Level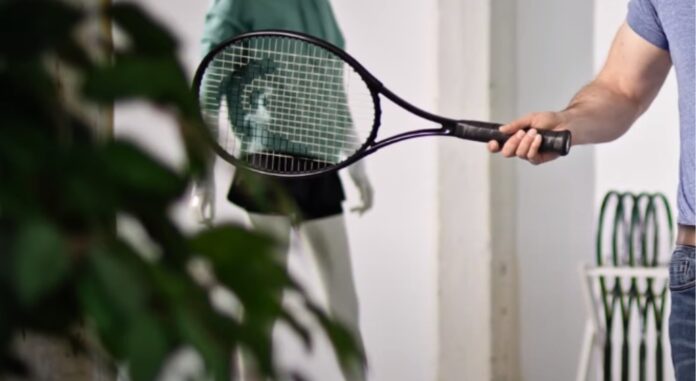 In the USTA NTRP rating system, tennis players are categorized on a scale from 1.5 to 7.0. Typically, these ratings are grouped into three skill levels: beginners (1.5 to 2.5), intermediates (3.0 to 4.5), and advanced players (5.0 & above).
When selecting the ideal tennis racquet to match your skill level, comprehending the intricacies of tennis string design and its significance can make a substantial difference in enhancing your performance, as elaborated in the corresponding article.
Beginner Level
NTRP 1.5: This player has had limited experience with stroke development and is still working primarily on getting the ball into play.
NTRP 2.0: This player needs on-court experience, with an emphasis on play. This player struggles to find an appropriate contact point, needs stroke development/lessons, and is not yet familiar with basic positions for singles and doubles.
NTRP 2.5: This player is learning to judge where the oncoming ball is going and how much swing is needed to return it consistently. Movement to the ball and recovery are often not efficient. Can sustain a backcourt rally of slow pace with other players of similar ability and is beginning to develop strokes.
This player is becoming more familiar with the basic positions for singles and doubles and is ready to play social matches, leagues, and low-level tournaments.
Intermediate Level
NTRP 3.0: This player is fairly consistent when hitting medium-paced shots, but is not comfortable with all strokes and lacks accuracy when trying for directional control, depth, pace, or altering the distance of shots. The most common doubles formation is one up, one back.
NTRP 3.5: This player has achieved stroke dependability with directional control on moderate shots, but still lacks depth, variety, and the ability to alter the distance of shots. The effective use of lobs,
Overheads, approach shots, and volleys are limited. This player is more comfortable at the net, has improved court awareness, and is developing teamwork in doubles.
NTRP 4.0: This player has dependable strokes with directional control and the ability to alter the depth of shots on both forehand and backhand sides during moderately paced play.
This player also can use lobs, overheads, approach shots, and volleys with success. This player occasionally forces errors when serving. Points may be lost due to impatience. Teamwork in doubles is evident.
NTRP 4.5: This player can vary the use of pace and spins, has effective court coverage, can control the depth of shots, and can develop game plans according to strengths and weaknesses.
This player can hit the first serve with power and accuracy and can place the second serve. This player tends to overhit on difficult shots. Aggressive net play is common in doubles.
Advanced Level
NTRP 5.0: This player has good shot anticipation and frequently has an outstanding shot or attribute around which his or her game can be structured. This player can regularly hit winners or force errors off of short balls and put away volleys.
He or she can successfully execute lobs, drop shots, half volleys, and overheads, and has good depth and spin on most second serves.
NTRP 5.5: This player has developed pace and/or consistency as a major weapon. This player can vary strategies and styles of play in competitive situations and hit dependable shots in stressful situations.
NTRP 6.0 – 7.0: The 6.0 player typically has had intensive training for national tournaments or top-level collegiate competition, and has obtained a national ranking. The 6.5 and 7.0 are world-class players.
How to Choose Tennis Racket Based on Your Skill Level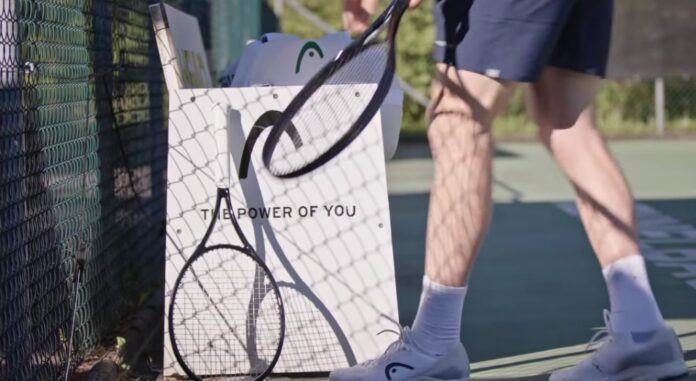 Beginner Level (NTRP 1.5~2.5)
If you're new to tennis and still figuring out how to swing correctly, use your body's power, and control the ball, you should pick a racket that's not too heavy and has a bigger head size.
We suggest looking for a racket with a head size of 98-100 square inches or even larger. When it comes to weight, aim for something between 10 to 11 ounces.
Avoid rackets that are super heavy (over 11 ounces) or very light (under 10 ounces) when you're just starting. You can find some good racket options for beginners by checking out the tennis rackets for beginners in All Points Tennis.
Intermediate Level (NTRP 3.0~4.5)
Once you've moved beyond the beginner stage and are looking to improve your control and depth in your game, it's time to consider upgrading your racket. Opt for a racket with a head size between 97 to 100 square inches and a weight ranging from 9.8 to 11.65 ounces.
Your Grip Size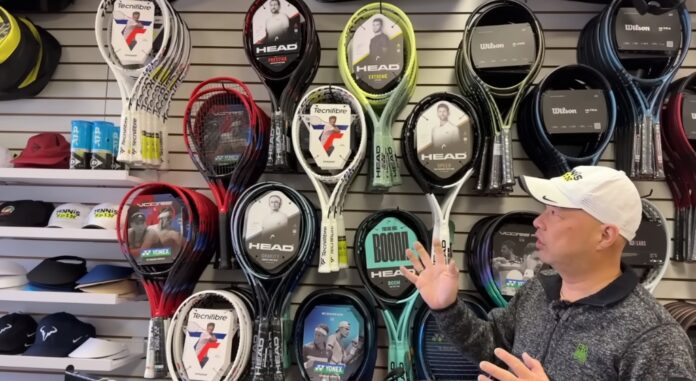 Racket grip size is the thickness of a tennis racket's handle. It's crucial because it affects a player's comfort and control. Grip sizes are typically labeled with numbers, indicating their size, with smaller numbers indicating smaller grips.
Choosing the right grip size is essential to prevent discomfort and ensure proper control. Players can measure their hands to determine the correct size or seek guidance from a professional.
When it comes to selecting the best tennis racquet for your skill level, understanding the pros and cons of heavier and lighter rackets is essential, as elaborated in the corresponding article.
Final Thoughts
This comprehensive guide simplifies the process by considering your skill level, ensuring that you can make an informed choice. Whether you're a beginner seeking comfort and control, an intermediate player striving for precision, or an advanced competitor aiming for an edge, this guide covers the essential factors to help you choose the perfect racquet.