Tennis is a uniquely fascinating and engaging sport. The drama is high: two lone players occupying a court, battle lines drawn by the net, staring each other down. When you play tennis, the end result is entirely up to you, your stamina, and your endurance. Not to mention — your gear!
While you don't need a lot of equipment to play tennis, choosing the right racket will make a huge difference as you learn to play the game.
Your racket should be a natural extension of your arm that enables you to maximize your swing's force and direct the ball's trajectory with intention and precision.
Selecting a racket is perhaps one of the first steps to getting serious about the sport. Although it's an exciting step, it can also be daunting since there are so many facets to consider: the racket's head size, frame weight, and stringbed. Each of these details will impact your power, control, precision, and endurance ability.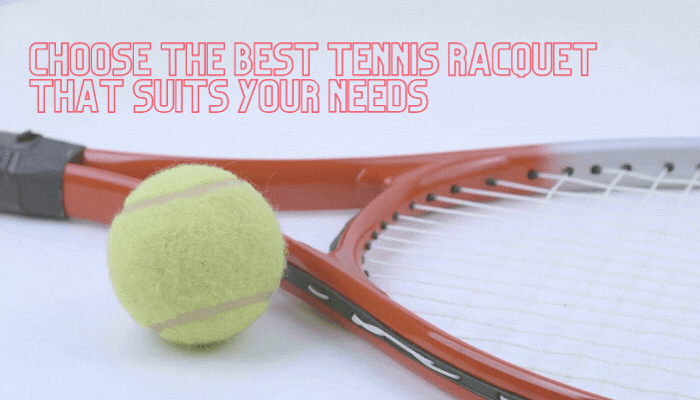 In this article, we'll simplify and demystify the process for you by breaking down a large selection of good beginner tennis rackets, and supplying you with important specs and all the pros and cons to keep in mind when considering each.
Just in case you don't have time to peruse the whole list and take in all the details, here's a list of the beginner rackets that we'll be covering in our review today:
Top Best Tennis Racquet for Beginners
The racquet should be of proper size relative to the height of the player. It helps the children in playing their shots with easy weight transfer. 
If the racquet is too small or too big, then it makes the game difficult to play.  To get the most appropriate tennis racquet for your kids, study the list given below, which includes a few best tennis racquets for beginners available in the market. 
1. HEAD Speed Kids Tennis Racquet – Editor's Pick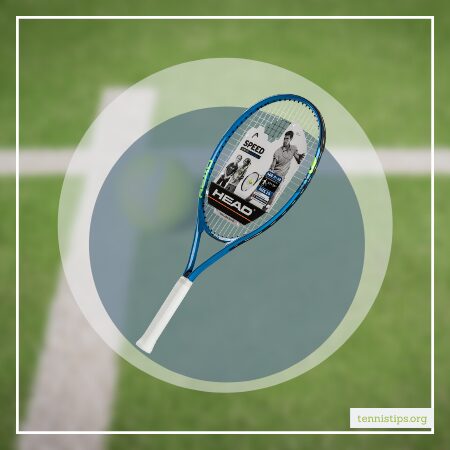 HEAD speed tennis racquets are one of the most advanced and constantly improving tennis racquets that are designed according to the basic and advanced level techniques. There are different sets of racquets available for the various age groups. 
The racquets are designed between the sizes 19 to 25 inches for children between the ages of 2 years to 8 years. 
The racquets for beginners are specially designed to have a lightweight head, which is easy to balance while playing the shots. It keeps the vibration under control, and that increases the stability of the racquet.
The kids can easily hit the ball without much pressure. The racquets are made of aluminum and can be durable for long.
Are you ready to teach your child the first lesson of tennis or want to practice with him or her? Get the best available racquet today, before it's too late.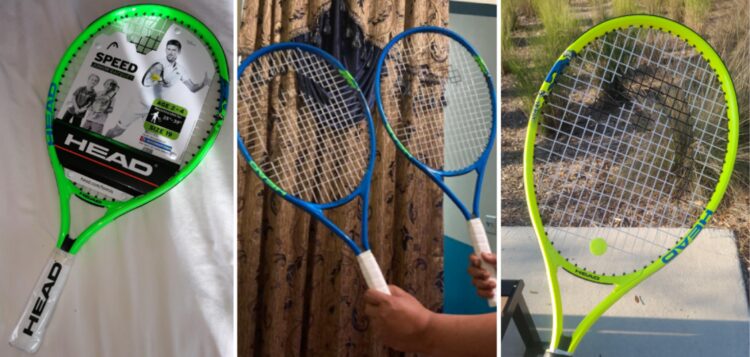 2. Gamma Sports Junior Tennis Racquet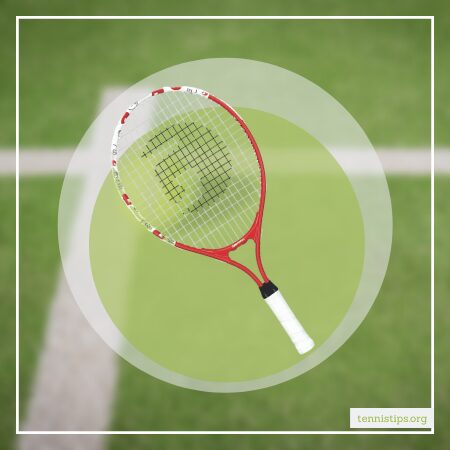 Gamma sports junior tennis racquet is one of the ideal tennis racquets that suits well to junior tennis players. The racquet is perfectly designed to suit young children below the age group 10.
It helps in learning the skills and getting the required experience for the kids. There are various types of racquets available for young kids, and most of the racquets depend on the height of a child.
The racquets with wrapped handles remain sturdy while absorbing every impact of the hits and are made to serve longer under various conditions during the practice. The orange-colored racquets look smart in the hands of young boys and girls. 
The handy, lightweight racquets do not stress the children while playing the shots and enjoying the game.
The company offers a year warranty against the manufacturing defects only, and it does not cover any normal damages due to abuse or ignorance.
3. Oppum Carbon Fiber Tennis racquet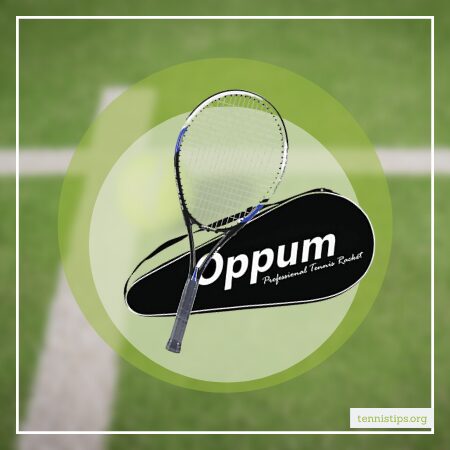 One of the superior quality racquets available in the shops is Oppum tennis racquet for beginners. The high-class technique used while designing the elegant look of the racquet with a triangular-shaped frame. 
The wooden handles are long, easy to hold and added with shock-absorbing hand glue. The handle offers a comfortable grip that allows you to switch the angles while holding the racquet freely.
The superior quality tennis racquet is well suited for beginners. The young kids enjoy the feel of the racquet which develops a level of confidence.
The racquet definitely improves the performance of kids with wonderful racquets on the court, and the parents feel proud of it. The design of the racquet is based on double-hole threading technology. 
Each of the threading holes is positioned on the rubber gap with a nicely designed cord. It looks stylish and remains durable even after long usage.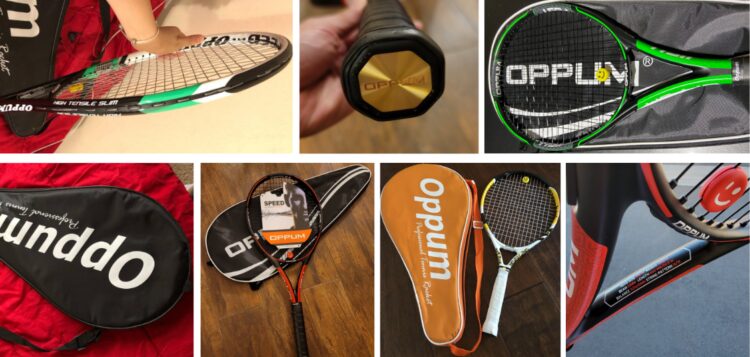 4. Senston Kids Junior Tennis Racquet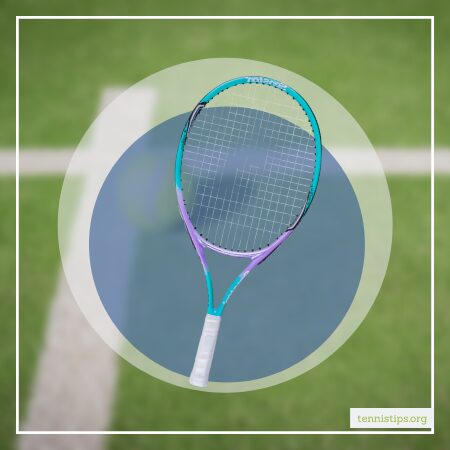 Senston kid's junior tennis racquet with a racquet cover is a thoroughly designed racquet for children between 2 to 5 years.
The racquet is practically suitable for the kids and is available in a package that includes 1 nicely built racquet, 1 colorful racquet cover, 1 overgrip, and 1 vibration dampener in prominent colours.
The weightless racquet is easy for the kids to carry and swing while playing the game of tennis.   The racquet is based on one-piece molded technology using aluminum which makes the racquet effective and long-lasting. 
It allows the children to hit accelerated shots, but it also helps in controlling the strokes. It ensures the children have better techniques while playing on the court.
The parents will love the sight of young kids walking over the ground with Senston tennis racquet attached in the shoulder strap.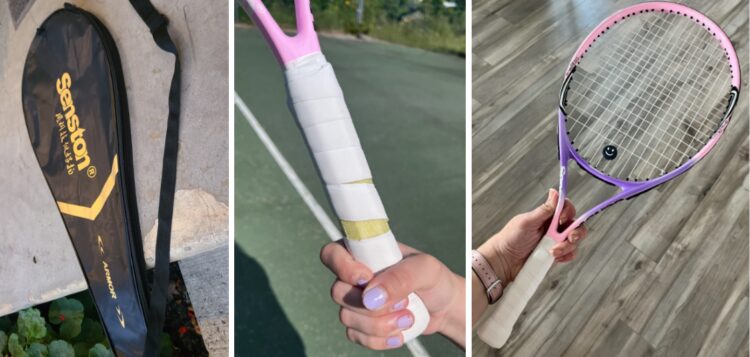 5. Wilson Slam Junior Tennis racquet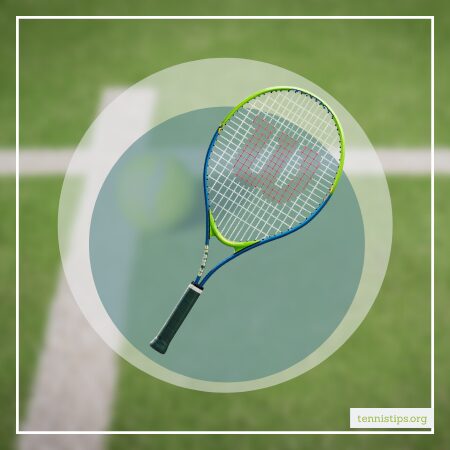 Wilson slam junior tennis racquet allows young boys and girls to enjoy the game of tennis. With the stylish racquet in hand, the kids start imitating the famous tennis players whom they watch on TV.
Wilson is a worldwide brand, committed to serving young and old sportsmen and especially tennis players. The innovative tennis equipment encourages the players, irrespective of their age, to play and enjoy the tennis match. 
The racquet is lightweight and specially made for beginners. The six-sided handle has a base of plastic and it is surrounded by rubber wrapped cushion. 
The entire frame of the racquet is made of two separate pieces which are attached closely to form a strong supportive handle.
The build of the racquet remains firm, smooth, and light, which makes a child hold it easily and swing it with power. The children of the age group 7 to 8 years perfectly use the racquet and enjoy the game.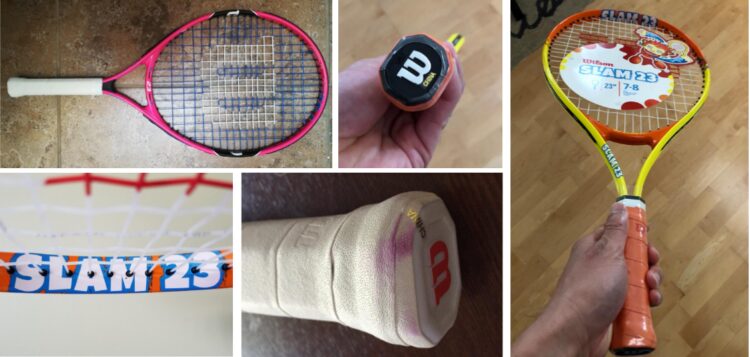 Best For Beginners by Manufacturer
Babolat Rackets
This manufacturer is one of the most popular tennis racket brands, and for a good reason. Babolat came on the sports scene way back in 1875, when the Lyon-based manufacturer started its long relationship with the racket-string material, natural gut.
This manufacturer's founder is the inventor of the popular stringing material. Even today, Babolat continues to make some of the best tennis rackets in the sport.
Numerous champions have played and won with Babolat rackets, including Rafael Nadal, who not only won championships but began his tennis career learning on Babolat strings and rackets.
1. Babolat Pure Aero Lite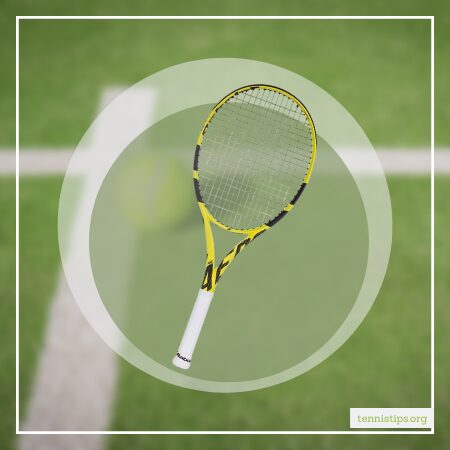 This great beginner's racket from Babolat's popular Pure Aero line is a lighter and more user-friendly version of the racket that Rafael Nadal favors.
You'll get the same sort of control and spin ability, since the technologies are similar. The Babolat Pure Aero Lite straddles the fence between the beginner and intermediate racket categories.
So, if you're looking for a racket that will support a growing skillset, then this could be an excellent fit for you. 
Its lightweight frame makes it very easy for a beginner to swing repeatedly without tiring, and it offers a larger head size than most intermediate models, 100 square inches.
While this is on the smaller side for a beginner racket, beginning players with experienced hand-eye coordination will likely find no issue connecting with volleys.
Specs
100 sq. in. head size
9.5 oz. weight, unstrung
27 in. length
16×19 string pattern
Pros and Cons
The lightweight frame of this racket gives it an effortless and comfortable swing. It will feel great in beginners' hands while still allowing them to control and spin as they improve and progress in the game.
However, the Pure Aero Lite's head size is on the small side for a beginner racket, affecting some players' ability to connect with volleys when starting.
Its spin control may be difficult for some beginners to get used to. This racket also comes unstrung and is one of the more expensive options on our list.
2. Babolat Pure Drive 107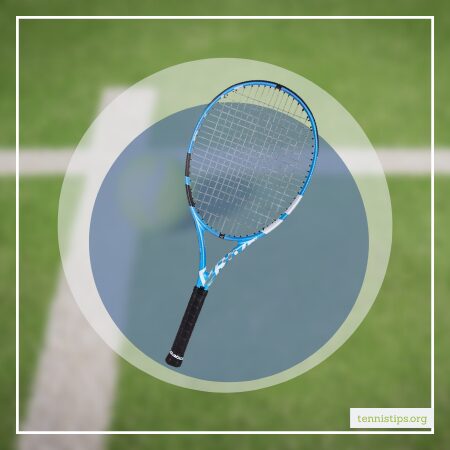 This racket is another great option from Babolat for adult beginners who want to improve their skill set and move from beginner to intermediate.
The Pure Drive 107 offers a larger head size than its sibling on this list, but still keeps a low frame size that will support powerful swings.
Babolat's FSI stringing technology helps this racket maintain the softer and more forgiving feel of a beginner racket while offering a stringbed that enables the development of spin and control skills without sacrificing a nice, wide sweet spot. 
This beginner to intermediate racket offers the best of both worlds when it comes to power, control, stability, and maneuverability.
Specs
107 sq. in. head size
10 oz. weight, unstrung
27.2 in. length 
16×19 string pattern
Pros and Cons
Like the other Babolat on this list, the Pure Drive 107 has a lightweight and easy to handle frame. Still, it offers a larger head size that can help beginners connect more easily with volleys, benefit from a wider sweet spot, and generate more power.
If you're looking solely for an easy-to-handle beginner hobbyist racket, this one may offer too many bells and whistles as well.
The stringing supports more skill growth, and some experts even report that the string quality is low and requires the purchase of new strings to really support good play.
This one is also expensive and comes unstrung, so it requires some attention before it's ready to go.
3. Babolat Boost Drive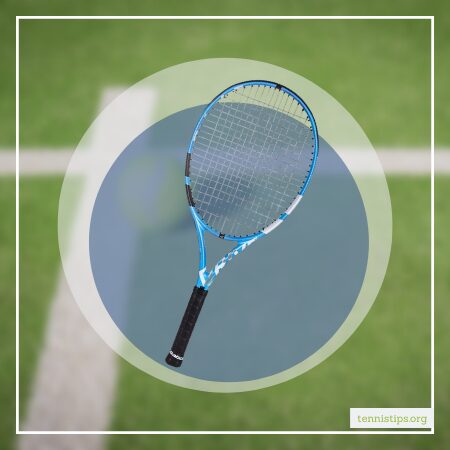 The Babolat Boost Drive series is a great introduction to tennis for many beginners. It's aimed at younger players or women who might need smaller grip sizes.
Still, you'll find this one in larger grip sizes as well to accommodate all types of beginners. The Boost Drive has a great, large head size that offers a good median between the other two Babolat options on our list.
The light construction, open string pattern, and head size make this a great racket for maximizing a beginner's power. Its easy maneuverability also helps new players start to master their strokes.
This is also one of the most affordable Babolat rackets, so if you're a fan of this brand and want to stick with what you know, then the Boost Drive will supply you with a great, forgiving feel and a true beginner's racket that won't overwhelm you.
Specs
105 sq. in. head size
27 in. length
9.2 oz weight, unstrung
16×19 string pattern
Pros and Cons
The Boost Drive offers the best of both worlds without giving beginners too much to handle.
Its simple but effective construction keeps tension on the strings and out of your arms, while its head size offers power support and even some topspin. 
Like the other Babolats, this racket comes unstrung and is still on the more expensive side of the spectrum for a beginner racket. For true beginners, other rackets on this list can offer larger head sizes at a fraction of the cost.
Head Rackets
This athletic equipment provider spans across multiple sports, but brings the same commitment and quality to each product it offers.
The manufacturer is one of the top suppliers of tennis rackets in the sport.
Many top tennis players have used Head rackets, including Novak Djokovic, who has enjoyed the longest chart-topping stay of any global professional tennis player. His top rankings have withstood for 311 weeks.
1. Head Graphene 360+ Speed S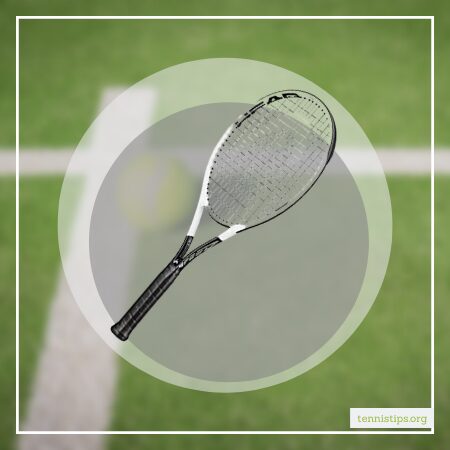 This racket's light weight paired with the good beginner head size make the Head Graphene 360+ Speed S a no-brainer.
The high quality makes it great for beginners who want to improve and move to higher skill levels without compromising its standing as a great racket to learn on. Novak Djokovic endorses the Speed series.
This racket's optimized energy transfer technology means that the easy feel you'll get when receiving volleys will make you feel nearly like a pro, too. 
This offering from Head is a quality beginner's racket that will take you up through your development as a player and still suit you comfortably at intermediate play level. The power, control, and maneuverability of this racket will support your practice and play well.
Specs 
100 sq. in. head size
10.1 o.z. weight, unstrung
27 in. length
16×19 string pattern
Pros and Cons
The Graphene 360+ Speed S offers a wide range of capabilities in a beginner's racket: speed, power, control, and good handling ability at the net.
While many beginner to intermediate rackets compromise on head size and forgiving feel, this racket will truly be a good fit at every level of play you master.
If you're looking for a hobbyist racket, this one will most likely be out of your price range, as it reflects a racket a player would continue to use for years. Its capabilities are likely to be beyond what a casual player would want to explore, and it does come unstrung.
2. Head TI S6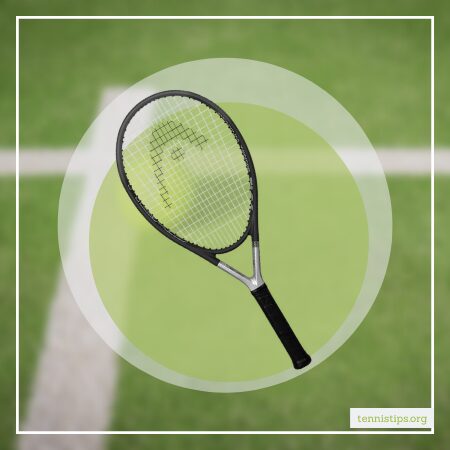 This sturdy, lightweight, crowd-pleasing racket is a best seller for so many reasons. Topping our list at the most lightweight and budget-friendly tacket, the TI S6 is the perfect racket for a player who is just starting out and still deciding if tennis is going to be a recreation or a more serious pursuit. 
With this racket, you're guaranteed to hit a larger number of great shots because of its large head that optimizes your sweet spot.
The combination of the light titanium frame and the string design of this racket, which incorporates the main strings that spread more widely toward the top half of the bed, gives it a soft touch and forgiving feel without sacrificing power.
Plus, this racket is probably the most error-friendly one on our list. The huge sweet spot means that even if you don't hit the ball just right, you'll still get great performance, extending your practice time and helping you develop your skills more quickly.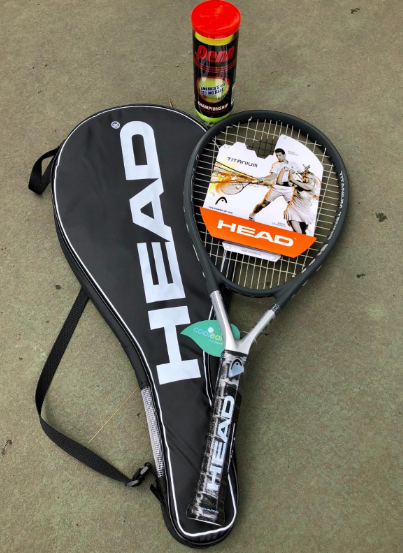 Specs
115 sq. in. head size
8.9 oz. weight, strung 
27 ¾ in. length
16×19 string pattern
Pros and Cons
The TI S6 will support optimal play for beginners of all ages. It comes in at a budget-friendly price and will arrive pre-strung to save time and money.
The head size on this racket is one of the largest you'll find, but the racket is still incredibly light thanks to its unique frame that makes it forgiving, powerful, and great for sweet-spot optimization.
While this is a great beginner's racket, players who want to move into the intermediate territory are likely to outgrow it. Its head size can prove bulky for those who want to learn more precision and maneuverability. 
Wilson Rackets
This manufacturer is one of the top names in athletic equipment. Even non-athletes will likely recognize this name from the movie Cast Away.
Many athletes find a similar love for their Wilson products, and tennis rackets from this brand are extremely popular.
World-famous tennis greats such as Roger Federer and Serena Williams are partial to the brand. Both athletes serve on Wilson's Tennis Advisory Staff to ensure Wilson rackets' quality and effectiveness.
1. Wilson Burn 100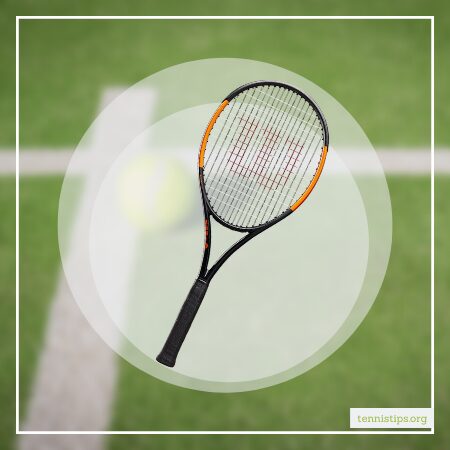 This expert-favorite beginner racket is built for playing comfort and arm stability. The frame is well-balanced and offers light construction throughout, ensuring power support.
One selling point of this racket is its aggressive nature, with a high swing weight and stiffness to pack more punch with your hits. The large head and open string bed are great for absorbing hits and maximizing your spin while ensuring comfort and proper tension distribution.
The stringbed is very durable, and as the racket comes pre-strung, you won't have to worry about re-stringing for a while.
Players who choose this racket will find that it's a great beginner to learn on and also grow with, as it's built to last and won't weigh them down once they've moved beyond the initial basic skill level.
Specs
100 sq. in. head size
11.2 oz. weight, strung
27 in. length
16×19 string pattern
Pros and Cons 
Reviewers of this racket love the rounded, stable grip and the comfort and dependability that this racket provides. The head and stringbed support power and tension control, making this a great racket to practice on to build up endurance.
Because it will last, this racket comes in at a good price point compared to competitors and comes pre-strung.
Since this is a beginner-to-intermediate racket, it's on the heavier end of the scale and just barely makes it into the lightweight category.
While that's good for swing power, it can feel heavy or clunky to beginners. The frame can also be a bit noisy. 
2. Wilson Clash 108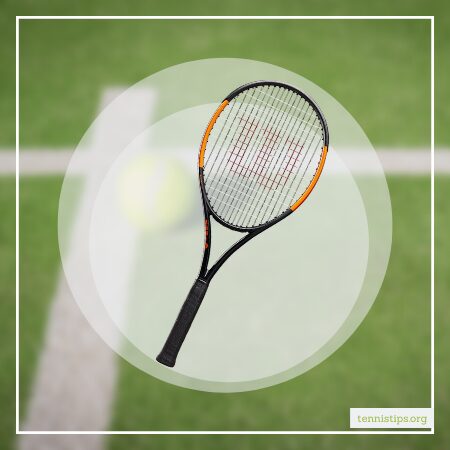 This beginner's racket is the cream of the crop in terms of comfort. While most rackets are aimed at either power or control, this one is built to give a uniquely specialized ball response while keeping tension to a minimum, protecting you from injury. 
You won't feel any of those common shock waves traveling up your arm with the Clash 108.
Many experts describe it as a soft racket that utilizes large head size and lightweight frame to enable a beginner's basic development when learning the sport. 
This racket truly performs without sacrificing comfort, and is perhaps the most arm-friendly option on our list. For those with joint concerns or stiff muscles, the Clash 108 is a wonderful choice. 
Specs
100 sq. in. head size
10.4 oz. weight, strung
27 in. length
16×19 string pattern
Pros and Cons
This racket from Wilson gives a comfort experience like no other, keeping the tension off your joints while focusing on providing you with exceptional response.
Shock waves are a thing of the past, and you'll be able to extend your practice time and skill levels from the comfort this racket offers.
While this is a great racket to start out on, its lightweight size doesn't provide much power, which could be frustrating for new players.
It also does not come pre-strung and is at a higher price point than a new player might be looking for.
3. Wilson Tour Slam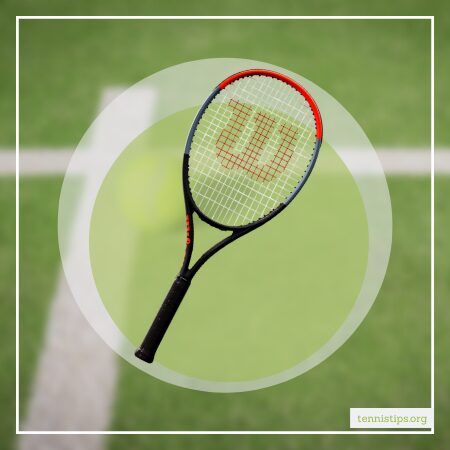 Wilson's basic beginner racket is a simple, no-frills and no-fuss racket that will help you learn your foundational skills in no time. It will feel like a natural fit in your hands, thanks to the extra soft and accommodating grip that helps beginners harness their swing power.
The Tour Slam is marketed as an adult recreational racket, so it's aimed purely at beginners, and is offered in a variety of grip sizes to accommodate anyone.
With the large head size, light weight, and soft grip, you'll be able to practice for hours and not worry about tiring out.
The added bonus of stop shock pads help take the pressure off your elbows and reduce racket vibration, which gives you better control of your shot trajectory.
The volcanic frame technology of this racket makes it even more stable. 
Specs
112 sq. in. head size
10.3 oz. weight, strung
27.5 in. length
16×19 string pattern
Pros and Cons
Wilson's Tour Slam would make a perfect first racket for a wide variety of beginner players. The large head size and light frame will help you preserve power while you learn basics.
The shock-absorbing technology in the frame and grip will keep your muscles from getting tired and your joints from potential injury. It's super affordable, comfortable, and comes pre-strung.
While this racket provides all the foundational basics, it won't do much more than that. Any player who wants to move beyond occasional recreation will outgrow this racket quickly.
Even beginners might find that it overshadows many technical skill-implementation attempts with sheer power, making it hard to develop as a player with this racket.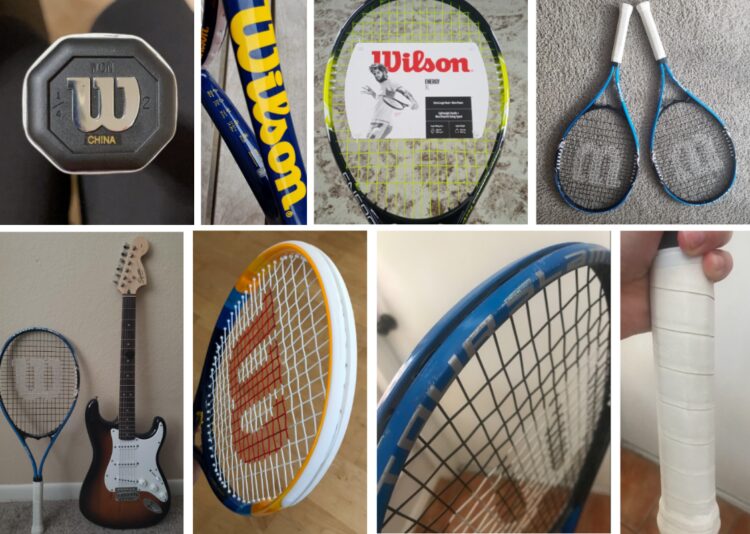 Yonex
While it's one of the lesser-known manufacturers on our list, Yonex is committed to high-quality and innovative products that enrich the world of sports.
Founded in 1946, when it originally manufactured wooden products, the company grew into the world of badminton rackets and more. Many young, rising tennis stars are turning to Yonex to supply their rackets.
Players such as Francis Tiafoe and Naomi Osaka use rackets from this manufacturer for their great control ability.
1. Yonex Ezone 100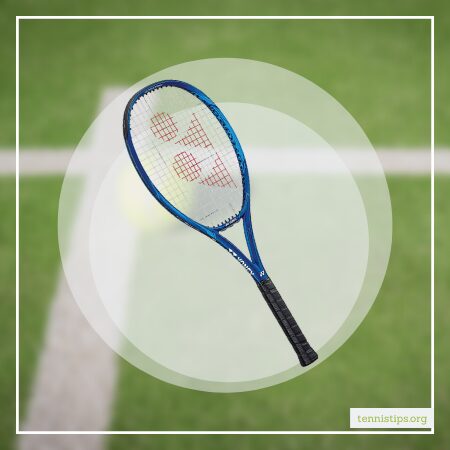 This powerhouse line from Yonex is favored by pro players and is continually improved and redeveloped. This most current offering, the Ezone 100, offers a great blend of power and control, making it easy for players to develop and utilize topspin.
The Ezone 100 is also a great option for comfort, with vibration-dampening mesh that will keep the tension of your hits from causing joint pain.
The string spacing, which is denser to the middle and looser to the bed's outsides, makes the racket very forgiving for beginners, even if you don't hit the sweet spot every time.
Specs
100 sq. in. head size
11.2 oz. weight, strung
27 in. length
16×19 string pattern
Pros and Cons
The Yonex Ezone line is growing in popularity fast because it offers a great, sustainable blend of power and control.
The construction of the frame and stringbed help absorb tension and help you keep landing good shots even if you don't make every receive perfectly. This racket also comes strung.
Despite all the benefits it offers, it's still well outside of the price point of many beginners who may find that they want a racket that focuses on power and leaves control to more intermediate-suited rackets. It's also weighted for more intermediate players.
2. Yonex Ezone Ace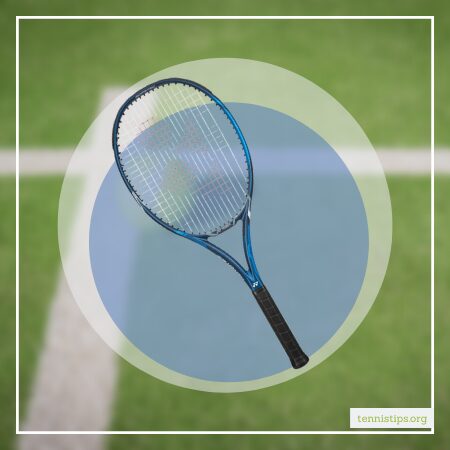 Another great option from Yonex's Ezone line is the Ace, which has an isometric design that optimizes your sweet spot and swing power. Although Yonex's frames tend to be suited for players of more intermediate skill level, the Ace is a true beginner's racket that will support good player development.
The large head size and light frame, combined with less-stiff frame construction, help players achieve maximized power without putting excess strain on the arm or tension on joints.
Even off-center shots land well with the construction and forgiving nature of the Ace's stringbed.
Specs
102 sq. in. head size
9.7 oz. weight, strung
27 in. length
16×18 string pattern
Pros and Cons 
The Ezone Ace is truly a great racket for a beginner player, as it offers comfort and tension control that will lengthen practice times, and has a forgiving stringbed that will keep new players from becoming frustrated as they develop their skills.
This racket also comes pre-strung with custom string colors. For the price point, the value of this racket is great.
While it's marketed to beginners, there are other rackets on this list with a larger head size that might accommodate initial learning of the sport a little better.
The racket also focuses on comfort over power, and only offers a mid-range of power support.
Buying Guide for Beginners to Find the Best Tennis Racquet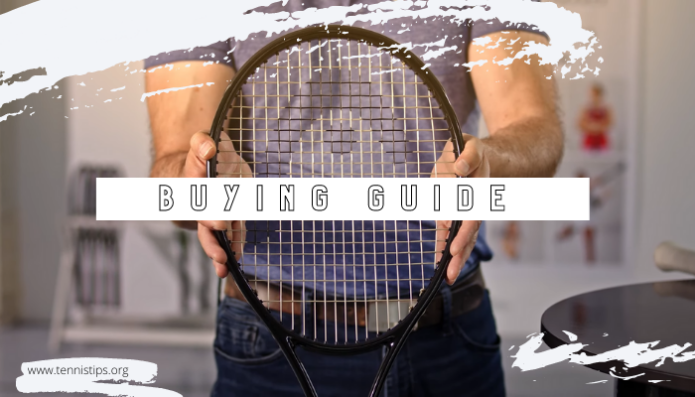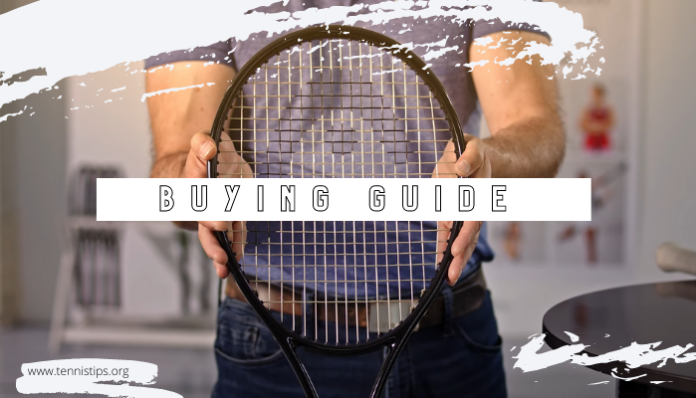 The buying guide is very essential while making your choice to select the most useful racquet for your child.
The guide will describe some of the valuable objectives that are important for you to consider before you order a junior racquet for your son or daughter.
The right size of the racquet:
You have to understand how important it is to get a racquet of appropriate size for the children before they start playing—the size of the racquet is mainly related to the height of the child.
Find the exact size of the racquet in the chart before you buy it. A bigger or smaller-sized racquet makes it difficult to play for a child, and he or she may lose interest in the sports.
Suitably weighted racquet:
The child shouldn't feel the tennis racquet either heavier or lighter while playing the game. It will influence the action and the movement of the child.
It could end with an injury or pain if the weight of the racquet couldn't be adjusted well by the children.  Get a racquet with a suitable weight, which makes the actions easier and more flexible.
Type of racquet:
The tennis racquets for children should be lightweight, smooth, and easy to handle. The racquet should be made of aluminum cover added with plastic and rubber.
Children like the racquets, which are flat and shiny with a larger head area. Children will love to carry the racquet in the shoulder straps after the game.
Other requirements:
The grip size should be smaller and easy to hold the racquet. The warranty is also essential against any manufacturing error.  Also, the price of the racquet should be reasonable. 
How to Choose a Tennis Racket for Beginners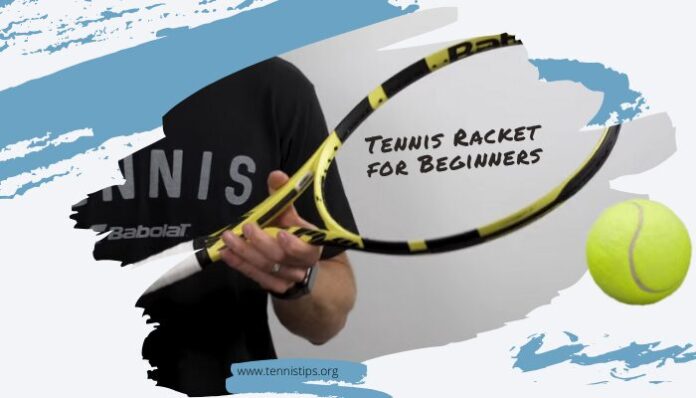 As you've seen in all of our picks for good beginner rackets, there are several key attributes that deserve attention.
When you're just starting out, you need a racket that will give you precision and control, while still allowing your arm muscles to adjust to the tension and force.
Here are some tips and things to consider that will help you sort through the options and find the beginner racket that best fits your unique needs and goals.
| | | | |
| --- | --- | --- | --- |
|   | Beginners Only | Beginner to Intermediate | Intermediate to Advanced |
| Racket Head Size | 107-115 sq in | 100-110 sq in | 95-100 sq in |
| Racket Frame Weight (strung) | 11 oz or less | 10.1-11.5 oz | 11 oz and over |
| Racket Length | Up to 27.5 in | 27-28 in | 27-27.5 in |
| Racket Objective | Swing power | Power and Control balance | Control |
| Potential Price Points | Up to $150 | $100 and up | $150 and up |
Tennis Racket Head Size
The larger the frame size of your beginner racket, the easier it will be for your arm to adjust to receiving volleys and giving powerful swings. A large frame size also ensures that you can more consistently connect with the ball while you are learning, helping you develop endurance and precision without feeling discouraged.
It's standard for beginners to choose a racket with a frame of over 100 square inches. Because your precision isn't developed yet, you're likely to receive an incoming volley wherever you can on your stringbed.
And that's okay! A large frame will widen your sweet spot and help you produce powerful shots while still working on your precision.
Tennis Racket Frame Weight
While large frames are good for beginners, heavy frames are not. You want to make sure your racket has a light frame, or else your arm will get tired very soon into your practice.
Light frames give you extended mobility and help build your arm strength at a gentle but practical rate.
A good beginner racket will come in at under 11 ounces. Some of the rackets that fit into the beginner weight category will overlap with the intermediate category, which is totally fine.
When deliberating amongst these rackets for purchase, consider whether you plan to play recreationally or more intentionally.
If you can see yourself moving into an intermediate level at some point, one of these overlapping-category rackets will be a good choice for you.
Tennis Racket Grip Size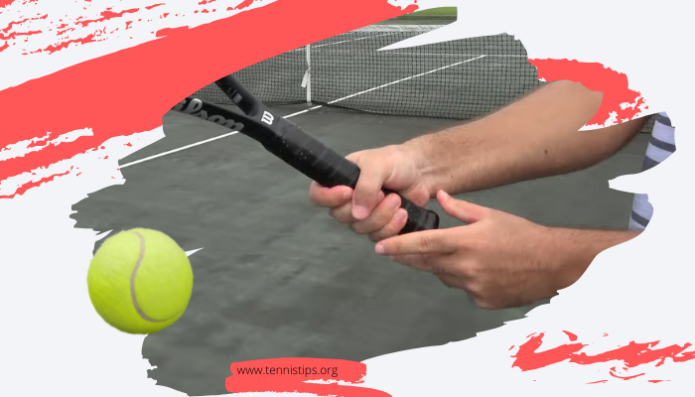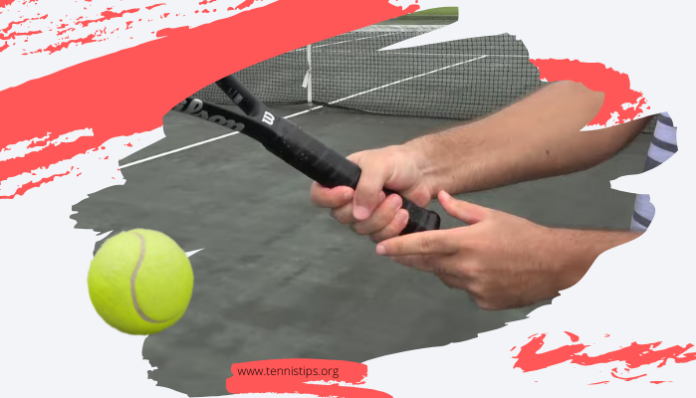 Another key specification that will impact your play is grip size. You can find the grip size of a racket on the underside of the handle. Grip sizes can range from1 to 5, with many options in between.
Most players will feel comfortable with a 4 ⅜ grip size, represented on the bottom of the grip with a number 3.
Players with smaller hands, perhaps women or children, might want to go with a 2 grip. Those with larger hands would probably do better with a 4 grip.
If you're ordering solely online without the benefit of handling the racket yourself, order on the small side if you're unsure of your optimal grip size.
If indeed the racket arrives and the grip is too small for you, many retailers sell tennis overgrips that can compensate to help increase too-small grip size.
Tennis Racket String and Tension
Thankfully, as a beginner you don't have to worry as much about string and tension. A number of beginner rackets will come pre-strung to the correct specifications on your chosen racket.
However, if you should choose a racket that isn't pre-strung, the process is simple. Many retail locations will string your racket for you if you bring in the materials.
The manufacturer's string and tension specifications will be noted on the frame of your racket, and all you have to do is tell an associate that you'd like your racket strung to manufacturer recommendations.
If given a weight range on the frame as the recommendation, it's always best to choose the middle value.
Looser strings are perfect for beginners, as they accommodate force and tension much better to not only prevent injury but widen your sweet spot.
Tighter strings will provide intermediate players with better control practice but will increase the tension on their elbows.
String pattern is often a specification that you'll find when researching tennis rackets. The string pattern of a racket is denoted by the number of main strings versus cross strings on the racket.
Some common patterns include 16×18 which is an open string pattern and 18×20 which is a dense string pattern.
An open string pattern is better for beginners because it offers a forgiving measure of shock absorption, supports more powerful shots, and supports higher-trajectory shots.
You'll be able to tell an open string pattern from the wider squares it creates on the racket's stringbed.
Dense string patterns are better for intermediate and advanced players who have mastered foundational skills. This type of pattern creates tighter string spacing and makes smaller squares on the stringbed.
The Increased control, precision, and tighter and more jarring feel that dense spring patterns provide lend them to more experienced players.
FAQ
Still got questions? We answer some of the most common questions we hear, below.
How Much Should a Good Beginner's Racket Cost?
Since you're presumably just starting out with the sport, it's understandable to want to get the best value on a beginner's racket. The good news is that you should  be able to find a beginner's racket to fit just about any budget.
We've included in our list of recommendations a few great budget buys, and some rackets on the more expensive end of the spectrum. For hobby usage, a less expensive racket will serve you well.
If, as we've mentioned before, you might be considering sticking with tennis more seriously for the long-term, you might want to consider investing in a racket that will grow with your skill level and last for a while.
What Are the Main Things to Look for in a Beginner's Racket?
As a summary, remember these key contributors to a good, well-made beginners racket that will enable you to build endurance and precision while moderating soreness and fatigue.
Firstly, you want a large racket head size to increase your chances of consistently receiving the ball. Although a larger frame won't necessarily increase your accuracy and precision, adjusting to hitting the ball and receiving well is the foundational first skillset you should develop as a new player.
Next, a racket with a light frame will keep you from feeling weighed down and will support extended power for your swings to keep you practicing longer.
Even though light frames don't give as much control over your swing, that's something you will work on after you've mastered the basics and taken advantage of the light feel of a less-heavy racket frame.
The last major consideration for developing your power, which is the main skill a beginner must master, is the tension of the stringbed. Looser strings will take some of the stress off your arm joints when receiving the ball and amplify your strength for returning it.
You won't have to swing as hard, and you'll get good performance regardless of where the volley hits.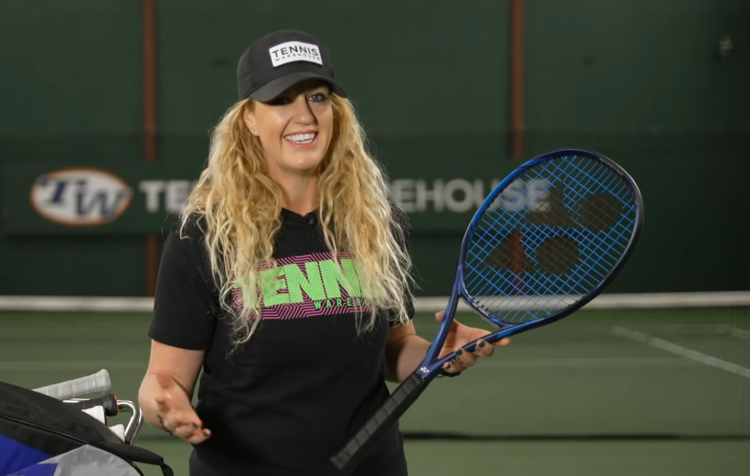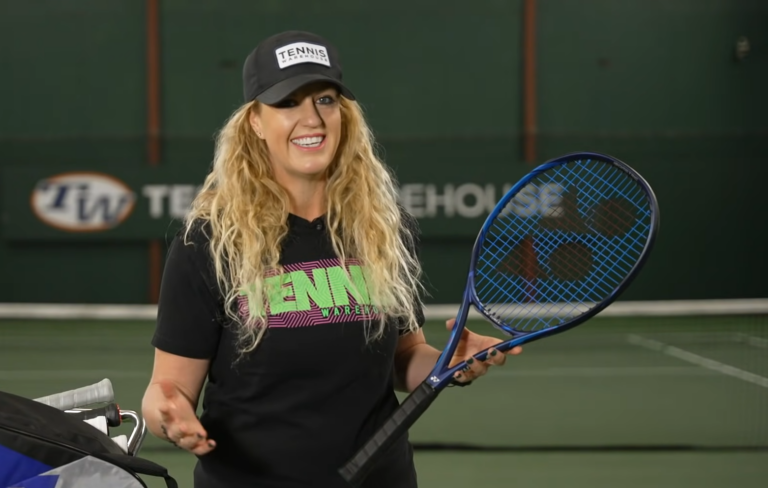 What is the Best Size Tennis Racket for Beginners?
Overall, the best middle-ground for beginner tennis racket specs falls from 107-115 square inches for racket size, at least 27.5 inches for racket length, and 11 ounces at most for strung racket weight.
These specifications ensure that as a beginner, you are able to focus on building your power and endurance before moving onto more intermediate skills like control and precision.
Some rackets on the higher end of the specifications above will offer a balanced crossover of both power and control, for those who want a racket that will match their skills as they grow in the game.
Final Verdict
All in all, each of the rackets we've discussed in our review will be a great choice, depending on your unique needs and aspirations for your personal game. However, we can make some recommendations that will help narrow your search even further.
For women, the Babolat Pure Drive 107, Babolat Boost Drive, and the Head TI 26 are both great starter rackets because of their light frames, manageable grip sizes, and added power support.
If you're a beginner who is looking to stick with the game for a while, then both the Wilson Clash 108 and the Head TI S6 are great beginner to intermediate rackets with balanced power and control that will support you through your growth in the game, at both ends of the budget range.
For those who are looking for a very budget-accommodating racket that will support hobby-level playing, the Head TI S6 and the Wilson Tour Slam are great beginner rackets that will give you first-class performance at a fraction of the cost of other beginner rackets.
Do you notice the pattern? Although all of these rackets are great bets, the one that keeps showing up to dominate all the categories is the Head TI S6 racket.
Its huge head size and feather-light weight will ensure that you're able to practice as long as you want and will support power development for beginners.
The TI S6 is also a great budget buy, and comes pre-strung and ready to play right out of the box. It doesn't get much better than that!
Final Words
The list of the best tennis racquets for beginners is given in the list along with the main objectives referred to in the buying guide. These objectives will ensure that you will get the required information about the racquets for beginners. It will help you to make up your mind and make a quick decision.
Check out some other picks from Amazon also: