Have you ever tossed your ball, smashed it with a perfect serve, watched it fly over the net, and give a half-hearted bounce up before rolling away?
Whether you're a beginning tennis player, have been working on your game every weekend, or are a seasoned pro, you know that the type of tennis ball you use makes a difference.
Tennis balls are designed for optimal performance in the sport. They are made out of rubber, are filled with pressurized air to give them a good bounce, and are then covered in felt. But that's only half the story. What kind of felt does it use?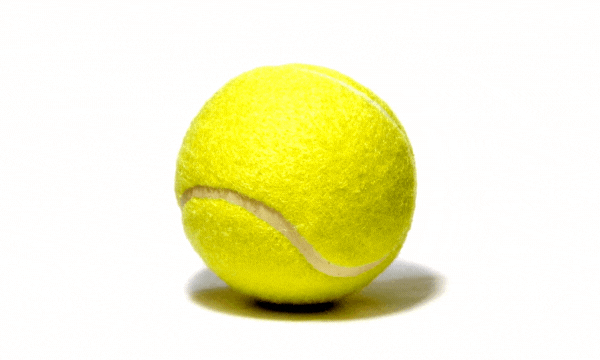 How much pressure does the ball have left? And, did you know that the surface you're playing on can make a difference?
While the International Tennis Federation determines the type of tennis balls used in regulated competitions, you can choose from a vast selection of different balls for fun, sports, and practice.
There are tennis balls geared for a range of expertise, various court surfaces, and specific uses.
The tennis balls are mostly fluorescent yellow. Nowadays, tennis balls come in a variety of colors, but fluorescent yellow is the most preferred one as it is visible, especially on television screens.
Each tennis ball has a white curvilinear oval that covers it. Tennis balls are intentionally covered in a fibrous felt, which improves the aerodynamic properties of the ball.
Tennis balls of the modern era are made to comply with the rules or standards made by the International Tennis Federation (ITF). It comes in different weights, sizes, deformation, or bounces. Some of the official parameters set up by ITF are- Diameter- 6.54cm – 6.86 cm, Mass- 56.0g- 59.4g.
The colors approved by ITF are yellow and white. Each tennis ball has a number on it; this helps in distinguishing one set of balls from the other set of balls in the same brand.
We rounded up the best tennis balls of 2023 to help you choose which one is the right fit for you. Because if you expect it to bounce, it should!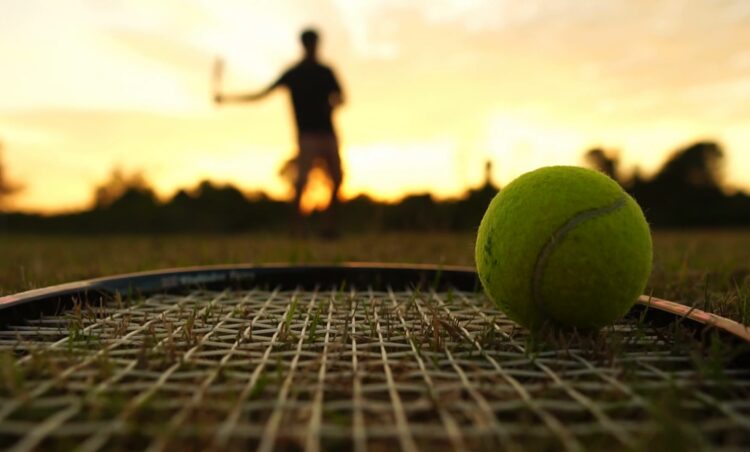 Top High-Altitude Tennis Balls
If you are looking for a good tennis ball for yourself, then you are suggested to read this article. We have prepared a list of some of the best tennis balls.
These balls are used widely across the world. Some professionals in tennis tournament also use some of these brands.
They all have unique specifications; you can choose the ball of your choice so that you can improve your performance in the tennis tournament. To buy a good ball, you should be aware of some essential factors in tennis balls.
For this reason, we have written a buying guide for you. You can go through this guide before purchasing a tennis ball.
1. Gamma Bag Tennis Balls – Editor's Pick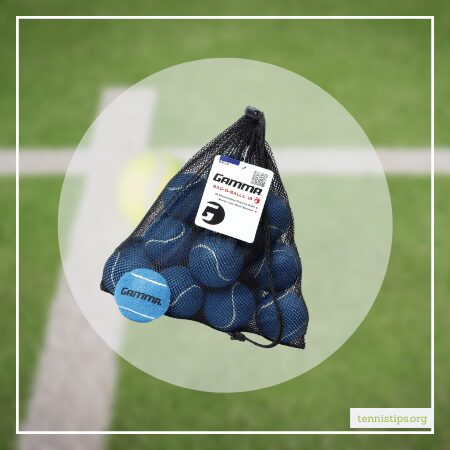 Gamma Bag pressure less tennis balls are one of those tennis balls that confers maximum performance to its users. Pressureless tennis balls are made in such a way that they do not lose pressure even after a longer period.
It provides a wide range of features to its users, such as longer durability and a higher level of performance that is not essentially provided by the standard gas-pressured tennis balls. This type of tennis ball is ideal for practicing purposes.
Tennis coaches or tutors widely use it in tennis-teaching academies.
No matter how roughly the learner deals with it, these tennis balls remain durable for a long period.
The Gamma ball is highly consistent in almost all types of courts. It is so versatile that it can be used on any court without any issue (whether the court is soft or hard). It is perfectly designed for sessions of tennis on cement or clay courts.
This tennis ball comes with a reusable bag that is very handy and travel-friendly. You can even use this ball to play with your pets especially dogs love to play with tennis balls. Since the tennis ball is durable, pets cannot tear it easily.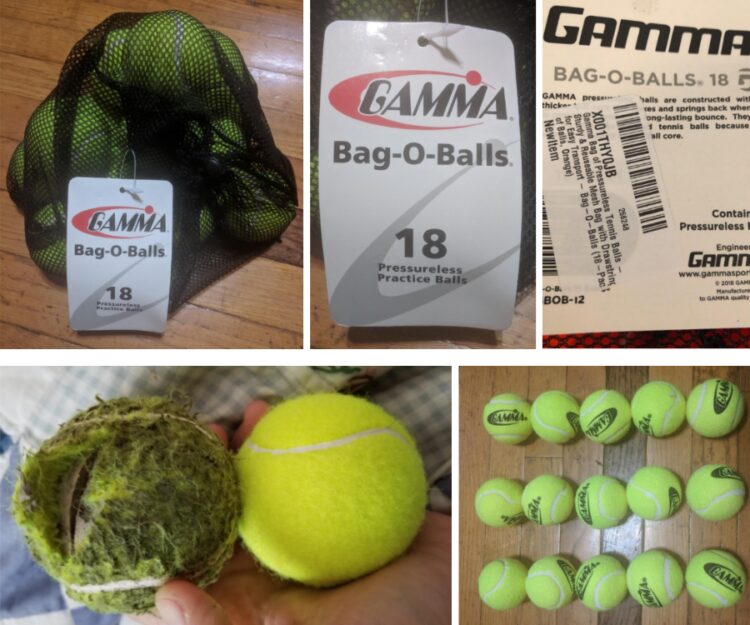 Pros
The ball lasts longer.
It can be used while playing with pets.
Cons
The quality of the ball is not as expected.
It is not much sturdy.
2. Wilson Prime Tennis Balls – Best Quality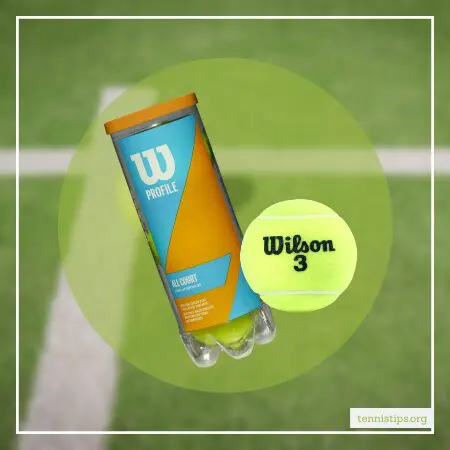 Features:
Type: soft
Felt: good
Weight: heavy
Bounce: high
Wilson tennis balls comprise of some exclusive features; it has special Duraweave felt that makes it ideal for all types of courts. Wilson tennis goodies are of top quality and are preferred over other brands.
The brand provides extended durability and play; it also improves the performances of its players. Australian Open, US Open, and NCAA tennis officially use the tennis balls made by Wilson. The balls give superb consistency and playability.
The Wilson tennis balls are approved by USTA and ITF, which makes it a reliable product. It is eligible to be used on all court surfaces without disrupting the performance of its players.
This ball is used by all types of training matches or official tournaments; it is a premium quality product.
The balls come in packs of different sizes – 72 balls (24 can case), three balls (3 can case), and 12 balls (4 can cases). You can easily choose the number of balls that are required by you.
These tennis balls, also from Wilson, are a versatile option for all court surfaces. They are durable and covered with Wilson's unique Duraweave felt. We recommend this ball for professional athletes and beginners alike.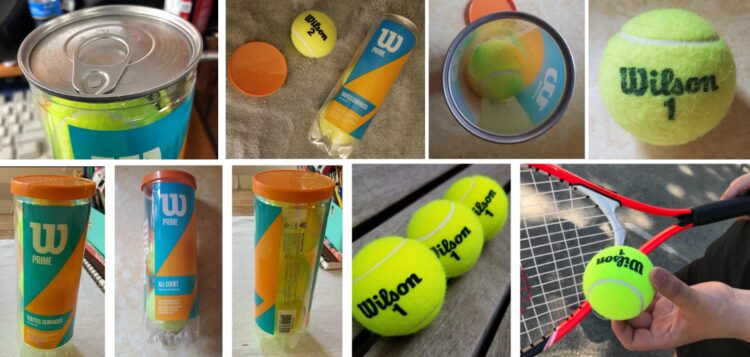 Pros
The balls are cost-effective.
The Wilson balls are very durable.
Approved by USTA and ITF.
Overall, product quality is excellent.
Excellent all-around tennis ball
Durable and long-lasting felt
Cons
Some customers received defective products.
It is reported that the balls have some sort of unpleasant odour.
Quality could be inconsistent from can to can
3. Wilson US Open Tennis Balls – Best for Tournaments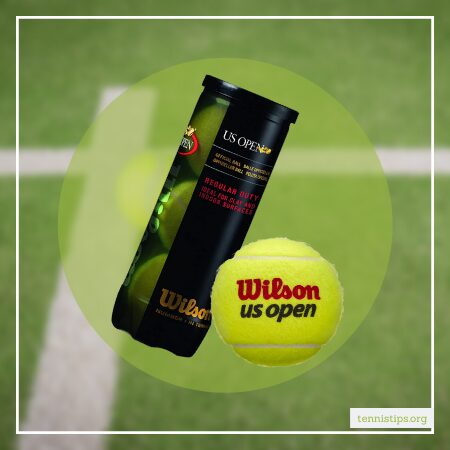 Features:
Type: soft
Felt: High-quality Tex-Tech
Weight: light
Bounce: moderate
The Wilson US open extra duty balls are official balls of the US Open and are used in almost every game of the US Open. As we all know, the US Open is one of the toughest tournaments in the world.
This tournament uses more than 65000 tennis balls, all the balls used by the US Open are essentially tough and strong. Wilson balls were made during 1979, need not mention, but this is the only brand that is used officially by the US Open. This is the reason they are named as US Open balls.
These balls are constructed using some extremely high quality of the wools, which is brilliantly woven into a thick and dense felt, and this is the main reason behind the ball's extended durability and longer life. The Wilson US Open balls offer a nice playtime to the players.
The most loved thing about this ball is the premium tech feel that it has; this gives the ball an excellent swing on the courts. The hard courts' players get benefited the most from these balls, as the balls are perfectly optimized to be played on the hard courts, but that does not mean the balls cannot be used on other courts.
Wilson is one of the most popular manufacturers of tennis balls and is the official ball for the US Open and Australian Open Grand Slam Championships. Their pressurized US Open balls come in Regular, Extra Duty, and High Altitude versions. The Extra Duty version has a thicker felt, looser weave, and higher nylon to wool ratio than the Regular Duty balls.
The Regular Duty balls are ideal for soft, clay, and indoor surfaces.
The Extra Duty balls are ideal for hard courts.
The High Altitude balls are best in areas above 3,000 feet in elevation.
These premium balls give a powerful serve when they are new. As with most pressurized balls, the bounce and spin ability slowly decline with use. They have a high-quality Tex-Tech felt covering made of woven wool which makes them very durable.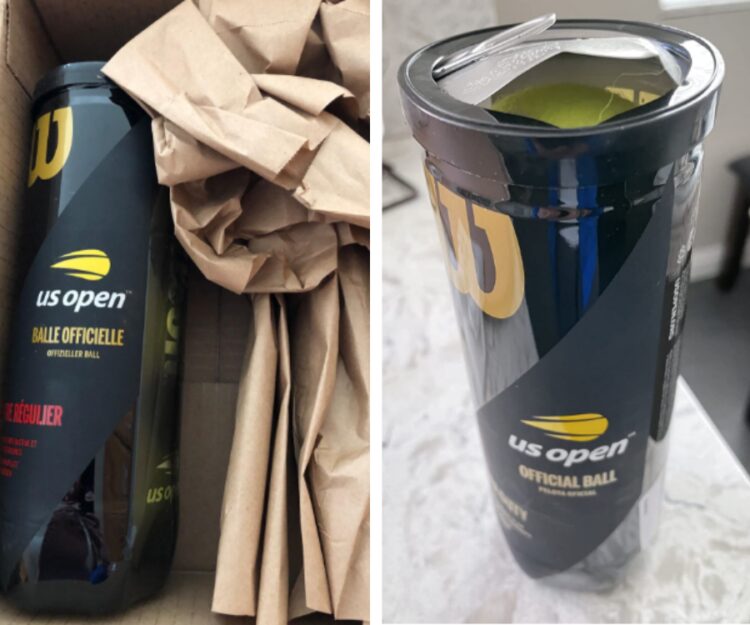 Pros
The balls are constructed using premium quality tech felt.
They are officially used in the US Open.
Best for hard courts.
Great reputation! The US Open's choice ball
It gives a consistent bounce on hard and indoor surfaces
Durable and high-quality felt
It comes in versions for all court surfaces
Cons
The bounce tends to get reduced on the soft courts.
The durability of the ball is quite doubtful.
Bounce is not optimal on soft courts
4. Penn Championship Tennis Balls – Premium Quality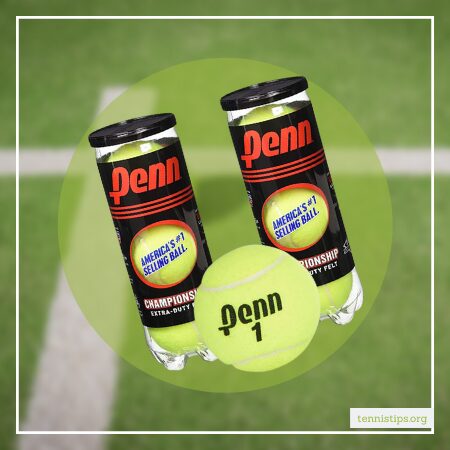 Features:
Type: soft
Felt: High-quality premium woven
Weight: light
Bounce: high
The Penn Championship heavy-duty tennis ball is an affordable ball that is made by Penn. It is one of the most selling balls in America, which could be due to the ball's consistency on the court.
These balls are America's most popular and best-selling tennis balls. The high-quality pressurized ball has a durable felt covering that will withstand hard surface court play. You can also use it on clay and gray surfaces. These balls have reliable performance, a superb reputation, and are reasonably priced.
The Penn championship regular duty tennis balls are perfect for indoor and clay courts. There is a special kind of felt used in the ball that helps to reduce the shocks while giving its players an extremely comfortable hitting experience every time the ball is hit.
This Penn tennis ball comes with an interlocked wool fibre, this prevents the ball from wear and abrasion. ITF and USTA approve these balls. The balls are available in all types of felt from regular duty felt to extra duty high altitude felt and can also use in tennis ball machine for solo playing.
The Penn tennis balls are made using natural rubber core, which gives the tennis players a good consistency in the feel, this also helps reduce the shocks during play.
This rubber core is made up of different components that improve the ball's performance.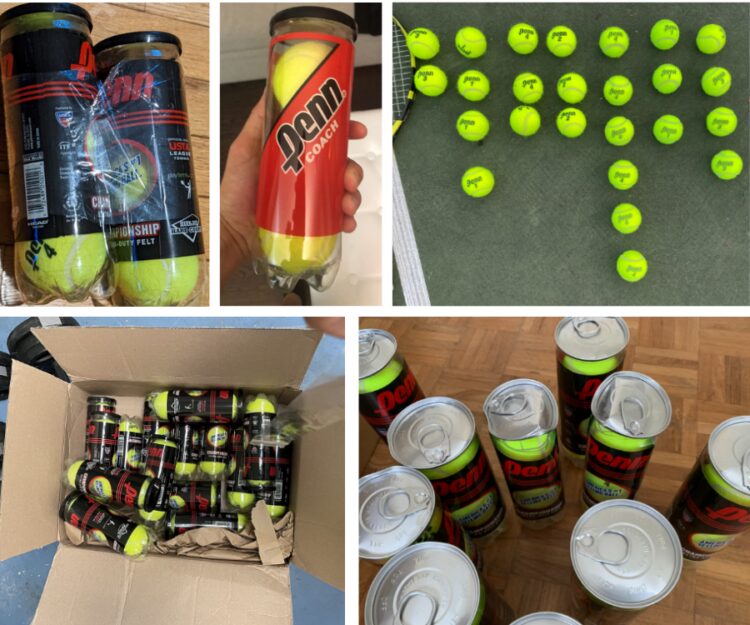 Pros
Natural rubber core is used for a consistent feel.
The Penn balls are affordable.
Natural rubber helps reduce shocks
High-quality interlocking wool fiber felt
Durable for hard surface courts
Excellent bounce
Cons
The balls tend to get flat after some time.
5. Wilson Championship Tennis Balls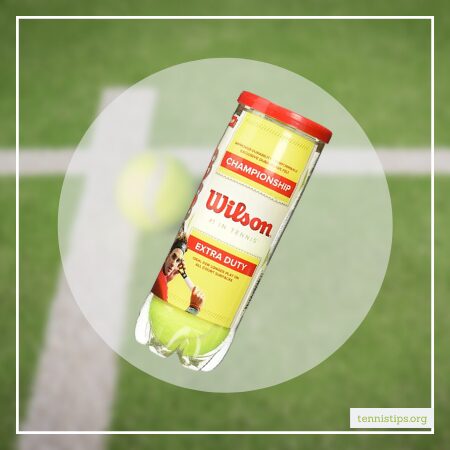 The Wilson championship regular and extra-duty tennis balls are the finest tennis ball packs available in the sports market. These balls are made in the USA and are used in the official tournaments of the Australian Open and US Open and NCAA tennis (Women and Men). The balls are extra-duty, which makes them durable for a longer time of playing; it is best suited for hard court surfaces.
The durability of these balls is extended due to the use of Dura-Weave felt. It not only increases the durability and life of these balls but also improves their performance level.
The Wilson tennis balls can be ideally used for all levels of tournament or recreational play. Many players have experienced an increase in their performances after using the tennis balls made by the Wilson brand.
Pros
USTA and ITF approve it.
Perfect for hard courts.
Cons
The product is costly.
The customer care service is not up to the mark.
6. Slazenger Wimbledon Official Tennis Balls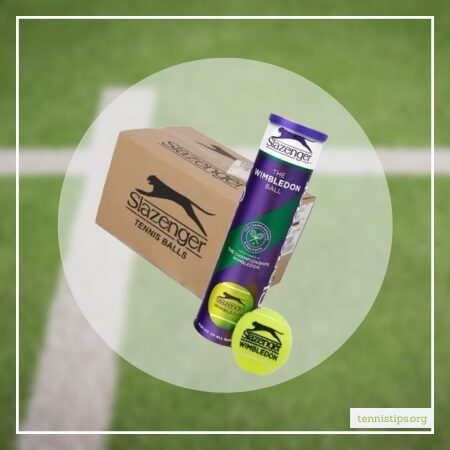 These tennis balls from Slazenger have an exceptional bounce and solid play. They are strong and are reliable, although the felt isn't as durable as the Wilson US Open or Penn Championship balls.
These balls have an exclusive Ultra Vis dye coloring that makes them more visible on the court.
Slazenger uses an exclusive technology to repel water off their tennis balls, making them an excellent choice for rainy conditions and grass surfaces.
Features:
Type: soft
Felt: good
Weight: heavy
Bounce: moderate
Pros
Official Wimbledon Ball
Good bounce
Very visible on the court
Repels water with its hydro guard technology coating
Cons
Felt is not as high quality as others
It can be pricier than other brands
7. Dunlop Championship Tennis Ball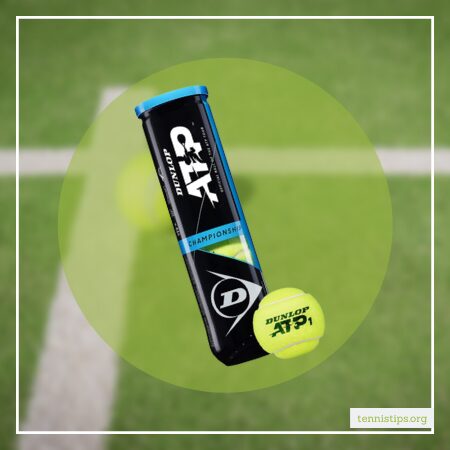 These balls from Dunlop perform well for both intermediate-level and professional-level players. They give faster serves, and the seams provide a good bounce and spin. These balls are great for play on all courts, and the unique Durafelt covering holds up well on hard surface courts.
Features:
Type: hard
Felt: good
Weight: light
Bounce: high
Pros
Excellent all-around tennis ball
Provides a faster serve
Durable and long-lasting felt
Cons
Poor-quality packaging may lead to the balls losing pressure before use. Make sure the containers are sealed.
8. Tecnifibre X-One Tennis Balls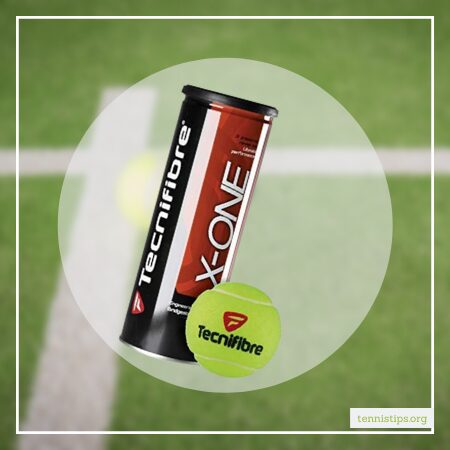 These tennis balls are strong, can withstand hard hits, and have a 72% real felt covering. They give players reliable control and maintain a consistent speed.
Features:
Type: soft
Felt: good
Weight: light
Bounce: high
Pros
Durable
Consistent bounce
Cons
More expensive than other comparable tennis balls
Not widely available
9. KEVENZ Standard Pressure Training Balls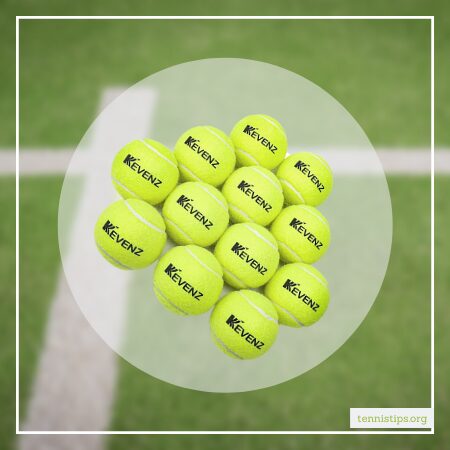 This tennis ball is a great option for beginners. Its neon color gives the player an easier target, and it is suitable for any type of court. It's definitely a budget-friendly option to get started with.
Features:
Type: soft
Felt: good
Weight: medium
Bounce: high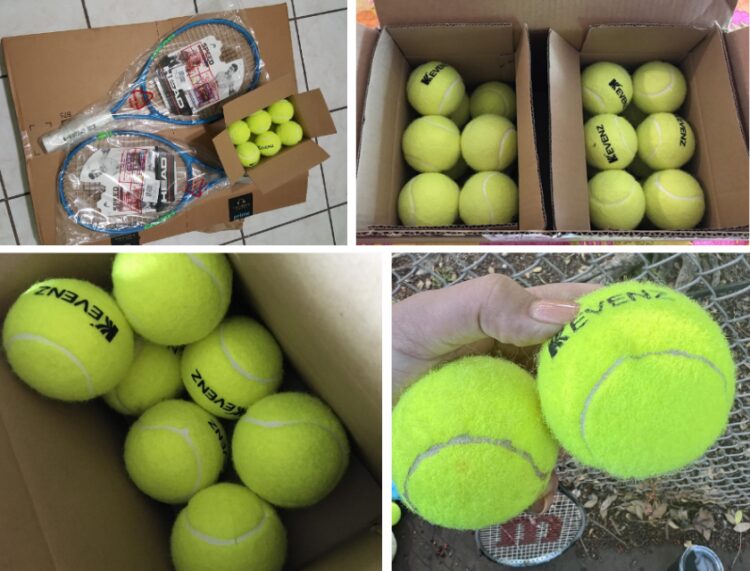 Pros
Durable
Can handle aggressive play
Cons
Visible raised seam
Constructed with two separate pieces rather than one
10. Tourna Pressureless Tennis Ball – Best Budget Pick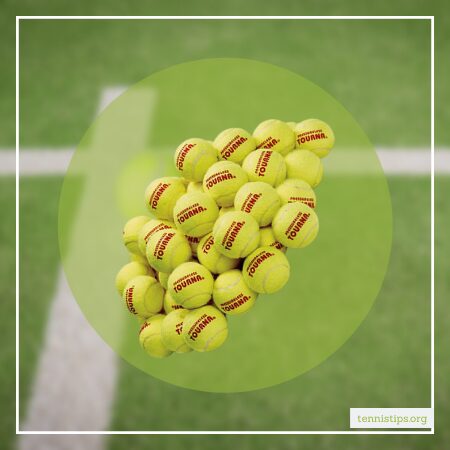 These balls from Tourna won't lose their bounce. On the contrary, they become a little bouncier after you play with them. They are suitable for use on any court surface and have a long-lasting felt covering. They are slightly heavier than pressurized balls, so you may need to adjust your swing if you are used to lighter balls.
Features:
Type: soft
Felt: good
Weight: heavy
Bounce: high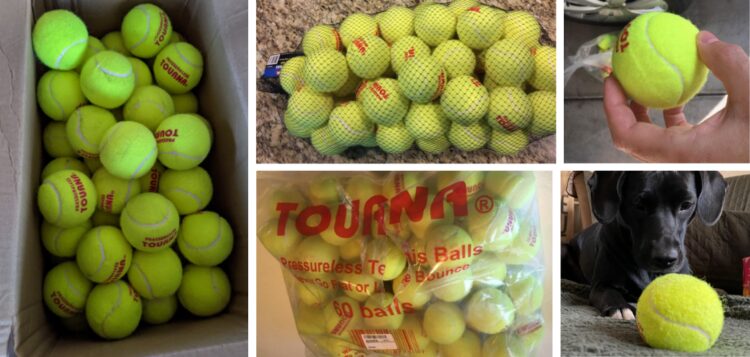 Pros
Inexpensive
Great for beginners
Very durable
It won't lose its bounce
Work well in a ball machine
Cons
It does not play as well as pressurized balls, and we do not recommend them for serious players.
Heavier than pressurized balls
Buying Guide To Choose Best Tennis Balls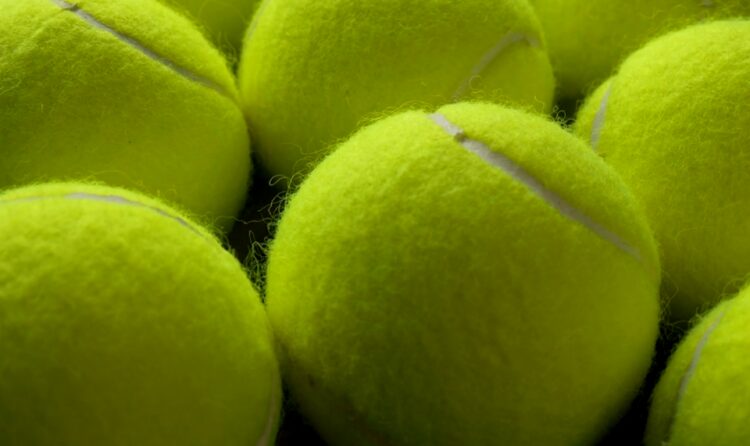 Buying a tennis ball seems easy, but all tennis balls are not the same. The tennis balls that people choose can make big differences in their game performances. There are different brands of tennis balls available. They all have different qualities.
We have prepared a list of some factors that you should know before buying a tennis ball. Go ahead, read the information provided below, and select the best tennis ball for yourself.
Brands:

There are numerous brands of tennis balls available. Of all the brands, some of the famous ones are Slazenger, Wilson, Penn, and Dunlop. These brands produce different types of balls for different surfaces and levels of experience. Choosing a good brand tennis ball can help people improve their performances in the games.

Colour:

There are very few colors of tennis balls available; the color choice is quite limited. However, the standard color is yellow. The reason behind this is that it is visible to the spectators and players.

Types:

There are four main types of tennis balls available. They are:
Type 1 tennis ball. It is designed to be used on fast surfaces, for example, grass.

Type 2 tennis ball. It is designed to be used on standard-speed surfaces, for example, hard courts.

Type3 tennis ball. It is designed to be used on slower surfaces, for example, clay.

High altitude tennis ball. It is designed to create a faster trip and higher bounce.
All of the above types of tennis balls have differences in size, mass, rebound capacity, forward deformation, and return deformation.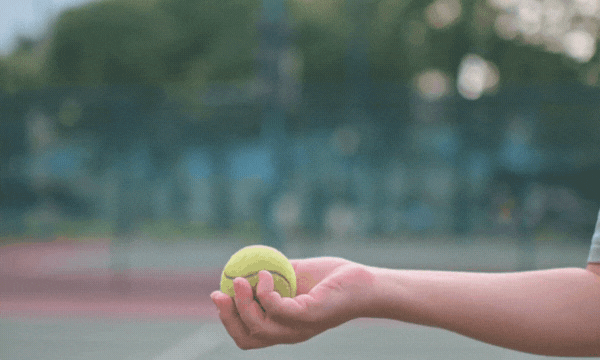 Quality:

There are three different qualities of tennis balls available; it includes:
Recreational. (For practice purposes)

Championship. (For Intermediates)

Professional. (For Expert players)
Pressurization:

Pressurised tennis balls are famous in the modern era, as the major advantage of pressurized tennis balls is that they have higher speed, spin, and bounce. Their only disadvantage is that they need to be replaced after a short time.

Non-pressurization:

Non-pressurised tennis balls last longer as compared to the pressurized ones. The non-pressurized ones gain more resilience over a longer period of use. Pressurized tennis balls are high in terms of durability.
Types of Balls Based on Skill Level
The International Tennis Federation (ITF) approved over 200 types of tennis balls! Are you confused? Do you wonder what the different colors mean? Why are there different sizes? Does anything affect the speed?
We'll take you through the different types of tennis balls to help you determine which is the best option for you.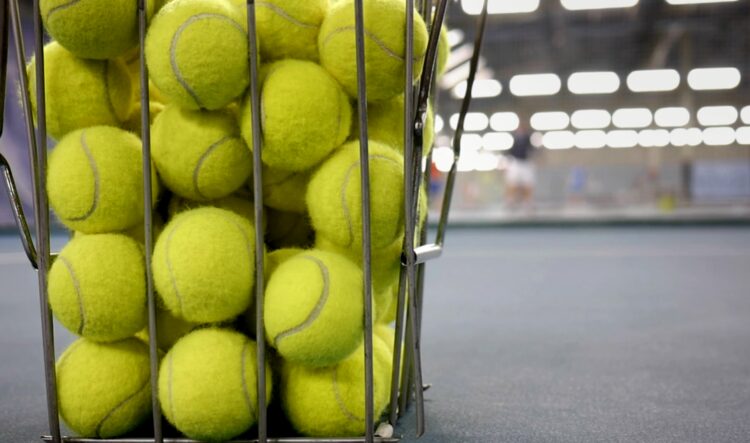 Skill Level
Choose a tennis ball based on your skill level. An amateur player may find it easier to learn with a different ball than an experienced athlete.
Beginners and Kids
If you're new to the game or are introducing kids to the sport, look for transition balls. These balls are larger than standard tennis balls and specifically designed to move slower. They are great for learning and training.
There are three general categories of beginner balls that were introduced in 2011 as part of the ITF's Play and Stay campaign to encourage more people worldwide to get involved in the sport. Their unique colors identify these beginner balls:
Stage 3 / Red – These tennis balls are ideal for younger children aged 5-8. They have about 75% less bounce than standard balls to make it easier for novices to hit. These balls will help players develop proper skills, work on their coordination, and increase their confidence on the court. They come in standard construction or foam. It would be best if you used these on a small 36-foot court.
Stage 2 / Orange – These balls are a little more advanced than the red ones but still move slower than standard tennis balls. They bounce about 50% less than standard tennis balls. They are geared for children ages 8-10 and are designed to be played on a 60-foot court.
Stage 1 / Green – These balls are meant for older children, ages 10 and up, and can be played on a full-size 78-foot court. They are just one step down from a standard tennis ball but have a 25% reduced bounce so they can help players practice and hone their skills.
Practice Tennis Balls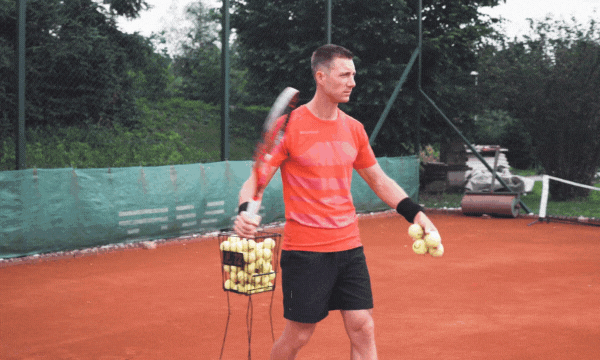 Practice balls, also known as coach balls, are standard size balls but lower quality than those that players would use in a USTA (United States Tennis Association) game. They are very durable, have a long lifespan, and are cheaper than the higher-quality balls.
These tennis balls are mainly used for practice and are great for ball machines.
Championship Tennis Balls
Championship balls are ideally suited for practice games. They are of lower quality and pressure than professional balls but are durable and will maintain their bounce.
Professional Tennis Balls
Professional balls are the highest level of tennis balls. They are the types of balls used in the USTA. They are made from high-quality felt and have a high-pressure level.
Court Surface
The type of court surface that you play on can affect the bounce of your tennis ball. You should buy the right ball for the surface on which you will play. If you use a ball that is the wrong type for the court surface you're playing on, your game will be affected.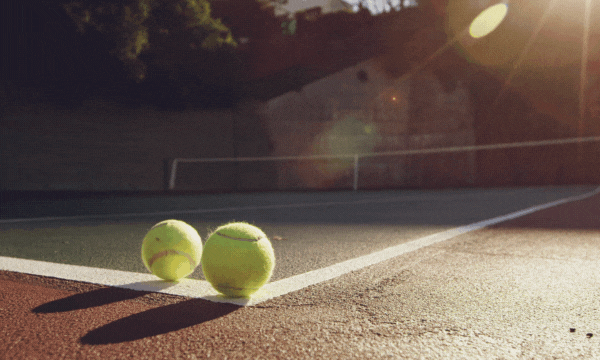 Clay surfaces – Clay tennis courts are usually made from crushed stone or brick. They provide a softer surface and are the most popular choice for tennis courts in South America and Europe. They cause the ball to have a slower and higher bounce and react better to spins. The ball will also leave a mark on the surface, allowing judges to determine if a play was out of bounds.
Grass courts – Grass courts are usually reserved for professional players, not beginners. They allow the ball to bounce fast and high, much more than on a clay court. If you play on a grass court, keep in mind that the ball's bounce ability will be significantly affected when the grass is wet.
Hard courts – Hard courts are usually made from asphalt or concrete and topped with acrylic. Balls typically have a high bounce as hard courts do not slow the ball down. They also don't influence the ball's spin, or trajectory and players can more easily control the direction. They are the most neutral surface in terms of a surface's effect on the ball, although hard courts can be tough on the players' knees.
Carpet courts – Carpet courts are usually made from rubber or nylon and found indoors. They provide a very fast play, similar to a grass court, but give a low bounce.
The ITF regulates the type of balls that players should use on each court surface.
Use Type 1 balls for slow court surfaces such as clay.
Use Type 2 balls for moderately-paced surfaces such as carpet.
Use Type 3 balls for fast-paced surfaces such as grass and hard courts.
Felt Quality: Regular Duty, and Extra Duty and Grass
The felt covering the tennis balls are made differently for different surfaces, as they wear down differently. You will want to choose balls that are right for the court where you play.
Regular-duty tennis balls are made of softer felt and are suitable for indoor and clay courts. They will not hold up well on outdoor courts, which are more abrasive.
Extra-duty tennis balls' felt is woven with wool, making them thicker and denser. They are the ideal choice for outdoor courts with hard floors. If you use them on soft surfaces, the felt can fluff up, causing the ball to lose its bounce and speed.
Grass court balls are similar to regular duty balls, but their felt is resistant to grass strains.
Other Things You Should Consider
Playing at High Altitude
If you are playing at an altitude over 4,000 feet above sea level, choose a ball explicitly designed for high altitudes. Since the tennis balls are pressurized with air, they will be affected by their attitude.
Use a ball that is labeled for high altitude when you are playing under those conditions.
Durability
Tennis balls come in different levels of quality. You want to ensure that your balls maintain their bounce for the game's duration and the felt does not tear.
Although pressurized balls will naturally lose their bounce as the players use them, some balls lose their pressure more quicker than others.
Pressurized vs. Pressureless Tennis Balls
Pressurized balls are filled with a pressurized gas which gives the balls their distinct bounce and speed. The standard yellow tennis balls, and the ones used for professional games, are pressurized.
The drawback is that they have a very short lifespan. As soon as you open the can that they come in, the air pressure starts decreasing. In professional games, players only use pressurized balls for one match each.
Pressureless balls do not use internal air pressure for their bounce but get them from their specialized rubber material. They are more durable and do not lose their bounce over time. In fact, as the felt outer layer wears out, their bounce actually increases! Most beginner balls are pressureless, but experienced players find these balls harder and heavier to use.
Numbers on Tennis Balls
Tennis players will notice that the balls have numbers on them. What do these labels signify? Contrary to what some people believe, they do not indicate the balls' ideal type of surface.
The numbers are actually not mandated and are there for the practical purpose of identifying your ball when it rolls off your court!
A container of tennis balls typically contains three balls. All of the balls in the container will have the same number and brand name. You should check the label on your ball before starting a game.
If your ball bounces off your court and onto another court, you will be able to identify your ball by the brand and number.
Why is it so important for tennis players to use their own ball? Because pressurized balls lose their bounce quickly, many serious players use a new ball for each game they play.
They want to be sure the ball they're using is their new one with a high bounce and not another player's old one that rolled onto their court.
ITF Approved Balls
The International Tennis Federation (ITF) regulates the balls that can be used in professional games and competitions and generates a list of approved tennis balls each year. Tennis balls must meet specific requirements to meet the ITF's standards.
The IIF has a controlled facility where they test the balls to ensure they meet their standards. They check balls for proper weight, size, durability, rebound ability, and performance.
There are hundreds of balls on ITF's approved list in all categories, from stages 1, 2, and 3 to type 1, 2, 3, and high altitude. ITF indicates the balls' manufacturer, the country that produces them, the type, and whether the ball is pressurized.
FAQ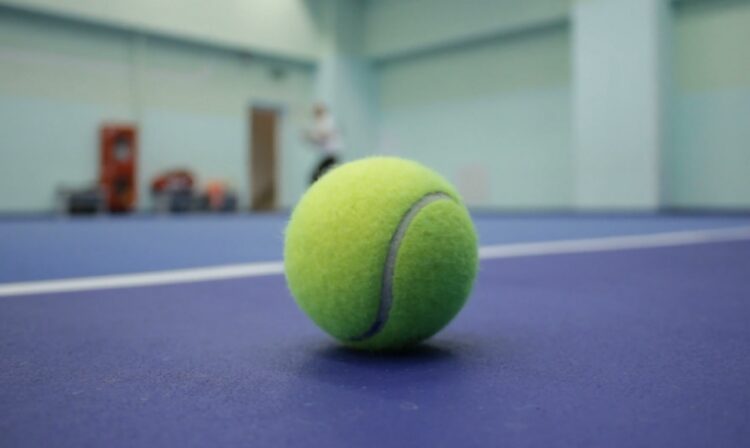 Here are some frequently asked questions on choosing the right tennis ball:
Is there any difference between tennis balls?
There is a total of four different tennis balls you can opt for. They are used for different surfaces by USTA and ITF regulations. You have the regular duty type, which is good for soft clay or indoor courts, extra duty for hard courts, grass type for grass courts, and hi-altitude.
Why are tennis balls kept in the fridge?
Tennis balls should be kept in the cold because it will shrink their inside air volume. This will prevent them from damaging and leaking from any side whatsoever.
Which tennis balls last longer, pressureless or pressured?
These two kinds of balls last similarly long. Pressured typically lasts between 1 and 4 weeks of moderate play, while pressureless lifespan is somewhere between 1 and 3 weeks of the same play amount.
What tennis balls do professionals use?
During this year, there were various types and brands used by professionals. Wilson brand was used for most of Grand Slams, while four out of nine tours that make up the ATP 1000 used Dunlop balls. In the United States, The Pen Tour tennis balls were official balls for most of the high-profile tournaments.
Which tennis balls are suitable for beginners?
Beginners should opt for those that are harder and provide you with an extra higher bounce. It is recommended that starters go for balls that are pressured and have low-duty fur.
Which color is best for a tennis ball?
There are only a couple of colors available for tennis. You should probably go for the yellow ball since it is standard, and it offers the best visibility for both players and the audience.
Which tennis balls should I purchase?
Look for the options that are cost-efficient and that are part of the brand you trust the most. There are many customer reviews and second opinions you can check out online before spending the money. If you are uncertain which ones you should pick, we recommend the Gamma Bag Tennis ballsnull. They are pressureless, and there are four different colors you can choose from.
What are the most popular tennis ball manufacturers?
Some of the more well-known manufacturers of the most commonly used balls are Penn, Gamma, Wilson, Slazenger, and Dunlop.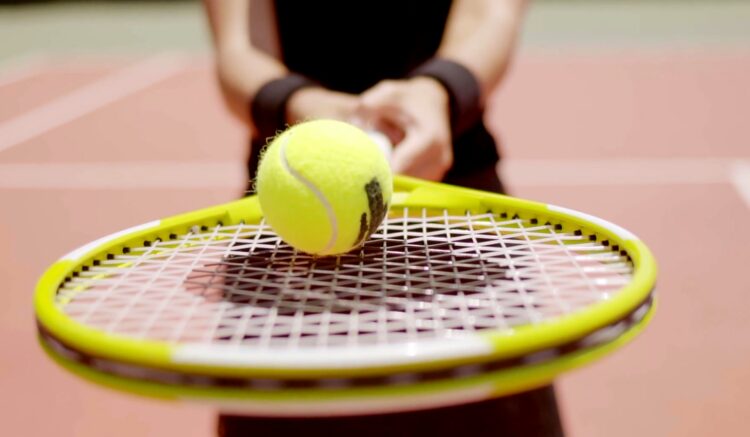 Why are tennis balls covered in fuzz?
The fuzz is a layer of felt and serves a few purposes. Those purposes include:
Protects the ball and increases its lifespan
Reduces the ball's speed as it cuts through the air
It gives the ball a good bounce
Improves the balls' spin
Why are tennis balls yellow?
Interestingly, tennis balls used to be black or white! The ITF started using yellow balls in 1972 because they were more visible on TV.
Tennis balls now come in a variety of colors which serves to identify the type of ball it is:
Red – beginner balls for younger kids
Orange – beginner balls for kids under 10.
Green – beginner balls for older children.
You can still find white, black, and even two-toned balls if you want to brighten up your game.
Why do pressurized balls lose their bounce?
Pressurized balls are filled with gas which gives them their distinct bounce. The balls, though, are made out of rubber, which is a slightly porous material. That means that there are tiny holes through which the air can escape. Even though the holes are microscopic, the air is even smaller, and eventually, all of the air will leave the ball, and the balls will lose their bounce ability.
What kind of gas do they use in pressurized balls?
Manufacturers inject pressurized balls with a mix of air and nitrogen, which gives them their bounce.
Why are tennis balls sold in cans?
Actually, not all tennis balls are packaged in cans, only pressurized ones. Because the balls lose their pressure fairly quickly, they are packed in pressurized cans to help them keep their pressure. Once you open the can, the balls' pressure will start to decline.
Pressureless balls do not need to be packaged in cans as they don't need air pressure. You can commonly find them sold in bags or buckets, and because they are cheaper than pressurized balls, you may find them often sold in larger quantities.
How long will pressurized balls last?
Pressurized balls will start to lose their pressure as soon as you open up the container and continuously lose pressure after taking out.
Casual players will probably not notice the difference for a few games, but professional athletes might notice the difference in the ball's bounce and may only use the ball for one or two games. They may still use the older balls for practice if the balls still have a good bounce, even if they're not good enough for a match.
Why do the balls have a smell when they come out of the can?
The rubber and glue used on the felt may each have a smell. When the manufacturers seal in the pressurized container, the odors cannot dissipate, so you may smell them when you open the container.
What can I do with old tennis balls?
Tennis balls are, unfortunately, not biodegradable. While the rubber will very slowly decompose, the felt does not. To keep them out of the landfills, here are some ways that you can reuse your old tennis balls:
Play fetch and become a dog's best friend! If you don't have a dog who can use your old balls, give them to your neighbors' pet, or ask your local animal shelter if they could use them. Be sure to speak to your vet first, especially if you are concerned about your dog eating the ball, as punctured and deflated balls may pose a choking hazard.
Protect your floors from scratches by covering the bottom of furniture legs with a tennis ball. Cut an x in the ball and slip it over the furniture leg. The felt and rubber provide an excellent cushion. This a handy tip for the bottom of walkers as well.
Tennis balls are a terrific laundry room assistant! Throw one or two of them along with a load of laundry into the dryer. They will help fluff up the clothing and speed up the drying process.
Remove scuff marks from floors and walls by scrubbing them with the ball's felt covering.
Clean your pool! Believe it or not, tennis balls can absorb oils and grease from the water. Throw a few balls into the pool after a swim and let them do the work for you. Just be sure to change the balls frequently as they will not work indefinitely.
Find a recycling program that takes tennis balls such as ReTour Tennis or Tennis Ball Recycling which uses them to create tennis courts. That's coming full circle!
Our Verdict
There is an enormous variety of tennis balls on the market. While it may seem overwhelming at first glance to choose the right one, you can narrow down the choices by identifying your needs. Do you need a ball for a beginner? Will you be playing on grass or a hard surface court? Do you want a ball with a high bounce?
If you're buying tennis balls for different players, they may each need a different type of ball depending on their level. You'll find that once you find the ball that's right for your skill and playing conditions, you'll feel the difference. You may need to try out a few different varieties to find the one that feels right to you. The correct ball will definitely enhance your game. Give it an Ace!
Final words
Tennis balls can have a great impact on the quality of your game. It is really important to choose the correct tennis ball to have an effective performance in court.
There are different brands of tennis balls available; it is very important to choose the right one. Thus to ease your difficulty, we have provided some information on the best tennis balls that are available in the market.
Read the above information, and thank us later. We have also made a list of some important factors that should be kept in mind before buying a tennis ball.
The surface of the court should is an important factor in the game of tennis, and it should be known well by the player. Different brands offer balls for different surfaces. Carefully read our buying guide and choose the best tennis ball for yourself. We wish you luck with your game.
Pros
<ul> <li>Here's first</li> <li>Here's second</li> <li>Here's third</li> <li>Here's fourth</li> <li>Up to N</li> </ul>
Cons
<ul> <li>Here's first</li> <li>Here's second</li> <li>Here's third</li> <li>Here's fourth</li> <li>Up to N</li> </ul>
Pros
<ul> <li>Here's first</li> <li>Here's second</li> <li>Here's third</li> <li>Here's fourth</li> <li>Up to N</li> </ul>
Cons
<ul> <li>Here's first</li> <li>Here's second</li> <li>Here's third</li> <li>Here's fourth</li> <li>Up to N</li> </ul>
If these weren't enough, check out some other picks from Amazon also:
References:
https://www.cnet.com/health/fitness/best-tennis-balls/
https://www.stylecraze.com/articles/best-tennis-balls-for-practice/