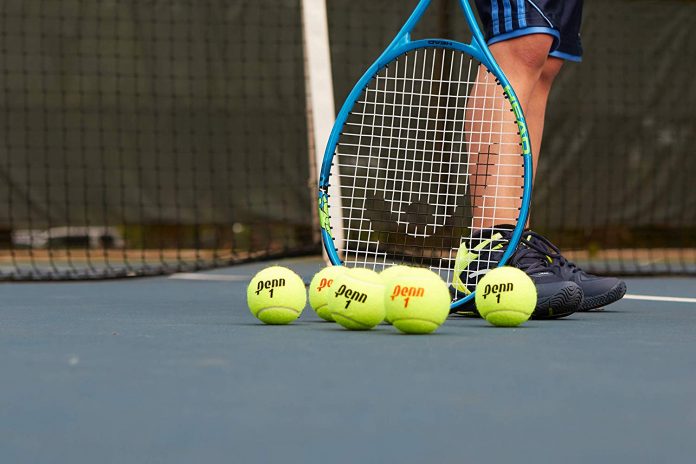 A tennis ball is a type of ball which is designed specifically for the sport of tennis. The tennis balls are mostly fluorescent yellow. Nowadays, tennis balls come in a variety of colours, but fluorescent yellow is the most preferred one as it is visible, especially on television screens. Each tennis ball has a white curvilinear oval that covers it. Tennis balls are intentionally covered in a fibrous felt, which improves the aerodynamic properties of the ball.
Tennis balls of the modern era are made to comply with the rules or standards made by the International Tennis Federation (ITF). It comes in different weights, sizes, deformation, or bounces. Some of the official parameters set up by ITF are- Diameter- 6.54cm – 6.86 cm, Mass- 56.0g- 59.4g. The colours approved by ITF are yellow and white. Each tennis ball has a number on it; this helps in distinguishing one set of balls from the other set of balls in the same brand.
Top 5 High Altitude Tennis Balls
If you are looking for a good tennis ball for yourself, then you are suggested to read this article. We have prepared a list of some of the best tennis balls. These balls are used widely across the world. Some professionals in the tennis tournament also use some of these brands. They all have unique specifications; you can choose the ball of your choice so that you can improve your performance in the tennis tournament. To buy a good ball, you should be aware of some essential factors in tennis balls. For this reason, we have written a buying guide for you. You can go through this guide before purchasing a tennis ball.
#1. Gamma Bag Tennis Balls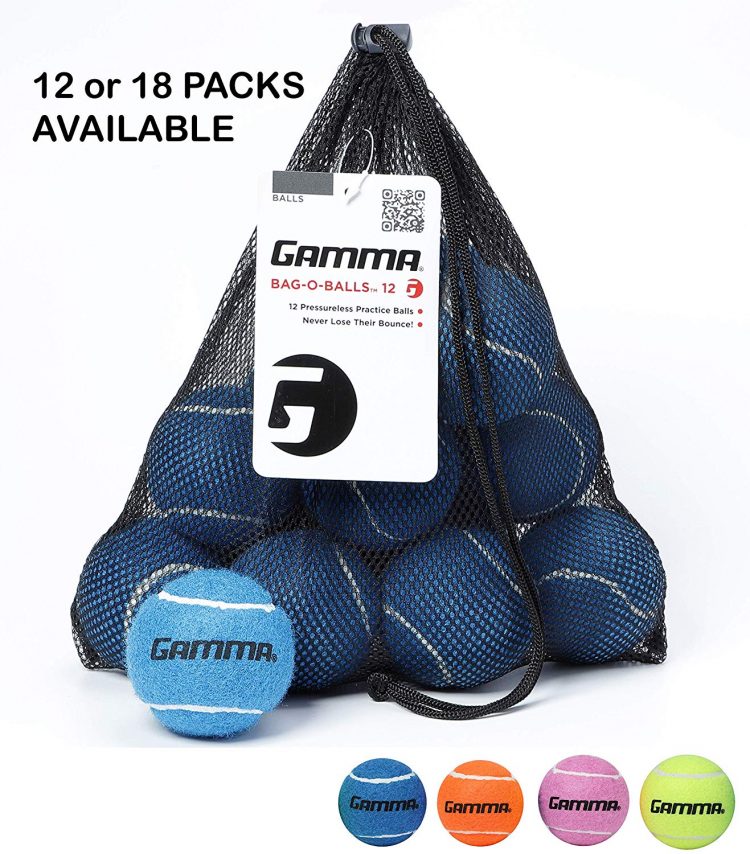 Gamma Bag pressure less tennis balls are one of those tennis balls that confers a maximum performance to its users. Pressureless tennis balls are made in such a way that they do not lose pressure even after a longer period. It provides a wide range of features to its users, such as longer durability and a higher level of performance that is not essentially provided by the standard gas pressured tennis balls. This type of tennis ball is ideal for practising purposes. Tennis coaches or tutors widely use it in the tennis-teaching academies. No matter how roughly the learner deals with it, these tennis balls remain durable for a long period.
The Gamma ball is highly consistent in almost all types of courts. It is so versatile that it can be used on any court without any issue (whether the court is soft or hard). It is perfectly designed for sessions of tennis on cement or clay courts. This tennis ball comes with a reusable bag that is very handy and travel-friendly. You can even use this ball to play with your pets especially dogs love to play with tennis balls. Since the tennis ball is durable, pets cannot tear it easily.
Pros:
The ball lasts longer.

It can be used while playing with pets.
Cons:
The quality of the ball is not as expected.

It is not much sturdy.
#2. Wilson Prime Tennis Balls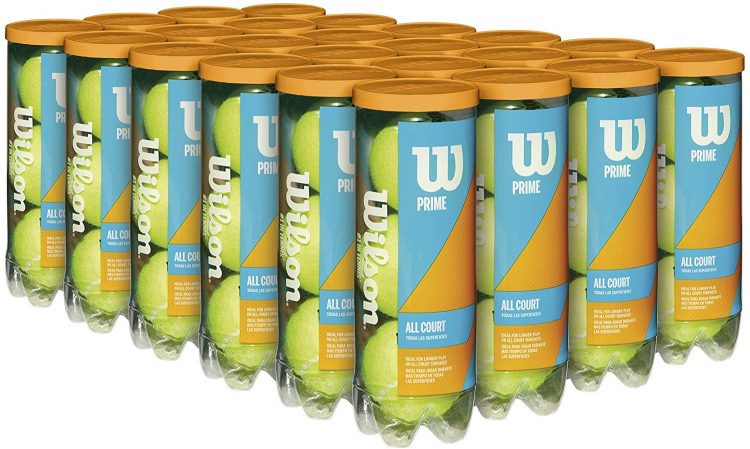 Wilson tennis balls comprise of some exclusive features; it has special Duraweave felt that makes it ideal for all types of courts. Wilson tennis goodies are of top quality and are preferred over other brands. The brand provides extended durability and play; it also improves the performances of its players. Australian Open, US Open, and NCAA tennis officially use the tennis balls made by Wilson. The balls give superb consistency and playability.
The Wilson tennis balls are approved by USTA and ITF, which makes it a reliable product. It is eligible to be used on all court surfaces without disrupting the performance of its players. This ball is used by all types of training matches or official tournaments; it is a premium quality product. The balls come in packs of different sizes – 72 balls (24 can case), three balls (3 can case), and 12 balls (4 can cases). You can easily choose the number of balls that are required by you.
Pros:
The balls are cost-effective.

The Wilson balls are very durable.

Approved by USTA and ITF.

Overall, product quality is excellent.
Cons:
Some customers received defective products.

It is reported that the balls have some sort of unpleasant odour.
#3. Wilson US Open Tennis Balls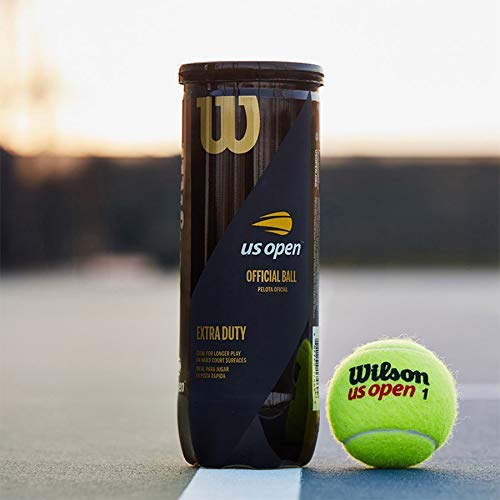 The Wilson US open extra duty balls are official balls of the US Open and are used in almost every game of the US Open. As we all know, the US Open is one of the toughest tournaments in the world. This tournament uses more than 65000 tennis balls, all the balls used by the US Open are essentially tough and strong. Wilson balls were made during 1979, need not mention, but this is the only brand that is used officially by the US Open. This is the reason they are named as US Open balls.
These balls are constructed using some extremely high quality of the wools, which is brilliantly woven into a thick and dense felt, and this is the main reason behind the ball's extended durability and longer life. The Wilson US Open balls offer a nice playtime to the players. The most loved thing about this ball is the premium tech feel that it has; this gives the ball an excellent swing on the courts. The hard courts' players get benefited the most from these balls, as the balls are perfectly optimized to be played on the hard courts, but that does not mean the balls cannot be used on other courts.
Pros:
The balls are constructed using premium quality tech felt.
They are officially used in the US Open.
Cons:
The bounce tends to get reduced on the soft courts.

The durability of the ball is quite doubtful.
#4. Penn Championship Tennis Balls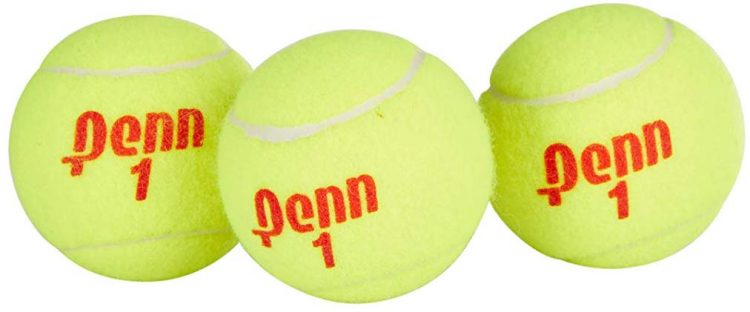 The Penn Championship heavy-duty tennis ball is an affordable ball that is made by Penn. It is one of the most selling balls in America, which could be due to the ball's consistency on the court. The Penn championship regular duty tennis balls are perfect for indoor and clay courts. There is a special kind of felt used in the ball that helps to reduce the shocks while giving its players an extremely comfortable hitting experience every time the ball is hit.
This Penn tennis ball comes with an interlocked wool fibre, this prevents the ball from wear and abrasion. ITF and USTA approve these balls. The balls are available in all types of felt from regular duty felt to extra duty high altitude felt and can also use in tennis ball machine for solo playing. The Penn tennis balls are made using natural rubber core, which gives the tennis players a good consistency in the feel, this also helps reduce the shocks during play. This rubber core is made up of different components that improve the ball's performance.
Pros:
Natural rubber core is used for a consistent feel.

The Penn balls are affordable.
Cons:
The balls tend to get flat after some time.
#5. Wilson Championship Tennis Balls

The Wilson championship regular and extra duty tennis balls are the finest tennis ball packs available in the sports market. These balls are made in the USA and are used in the official tournaments of Australian Open and US Open and NCAA tennis (Women and Men). The balls are extra duty, which makes them durable for a longer time of playing; it is best suited for hard court surfaces.
The durability of these balls is extended due to the use of Dura-Weave felt. It not only increases the durability and life of these balls but also improves the performance level. The Wilson tennis balls can be ideally used for all the levels of the tournament or recreational play. Many players have experienced an increase in their performances after using the tennis balls made by the Wilson brand.
Pros:
USTA and ITF approve it.

Perfect for hard courts.
Cons:
The product is costly.

The customer care service is not up to the mark.
Buying Guide To Choose Best Tennis Balls
Buying a tennis ball seems easy, but all tennis balls are not the same. The tennis balls that people choose can make big differences in their game performances. There are different brands of tennis balls available. They all have different qualities. We have prepared a list of some factors that you should know before buying a tennis ball. Go ahead, read the information provided below, and select the best tennis ball for yourself.
Brands:

There are numerous brands of tennis balls available. Of all the brands, some of the famous ones are Slazenger, Wilson, Penn, and Dunlop. These brands produce different types of balls for different surfaces and levels of experiences. Choosing a good brand tennis ball can help people improve their performances in the games.

Colour:

There are very few colours of tennis balls available; the colour choice is quite limited. However, the standard colour is yellow. The reason behind this is that it is visible to the spectators and players.

Types:

There are four main types of tennis balls available. They are:
Type 1 tennis ball. It is designed to be used on fast surfaces, for example, grass.

Type 2 tennis ball. It is designed to be used on standard-speed surfaces, for example, hard courts.

Type3 tennis ball. It is designed to be used on slower surfaces, for example, clay.

High altitude tennis ball. It is designed to create a faster trip and higher bounce.
All of the above types of tennis balls have differences in size, mass, rebound capacity, forward deformation, and return deformation.
Quality:

There are three different qualities of tennis balls available; it includes:
Recreational. (For practice purposes)

Championship. (For Intermediates)

Professional. (For Expert players)
Pressurization:

Pressurised tennis balls are famous in the modern era, as the major advantage of pressurized tennis balls is that they have higher speed, spin, and bounce. Their only disadvantage is that they need to be replaced after a short time.

Non-pressurization:

Non-pressurised tennis balls last longer as compared to the pressurized ones. The non-pressurized ones gain more resilience over a longer period of use. Pressurized tennis balls are high in terms of durability.
Final words:
Tennis balls can have a great impact on the quality of your game. It is really important to choose the correct tennis ball to have an effective performance in court. There are different brands of tennis balls available; it is very important to choose the right one. Thus to ease your difficulty, we have provided some information on the best tennis balls that are available in the market. Read the above information, and thank us later. We have also made a list of some important factors that should be kept in mind before buying a tennis ball. The surface of the court should is an important factor in the game of tennis, and it should be known well by the player. Different brands offer balls for different surfaces. Carefully read our buying guide and choose the best tennis ball for yourself. We wish you luck with your game.