Ashleigh Barty was born on 24th April 1996 in Ipswich, Queensland, Australia. Her father, Robert, worked for the State Library of Queensland, while her mother worked as a radiographer. Ashleigh grew up in Springfield, a suburb of Queensland, and she attended Woodcrest State College.
Barty currently sits at the number 1 spot on the WTA rankings, and she has also been among the top 10 players in doubles, her career-high ranking being number 5. She is a multi-talented athlete, and she represented her country not only in tennis but in cricket and golf as well.
Net Worth – $20 million
Age – 25
Born – 24th April 1996, Ipswich, Queensland,  Australia
Current WTA Ranking – 1
Father – Robert Barty
Mother – Josie Barty
Siblings – Sisters Ali and Sara
Boyfriend – Garry Kissick
Height – 165 cm
Weight – 62 kg
Source of Wealth – Tennis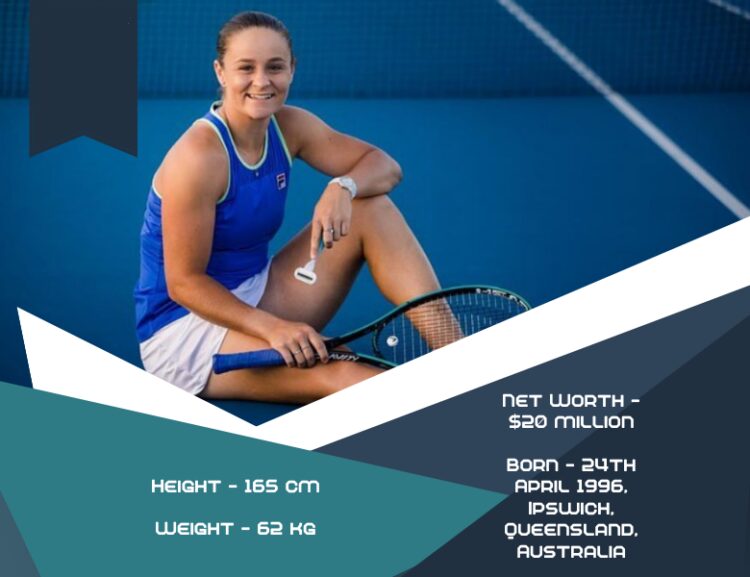 How Did Ashleigh Barty Get Into Tennis?
Barty got interested in tennis when she was very young, and at the age of four, she started training in Brisbane. Jim Joyce was her first coach, and he continued to coach her throughout her junior career.
When she was 13, Ashleigh started playing on ITF Junior Circuit, mostly on low-level events. Before Barty turned 14, she won her first tournament at the Grade 4 Australian International. She continued to play in low-tier tournaments until 2010 when she had a 24-2 record.
Her first junior Grand Slam was the Australian Open in 2011, but she lost the opening match against Lauren Davis, who was the third seed at the time. Although it was a blow, she quickly managed to bounce back by winning singles and doubles events at two Grade 1 events.
Although Barty got knocked out in the second round of the French Open in 2011, she managed to win her first junior Grand Slam title at Wimbledon. She was 15 at the time and became the only second Australian to win the girls' singles event, and the first Australian girl to win any junior Grand Slam since Jelena Dokic. Ashleigh Barty's career-high ITF ranking was number 2.
Professional Career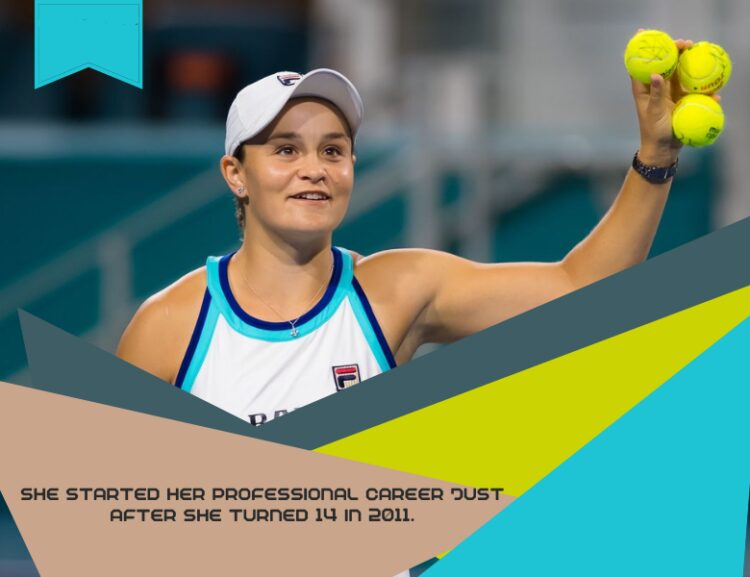 Ash Barty started her professional career just after she turned 14 in 2011. Her first professional win was in the match against Ayu Fani Damayanti. Her WTA debut came a year later when she started playing doubles with Casey Dellaqua. This duo often came short at the final hurdle, and they were not able to win a Grand Slam title.
In September 2014, Barty decided to take a break from professional tennis since she felt tired and missed her family. During this break, she played semi-professional cricket until she decided to return to tennis in 2016.
After Barty returned, she won her first tournament, but her season ended much earlier than she expected due to an arm injury. Her real breakthrough came in 2017 when she won Malaysian Open and managed to rise to the rank number 17.
She won the 2018 US Open ladies doubles title, but in 2019, Ash Barty won her first Grand Slam title at the French Open, where she defeated Marketa Vondrousova. This success was followed up with WTA Finals Championship, which placed her among the world's top-ranked players.
After the 2023 hiatus, Barty returned focused and prepared. She won her second Grand Slam title in Wimbledon. She followed this success with a bronze medal in the mixed doubles competition in Tokyo Olympics. Ash is 25 years of age at the moment and sits on the top of the WTA list.
Ashleigh Barty's Endorsements and Sponsorships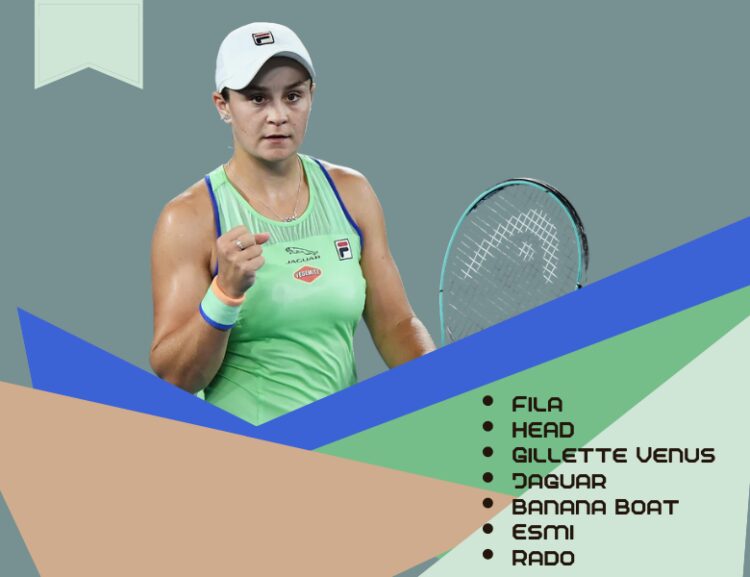 Over the course of her professional career, Barty signed numerous contracts for sponsorships that brought her a substantial amount of money. Most of her big-time contracts with sponsors came during 2018.
In 2017, Ash Barty joined forces with Rado. She signed a contract with a Swiss luxury watch brand, and she came on board as Rado's YoungStar family. She endorses the brand and advertises their watches on and off the court.
One of the biggest names in Barty's sponsors' list is definitely Jaguar. She signed a contract with a British luxury car giant in December 2018, and since then, she was featured in their commercials and other forms of advertisement.
FILA is a brand that has sponsored Barty's court apparel and footwear since 2016. They had productive business relationships, and in 2023, Barty re-signed and extended her partnership with them for the next couple of years. Aside from FILA, Barty also endorses HEAD sports equipment and uses their racquets.
In 2023 Barty struck a deal with Gillette Venus. She actively promotes the brand on the internet and appears in their campaigns as the face of the brand Down Under. Barty is also the ambassador of the Banana Boat sunscreen brand and is also partnered with Esmi, an  Australian company that produces cruelty-free and vegan skincare products.
What Racquet Does Ash Barty Use?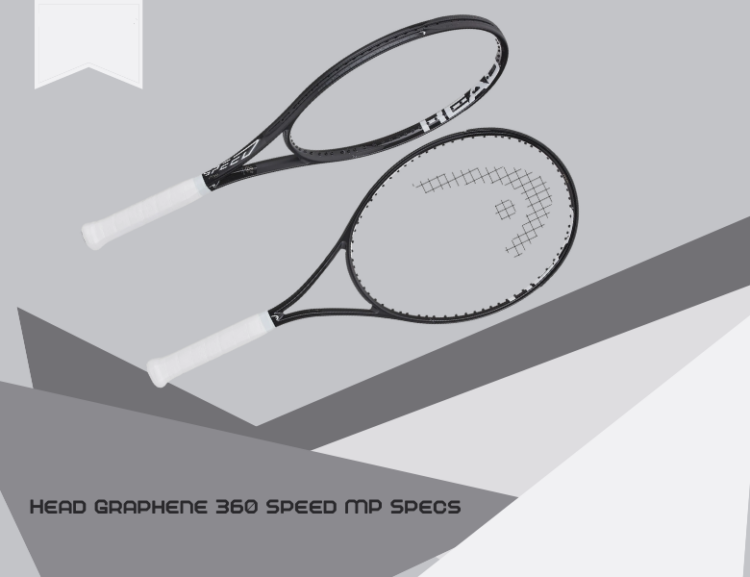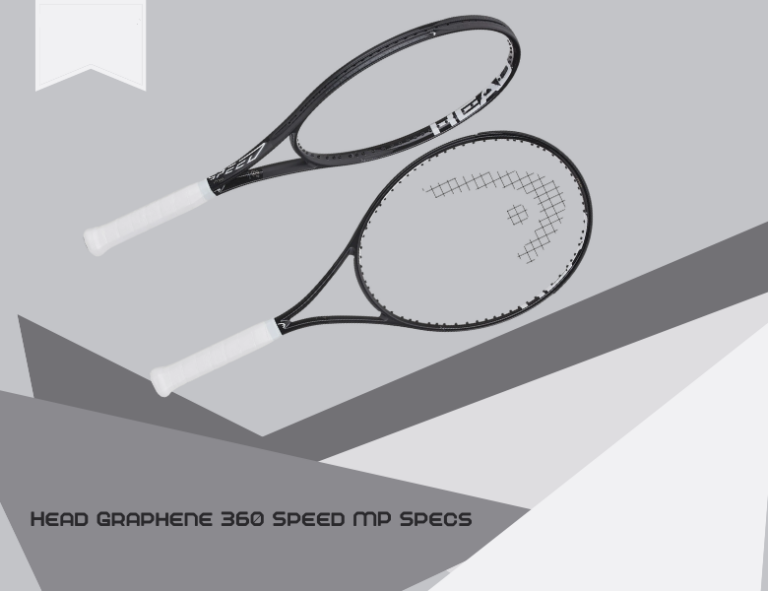 Barty endorses HEAD products and uses their models of racquets. Currently, she plays with the HEAD Graphene 360 Speed MP. This product is stringed at low tension, and it is a bit heavier, which compliments Barty's playstyle, giving her a bit more swing weight.
Head Graphene 360 Speed MP Specs
Head Size – 100 square inches
Length – 27 inches
Weight – 11.1 oz (strung)
Tension – 48.57
Balance – 12.99 inches 3 pts HL
Beam Width – 23 mm
Composition – Graphene 360
Swing Weight – 319
String Pattern – 16 mains, 19 crosses
What Shoes Does Ash Barty Wear?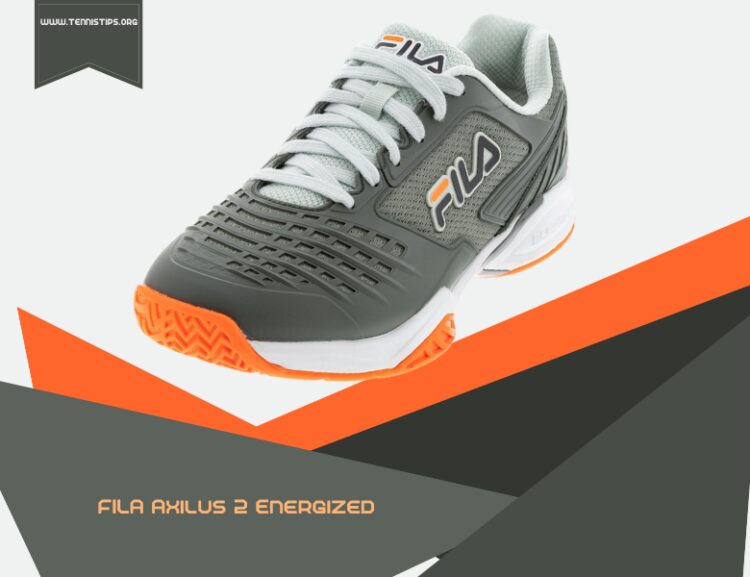 Currently, Ash Barty endorses FILA sports gear and uses their FILA Axilus 2 Energized. Apart from Barty, many world-class tennis players use this shoe, and it is the third most popular tennis shoe in the world.
This shoe greatly compliments the modern tennis era. They are very comfortable and lightweight, which does not compromise their support and stability. Axilus 2 Energized are very durable, have a breathable quarter and energized rubber cushioning.
Ashleigh Barty's Quotes
"When I'm relaxed, I play my best tennis."
"Obviously, it's nice when you're having success, but this isn't going to last forever. There are going to be rough times as well, but you've just got to ride those."
"If I win, it's a bonus. If I lose, the sun still comes up next day, and it's all good."
"My heritage is really important to me. I've always had that olive complexion and the squished nose, and I just think it's important to do the best I can to be a good role model."
"Every single match, win, lose or draw, there's something that we can improve on, and it's about us addressing that straight after the match."
"I'm certainly not the tallest girl on the tour, so I know that I have to sort of try and match the girls in the way. I know, for me, it's trying to be super aggressive, especially off the first ball in the rally."
Social Media
Ashleigh Barty is active on social media, and you can find her on Instagram (@ashbarty) and Twitter (@ashbarty).