Do you find the athleticism required for tennis too challenging? Your reaction speed for table tennis is too slow. Your sight loses sight of the shuttlecock too often. Or maybe you're just interested in playing something lighthearted with friends and family of different skill levels.
Well, let me introduce you to Pickleball. A fun sport, and a hybrid of the three aforementioned. It is a great way to go out onto a court and have some fun. Whether you're in the shape of your life, or just want to get moving.
But just like any sport, you will want to be equipped with the best gear so that you can play the game with ease. Fortunately, we don't need much equipment for pickleball, and they can fit nicely into a bag.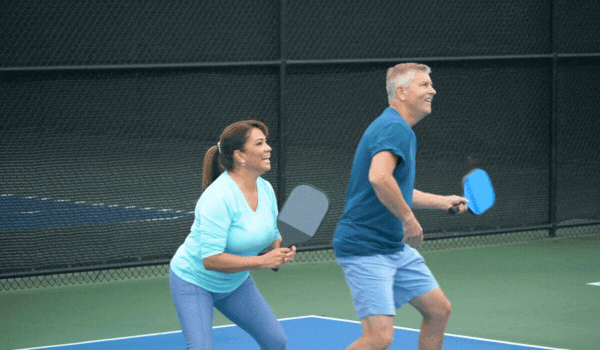 Like any sport, you can learn tips and trick to win in this game. Follow our guide on learning some techniques and tips here.
One thing that will help you learn the aforementioned techniques is the equipment used. The correct pickleball racket will help you master various trick shots and spin balls.
But it is not easy to find the best pickleball racket suited for the style you want to play. There are hundreds of pickleball paddles out there, and not all will be suited to YOUR style of play.
Moreover, there are a lot of manufacturers and brands available. The best way to choose the paddle that is right for you is to try to see what it feels like in your hands and when swinging.
I have played my fair share of pickleball, and by no means am I a master of the game, I have a solid understanding of playstyles and rackets. And so, I have compiled a list of my favored rackets, and which one you should choose for your desired playstyle.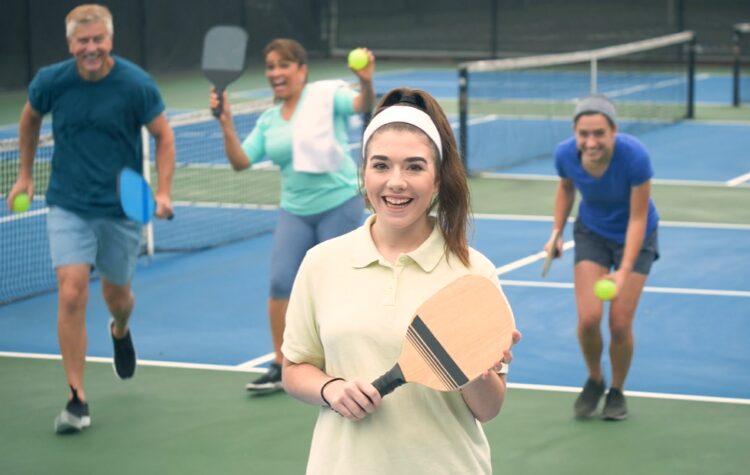 Our Top Pick Best Pickle Paddle 2023 Reviews
To save you time, the 16 best pickleball paddles are listed below, specifically designed to help you improve and master your game. Here we go!
1. Pro Kennex Ovation Speed Pickleball Paddle (Blue) – Best Performance Pickleball Paddle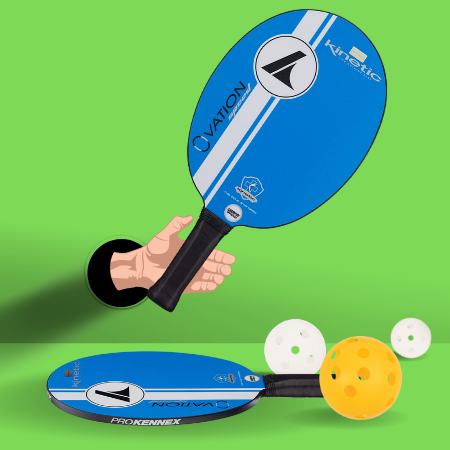 The Kinetic Ovation Speed ​is an exceptional paddle with vibration-reducing characteristics and responsive and touch-sensitive properties. Its oval shape and corner-less design reduce the chance of mishit, thus maximizing the fun space.
Due to the special chamber filled with tungsten, absorbs energy and saves the handler from shock during impact. Because of this, you can play for a longer time without worrying about "pickled elbow".
Kinetic Ovation Speed ​​has a 7-layer face that offers a "spin-grab" feature to make the ball more easily bent on the court. So if you're a fan of trick shots, this could be the racket for you.
But no need to just take my word for this. The consumer feedback also shows exceptional feedback.
The design of the racket is also a delight. A colorful background with two white lines running vertically on the bright left side. A white circle near the top has the ProKennex logo in the center. Simple but elegant.
Kinetic Ovation Speed ​​is a professional-quality lightweight racket that is awesome to handle and soft to grip. "So master that spin and go for the win" with our first entry.
Main Features
The cushioning makes the grip comfortable.
It has branded 7-layer coating
It has specially designed soft skin with a spin-grab feature
Kinetic technology for unmatched arm protection
It is made of high-impact resistance Polymer.
Pros
It has a high vibration dampening characteristic.
It will not hurt your arm because of ball striking
It has the ability to spin the ball.
Its oval and edge-less design makes it suitable for professional players.
The edge guard is much strong and better to produce less chipping.
Cons
No defect was found by users.
2. Pro Kennex Kinetic Pro Speed Pickleball Paddle – Best Value Pickleball Paddle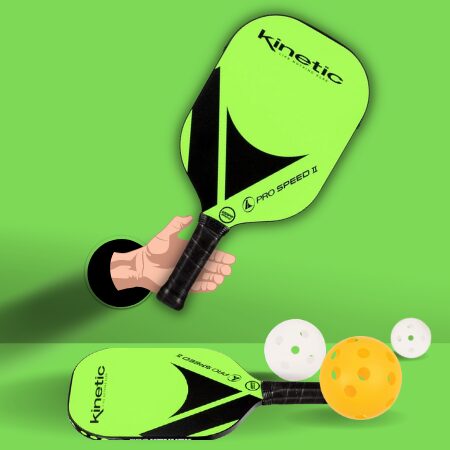 Having experienced elbow pain in my past, the Kinetic Pro Speed Pickleball Paddle is my favored racket. It is specifically designed to reduce damage to the player's arm. The advanced design has tungsten-filled chambers at the core to reduce vibration and even distribution.
The Kinetic Energy technology of this paddle shows a large reduction in vibration and energy transfer.  It makes the ProKennex a reliable paddle and an ideal choice if you wish to play pickleball for a long time.
If you doubt this feature, the technology was initially implemented for tennis players, to minimize the impact of "tennis elbow". Now, this feature is also available for pickleball players.
Kinetic Pro Speed is not only designed to protect health; it is also comfortable on the pitch. It features a 7-layer skin made of a combination of composite and graphite material. This gives you a strong grip and hits.
The tungsten at the core produces a quiet sound and is bounded by a durable polymer glove. Its grip is small and weighs 7.9 to 8.2 ounces.
The soothing feel of this racket will keep your body in the best condition while benefiting from the extra touch and speed. It ​​is available in different colors like blue, raspberry, and yellow. So look after your body, while smashing fastballs with the Kinetic Pro Speed.
Main Features
Its weight is around 7.7 – 8.0 ounces.
It has a grip circumference of 4 inches and a length 4 7/8 inches.
Paddle length and width are 15.43 and 7.6 inches, respectively.
It has Kinetic System Technology for vibration reduction and energy transfer.
It saves the players from arm and elbow injuries.
Pros
It has vibration-reducing and shock distribution capability.
It allows you to play for a long time.
Very comfortable in the court.
It allows strong hits with an excellent grip.
Extra touch and speed
3. Selkirk Amped Pickleball Paddles – (Best Pickleball Paddle For Control)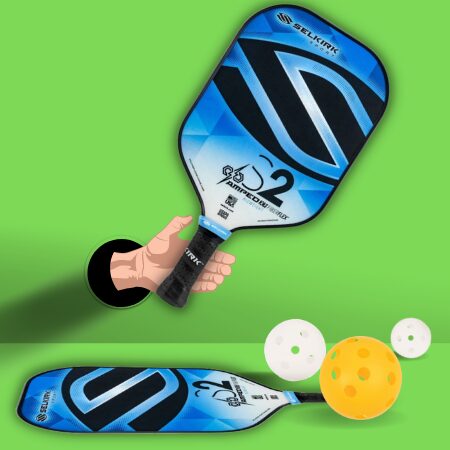 The Selkirk AMPED is a great paddle for pickleball if you are looking for all-around power, control, and spin. This is a versatile paddle with a wide surface, will not make you a master of any one play style but will keep your opponents guessing as you switch it up.
The design of the face ensures that the ball bounces off the paddle surface so that it unbalances the enemy and adds power to your shots. The more power or spin produced around the net the less predictable you become. Further, this paddle is designed to give a softer impact, keeping you playing pain-free.
The paddle is available in two weights, another distinctive feature of this paddle. It means you can tailor the paddle according to your style of play. The heavier paddle offers more power, while the lighter paddle is designed to provide better-placed hits. The handles are shorter than on other paddles while offering a larger face and attack zone.
It comes in six different color combinations. The face has a Selkirk logo, while the bottom of the paddle is white. Be warned, this paddle is expensive but worth the coin.
Main Features
FiberFlex face offers a large impact zone.
It forces balls to bounce off the paddle
It offers quiet gameplay.
Beautiful and colorful paddle design.
Its average weight is about 7.5 ounces.
Its weight range is about 7.4-7.9 ounces.
Its length is about 15 5/8 inches.
The grip circumference is about 4 ¼ inches.
The length of the grip is about 4 ½ inches.
Pros
It comes in two weight ranges for different players.
The medium weight provides more power, and the lightweight increases hand speed.
It offers more power, control, and spin.
Produce a quieter impact on the ball.
Excellent grip and feel.
Cons
It can cause pain in the arm and elbow.
4. ONIX Graphite Z5 Graphite Carbon Fiber Pickleball Paddle with Cushion Comfort Grip – (
Best Graphite Pickleball Paddle)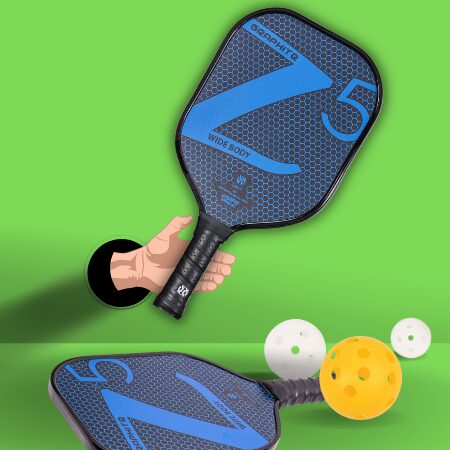 The ONIX Z5 pickleball paddle is, the most prevalent paddle offered by the ONIX. Not only that, it is one of the best options for those who want a graphite paddle.
ONIX Z is the best option for those of you who want a paddle with high control over the ball. It is a nice touch paddle that will be useful during a heated match. If you are a finesse player, this may be just the racket you are searching for you!
The wide shape of the top corner gives the player more area to hit the ball. The graphite surface will grant each of your shots a distinct pop on each hit.
Professional players love this paddle. It is easy to swing, and you can place the ball where you want. If this suits your style of play, this is the best paddle that can be easily recommended. It comes at an affordable price as well.
Did you say you want to look good while playing? This racquet can come in a wide variety of color combinations. Pick your desired color to match your outfit, and master your skill shots while looking amazing.
Main Features
It offers an excellent touch paddle for greater ball control
Nomex, paper honeycomb core, and graphite face
It has a grip size of 4-1/4 inches.
It offers excellent balance, speed, and power
It is the best option for all player levels
Available in different color ranges.
Pros
Very quiet in performance.
Exceptional control over the ball
It is lightweight and easy to move.
It has a comfortable grip.
High durability because of the graphite surface.
Cons
Not very powerful in shots.
5. Gamma NeuCore Pickleball Paddles with Honeycomb Grip – (Best Pickleball Paddles for Intermediate Players)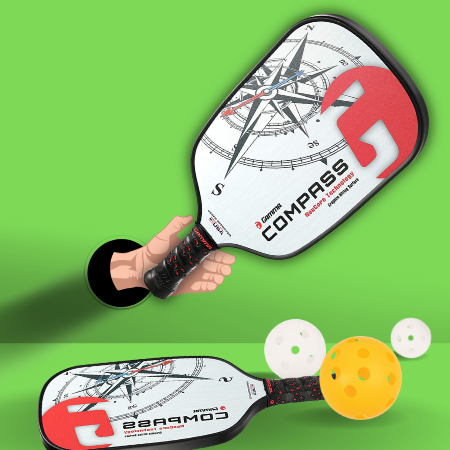 The Gamma Compass Graphite paddle offers users a long and handy reach with a high-quality polymer core. NeuCore technology specifically utilizes larger cells and a 25% thicker core to make the paddle feel soft during impact but still provide power when needed.
The textured surface of the graphite conforms to USAPA guidelines but is more likely to enhance the spin on the ball. Despite its length, this paddle has a balance that can control shots from any angle. This paddle is 16-5/8 inches long and weighs about 7-3/4 ounces.
Its handle is 4-3/4 inches long and has a small handle that allows for quick position changes. The face has a compass image printed on the left-hand side with the Gamma logo, which is printed on the top right corner. Due to its smooth, dynamic feel and long-lasting adaptability, the Compass Graphite paddle provides you with a higher standard of play.
NeuCore technology offers a softer feel and hitting experience. The long face of this paddle helps you to play the hardest shots. The textured graphite surface offers a good grip to generate spin. The compass is thinner than other paddles in the market to provide a different performance on the court.
I have used this paddle many times to keep my opposition honest. By stalling my movements, and delivering elaborate spins, you too can become a terror on the court.
Main Features
It has a 25% thicker and larger cell core
It is soft and has a more effective feel to add control to the game
Power control in the shots
It offers quieter play due to large cells
It has a prominent GAMMA Honeycomb Cushion Grip
It is made of USAPA Approved technology.
Pros
It offers more power and better reach on the ball.
It produces sharper spins.
Sweet Spot provides excellent control.
The extra length provides an advantage for wide balls, especially.
Excellent in producing powerful shots.
It offers more spin for professionals.
6. Paddletek Tempest Wave Pro Review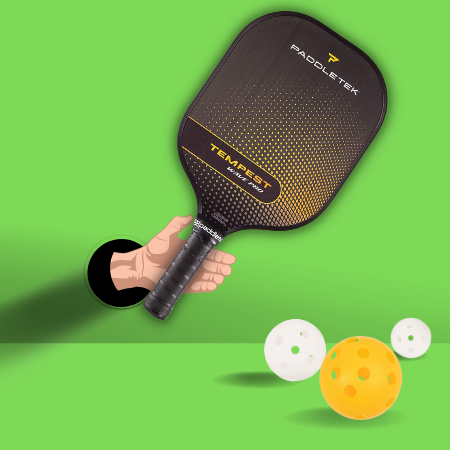 Tempest Wave Pro Pickleball Paddle utilized smart and responsive technology to enhance taste and sensitivity. It grants you a responsive touch AND more power to control the game.
It comes with a thin or thick handle so you can select the grip according to your needs. The grip is 5-1/4 inches long, allowing you to switch up your grips and techniques mid-game, or even stretch for the ball.
The face is 8 inches wide to provide a larger hit zone and enables you to hit smoothly. This Tempest Pro paddle will take your shots to a whole new level with high-quality materials.
The supreme precision, power, and endurance allow you maximum performance for all playstyles. Smart and responsive technology and a large strike zone add quality to each shot. The well-adjusted weight results in better speed.
Moreover, smart technology adds forgiveness and consistency. It provides an incredible level of control and enough power to play a powerful shot.
Main Features
Its weight is about 7.6 to 8.0 ounces.
It offers a large playing surface
Textured graphite surface offers sweet touch and feel.
It has the tempest SRT core
They are designed for quieter play.
It has cushioned Grip
It is designed according to USAPA tournament requirements.
Pros
It offers supreme accuracy, power, and the highest performance.
Its ultimate control enables you to place the ball anywhere you want.
It has a large hit zone and adds power to the shot.
Its medium weight enhances maneuverability.
The textured graphite surface offers an unusual level of control.
It comes with a high-tack performance grip.
7. Gamma Poly Core Pickleball Paddle – (Best Composite Pickleball Paddle)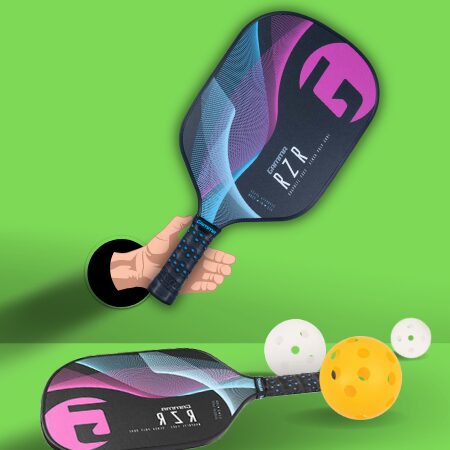 The RZR Graphite pickleball paddle will maintain your target and give your opponent a tough time. This paddle is a combination of graphite face and Sensa Poly Core.
In reality, the ball will rebound from the face in the blink of an eye. It is a suitable choice for those who want speed and power in the game.
This pickleball paddle has a design that is applicable to direct printing. This allows for the fastest contact between the ball and the paddle surface, giving a remarkable touch to the handle. The small handle creates a useful grip, whereas the thin-edge protection provides a wide sweet spot.
The image combines a smoky pattern with lines on the sides. The RZR Pickleball not only looks great, but also it will increase the performance of your game. It comes in different color combinations.
A favorite of my brother, I have learned the hard way, there is no way to get on the end of a well-struck shot from the RZR Graphite.
Main Features
Its weight is 7.6 ounces for best handling and maneuverability.
It has a 4-inch Honeycomb cushion grip for extra comfort
It has a textured graphite face
It is designed according to USA Pickleball Association standards
It comes with a 1-year limited warranty.
Pros
Sensa Poly Core technology improves touch for constant control
It provides extra power, control, and feel.
Textured graphite sweet spot produces extra spin
The honeycomb grip provides extra cushioning and control.
Very comfortable in the hand
Wide face to play wider shots.
Cons
Not a forgiving paddle due to the narrow sweet spot
8. Niupipo Pickleball Paddle – USAPA Approved Graphite Pickleball Paddle – (Best Pickleball Paddle Under $100)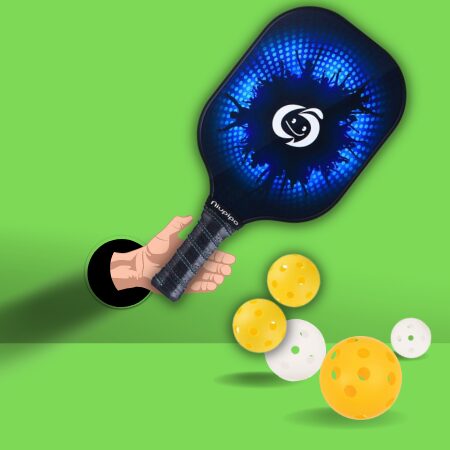 One of the best for players looking for USAPA-approved paddles, who play a diverse game. The Niupipo Pickleball paddle has an original and solid design. It is suitable for those who want a more balanced game and strength.
The main features of this pickleball paddle are the graphite face and the honeycomb core. The front is made of quality material; you will have a very rigid fit without carrying a large weight in the paddle. This offers the best control and a powerful hit.
Its core is made of two fiberglass sheets, which make a strong and powerful paddle. You will hit the ball without having to worry about the control. In addition, the grip is cushioned and perforated to keep you playing in comfort.
If you like lightweight paddles, you won't find many lighter. To keep you playing longer, the ergonomic features distribute weight evenly to relieve stress from the elbow and shoulders.
Main Features
Niupipo pickleball paddles are designed according to USAPA standards.
It is a high-quality, graphite, pickleball paddle.
It offers a perfect combination of strength and stiffness.
It is a great combination of control, accuracy, and power-hitting.
It is made of a honeycomb polymer and two sheets of strong fiberglass.
It offers the great capacity to spin the balls.
Pros
It has sweat and cushioned grip.
Its graphite carbon fiber structure delivers excellent power
The handle is very comfortable
It is easy to swing
Perfect for all player levels.
Excellent control with a powerful hit.
Cons
It is a little bit heavy compared to other paddles.
9. XS XSPAK Graphite Pickleball Paddle Set – (Best Pickleball Paddle Under $70)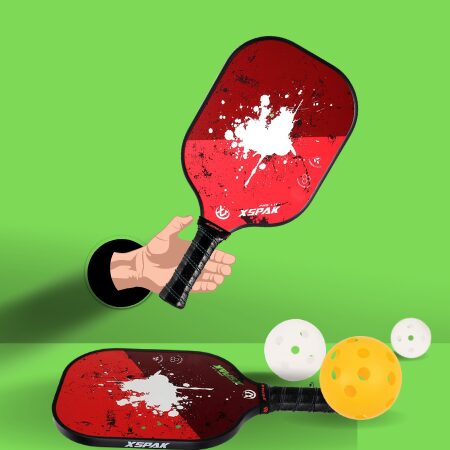 A great value paddle and a great option for beginners. Be at ease knowing these paddles are free to use at all competitions. They are designed, tested, and approved by USAPA standards.
The graphite face will help you play your style of play. You will have full control while hitting the ball. A real hook for gamers who like to control the pace of the game. A great tool for players that like to play with accuracy.
You may love to know that this paddle is also great for pop shots. The core is made of a honeycomb polymer that is the softest and quietest material available in the market.
These paddles are also very durable. Side protection keeps it safe. Its low profile does not get in the way. This saves the paddle from mishits. The one drawback of this paddle is that does not give too much power. So maybe not the best for you power players
#3cb459″]Main Features[/su_highlight]
Its graphite face offers precise control and accuracy.
It is the best choice for intermediate to advanced players.
It is made of the softest and quietest polymer core
It provides strength, maximum performance, and durability.
Edge guard enhances durability and shields the paddle from hitting surface
Perfect for all skill levels and genders.
Pros
It is perfect for pop shots
It controls the ball with top-notch placement
It is lightweight and quiet in performance.
Low-profile edge guards enhance durability
It is designed according to USAPA-approved standards.
Cons
It does not produce too much power.
10. Niupipo Pickleball Paddle-Graphite Pickleball Racket with Graphite Carbon Fiber Face – (Best Pickleball Paddle Under $50)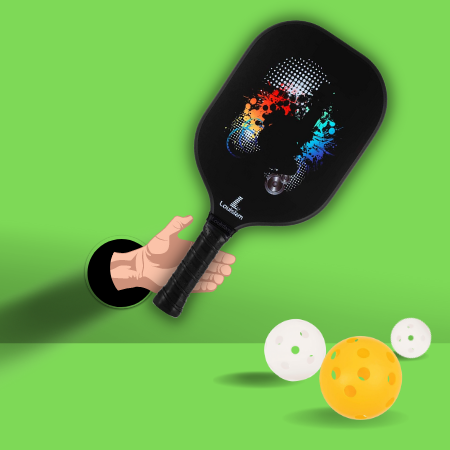 Niupipo pickleball paddle is designed according to USAPA standards and is eligible for all tournaments. For two decades, it was the most popular USAPA Pro paddle available in the market. This is the first and the best choice for beginners.
It has a graphite carbon face and a polymer core that provides a good bounce, minimizes ball deflection, and increases the strength of your shot. With their high durability, the pickleball paddles are superior in texture, balance, and construction.
These paddles are comfortable to handle and perform well during play. They are perforated and well-cushioned, providing a better grip for long and fatigue-resistant play. Edge Protection is available for hitting on the ground. The low-profile edge protection protects the corners of the paddle but is thin enough to lessen mishits.
It also has high strength and durability. These paddles are very lightweight than the wood paddle, offering a perfect combination of playability, control, and power. It comes with a neoprene zip cover. It is designed to be an excellent pickleball paddle for both beginners and professional players.
Main Features
It has a USAPA-approved design.
Graphite face and polymer core provide excellent bounce and ball control.
It adds strength to your shot.
Its texture and balance enhance its durability.
Very comfortable in the court.
It comes with a cover.
Pros
This paddle is good-looking and lightweight.
It has a comfortable grip.
It comes with a nice padded cover to protect it during transport and storage.
The paddle has a bigger area than the cheaper models.
It produces a lot more power.
The grips are very good, especially when hands get sweaty.
11. JP WinLook Pickleball Paddle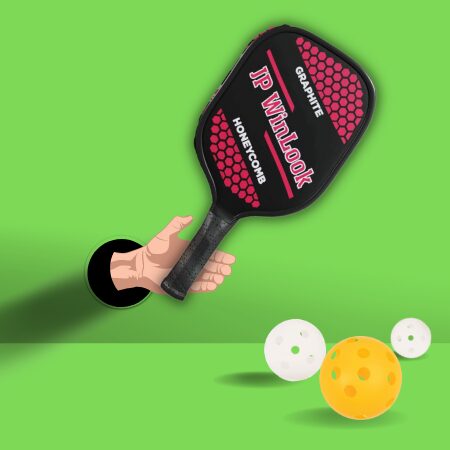 The JP WinLook paddles are well-designed. A comfortable grip and a perfect weight of 7.8 ounces. The surface is made of high-value graphite carbon fiber.
These paddles are perfect for all-level players. Thanks to their high durability, they can bear hits on the surface better than many more expensive paddles.
The JP WinLook has a narrower grip than other paddles. Despite not immediately noticeable, the longer I play with this racquet, the more comfortable it feels in my hand. One of, if not the most comfortable paddle to play with.
Moreover, the handle is also coated with a soft material that assists your grip. The softness allows you to handle the paddle in wet or sweaty conditions so that you continue to focus on the game.
Main Features
It has a high-quality honeycomb core combined with a face of carbon fiber.
The paddle feels great and has unmatched durability.
The soft and slip-less handle provides an excellent grip.
Perfect for all types of players.
Edge guard protects it during ground hits.
Pros
It comes at an affordable price.
Outstanding customer service
It comes with high-quality carry and accessories.
It is the best combination of balance, control, and power.
Its wide face creates a larger hit zone for better impact.
The graphite surface creates excellent spin.
Cons
Durability is not up to the mark.
12. Onix Evoke Premier Pickleball Paddle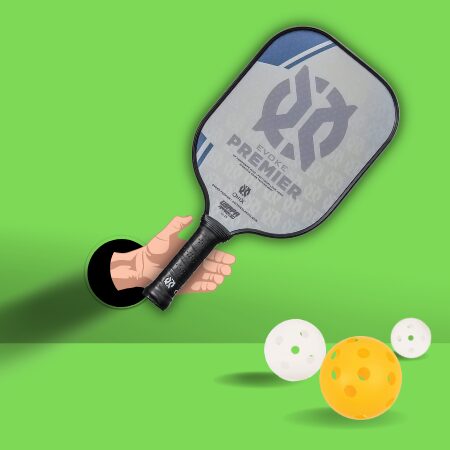 The Onix Evoke Premier paddle has a unique face made of Composite Fiberglass. Evoke Premier is a great choice for those who want a fiberglass face paddle. It provides a great combination of spin and paddle pop to provide a consistent feel while hitting the pickleball hard.
Featuring an Atomic13 edge protector designed to offer additional aerodynamic characteristics. This edge guard absorbs shock during impact and during blocking. Similarly, ensuring that it can be swept away quickly while generating energy from the back of the court.
The core is made of polypropylene honeycomb, which makes the paddle thicker than others. This added thickness increases the paddle weight between 7.8-8.2 ounces and makes it heavier than other Onix paddles.
The size of the Evoke Premier handle is standard and is 5 inches long. This makes the paddle a great change for players. The handle is also covered with the Onix Superior grip, which is considered the best grip for the pickleball.
The Onix Evoke Premier is not for the faint of heart. But if you enjoy playing a power game and don't mind the heavier paddle, then this paddle could be perfect for you.
Main Features
It is particularly designed for professionals who want power and precision.
The wide face slightly increases the reach and enhances your baseline power.
The Atomic13 Edge feature was particularly designed to absorb shock during impact.
Designed by Pickleball National Champions
Precisely cut polypropylene core produces incredible touch.
Pros
It also increases power and swing speed.
It softens the ball without reducing spin
Fiberglas face delivers unbeatable pop and spin
The honeycomb core provides control, power, and durability
It is lightweight but produces enough power in the shots.
Cons
Only suitable for professionals.
13. Rally Tyro 2 Pro Pickleball Paddle – (Best Small Grip Pickleball Paddle)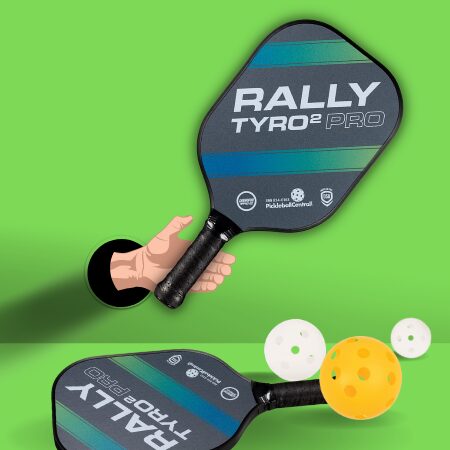 The Tyro 2 Pro has a shock-absorbing polymer core that offers you excellent control in the game. If you play consistently with players who love to strike the ball, then the Tyro 2 Pro is a great option for you. It is my best recommendation for players who enjoy a defensive style, and who want to drive aggressive players through the roof.
It provides you with a ping off the paddle that will allow you to return a fastball with ease and accuracy, as you control the pace. A medium-weight paddle that provides you with a chance to display a wide range of skills in a variety of strokes, from; serving, lower strokes, spins, and smashes.
Another bright feature is its large hit zone. It has a 7-3/4 inches wide face and a long handle. This gives you a greater reach across the court and helps you to make"impossible" returns. The length of the handle is the same as the Z5, which measures 5 inches long and offers great control.
The paddle surface is made of a polycarbonate mixture coated with a glass fiber polymer core. This makes the paddle hard to feel but gives the density to defend against hard hits. Not necessarily the most comfortable paddle, but one that will surely see your win rate sky rocket.
Main Features
It provides outstanding comfort and striking power.
The durable face is made of polycarbonate guards and increases the hitting zone for a great shot.
A perforated grip provides greater contact and grip to hold the paddle. It absorbs sweat from the hand and provides comfort in the toughest circumstances.
It has a perfect weight of about 7.7 – 8.0 ounces
Grip size of 4.25 inches fits all.
Pros
It has high-end performance due to its ultra-durability.
It is designed for USAPA-approved standards for tournament play.
Vibration-reducing technology provides both power and control.
Polymer core delivers excellent control over hard shots.
Large sweet spot offers a wide range of pickleball shots
Excellent value in terms of money
Cons
It produces irritating sound.
14. Pickleball Central Rally Tyro 2 Pickleball Paddle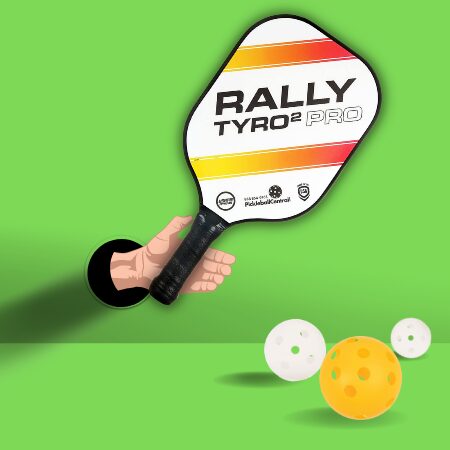 Rally Tyro 2 is an amazing paddle for every beginner.  It features the best combination of durability and quality at an unbeatable price.
The new Rally Tyro 2 is lightweight enough to keep it fast on the net, but it still provides a lot of pop while playing at the baseline. Its face is made of composite material combined with a core of durable polymer that absorbs shock and allows easy redirection of pickleball.
It has a weight of 6.7 to 7.0 ounces. Its handle has a small and non-slip grip. The handles are generally more than 5 inches in length, so there is more room to play. Rally Tyro 2 is a great use of the money, offering surprising versatility in a unique design.
Not a paddle I would recommend to experienced players, but great for players who want to search for their on niche on the court.
Main Features
It helps to improve your game.
It has thick Polymer Core allowing you to hit the ball hard.
Its large hit area and moderate weight provides much control and settlement on the shot.
Its 6.7 ounces weight provides decisive control and movability.
Ultra-durability and high-strength performance.
Pros
Its core is made of polypropylene and face is made of composite material.
Edge-guard technology enhances strength.
It comes with a 30-day return policy and a 1-year money-back warranty.
The ultimate grip fits almost every hand, permits a quick wrist action.
It is perfect for beginners and intermediate players.
Cons
It is not for tournament use
15. Prince Response Pro Pickleball Paddle – (Best Prince Pickleball Paddle)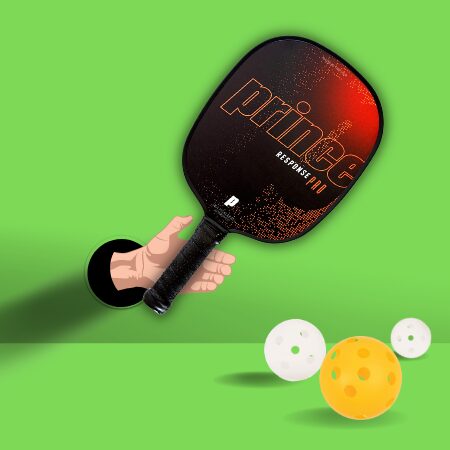 The Prince Response Pro Paddle brought an advanced look with its extremely round design. This creates a wonderful hit zone with a mild touch that will hold your grip on the handle.
The thick layer of the polymer core produces a great amount of strength with each swing. This feature allows you to control the speed and direction of the pickleball.
Prince Response Pro is 8-1/4 inches wide and has thin protection to provide plenty of usable space. It is reliable in performance. Its grim is 5-1/2 inches long so that you can have remarkable reach. It is also great for players who use both hands.
You can order this paddle either with a small or medium grip and a different weight that best suits your style of play. It offers players many opportunities to generate strokes with a large amount of pop, control, and speed. Multiple weights  and color combinations are available for ou to customize.
If you're a charitable sort, ten dollars from each purchase of this paddle are donated to a nonprofit organization serving U.S. veterans.
Main Features
The round shape turns a larger sweet spot that is suitable in the backhand and forehand.
The fiberglass surface improves touch and permits you to spin the ball.
It is designed according to USAPA standards
Two weight selections for all types of players.
The head is light and has fewer dead spots.
Pros
The longer handle offers a wide range to play.
A thick Polymer core generates more powerful shots
They come in four different color options.
It produces perfect serve and enables you to play well at the baseline.
The USA made a paddle with a high durability guarantee.
Cons
It is not suitable for beginners.
16. OneShot Pickleball Paddle – ProShot Series – (Best Large Grip Pickleball Paddle)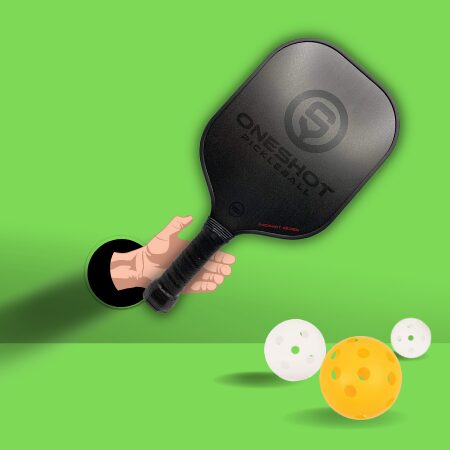 The design of the OneShot Pickleball ProShot Paddle is versatile that enables you to adopt a style of play you like. It has a long arm for both hands to play, but still offers a wide face. Whether you are attacking or defending against a rapid explosion, this paddle has the speed, weight, and quality you need.
This paddle is made of a graphite surface that has a USAPA-approved structure to give it an extra spin. The polymer core is wide enough to provide strength and reduce vibrations. Its weight is between 7.4 – 8.1 ounces. The grips are available in medium and large sizes so you can select the right size.
The paddle design has a black surface with the name and logo of OneShot in the middle. The OneShot ProShot paddles are made to suit the needs of the court and improve reliability.
In my opinion, this is the best paddle for EXPERIENCED all-around players.
Main Features
It has a USAPA-approved design.
Light and average-weight paddle are best for beginners & advanced players.
Polypropylene Honeycomb core
It has a textured graphite surface.
Weight ranges between 7.4-8.1 ounces.
Pros
It has a vibration-reducing capability.
Highly recommend it to anyone, but particularly to advanced pickle ballplayers.
It provides great control, and the textured graphite gives a wicked spin.
Great quality and it sure feels good to hit with.
The price range is so reasonable for a good paddle that fits my finesse approach.
It has got great control and provides more grip for both finesse and power players.
Cons
Grip quality is not up to the mark.
Read More: How to keep the ball low?
Ultimate Buyer Guide: How To Choose A Pickleball Paddle
The Pickleball paddle is the most important tool in the game. It can greatly affect your playing style and body condition after the game.
The best method to select a paddle is to try it. The five main factors to consider while selecting a pickleball paddle are weight, grip size, material, length, and power and control.
Weight:
Pickleball Paddle Weight
Heavy Paddle
>7.3 oz
Midweight Paddle
7.3 – 8.4 oz
Lightweight Paddle
<8.5 oz
Weight is the most first feature to consider while selecting a pickleball paddle. It controls your feel for the game and dictates the style you will play. The weight of paddles ranges between 6 – 14 ounces, and it will affect their strength and control.
A lighter paddle is easy to control and finesse with but produces less power. On the other hand, a heavier paddle is difficult to control but produces more power. Heavier paddles can cause elbow and arm strain.
Keep in mind that a lighter paddle needs more energy and swing to hit the ball hard, which can lead to injury or pain.
Grip Size:
The next factor to consider is the size of the grip. Always choose a grip size that fits your hand. If the grip is too large, the paddle can more easily slip from your hand. A smaller grip gives you more control and play, whilst a larger grip offers more stability.
The best way is to try different grip-size paddles. If you are unsure about the sizes, the safer bet is to choose a smaller grip. You can add DIY the grip later duct tape, to make it larger.
How to Measure Grip Size by Your Height:
| | |
| --- | --- |
| Your Height | Grip Size |
| >5'2″ | 4″ Grip |
| 5'3″ – 5'8″ | 4 1/8″ to 4 1/4″ Grip |
| 5'9″< | 4 1/2″ Grip |
Material of paddles:
Polymer
Wood
Graphite
Composite
Paddles are usually made of three materials: wood, composite, or graphite. Wood is the heaviest and cheapest material. You should consider the weight problem while selecting a wood paddle. Composite paddles are medium-range.
They include a mid-range price tag and come in a wide range of weights and sizes. Graphite paddles are very expensive but are lightweight and strong.
The core of the pickleball paddle can be made of different materials. The most popular paddle cores are:
Nomex Core
Aluminum Core
Polypropylene Core
Length:
Generally, paddles increase the length of the face by shortening the length of the handle. New players often opt for longer paddles for two reasons:
It provides you with more reach, to stretch for distant balls.
It enhances the speed of the arm.
However, longer paddles also make the head a little heavier and unusable on the net.
Power and Control:
If you are a patient player, choose a composite paddle. They grant you more control at the expense of power.
If you want to stay behind the court and need maximum speed with negligible effort, a more powerful paddle might be right for you.
FAQs:
What is the best pickleball paddle?
The choice of the best pickleball paddle depends upon your playing style. Because of the spin-grab feature, grip cushioning, 7-layer coating, arm protection, spinning capability, and vibration-reducing feature, Pro Kennex Ovation Speed Pickleball Paddle is the best pickle paddle for me.
How do I pick a paddle from so many choices?
The best way to choose a paddle is to try it. Ask other pickleball players if you can try theirs. Try different weights and grip sizes. If you find a light that feels good and balanced in your hand, try it on the court. If you do not have a variety of paddles to try, this guide is a useful tool for making your first choice.
I am purchasing my first paddle, any advice?
Your first paddle should be a classic paddle. Classic paddles have about 7 ¾ – 8 inches face and 15 ½ – 15 ¾ inches long.
What is the difference between fiberglass and graphite paddles?
Paddles made of fiberglass often weigh more than graphite paddles. Fiberglass paddles are more reliable, while graphite paddles grants more control. Both these paddles are light and strong.
How do I find a paddle with power?
Choose a heavyweight paddle if you want more power in your paddle. Power comes with weight.
Conclusion
All the paddle options listed in this article would be a fantastic choice for you. But the decision ultimately rests in your hands. Your playing style and personal preferences will determine the paddle that works best for you. It's important to note that certain paddles excel in specific areas, catering to different needs.
As someone who enjoys the fun and lightheartedness of pickleball, just like you, I can assure you that the paddles featured in this article are truly remarkable. However, I believe there's one paddle that would be a perfect match for you. Trust me, when you choose the option that aligns with your unique playing style, everything will fall into place effortlessly.
Read More About: