Home
Authors
Posts by Arianna Valdez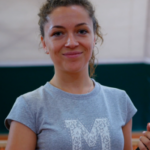 Arianna Valdez has her own tennis school for kids and is actively coaching and sharing her expertise with students of the game. She is an accomplished coach with a proven track record of helping young players learn basics, improve technique, and ultimately improve their strategies and take their game to the next level.
cProbably all the tennis enthusiasts must be knowing the fact that just by grabbing a tennis racquet, people can never be pros. Being a pro tennis player isn't easy; people should make sure to stay dedicated and practice a lot to be a pro. But soon after gaining some basic...
Are you on a search for the best tennis racket for intermediate players? You're in luck! We're here to provide you with everything you need to purchase your perfect racket in no time and with minimum effort! We know that spending hours or days looking for a product can be...
Are you on a search for the best wrist brace but aren't sure where to start looking? Don't fret because we got you covered! We know that looking for the best wrist brace for tennis players' wrist support can take a lot of time and effort. That's precisely why we're...
If you're someone who likes to play tennis and is looking for quality tennis equipment, you came to the right place! One of the most important items when it comes to tennis equipment, apart from the obvious one which is the racket, is the overgrip. Having a high-quality and durable...
In every sport, the players do not only excel through their technique and style. There are various other components to go their way to succeed in the sport. For example, the right time of selection of a player in a team plays an important role. If the player is...