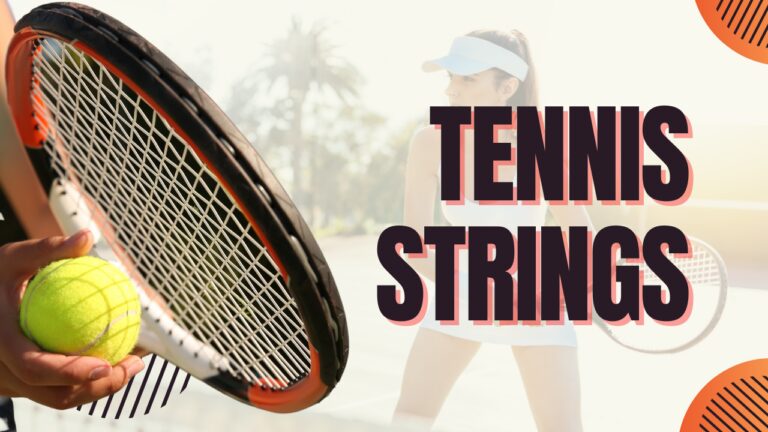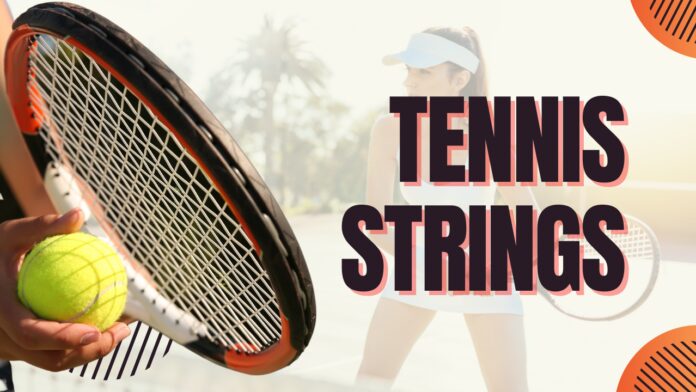 Tennis strings are the main part of a tennis racquet the ball makes direct contact with the strings. The strings have a woven network of fibers inside the hoop of the racquet.
The strings are made using various materials they carry different properties according to the type of material used to make the string.
Best Choice
Good Choice
Don't Miss
Also Consider
RPM Blast Black 17g Strings
Head RIP Control Tennis Racket String 40' Set - 16 Gauge Multifilament Racquet...
Luxilon Big Banger Alu Power Rough 125 Silver String
Babolat RPM Blast Tennis String (12m)
Best Choice
RPM Blast Black 17g Strings
Good Choice
Head RIP Control Tennis Racket String 40' Set - 16 Gauge Multifilament Racquet...
Don't Miss
Luxilon Big Banger Alu Power Rough 125 Silver String
Also Consider
Babolat RPM Blast Tennis String (12m)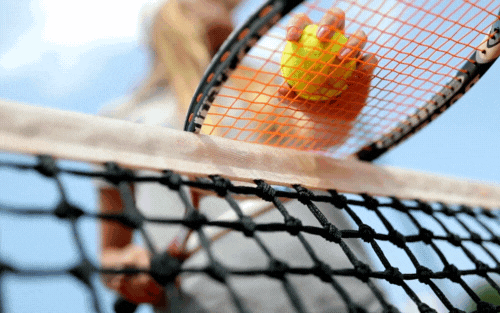 Top Tennis Strings – Top Reviewed
Also, there are different types of tennis strings available we have included them in our buying guide. They vary in various features such as durability, elasticity, manufacturing with tennis string machine, cost, etc.
You are suggested to read the information provided in our buying guide before choosing a tennis string for yourself.
This will help you select the best tennis string for your racquet. Here is a list of the top 5 best strings you can buy online. check the review and buying guide.
1. RPM Blast Black 17g Strings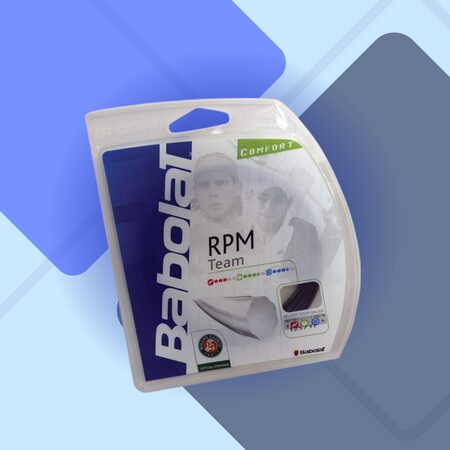 The RPM blast string is one of the best spins available. RPM blast string is a top priority for most of the players; it is loved by players of all types. It is considered that the players who have bigger strokes get the most benefit from RPM Blast 178 string.
Some of the strengths that are provided by RPM Blast 178 string include control and comfort. The string offers a 17-gauge option, which makes it a popular product.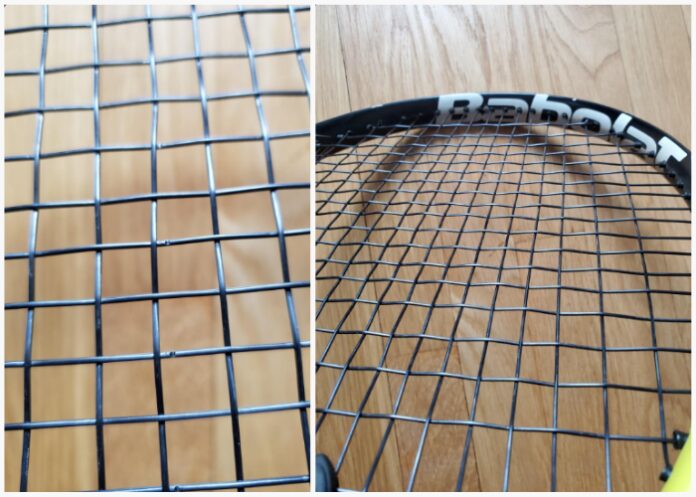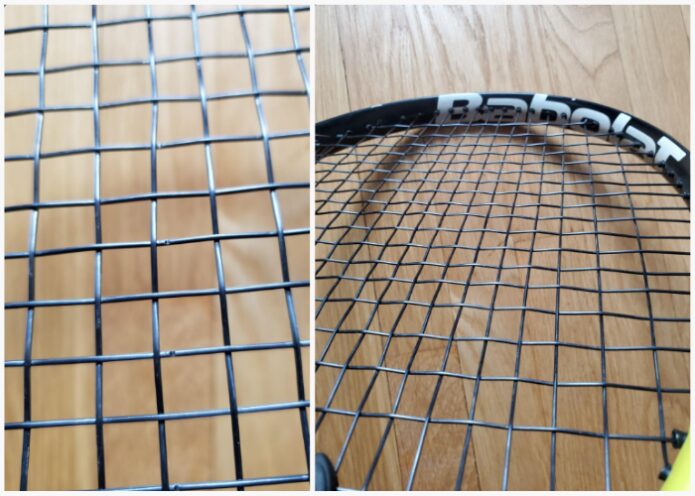 The shape of this string is round, and it is made up of co-poly material. The string has a black colour that is sleek and elegant; you can easily frighten your opponent with this design. The RPM Blast 178 string is an absolute spin-friendly product.
This string has a polished surface, which makes the main strings spin well. RPM Blast is also very softer in comparison to other polyester strings. The string is preferred by all of the big hit players who like heavier racquets and seek maximum durability, spin, and control.
Pros
The spin is soft and offers excellent comfort to the players.
It is suitable for players of all types.
Strings are durable and cannot be broken easily.
It is a cost-effective product.
Cons
The strings are not right in terms of power, as they are made up of co-poly.
The poly strings lose tension very quickly as compared to the strings made of other materials.
2. Head Rip Control Tennis String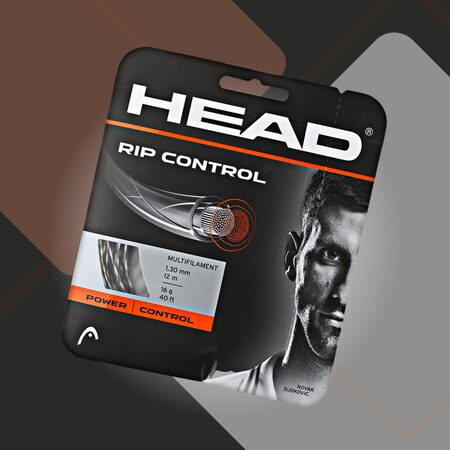 Head Rip Control tennis string is a unique kind of string; it is made up of a combination of polypropylene ribbons and the core of multifilament. This unique combination provides maximum power and ultimate control during the play. The string effectively enhances the control of the ball because of its design.
This string is preferred by such players who want to have reasonable control over their technique of shot placement. It provides a top-level of spin over the ball while the game is played.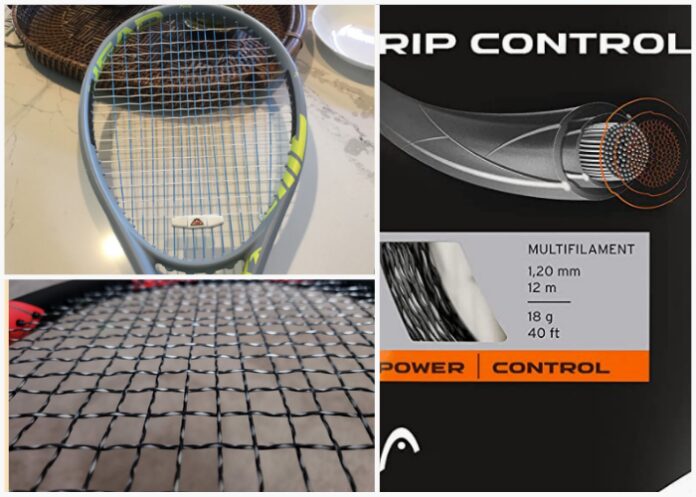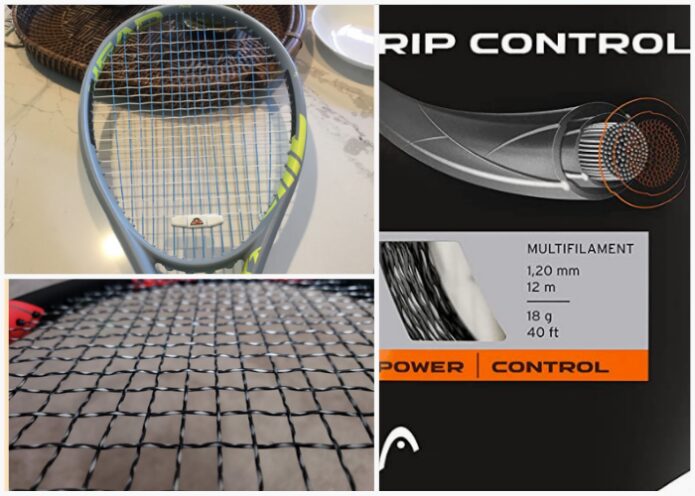 The Head Rip control tennis string is so fine that it can soften the speed of any incoming tennis ball. The string provides a better feel to the player so that the player can shot more powerfully in return.
The string is also more elastic as compared to many other strings available in the sports market. You can improve your performance using the Head Rip control tennis string and make yourself a better player.
Pros
The string is both sturdy and aesthetic at the same time.
The string provides better playability and a top-spin.
It creates a good grip on the ball.
Cons
The string is not much durable, and it can break easily.
The string is a bit softer.
3. Solinco Hyper-G Heaven High Spin poly string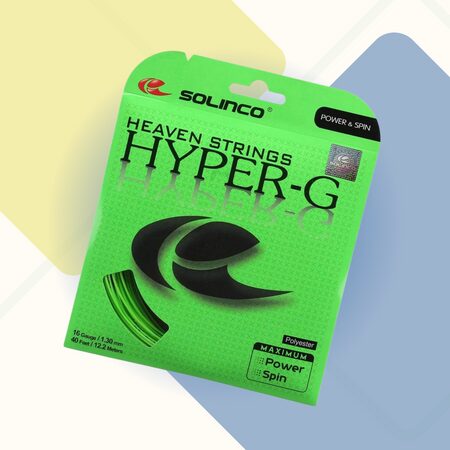 The spin provided by Solinco Hyper-G heaven high spin-only string is remarkable. It allows the player to have good control during the game. The string is effectively strong in all areas of playability.
This string is more durable and long-lasting as compared to the other polyester strings. Some polyester strings are stiff and can lose tension in a short period of time; you do not need to worry about pressure if you are purchasing the Solinco Hyper-G heaven high spin-only spin. This string provides an extraordinary feel to the players.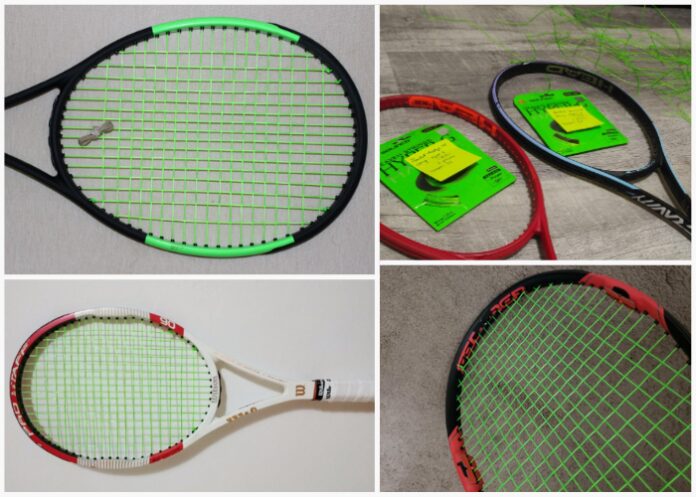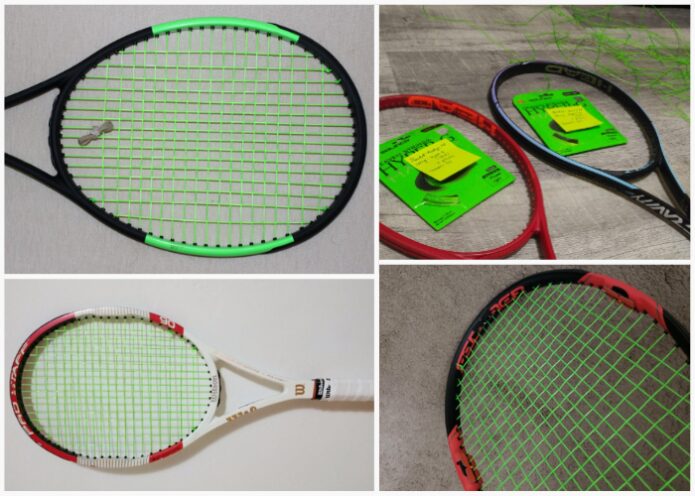 If you are an advanced player, then this string is made for you due to its ease on the arms. Hyper-G string is excellent for players who may have injuries or tennis elbows, and it allows the players to have the best time in the game. It has a square shape, and it is made up of co-poly material
Pros
The string offers an excellent feel and control.
It is very durable.
The string is designed to provide a top-level spin to its players.
Cons
Not up to the mark in terms of power.
The string tension does not last long.
4. Luxilon Big Banger Alu Power Rough 125 Silver String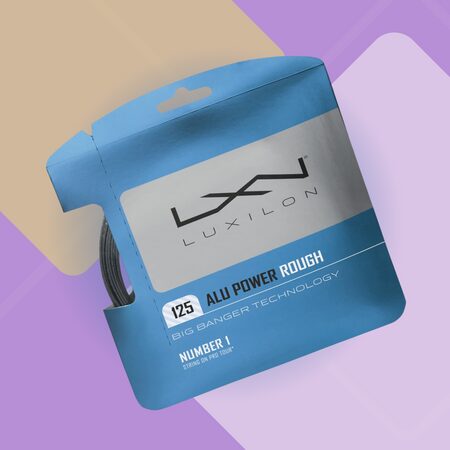 The Luxilon significant banger alu power rough 125 silver strings are the most durable strings present in the market of tennis strings. It not only provides durability to its players but also lets them play more powerfully and comfortably. The string is smooth and is made by using polyester material.
It is liked by some of the best players in tennis and is quite popular. It may not be the best choice for beginners are the strings are a bit stiff. It has a rough texture; the gauges available are of type 16 and 17.
It effectively maintains the tension for a longer duration of play. You would not get any complaints regarding the string's tension-forming capacity.
This is the reason why Luxilon big banger alu power rough 125 silver strings are the most popular string among some of the famous tennis equipment manufacturers.
Pros
Suitable for high-level players.
The string offers a high spin.
It allows you to control the ball effectively.
Cons
The string is a bit hard on the arms of players.
The string is not suitable for beginners.
5. Babolat RPM Blast Tennis String (12m)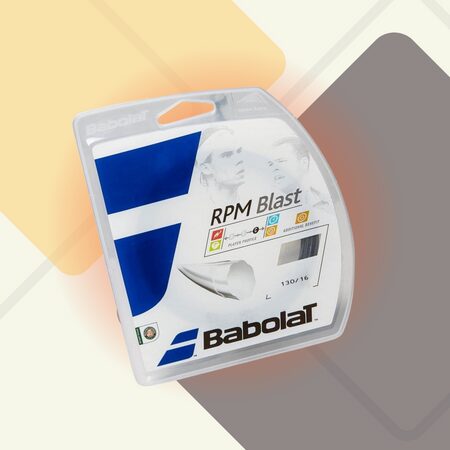 The Babolat RPM Blast Tennis String is very famous. Rafael Nadal even used this tennis string in 2010. The string is wholly made from co-polyester material.
The hype game of Babolat RPM Blast Tennis string became strong after people saw Rafael Nadal using it, a sudden increase in the purchase of this string observed, and people started liking it.
The Babolat RPM Blast Tennis String has got a spin score of 97 out of 100, which is quite impressive. The comfort provided by these co-polyester strings is surprising.
It allows for excellent precision on the fast swings, which is due to the presence of effective control provided by the strings.
Apart from comfort, this string also tends to be extremely powerful. A player using full strokes can get the maximum benefit of the power of Babolat RPM blast tennis string.
It is more suitable for advanced players; they can use this string to get a top-level of spin. The string can provide an incredible to the spin just by using the right strokes.
Pros
The string offers some excellent power.
The string's control feature is just perfect.
Cons
The string is not suitable for beginners as it is a bit stiff.
The string's tension gets reduced very quickly.
Buying Guide for Tennis Strings
Selecting the right string is as crucial as choosing a racquet. For your convenience, we have made a list of a few factors that should be kept in mind before buying a tennis string.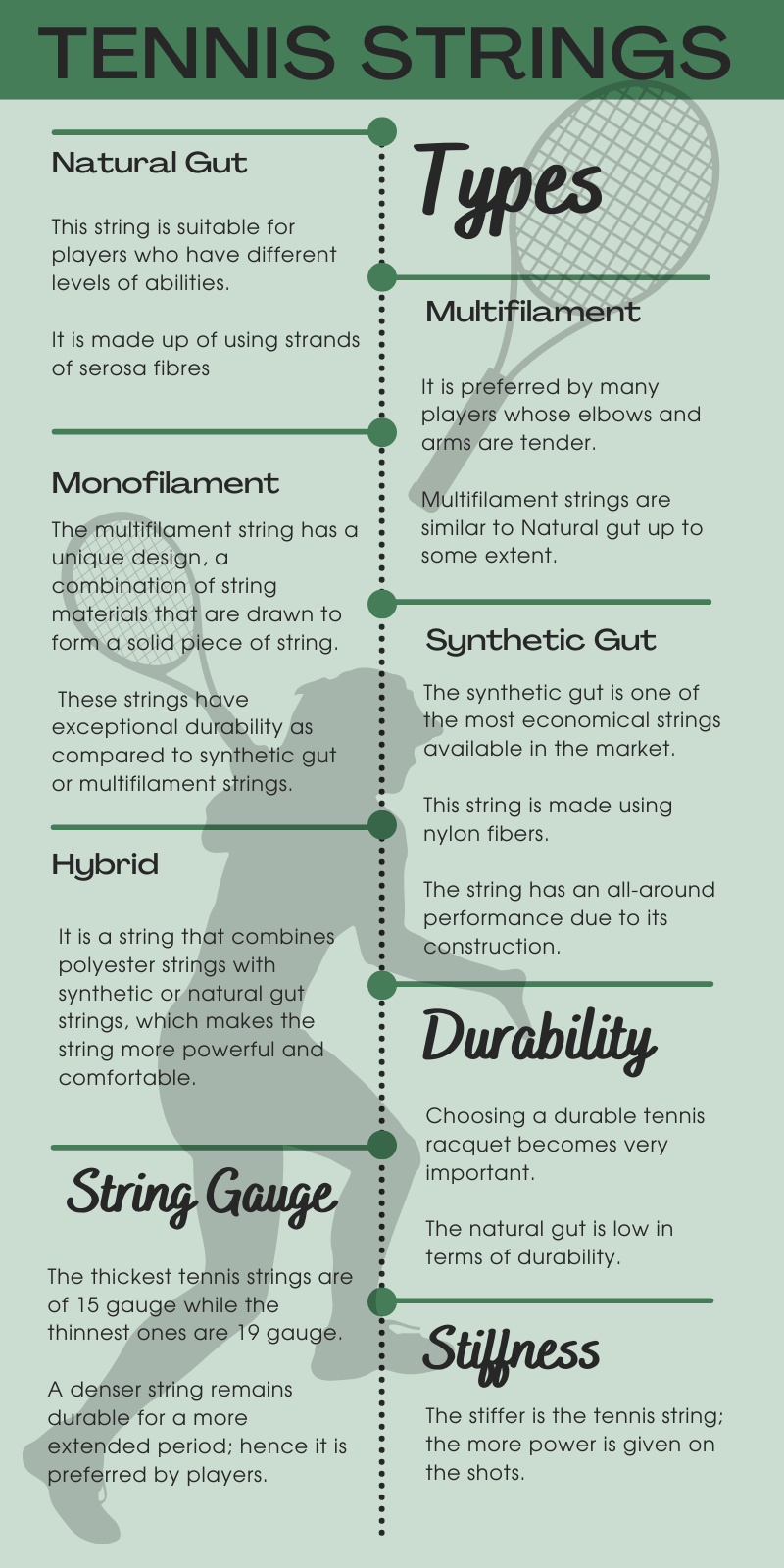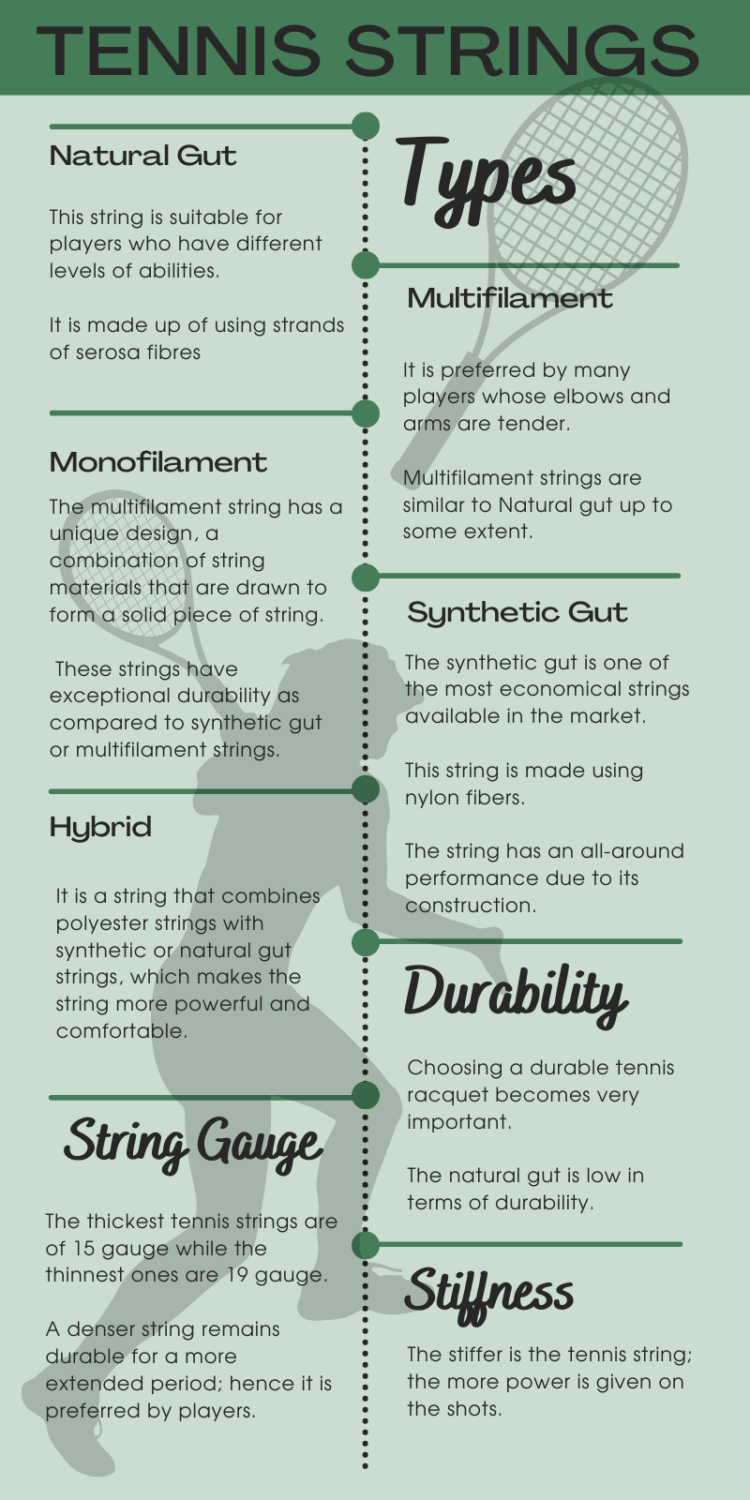 These factors are:
Types of string
Natural Gut: The natural gut is some of the best tennis strings that are available in the market. Tension maintenance provided by this string is top-of-the-line.
This string is suitable for players who have different levels of abilities. It is made up of using strands of serosa fibers (intestinal lining of a cow).
Multifilament: The multifilament string produces high power, and it is more comfortable than other strings. It is preferred by many players whose elbows and arms are tender. Multifilament strings are similar to Natural gut up to some extent. It has a lower price range than the natural gut strings.
Monofilament: The multifilament string has a unique design. It has a combination of string materials that are drawn to form a solid piece of string. These strings have exceptional durability as compared to synthetic gut or multifilament strings.
Synthetic Gut: The synthetic gut is one of the most economical strings available in the market. This string is made using nylon fibres. The string has an all-around performance due to its construction. Players of multiple levels can use this string without any doubt.
Hybrid: This string is made by combining two different types of gauges of the string in the same racquet. It is a string that combines polyester strings with synthetic or natural gut strings, which makes the string more powerful and comfortable.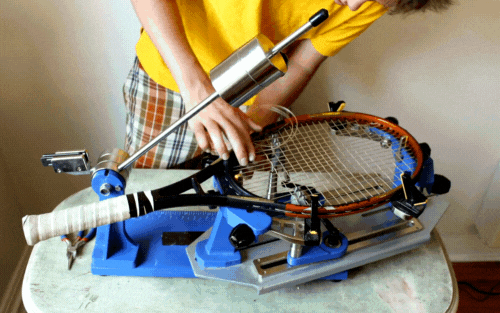 Durability
One of the scariest feelings of a tennis player is that his/her string breaks during the play. Therefore, choosing a durable tennis racquet becomes very important. The natural gut is low in terms of durability.
String Gauge (thickness)
The thickest tennis strings are of 15 gauge while the thinnest ones are 19 gauge. A denser string remains durable for a more extended period; hence it is preferred by players.
Stiffness
The stiffness of the tennis string is related to the striking of the tennis ball. The stiffer is the tennis string; the more power is given on the shots.
FAQ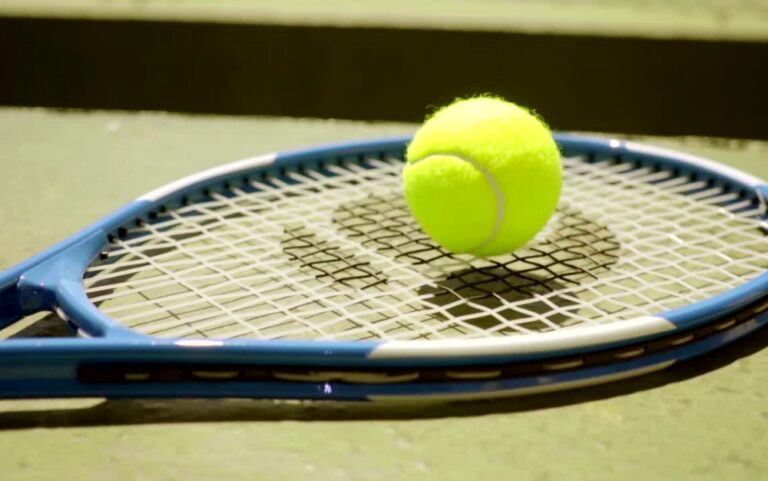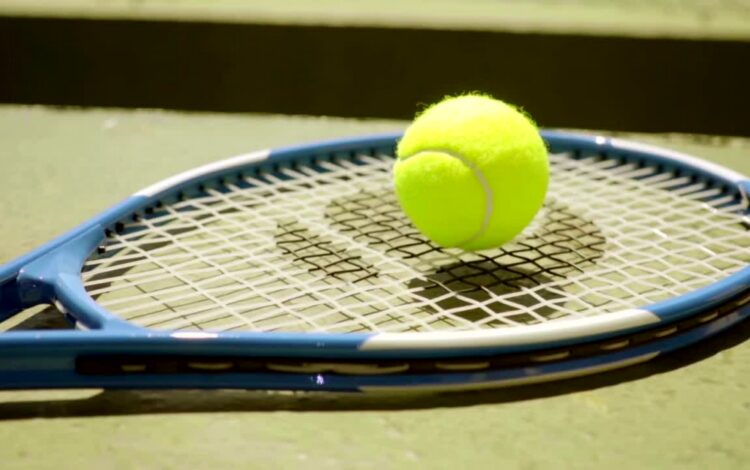 1. What strings do professional tennis players use?
Professionals typically use strings that are made of a mix of polyester and natural gut. The tension range is generally between 40 and 60 lbs. Pro stringers advise stringing racquets as low as possible for better ball control.
2. What is the most durable tennis string?
The most durable strings that are available on the market are kevlar. Typically, it is mixed with nylon to reduce stiffness. Although these are durable, they are not really comfortable or powerful as others that are available for purchase.
3. What is the difference between 16g and 17g tennis strings?
The string gauge represents the thickness of the tennis string on the racquet. The higher the number is, the thinner the string is.
Typically, thicker strings offer you more durability, while thinner ones give you better playability and more spin to your hits. Thinner strings also offer you more feel for the game.
4. How durable are Hyper-G strings?
Hyper-G is a great poly string. It is quite durable and offers you playtime roughly between 8 and 9 hours.
These strings will not lose and break easily as most poly strings. Generally, it has above-average play duration and offers you an excellent feel for the game.
5. What strings are suitable for beginners?
It is best for starter players to go for 17 gauge strings that offer you a pretty good feel for the game and are fairly durable. Since these strings are quite thin, if they break after 10 or so hours, you might want to switch to 16 gauge ones.
Material-wise, you should opt for nylon or natural gut strings that will provide you with lots of comfort and power.
6. Which strings should I purchase?
It depends on what you prefer while playing tennis. Go for thicker strings if you want them to last for a longer period of time. However, if you prefer finesse in your shots and want more comfort, choose thinner strings.
Conclusion
The tennis racquet strings are very crucial to the game. There are many tennis strings available in the tennis industry. Players need to understand the string materials, technology, and construction.
From tennis string brand to tennis string type, here you will find all of the information that you need to make your tennis racquet the best one. This will help you improve your playability in the game. We hope that you select a good one for yourself.
Take a look at these options also:
References:
https://www.ifixit.com/Guide/How+to+String+a+Tennis+Racket/137248