You show up to the court to prepare for your next match. Headband stopping your wavy hair from falling into your eyes. Wristbands to wipe the sweat away from your forehead. Fully equipped in your UnderAmour shoes, shirt, and shorts combo.
You reach into your bag to grab your racquet, and your life flashes before your eyes. The strings on your racquet have loosened up. You won't be able to smash those backhands you were practicing all weekend long.
As a tennis player, you might have faced these issues with a tennis racquet before.
It is the most common issue with a tennis racquet, and it shows your hard work in tennis as well. But it's a terrible feeling when you were not prepared. So let me guide you through the fixes for a loose tennis racquet.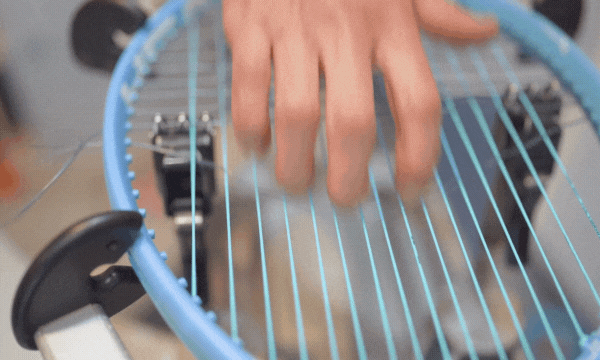 Top 15 Tennis Racquet Stringing Machine
There are two main options in front of you for solving these tennis racquet issues.
The first option is to pay someone to tighten or replace altogether the strings in your tennis racquet

The alternative is to buy a tennis racquet string machine
#1. Gamma X-Stringer Tennis Racquet Stringing Machine – Editor's Pick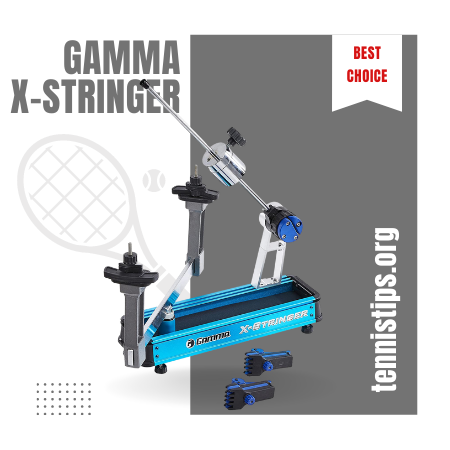 In the very first spot of our list, you will find this tough-looking racquet stringing machine.
The Gamma X-Stringer Tennis Racquet Stringing Machine doesn't require any kind of installation or assembly. It is simple and intuitive to use.
For these reasons, it is our personal favorite, at tennistips.org.
Remember that it is a tabletop tennis racquet stringing machine, where you will get the standard type of base for proper balance.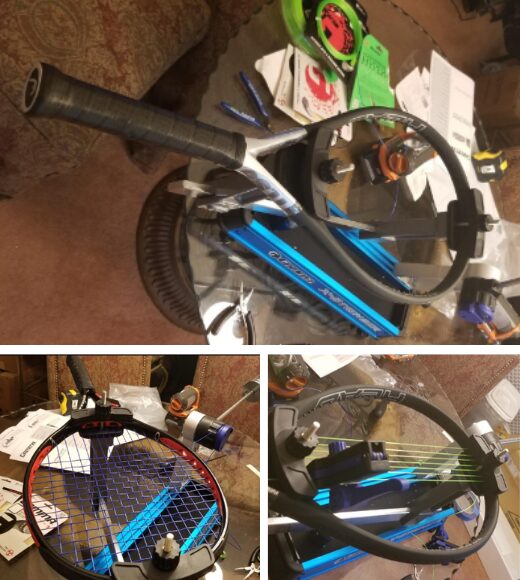 Pros
The build quality of this stringing machine is good, and here you will get the metallic frame in the body of this machine.
Two points present for mounting the tennis racquet on it.
Two extra clamps come with it that will help in the stringing process.
Cons
The base of this stringing machine is not that vast/broad.
#2. Gamma Progression Tennis Racquet Stringing Machine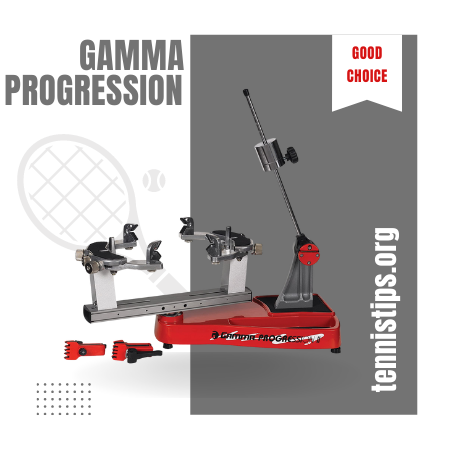 Next up we have a tennis racquet stringing machine from Gamma. A very famous brand name in the field of tennis.
Thus, the Gamma Progression Tennis Racquet Stringing Machine comes in at the second spot of our list.
This stringing machine is not only suitable for tennis racquets, it's a multipurpose tool, suitable for any, and all, types of racquets.
#3. Klippermate® Tennis Racquet – Best Budget Pick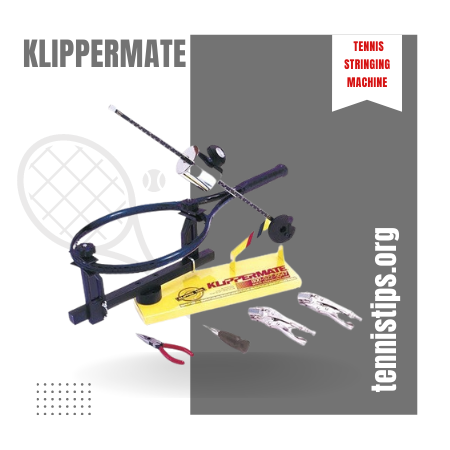 If you are looking for the most straightforward tennis racquet stringing machine, then the Klippermate is for you. Further, it is the cheapest stringing machine on our list.
If you buy this stringing machine, then you don't need to go through the assembly process. You can use it right away after opening the box.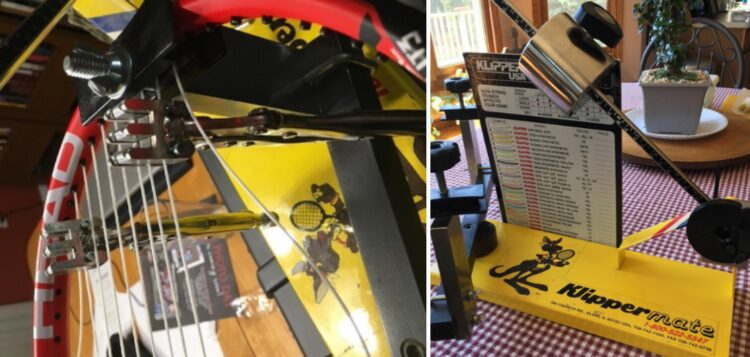 You can buy this stringing machine at a low price point.
Pros
The price is very affordable, so anyone operating with a lower budget can buy this unit.
You will get a small design for higher portability with this machine.
Featuring a metallic body frame, this machine is made with a long-lasting durability in mind.
Cons
The base of this racquet stringing machine is minimal. If you are not comfortable with it, then you can skip this option.
#4. Lovshare Tennis Stringing Machine – Premium Quality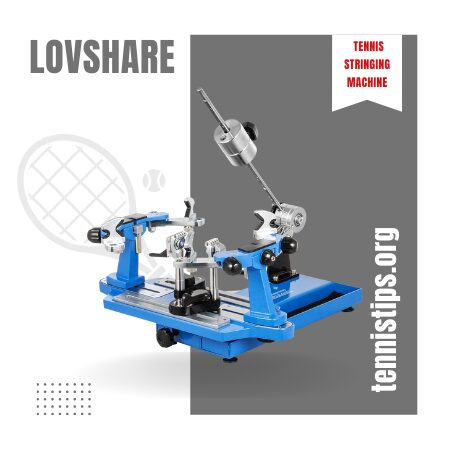 In the fourth spot, we have the Lovshare Tennis stringing machine on this list. This stringing machine is a premium purchase and features everything that the average or even professional players need to string the tennis racquet on their own.
The biggest highlight of this stringing machine is here you will get six mounting points for a tennis racquet.
Remember that it is a premium quality stringing machine, so it will cost you slightly high as compared to other stringing machines on this list.
Pros
You will get a built-in tool tray or toolset with this stringing machine. It includes all the essential tools for stringing a tennis racquet.
Six-point mounting is perfect for easy stringing of the tennis racquet.
The build quality of this stringing machine is premium in quality.
Cons
Cheaper options available
#5. Klippermate Badminton Stringing Machine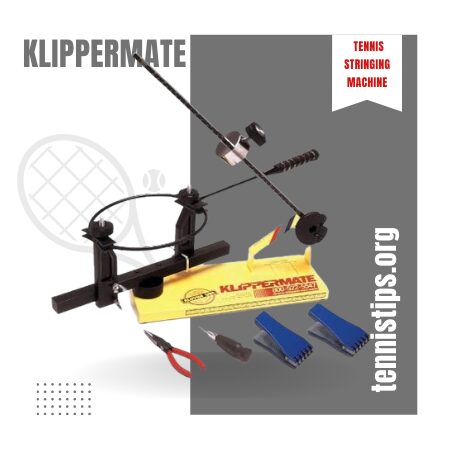 We have a second stringing machine again from the masters at Kilppermate. Another affordable tennis racquet stringing machine, you cant go wrong with this one either.
It is a very lightweight machine that comes with a metallic frame. This makes the stringing machine highly portable and durable.
Pros
It's an affordable range of tennis or badminton stringing machine that has higher durability and higher portability.
At a low price, you will get two points of mounting in this stringing machine.
Cons
The base of this machine is not that broad for balancing it properly.
Buying Guide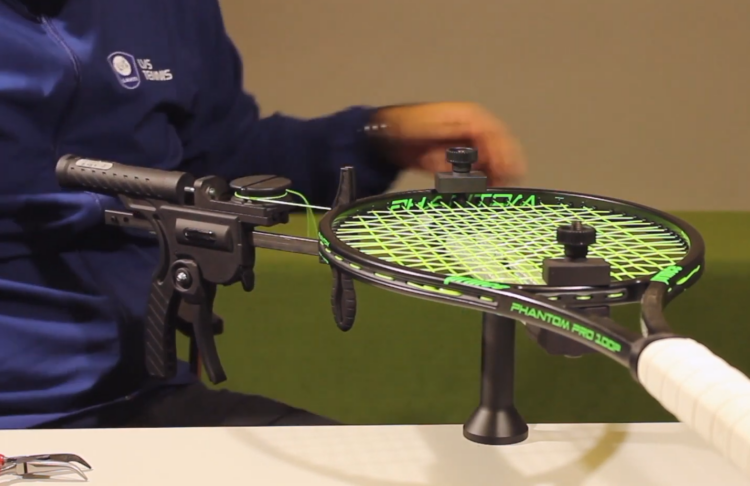 If you're interested in purchasing a tennis racquet stringing machine and want to know the key points to consider, check out these purchase tips below. They provide all the necessary information you need to make an informed decision about stringing machines:
Mounting Point
Before buying any stringing machine for tight or replacing the string of a tennis racquet, you need to make sure which type of mounting point you are choosing. In the market, so many tennis brands offer different mounting points at various price points.
We at tennistip.org suggest you that always go with a stringing machine that provides you with the maximum number of mounting points, available within your budget.
Base
A solid base is crucial, and will help you breeze through replacing or tightening the strings of your tennis racquet. Remember that a broader base can provide more stability to the stringing machine. So always look for more extensive or vast support in your desirable stringing device.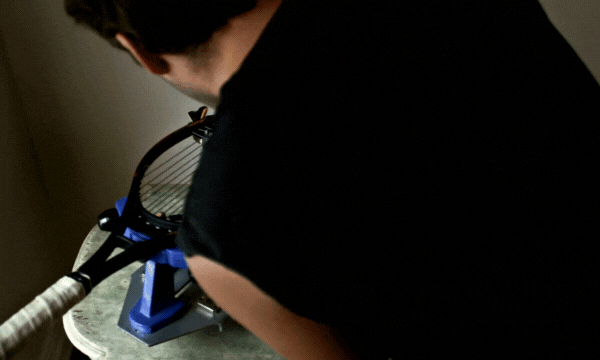 Additional options
Several machines offer extra features and are present with certain manufacturers or models of stringing machines. These may include:
Extra clamps
Multipurpose machines for different racquets
and others…
But keep in mind that any extra features of a stringing machine will increase the costs over a simple machine.
Price
In the market, you will be able to find many stringing machines at different price points.
If your budget is not a limiting factor, the pricier machines will be able to do all you need to by containing most, if not all features optimally. However, if the budget is limiting, follow our tips, and find the tool suitable for your needs.
FAQ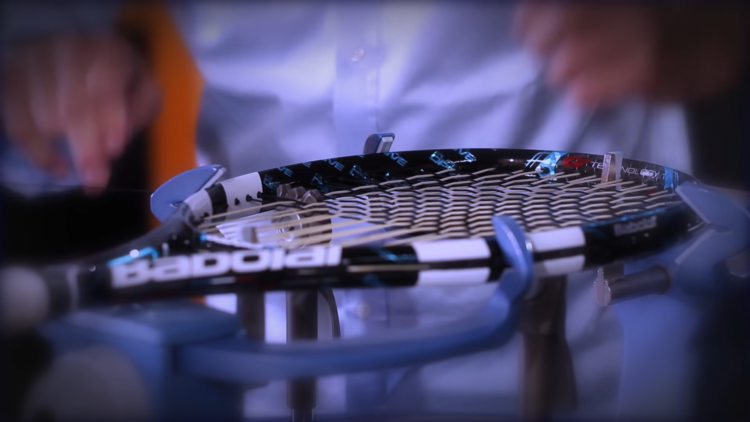 What is a racquet stringing machine?
This machine is used to install strings in your tennis racquet. It is a tool that is pretty easy to use. Novices will take up to an hour to complete the stringing process, while for experienced stringers, it can take as little as 20 minutes.
How do you know if your tennis racquet needs to be restrung?
You will know this by the look of the strings on your racquet. If they are loose or shaggy, it means that they are slowly falling apart from the frame, and they need to be restrung.
Fraying strings will affect your performance during tennis matches, so you should always keep an eye on them.
Is it hard to string a racquet?
No, it is not. This process is quite easy, especially with the proper equipment and a quality stringing machine. There are numerous tutorials on blog posts, while youtube videos can show you how to string a racquet if you are doing so for the first time.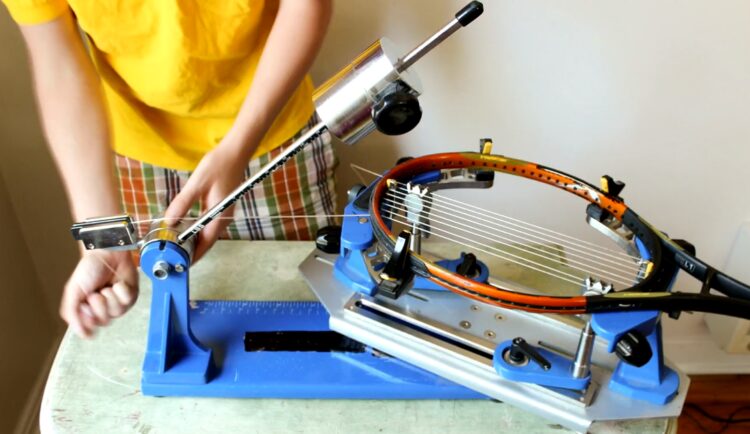 How often should my tennis racquet be restrung?
This varies depending on how often you use the racquet. Typically, it is recommended to repeat this process at least once each month, especially if you use the racquets frequently.
Is the glide bar better than the swivel clamping system?
It depends on what you need from the system. Typically, a glide bar is way faster than a swivel clamping system; however, swivel clamping can handle fan patterns, but will be more time-consuming.
If you use any other type of pattern for your racquet, a glide bar is the far better tool as it will speed up the whole process.
What stringing machine should I purchase for my tennis racquet?
Before making this purchase, you should consider the options we have listed above. Read the customer reviews and get some second opinions from trained professionals.
Final Words
I hope our guide and tips have given you the knowledge and know-how on why and how to purchase your first Tennis Racquet Stringing Machine. Never again should you show up to the court with an unstrung racquet.
So head on out there, and smash those Aces