There have been many great tennis players over the years but those who have held the mantle of 'the best in recent years are certainly on the decline now; that means tennis fans need to see a new face stick their head above the parapet to be the best.
Here we look at Carlos Alcaraz and ask whether or not he could be the next big thing in the sport.
The current stars
We've just touched on the 'best' being on a downward trajectory but who exactly are we referring to? Well, there are three key names that have dominated headlines in recent years. Roger Federer, who is currently on the sidelines and a major doubt for Wimbledon, is gone; he's had a stunning career but his current situation is proof of Father Time catching up – he is 40 after all. Then you have Novak Djokovic.
Again, Djokovic has been awesome for a very long time but at 35-years-old the best days are behind him and it's a similar deal for Alcaraz's idol, Rafael Nadal. He too is getting on in years; in two weeks' time he'll be 36-years-old and whilst he's still a class act, it's only natural that his standards are starting to slip.
Nadal, Djokovic, and Federer have been the major favorites in the Bovada.lv odds for the ATP tournaments in the past decade. However, Alcaraz might be taking those reigns and being the next big thing to show up as a major contender for the big crowns of tennis.
Who is Carlos Alcaraz?
Carlos Alcaraz is a 19-year-old tennis player that hails from Murcia in Spain. He was born there back in 2003 to parents Carlos Sr and Virginia. It was his father that really influenced his early fondness for tennis. Alcaraz's old man was a half tidy player himself and was widely known nationally in Spain, albeit he never kicked on much beyond that. Regardless, by the age of four, Carlos Jr was playing tennis and not just at home; his dad had him playing in clubs.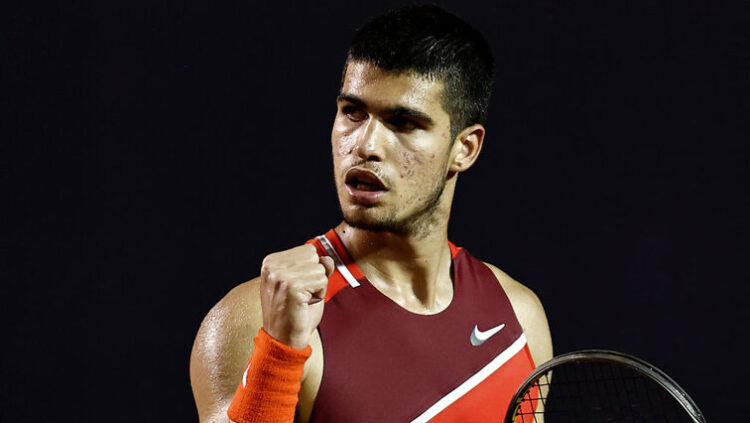 It stood him in good stead. By 2014 – when he was just nine years old – Alcaraz was participating on the world scene in the Under 12 international competition held in Auray, France. His performances as a youngster saw him rise through the ranks and he broke into the top 25 in the world alongside collecting titles on the Junior Circuit; that's not to be sniffed at either with the likes of Federer having taken a not too dissimilar path to professional tennis.
Wind things forward a few years and Alcaraz was done with effortlessly swotting aside fellow kids. At the age of just 15 he took the bold move to turn pro.
Making an early impression
Like Nadal, Alcaraz's game is at its best when playing on clay so it's little surprise his debut came on that surface out in Rio de Janeiro. Alcaraz was only 16 at the time but the occasion didn't get to him; he won his first match before Federico Coria got the better of him in round two. Next up, of note, for Alcaraz was a Grand Slam debut in Australia. Again, a second round exit came about but not before the then 17-year-old had impressed against Botic van de Zandschulp in the opening round.
In Australia, Alcaraz was the youngest man there and it was fast becoming a theme. Soon after his Grand Slam debut, Alcaraz was breaking a Nadal record of being the youngest player to win a match in the Madrid Open; that's a competition that dates back to 2002 as well so it's not exactly just a brand new tournament. Eventually, he lost out in that tournament – ironically to Nadal – but people who follow tennis were already starting to pay attention to the name 'Carlos Alcaraz'.
That winning feeling
Alcaraz had won games against men, he'd impressed against some very good opposition too but going deep in competition hadn't happened – yet. That success would soon come his way though; rewind 12 months to the 2023 Open de Oeiras III and Alcaraz, who was unseeded, fought all the way to the final before landing his first piece of silverware. Less glamorous progress came at Roland Garros in that as he made the third round and then another tournament win came his way; this time in the shape of the Croatia Open Umag.
Alcaraz's progress on the court was clear and good showings at Wimbledon and the US Open really got people talking. That chatter intensified in November as he entered the top 35 ranked single men's tennis players in ten world; that's what happens when you keep beating people who are supposed to be better than you. He ended 2023 with more glory by winning the Next Gen ATP Finals.
Can Alcaraz keep it up?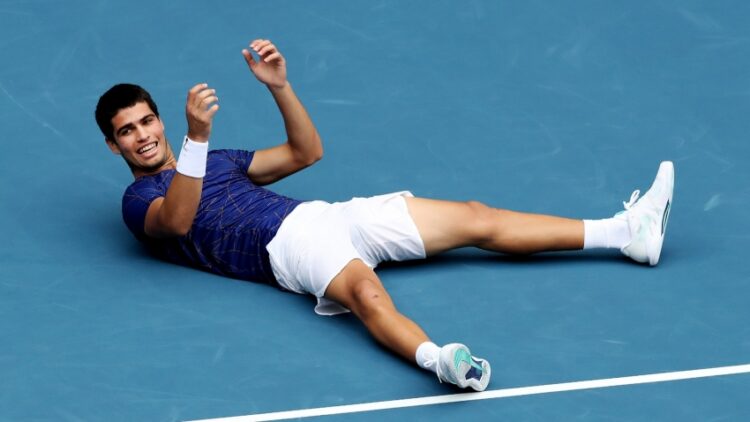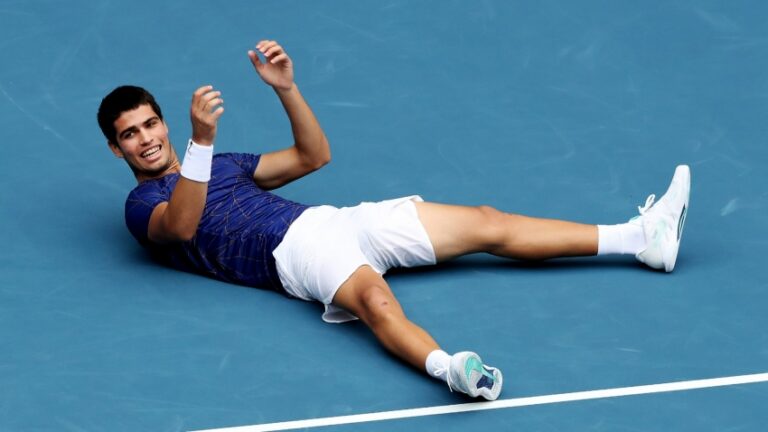 At the start of this year, Alcaraz returned to where his pro career started – Rio – and left a Champion. The top 20 beckoned and strong showings at Indian Wells and the Miami Open, where he won the title, confirmed the hype; Carlos Alcaraz was proving to be the real deal.
A Spanish doubleheader in the shape of the Barcelona and Madrid opens was up next but being on home soil just pushed Alcaraz on; he won both tournaments with his showing in the capital sending shockwaves around the world as he saw off Nadal, Djokovic and Alexander Zverev.
Given he is now at the French Open and impressing again, it really does feel like the sky is the limit for this kid. And, yes, we say, kid – he isn't even 20 for another 11 months!! If he can go deep at Roland Garros now, which is far from an impossibility, and then impress at Wimbledon then he'll have a real chance of ending 2023 as the world number one.
The final verdict
There is no doubt that Carlos Alcaraz is going to be a top, top tennis player. He's already competing at a high level but he needs to go right to the end of a Grand Slam before everyone is on board with him. The other aspect of his game he needs to prove is how good he is away from clay. It's plausible both of those boxes are checked by mid-July. Our opinion? We think he's destined for greatness.