The USA has produced some of the finest tennis players in history, many of whom dominated the sport over a lengthy period. However, recent years have not been the most productive for the country, with the last American men's singles Grand Slam champion coming way back in 2003.
Given the current make-up of the top of the men's game, the chances of an American major winner shortly aren't the brightest, with most bookmakers favoring the likes of GOAT, Novak Djokovic, and Spanish youngster, Carlos Alcaraz to dominate the Slams in the coming years.
Only the staunchest American optimist would be putting any money on an American Slam champion any time soon!
If you fancy a risk, you may want to take a punt on current US No. 1 Taylor Fritz when the next Slam comes around, with many US sportsbooks now offering outright odds on Fritz and other players as part of their betting promotions. (You can find out more about such offers on bettingbonus.com).
While we wait for the next American to hit the top of the sport, let's take a trip down memory lane to relive the guys who have done business for the nation in the past. Here's a countdown of the greatest American men's tennis players of all time!
10. Andy Roddick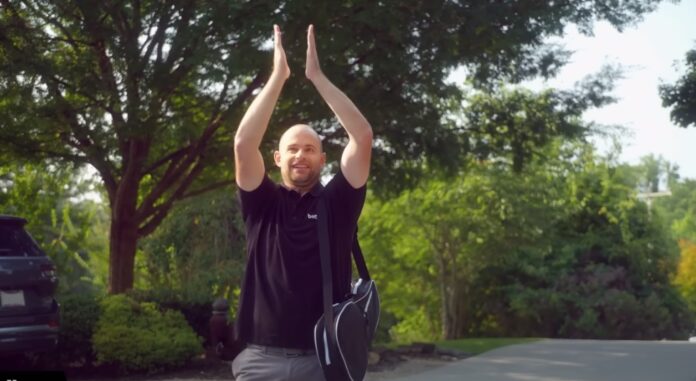 Who knows how many Grand Slam titles Andy Roddick would have amassed had he not had the misfortune of being stuck in the same era as those freaks Roger Federer and Rafael Nadal?
In the end, Roddick managed just one major – the 2003 US Open where he took out Juan Carlos Ferrero in straight sets in the final. The big-serving American made four other Grand Slam finals but stumbled at the Federer hurdle on each occasion.
Roddick did win 32 career singles titles, including five Masters events, and earned more than $20 million in career prize money alone. Not shabby at all! The Nebraska-born player also led the world rankings for 13 weeks.
He might not have been as good as Roger and Rafa, but he's very deserving of his place as one of the greatest American tennis players of all time. As you discover the unique aspects of tennis, explore the intriguing reasons behind players' vocal expressions on the court.
9. Tony Trabert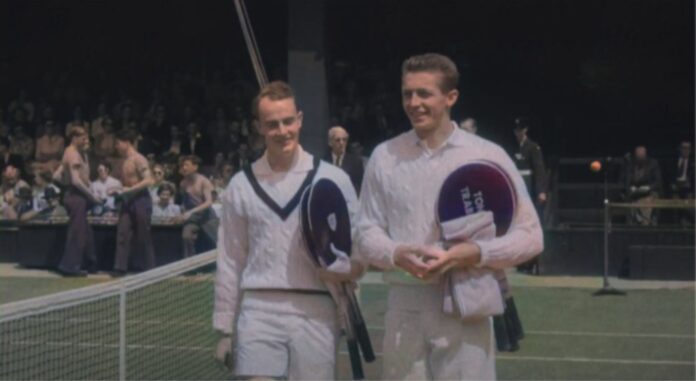 Tony Trabert was a man of many talents – he was a proper basketball player and was renowned for his work in the media – but he was arguably best known for his abilities on the tennis court.
Trabert did his best work in the early to mid-1950s, winning five major titles within that period.
He came very close to the career Slam in 1955, winning the French Open, Wimbledon, and US Open, and only missing out in Australia, where he made the semi-finals.
He showed his versatility by winning consecutive French titles in 1954 and 1955 and remained the only American to win that title until Michael Chang triumphed at Roland Garros in 1989.
8. Jim Courier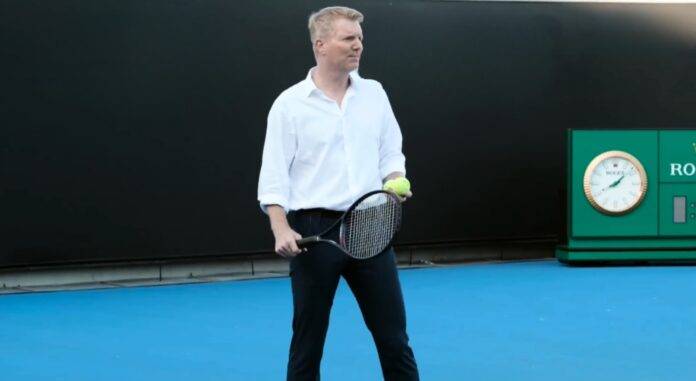 It is easy to overlook Jim Courier's greatness as his best moments overlapped with the emergence of Pete Sampras and Andre Agassi.
Sampras won his first major the year before Courier got off the mark, while Agassi became a Grand Slam champion for the first time a year after Courier opened his account. So effectively, Courier was the meat in the sandwich!
The Florida-born Courier won four Grand Slam titles, two each at Roland Garros and the Australian Open. He was also a finalist at the US Open (1991) and Wimbledon (1993). Courier won 23 career titles in total, five of which were at Masters level, and held the world No. 1 ranking for 58 weeks.
7. Arthur Ashe
Arthur Ashe's greatness transcends what he achieved on the tennis court.
Ashe won three Grand Slam titles – the US Open in 1968, the Australian Open in 1970, and Wimbledon in 1975 – and claimed a total of 44 Open Era titles through his distinguished career. He remains the only black man to win singles titles at the Australian Open, Wimbledon, and US Open.
Many tennis experts and media had Ashe as the No. 1 player in the world in 1975, while he peaked at No. 2 when the ATP computer rankings system was introduced in 1976. Ashe passed on in 1993, but his legacy lives on in many ways. The main stadium at the US Open – the Arthur Ashe Stadium – is named after the great man.
6. Don Budge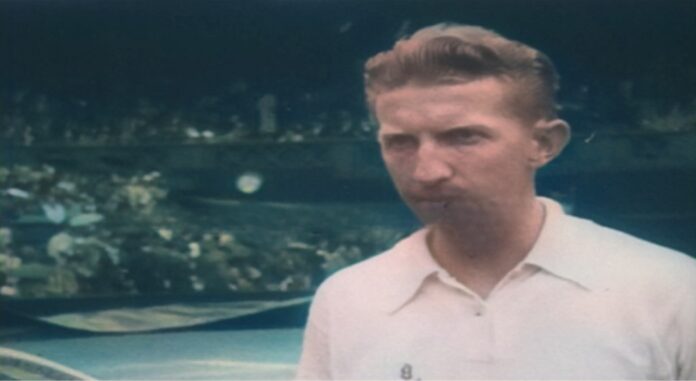 Don Budge will forever go down in history as the first man to win all four Grand Slam titles in a calendar year – a feat he managed in 1938. He won six consecutive Grand Slam titles during that period of dominance, having claimed Wimbledon and the US Open in the previous year.
Budge's stranglehold on the sport's biggest laurels extended well into the tramlines, as he also swept through doubles titles on offer.
He added the doubles and mixed doubles titles to his singles triumph (collectively called the Triple Crown) at Wimbledon in 1937 and 1938; and at the US Open in 1938. Budge is the only man to have pulled off that rare feat three times.
5. Bill Tilden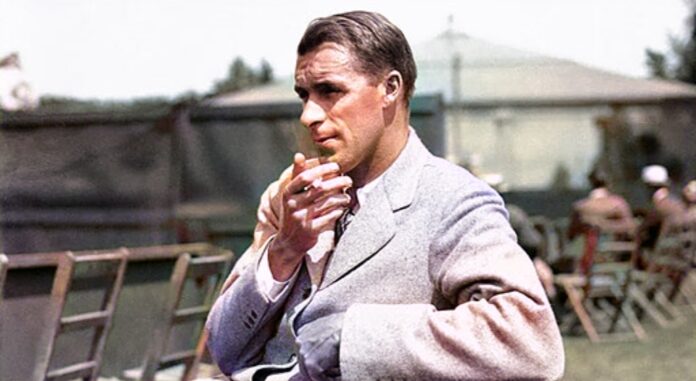 Bill Tilden was the dominant male player in the 1920s, winning a total of 10 Grand Slam titles within that decade.  He won the US Championships for six consecutive years between 1920 and 1925 (added a seventh US title in 1929) and was Wimbledon champion in 1920, 1921, and 1930.
Tilden was the first American man to win Wimbledon. In terms of total Grand Slam titles, Tilden's 10 majors make him the second most successful American, behind Pete Sampras' 14.
4. John McEnroe
John McEnroe's bad-boy reputation during his heyday is well-documented, but let's put that to one side for now and focus on his numbers and achievements, which are simply incredible.
McEnroe won seven Grand Slam singles titles, and a further nine in the men's doubles (plus a mixed doubles title at Roland Garros).  His singles Slam titles came at the US Open (4 titles) and Wimbledon (3 titles).
The left-hander amassed 77 singles titles and 78 doubles crowns throughout his career, with his cumulative haul of 155 titles still the most for any man in the Open Era. He is the only player in the history of the ATP rankings to be No. 1 in singles and doubles simultaneously.
McEnroe holds the record for the best win rate in a single season, courtesy of his 82-3 record in the 1984 season, while he led the ranking for a combined 170 weeks.
3. Andre Agassi
Into the Top 3 now, where Andre Agassi makes his grand entry into the list! Agassi was part of the great 1990s era for American tennis, sharing a riveting rivalry with Pete Sampras.  Sampras may have ended with more major titles, but Agassi can lay claim to winning all four Grand Slam titles (Sampras missed out on the French).
Agassi also added an Olympic Gold medal to his collection, a feat he managed in Atlanta in 1996, becoming one of only two men to complete the Golden Slam.
The American finished his career with 60 singles titles, 17 of which came at Masters level. He first reached No. 1 in the world in April 1995 and would hold that position for 101 non-consecutive weeks.
2. Jimmy Connors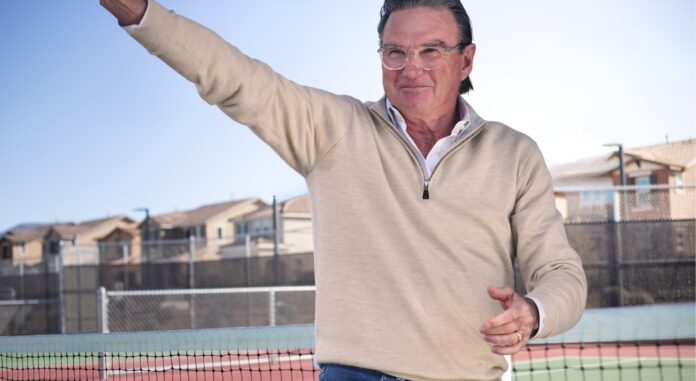 Like Agassi, Connors also won eight Grand Slam singles titles, but he takes the No. 2 spot by two major stats. Connors won a staggering total of 109 singles titles, which remains an Open Era record in men's tennis. Not even Roger Federer and Rafal Nadal could manage that!
Also, Connors was No. 1 in the ATP rankings for a total of 268 weeks, (including 160 consecutive weeks) putting him at No. 5 on the all-time list.
His most productive Grand Slam hunting ground was the US Open, where he won five of his eight majors. He added two at Wimbledon and won the Australian Open once. Connors never won the Roland Garros, with his best efforts being semi-final appearances on four occasions.
1. Pete Sampras
Standing tall at the top of the list of greatest American tennis players of all time is Pete Sampras. Sampras won 14 Grand Slam titles, the most by any American. His major haul includes 7 Wimbledon titles, 5 US Open crowns, and two Australian Open triumphs.
The main blot on his copybook was his failure to win the French Open, with his best at Roland Garros being a semi-final run in 1996.
His 14 majors stood as the record in men's tennis until Federer, Nadal, and Novak Djokovic came along. Sampras won 64 career titles, and was No. 1 in the world for 286 weeks, only behind Djokovic and Federer.