Carlos Alcaraz delivered an impressive performance at the Queen's ATP 500, defeating Grigor Dimitrov with a double 6-4 to advance to the semifinals. The young Spanish tennis player displayed excellent control throughout the match, securing a solid victory and considering it the best of his career on grass.
Alcaraz expressed his growing confidence and maturity on this surface, emphasizing that playing more matches on grass can elevate his game to a higher level. He acknowledged Dimitrov as a top-level player across all surfaces, particularly highlighting his prowess on grass. Despite this, Alcaraz played exceptionally well and gave his best until the last ball.
The young Spaniard also shared his unwavering belief in his ability to win Wimbledon, stating that he is learning from the best and becoming more comfortable with each tournament. A triumph at the British 500 event would likely propel him back to the world number-one ranking.
Alcaraz has showcased his adaptability by excelling even in his first grass-court tournaments.
The hype from the emerging Alcaraz has also spiked up ticket demand for this year's Wimbledon, according to Seatsnet, as experts indicate that this year's tournament will be a tough uphill battle for the reigning champion, Novak Djokovic.
In the upcoming round, Alcaraz will face another talented young player, Sebastian Korda. Alcaraz expressed his enthusiasm for playing against fellow millennials and anticipated a special match.
The two players have met three times in previous encounters, with Alcaraz holding the advantage by winning two out of the three matches.
Their first meeting was at the Next Gen Finals in Milan, where Alcaraz claimed the trophy against Korda. Subsequently, they faced off twice on red clay in 2022, with Korda winning in Monte Carlo and Alcaraz emerging victorious at Roland Garros.
Is it a cold shoulder for Djokovic?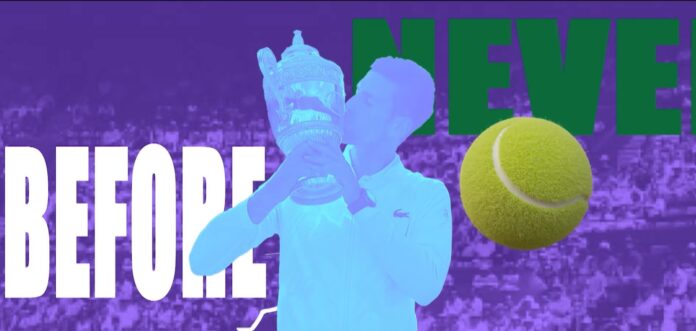 Wimbledon has responded to accusations of marginalizing Novak Djokovic in their promotional campaign for the tournament. While the organizers stated that they are proud to have Djokovic featured in their promotional video as one of the champions to be challenged, some critics argue that he was framed as a "Champion to Beat" and received limited screen time.
Wimbledon clarified that the end scene of the promotional video focuses on presenting singles players as challengers, which is why neither Djokovic nor Jelena is featured at that moment.
However, this explanation has not satisfied everyone, and the video has been criticized on YouTube and social media platforms. Some viewers expressed disappointment and felt that the treatment of Djokovic was disrespectful and a sign of hatred towards him.
In response, Wimbledon emphasized that promoting Djokovic is part of their overall strategy, and they intend to highlight him as the tournament approaches. They also mentioned their social media content celebrating Djokovic's recent Grand Slam victory and his celebration with his family at Centre Court.
It should be noted that Djokovic and Elena Rybakina, last year's Wimbledon champions, received limited visibility in the latest promotional campaign, with their names not mentioned in the campaign's description and appearing for a short duration in the promo trailer.
The move from Wimbledon has brought out bad blood amongst the fans, but it also has seen more fans opting to make the trip to the All England Lawn Tennis Club, with demand rising for the opening games of the tournament, according to trusted retailer Seatsnet.
Stefanos Tsitsipas finds peace with Nick Kyrgios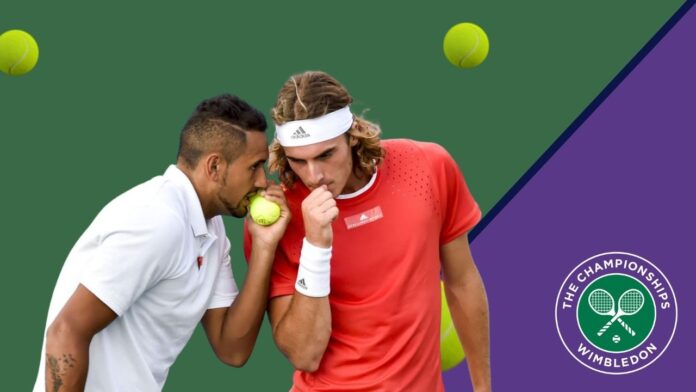 Stefanos Tsitsipas has clarified his comments about Nick Kyrgios made during last year's Wimbledon, stating that they have been "misinterpreted" and denying any racist intent. In the match where Kyrgios eliminated Tsitsipas in the third round, the Greek player described Kyrgios' approach to tennis as "uneducated" and compared it to an "NBA basketball attitude."
Following the release of the Netflix documentary "Break Point," which featured Tsitsipas' comments, some social media users perceived his remarks as racist. Tsitsipas took to his Facebook page to address the issue, stating that there was an "unfortunate misunderstanding" and that his words were not meant to be discriminatory or offensive.
He expressed regret if his comments caused offense and emphasized that he harbors no prejudice towards anyone based on their background, ethnicity, or interests.
Kyrgios responded to Tsitsipas' Twitter statement, saying they were "all good." Tsitsipas clarified that his remarks were not intended to undermine Kyrgios' ability or intelligence but to highlight his playing style's dynamic and captivating nature, drawing comparisons to the passion and intensity often associated with basketball.
Tsitsipas acknowledged the impact of his words and committed to being more mindful in the future. The game last year was a sell-out, according to retail ticketer Seatsnet.
During their match, which was marked by heated exchanges and controversial incidents, Kyrgios defeated Tsitsipas in four sets. Tsitsipas had labeled Kyrgios a "bully" with "an evil side," while Kyrgios laughed off the remarks, stating that Tsitsipas had "serious issues." Kyrgios has withdrawn from the Halle tournament due to a knee issue but expressed his hope to participate in this year's Wimbledon.
Venus Williams is back!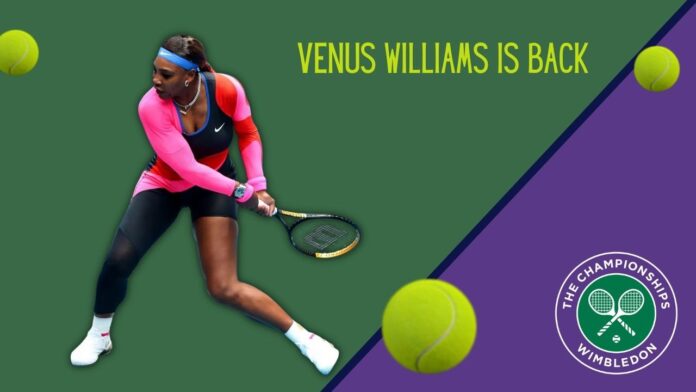 Venus Williams, the 43-year-old American veteran, has been granted a wild-card entry for the upcoming Wimbledon tournament, marking her 24th appearance in the singles draw. As a five-time Wimbledon singles champion and finalist in 2017, Venus has established herself as a formidable force on the grass courts of the All England Club.
Currently ranked at 697th, Williams recently secured a significant victory over 48th-ranked Camila Giorgi at the Birmingham Classic, ending a 12-match losing streak against the top 50 players. This win has provided her with a much-needed confidence boost ahead of her next match against Jelena Ostapenko in the Wimbledon warm-up.
Venus's younger sister, Serena Williams, is also a prominent figure at Wimbledon, having clinched the title on seven occasions. However, Serena faced an early exit in last year's tournament and announced a break from the sport.
In addition to Venus, wild cards have been granted to Ukrainian player Elina Svitolina and British players Heather Watson and Katie Boulter. Svitolina, who recently returned to the court following a maternity break, reached the quarterfinals of the French Open but suffered a loss in her grass-court return at Birmingham.
On the men's side, Belgian player David Goffin, a Wimbledon quarter finals in 2019 and 2022, is among those who received a wild card. The announcement of four remaining wild cards, two for men and women, is still pending.
As the countdown to Wimbledon continues, tennis enthusiasts eagerly anticipate the return of Venus Williams to the prestigious grass-court tournament.
The wild card move for Williams is expected to bring in more fans for the opening days of play marks experts at Seatsnet who are gearing up to provide fans with ticket options for the upcoming championship.
Ticket options for the 2023 Wimbledon are available on Seatsnet.