Daniil Sergeyevich Medvedev is a professional tennis player born on 11th February 1996 in Moscow. He made a name for himself using an unorthodox forehand with a little spin which became one of the go-to moves over the course of his career. His game consists of powerful baseline play and an effective slice.
Medvedev currently ranks number 2 by ATP and is currently coached by Gilles Cervara, under whose wing he has been since 2017. Cervara is also known for being a sparring partner of Jo-Wilfried Tsonga, Thomas Enqvist, Marat Safin, and Justine Henin, and he was pronounced ATP Coach of the Year in 2019.
World's number 2 has been happily married since September 2018. He married his wife Daria after living together for four years with her.
Medvedev's biggest career accomplishment happened in 2023 at US Open, where he defeated current number 1, Novak Djokovic, in the finals.
Net Worth – $20 million
Age – 25
Born – 11th February 1996, Moscow
Current Ranking – 2
Father – Sergey Medvedev
Mother – Olga Medvedev
Siblings – two sisters, Yulia and Elena
Height – 6 feet 6 inches (1.98 meters)
Weight – 83 kg
Source of Wealth – Tennis
Spouse – Daria Medvedev
How did Daniil Medvedev Start His Career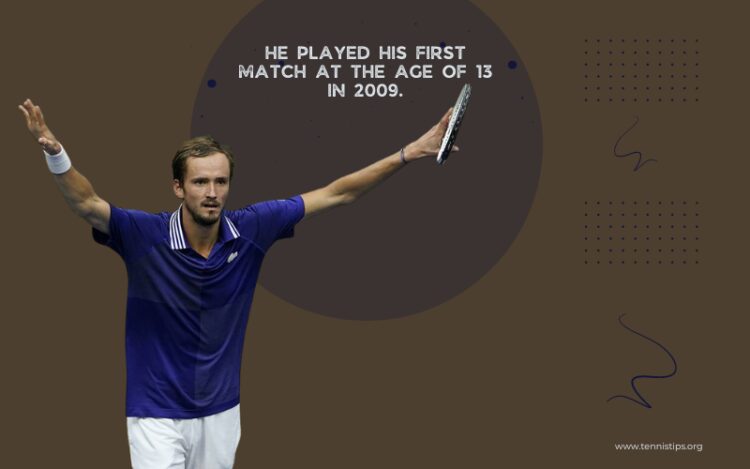 Daniil's junior career was inspiring. His mother took him to tennis classes as a child, which sparked his interest in the sport.  He played his first match at the age of 13 in 2009, and it was at a grade 4 tournament held in Estonia. During his third junior career tournament in 2010, he won his first junior title.
Between 2012 and 2013, Medvedev continued to build a name for himself and won a total of six titles in this period which includes four consecutive ones. His first junior Grand Slam appearance was during 2013 at Junior Wimbledon, where he lost in the second round against Nikola Milojevic, who was second seed at that moment.
During the 2013 Junior US Open, he was placed on the 10th seed and made it as far as the third round, where Johan Tatlot knocked him out. His career-high seeding during his junior career was number 8, and it was during the 2014 Junior Australian Open. He finished his junior career after the loss at Wimbledon the same year.
Professional Career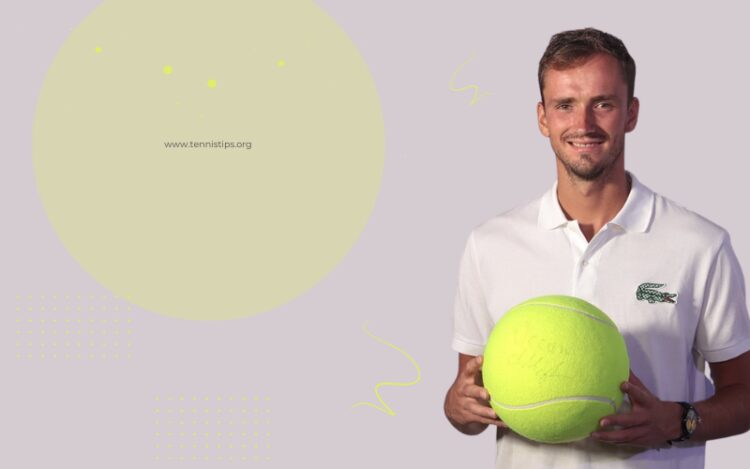 Daniil Medvedev has already made multiple accomplishments on the world stage during his young professional career. His first big achievement came in 2018, where he entered Tokyo Open as a qualifier and made history after winning it.
At that point, his successes had only started, and during the same year, he won his first ATP title in Sydney. The first bigger breakthrough for Daniil happened in 2019 when he managed to break into the top 10 after being eliminated in the third round of Wimbledon.
During 2023 things started to progress drastically for young Russian. During ATP finals, he eliminated Alexander Zverev, Novak Djokovic, and Diego Schwartzman on his road to the semifinals, where he met Rafael Nadal.
After a well-fought match, he managed to defeat Nadal and move on to the finals, where he defeated Dominic Thiem after he was one set down. Medvedev wrote history here, being the only player ever to defeat the top 3 players in any ATP Finals competition.
Medvedev's successes and momentum transferred into 2023 where he managed to reach the Australian Open finals. However, he lost that match against Novak Djokovic, who confirmed his brilliance, and he continued road to calendar Grand Slam. Medvedev had unsuccessful French Open and Wimbledon, after which he ended his struggles and got revenge against Djokovic in the US Open, winning his first title.
He also marked excellent results throughout 2023 on other tournaments, including ATP Masters Canada, Mallorca, and Marseilles. He managed to get various endorsements and sponsors during the year from world-renowned companies such as Technifiber, Lacoste, Lotto Sport, BMW, Tinkoff, and Bovet watches.
What Does Daniil Medvedev Drive?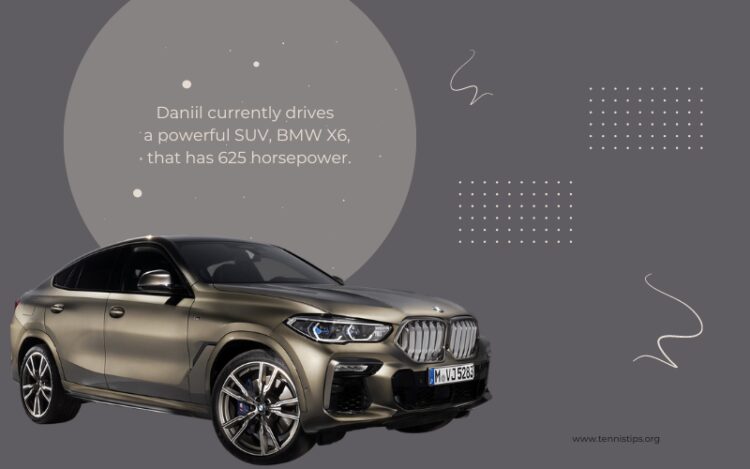 Since he was very young, Daniil Medvedev dreamt of riding fast sports cars. After his excellent performance at the US Open in 2019, he signed a contract with BMW and was named their ambassador.
Being a long-time BMW fan, this deal was very exciting for Daniil. Even before he signed a contract with the German company, he had already owned BMW M4, which was his first car that he still owns and keeps at his house in Monaco.
Medvedev stated that he could spend a lot of creative time working with BMW on numerous projects that take place behind the scenes. He met with BMW's leadership in Russia and is very interested in the company's products and endeavors.
Daniil currently drives a powerful SUV, BMW X6, that has 625 horsepower and can go from 0 to 100 km/h in just 3.8 seconds. He purchased this SUV in November 2023 in the dealership near his house in Monaco.
Where Does Daniil Medvedev Live?
Like numerous tennis professional athletes, Daniil Medvedev found his home in Monaco. He lived in Russia until he turned 18 when he moved to France, which, as he claims, is his other home. He speaks French fluently, and his parents stated that they wanted him to be born in France, but before they could arrange to move, he was born in Moscow.
Monte Carlo is Daniil's permanent residence as well. He practices at the Mouratoglou Academy, which is less than an hour's drive from Monte Carlo Country Club, where the Monte Carlo Masters tournament is held.
What Racquet Does Medvedev Use?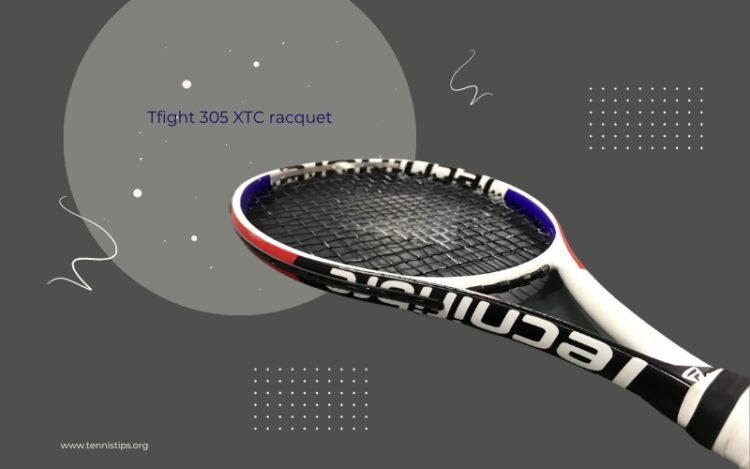 Daniil Medvedev currently endorses Tehnifibre and uses their Tfight 305 XTC racquet. For strings, he uses Tecnifibre Razor Code ones. This is a racquet and setup that Medvedev used most of his career and apparently does not plan to switch it in the near future. Like most tennis pros, Daniil has customized his racquet to suit his needs and playstyle best.
Specs
Head Size – 98 square inches
Length – 27 inches
Weight – 11.4 oz
Balance – 3 Pts Head Light
Beam Width – 21.5 – 22.5
Grip – Tecnifibre X-Tra Feel
String Pattern – 18 Mains / 19 Crosses
Swing Weight – 329
What Shoes Does Medvedev Use?
Daniil Medvedev is currently the face of Lacoste and endorses its products. The model he currently uses is Lacoste AG-LT21, and he is the first person to ever these shoes.
They are lightweight (14.5 oz for 10.5 oz size shoes) and grant excellent feel and stability on the tennis court. It features a padded collar around the ankles, and the PEBAX support frame forms even more protection around the foot, necessary to avoid inconveniences and injuries.
Daniil Medvedev's Quotes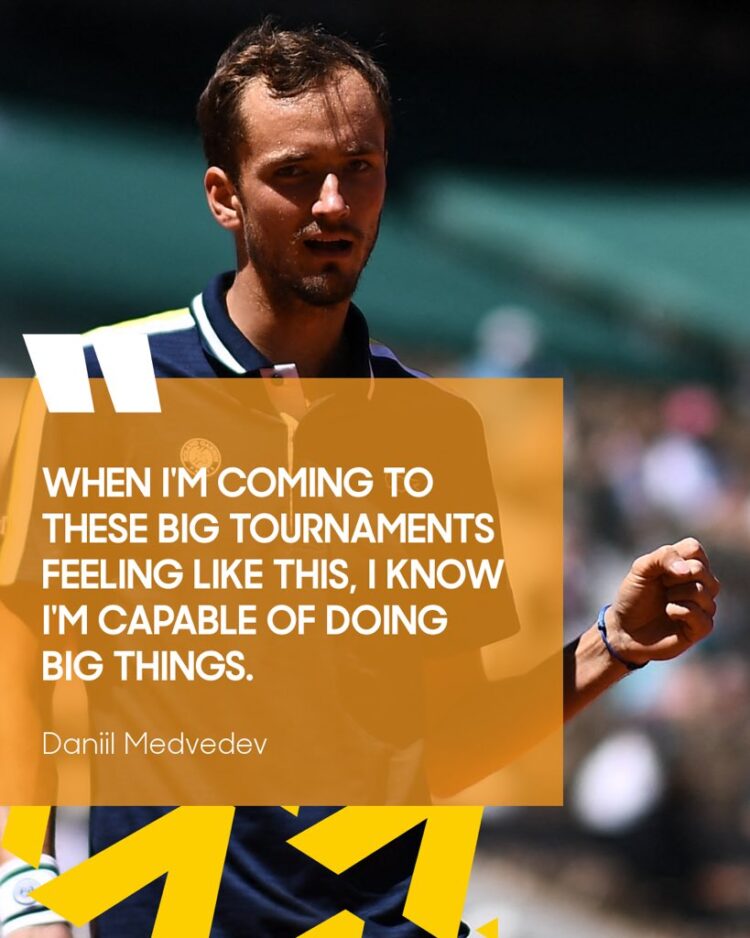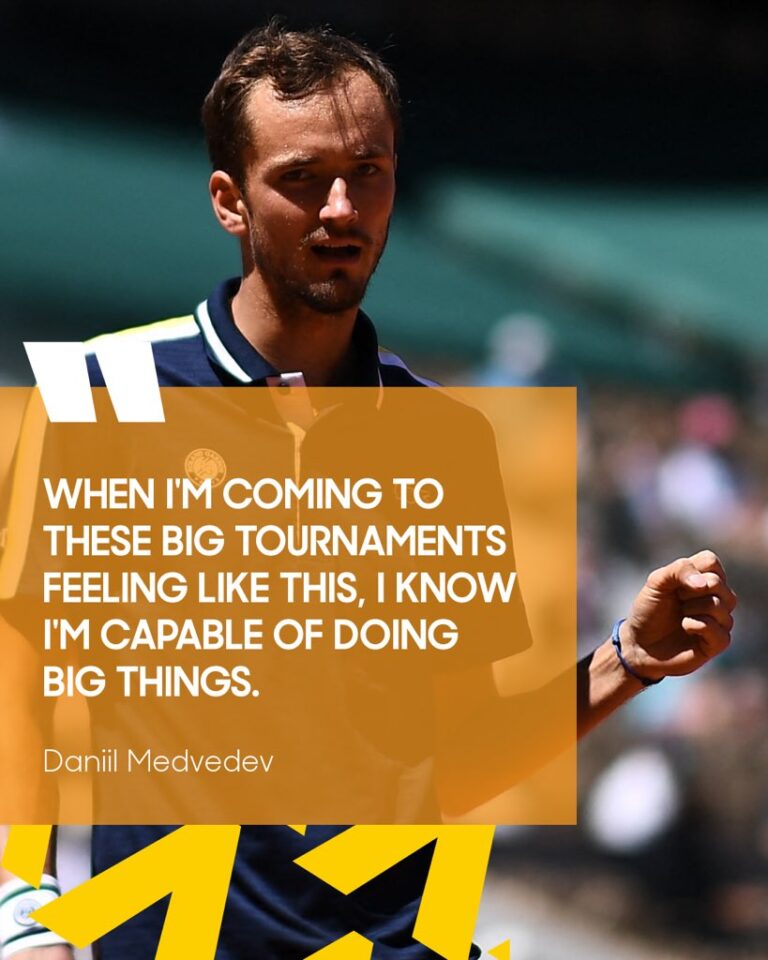 "For me, you are the greatest tennis player in history" – Medvedev to Djokovic after defeating him at the 2023 US Open.
"Only legends will understand, but my celebration was L2+Left" – Medvedev's revealing that his celebration after the 2023 US Open win was a celebration of the FIFA game.
"Love clay" – One of many of Medvedev's quotes on how much he hates clay courts.
"I think it is actually easier to enjoy life when you have no brain" – Daniil's comments on an openly hostile crowd during his quarter-finals match versus Hugo Gaston.
Daniil Medvedev's Social Network
When it comes to social media, Daniil is active on Twitter (@DaanilMedwed), Instagram (@medwed33), and Facebook (@TeamDaniil).