In a thrilling match against Frances Tiafoe at the Giorgio Armani Tennis Classic exhibition event, Novak Djokovic showcased his prowess on the court again. As the crowd at the Hurlingham Club cheered, Djokovic emerged victorious, but his response after the match drew attention.
Known for his strict adherence to Wimbledon traditions, Djokovic was asked if he would partake in the unique ritual of eating the grass from the Hurlingham Club court.
With a straight face, Djokovic playfully declined the request, stating that he exclusively reserves his grass consumption for the hallowed grounds of Wimbledon.
Djokovic's devotion to the customs surrounding the prestigious tournament is no secret. He has abstained from participating in warm-up grass events before Wimbledon, a strategy that has proved successful in recent years. The Serbian tennis star has not suffered a single defeat at the British Grand Slam since 2017, clinching victory in the past four tournaments, much to the delight of his fans with the all-expensive center-court tickets.
Last year, the All England Club made an exception to the long-standing practice by allowing limited pre-tournament practice on Centre and No. 1 Courts.
This decision aimed to minimize slips and injuries during the early rounds of the competition, considering the surface had yet to be broken in. While some players welcomed the change, Djokovic confessed that he found it a little strange to practice on Centre Court before the tournament. This is something to cherish for those with tickets as they get more action even before the start.
After returning to the Wimbledon courts, Djokovic wasted no time returning to action after his triumph at the French Open. His dedication to the sport and commitment to upholding Wimbledon's traditions make him a prominent figure in the tennis world. While he may have declined the opportunity to sample the grass at the Hurlingham Club, Djokovic's loyalty to the unique Wimbledon tradition remains unwavering.
As Djokovic continues his quest for glory in the upcoming Wimbledon tournament, fans and spectators eagerly anticipate witnessing his remarkable skills and whether he can secure another prestigious victory. Regardless of the outcome, one thing is certain: Novak Djokovic's dedication to tradition and unwavering focus on the game will continue to captivate tennis enthusiasts worldwide.
Murray wants to keep the rivalry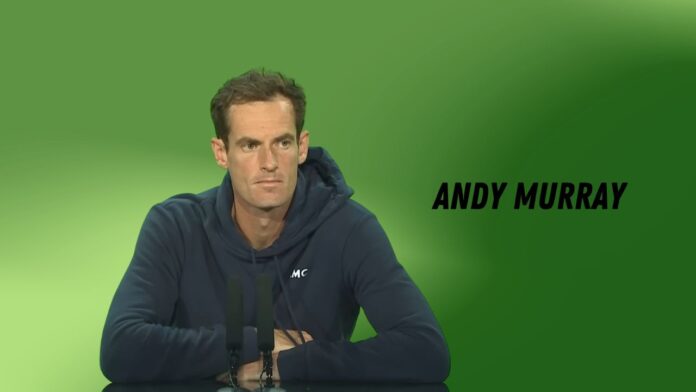 Despite missing out on a seeded spot at Wimbledon, Andy Murray expressed his desire to face Novak Djokovic at the tournament. Murray narrowly missed out on a seeding due to his ranking and could draw a top player in the first round, to the disappointment of the local fans with tickets. However, he is ready for the challenge and would relish the opportunity to play against Djokovic again, even if it happens in the early stages of the tournament.
While Murray acknowledged that facing Djokovic or a top player in the first round would not be ideal, he emphasized his confidence in his recent form and his ability to compete against tough opponents from the beginning. Murray has faced tough first-round draws in Grand Slams and believes he is prepared for such challenges.
Murray and Djokovic, who last met in 2017, have a competitive history, and Murray expressed his eagerness to play against his old rival once again. The game last time around, six years ago, had a sell-out regarding tickets and delivered great sporting moments.
Despite their scheduled match in Madrid last year being canceled due to Murray's illness, he adds that he would love to have the opportunity to face Djokovic at Wimbledon.
Overall, Murray remains determined and ready to face any opponent in his opening match at Wimbledon, including the possibility of facing Djokovic, as he continues his pursuit of success at the tournament.
Don't react to protests!
Wimbledon has increased its security measures and warned players not to engage with Just Stop Oil protesters who may attempt to disrupt the tournament. The All England Club is concerned about being targeted by activists. It has implemented stricter security protocols, including a larger security presence inside and outside the grounds and a rapid response unit on show courts.
The conditions of tickets for spectators have been updated, and they have been informed that they cannot bring any items that could be used to damage or sabotage the All England Club property, including spray paint, personal protection sprays, and glue.
The Grand National and the world snooker championships have recently faced disruptions from activists with tickets. In response to an undercover reporter, a Just Stop Oil activist revealed that Wimbledon was a target, discussing plans to glue themselves to various court components.
Michelle Dite, the operations director at the All England Club, emphasized the importance of safety and security for everyone involved in the tournament. The club has reviewed its security plans and is working with specialist agencies and the Metropolitan police to mitigate risks and respond effectively to any incidents.
Wimbledon is also mindful of its environmental responsibilities and has taken steps to reduce its environmental impact. Initiatives include:
Using renewable electricity.
Offering low-carbon menu options.
Minimizing waste sent to landfill.
Promoting a culture of reuse.
Overall, Wimbledon is prepared to ensure the safety of players, staff, and those purchasing tickets and is committed to upholding its environmental goals while delivering an enjoyable tournament experience.
Alcaraz Injury update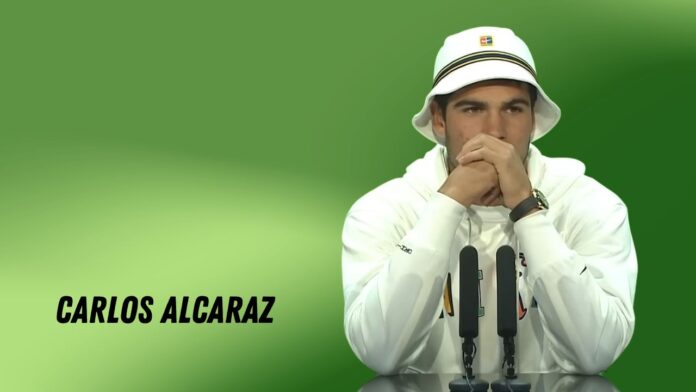 Carlos Alcaraz, the World No. 1 in the ATP rankings, is entering Wimbledon as the top-seeded player this year. He reclaimed the No. 1 spot by defeating Alex de Minaur in the final of the Queen's Club Championship, winning 6-4, 6-4.
After losing his No. 1 position to Novak Djokovic following the French Open final, Alcaraz has returned to the top spot. He has been training at the All England Lawn Tennis and Croquet Club with his coach Juan Carlos Ferrero and physiotherapist Juanjo Lopez. Alcaraz has been receiving physiotherapy and stretching sessions to maintain his fitness.
During a training session, Alcaraz was seen focusing on exercises for his right thigh, which he injured during the Queen's final. He reassured everyone that he was fit for Wimbledon and said, "everything is fine."
Alcaraz decided to skip a pre-tournament event, the Hurlingham Classic, citing injury concerns. He withdrew from his first match at the event and chose not to participate further. Despite this change in his preparation, Alcaraz is confident and believes he is one of the favorites to win Wimbledon.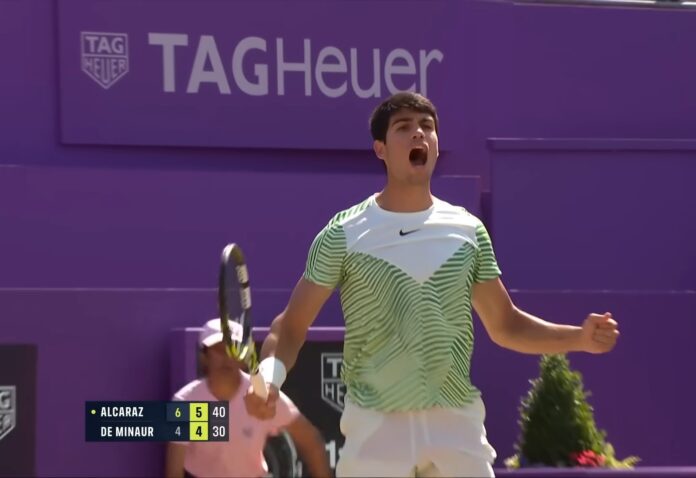 By winning the Queen's Club Championship, Alcaraz became the youngest player since Lleyton Hewitt to have titles on all three surfaces. He retained his World No. 1 ranking with this victory.
When asked about Djokovic's chances at Wimbledon, Alcaraz acknowledged that Djokovic is the main favorite based on his past success at the tournament. However, Alcaraz expressed his confidence and stated that he feels like one of the favorites to win Wimbledon due to his high-level performance at Queen's Club Championship and overall confidence.
Tickets for this year's main draw are now available.