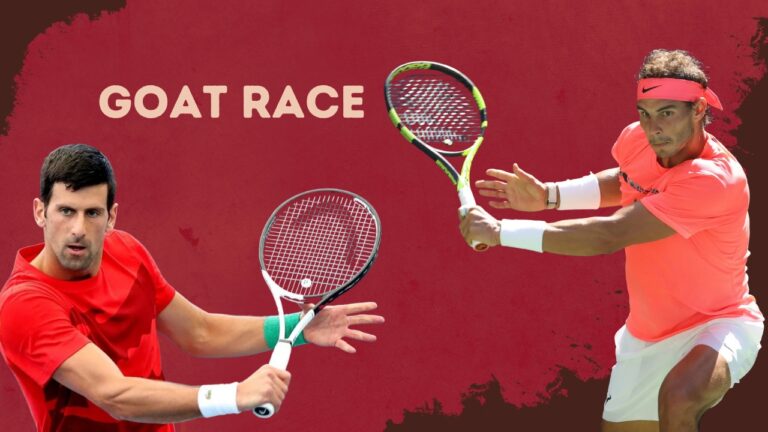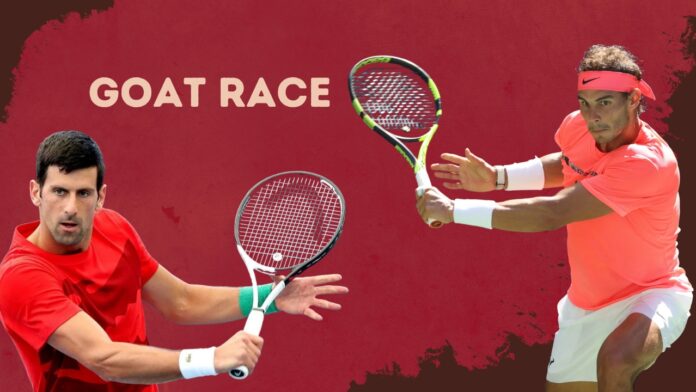 We can see that the new world of tennis is about to begin. The previous one was pretty interesting since we had three big names who competed for practically all the trophies. Of course, we are talking about Roger Federer, Rafael Nadal, and Novak Djokovic.
These three players have marked the first two decades of the 21st century. The last couple of years were particularly interesting since these three household names were competing on who will be the one with the highest number of grand slam tournaments.
Last year, Roger Federer has announced that he will retire, which leaves us with Djokovic and Nadal who are still active players.
What makes the situation interesting is that these two players have an equal number of grand slam tournaments, 23. Roger Federer ended his career with 20 grand slam tournament wins during his career.
So, it's basically between Djokovic and Nadal to decide who will be the one who reaches the record with the number of tournaments won.
Recently, Djokovic won the Australian Open, which made him equal to Nadal. So, you can see that the situation between these two fierce rivals has become particularly interesting in the last year.
With that in mind, we can say that their rivalry is probably the most prominent one in the history of the sport. Therefore, numerous bookies, like powerplay, are creating odds on which one of these will be the record holder.
Djokovic-Nadal Rivalry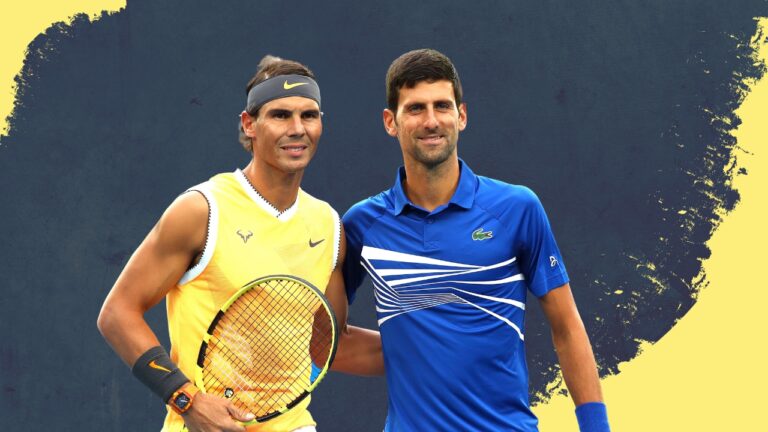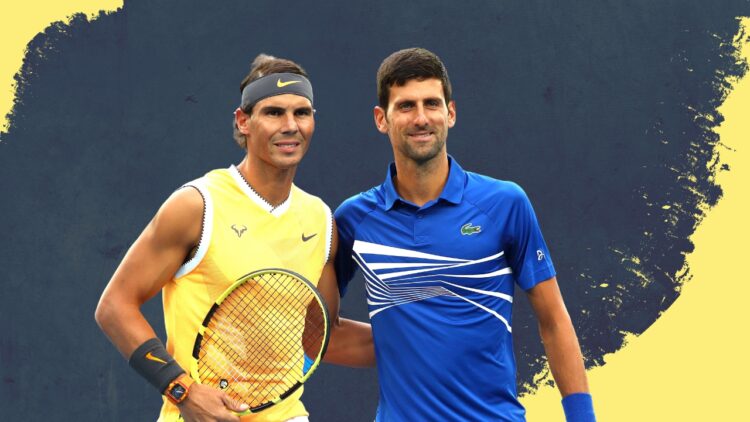 We've already said that the rivalry between Djokovic and Nadal is one of the greatest ones ever, not just in the world of tennis. Nadal is a year older than Djokovic and he became a professional two years before Novak. Their styles of play are widely different, which only adds to the popularity of their rivalry.
For instance, Djokovic mainly plays with his right hand, while Nadal is left-handed. The thing they have in common is that their backhands are both two-handed. Until today, they have played 59 matches, Djokovic won 30, while Nadal won 29. So, you can see that their numbers are relatively close.
When it comes to their matches under the category of the court, we must say that clary was the one Nadal prefers. Out of 28 matches the two played on clay, Nadal won 20 of them, and Djokovic won 8. On the other hand, Djokovic prefers the hard court with his 20 wins compared to Nadal's 7.
Their scores on grass are equal, with both of them winning 2 matches. They met each other in 29 finals, and you will see that Djokovic won 16 of them while Nadal won 13.
Their rivalry is pretty close as you can see, and 2023 may be the year when we will finally get the most successful player of all time, and it's going to be one of these two.
The Debates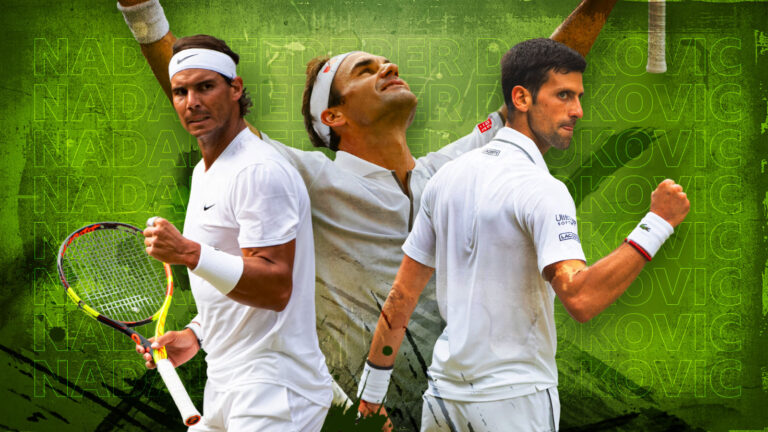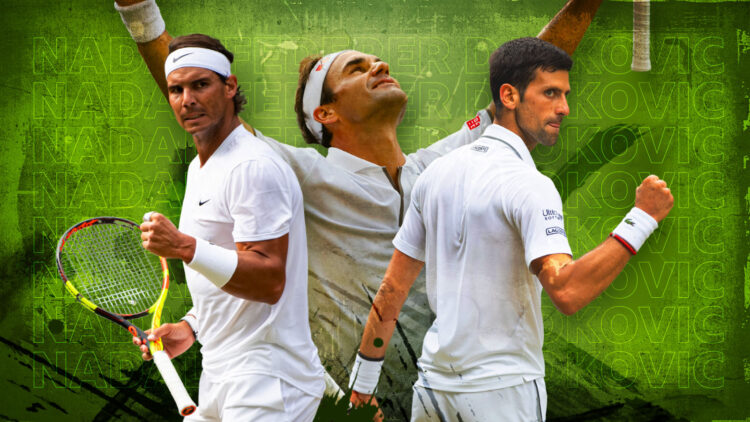 When it comes to who the best player in the history of tennis is, you will see that people have completely different opinions.
However, we would need to point out that most of them agree that it's one of these three players that have marked the 21st century. All three of them have huge fan bases, and who is the best out of them is quite a hot topic for debate these days.
Probably the most popular of the three is Roger Federer. You will see that he has the most fans, and when you think about it, it makes perfect sense, since he is the oldest. Not to mention that he achieved some exceptional results at the beginning of his career that are still widely remembered today.
Not to mention that you will see a wide array of different TV programs out there where ex-professionals and coaches are debating on this topic. Once again, the opinions are widely different on this topic, and reaching a consensus is not likely until all three of these players retire. We will not need to wait for too long for that to happen.
What Does Nadal Say About the Race?
Rafael Nadal and Novak Djokovic are good friends, which was manifested numerous times during their careers. They have immense respect for each other and they have both publicly talked about it.
Of course, the rivalry between them sparked quite a bit in the last month when Djokovic managed to win Australian Open, his 23rd grand slam title.
You will see that Rafael Nadal said that he is quite interested in becoming the best of all time.
However, he also points out that this is not the main reason why he intends to compete with Djokovic. He said that he is passionate about the sport and that it is everything to him. So, will try to be the best he can as long as possible.
Rafael Nadal also had quite a good relationship with Roger Federer before Djokovic became the third part of the great triumvirate. Their rivalry lasted a few years before Djokovic made the step toward the big scene. They gave a couple of interviews together, and it is quite clear that they are good friends and healthy rivals.
Djokovic's Perception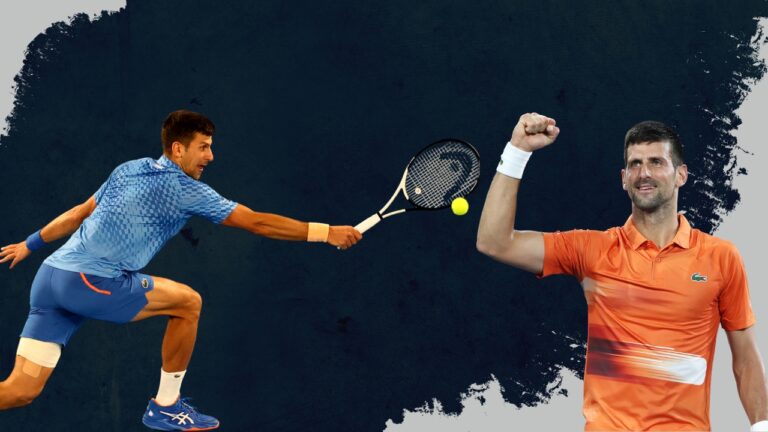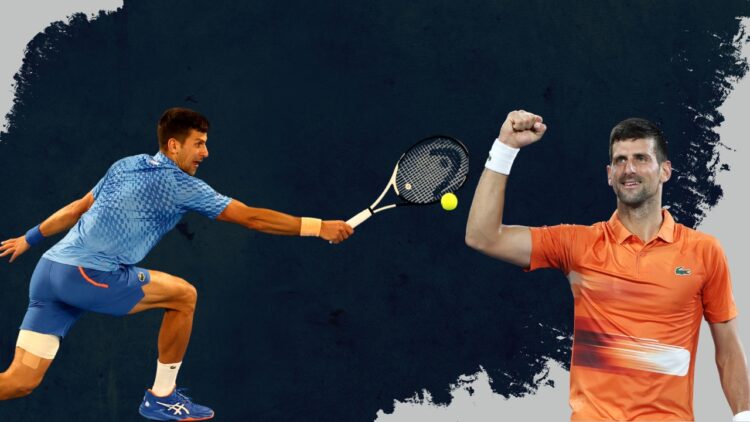 When it comes to Djokovic's side of the story, we can see that he clearly stated that he will push his boundaries to become the best one in the history of tennis.
If you take a look at the opinions of some experts who know the core of the sport, you will see that they predict Djokovic will play longer than Nadal.
It's not only about him being slightly younger than Nadal, it is also about the physical shape of his body is in. Even though he has picked up a slight injury a couple of months ago, his performance in Australian Open was nothing short of exceptional, which says that he will continue to be competitive in the future.
In Conclusion
As you can see, one of the fiercest rivalries in the history of tennis is about to end in a couple of months or years. So, we should enjoy it while we have the chance to see some of the best players of all time.