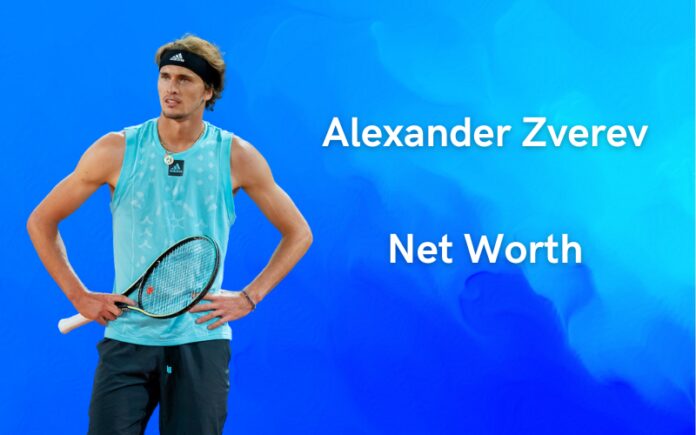 Alexander "Sascha" Zverev was born in Hamburg, Germany, on April 20th, 1997, to parents Alexander and Irina. His parents are from Russia, and they moved to Germany before he was born. Zverev is a professional tennis player, and he came on the world's tennis scene promising a lot since he was earmarked to be the future number 1.
He made a name for himself by playing aggressively on the baseline and by using his height and power to push his opponents on the back foot.
He has powerful serve, which typically dictates his game, and his flat and forceful backhand remains one of the most potent weapons in his game.
Alexander speaks multiple languages, and he is fluent in German, Russian, and English. When he was young, his idol was Roger Feder, whom he managed to defeat multiple times to this day.
Although he did not fulfill his potential on Grand Slams yet, his future looks bright since he marked excellent results in Masters tournaments.
Net Worth – $25 million
Age – 24
Born – 20th April 1997, Hamburg, Germany
Current Ranking – 3
Father – Alexander Mikhailovich Zverev
Mother – Irina Zverev
Siblings – Brother, Mischa Zverev
Height – 6 feet 6 inches (1.98 meters)
Weight – 198 lbs (90 kg)
Source of Wealth – Tennis
Spouse(s) – Not married
Kids – Daughter Mayla (currently raised by Zverev's ex, Brenda Patea)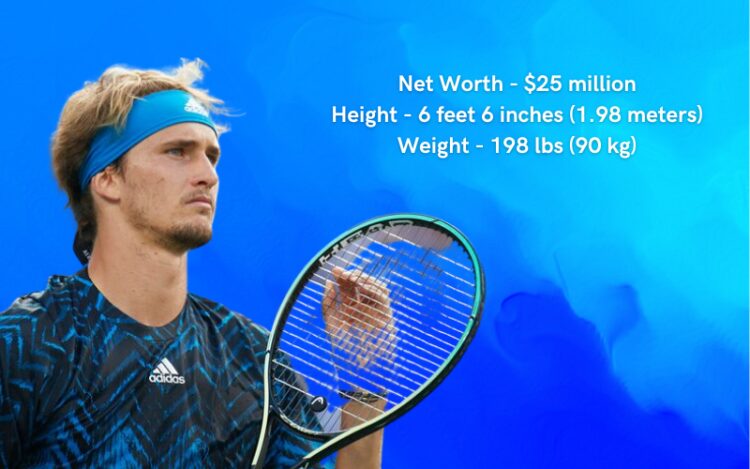 How Did Alexander Zverev Get Into Professional Tennis?
Zverev started playing tennis when he was 5 years of age. When he was 13, he played his first competitive match as a junior at a grade 4 tournament in Poland. It was an event on the ITF junior circuit, and this is where Zverev showed a lot of promise.
By the beginning of 2012, Alexander won his first ITF title at the Fujairah Junior Championships in the United Arab Emirates. These successes led him to compete on a higher level not long after his 15th birthday.
Zverev did not have much success at the Grade 2 tournaments until 2013, when he managed to reach back-to-back doubles finals with Spencer Papa at the Grade A Copa Gerdau and the Grade 1 USTA International Spring Championships.
After a successful early season in doubles, Zverev started improving in singles as well. During clay-court season, he managed to win his first Grade 1 title after defeating Audrey Rublev in the finals of the Open International Junior de Beaulieu-sur-Mer.
He continued with excellent results on the Junior tennis scene and had success on different court types. Zverev continued to win, which was enough to get him at number 1 ranking during late October.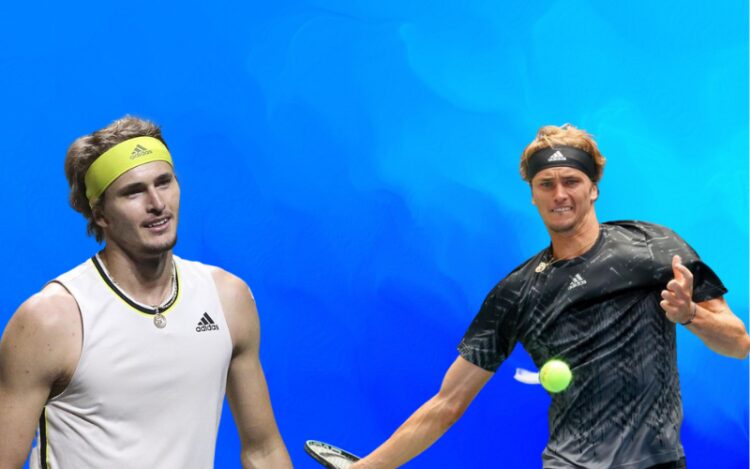 Professional Career
Although Zverev's professional career started in 2013, he did not play his first Grand Slam until Wimbledon in 2015. His first success was at the French Open 2018 when he managed to advance to the quarter-finals. During this year, Zverev won ATP World Tour Finals 2018, where he managed to defeat both Roger Federer and Novak Djokovic.
Zverev managed to reach his first semifinals at the Australian Open two years later, but Dominic Thiem got the better of him. Thiem also managed to defeat him the same year at the US Open finals. By 2023, Zverev has not yet won in the Grand Slam finals, although his 19 singles and 2 doubles titles are very impressive.
He also won 5 Masters 1000 tournaments, including Italian and Canadian Open titles, when he was only 20. These titles make him the most successful player in these tournaments, being second only to the big three.
The year 2023 was very significant in Zverev's career. At the Olympic Games in Tokyo, he managed to beat Karen Khachanov in two sets (6-3, 6-1), thus becoming the first German tennis player ever to win the gold medal in tennis singles.
What Does Alexander Zverev Drive?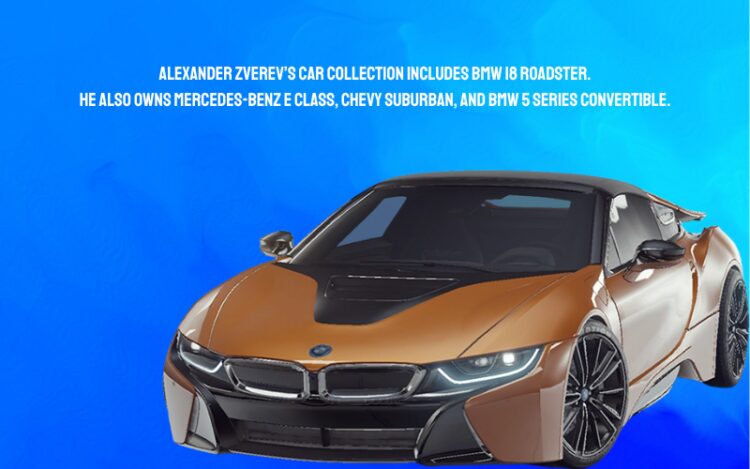 Zverev is very passionate about cars. Although he stated in an interview with Bild back in 2019 that he will not buy a car until he wins his first slam, to this day, he owns several quality vehicles. He is also an ambassador for Peugeot and claims that he likes to rely on electric mobility.
Alexander Zverev's car collection includes BMW i8 Roadster. This luxurious ride was a reward after he won at the BMW Open tournament back in 2017. He also owns Mercedes-Benz E Class, Chevy Suburban, and BMW 5 Series Convertible.
Where Does Alexander Zverev Live?
Zverev grew up in Hamburg, Germany, and spent his winters at the Saddlebrook Academies located north of Tampa, Florida, when he was 12 years of age.
Same as most professional tennis players, years later, he found his home in Monte Carlo, Monaco, where he currently owns a residence.
What Racquet Does Alexander Zverev Use?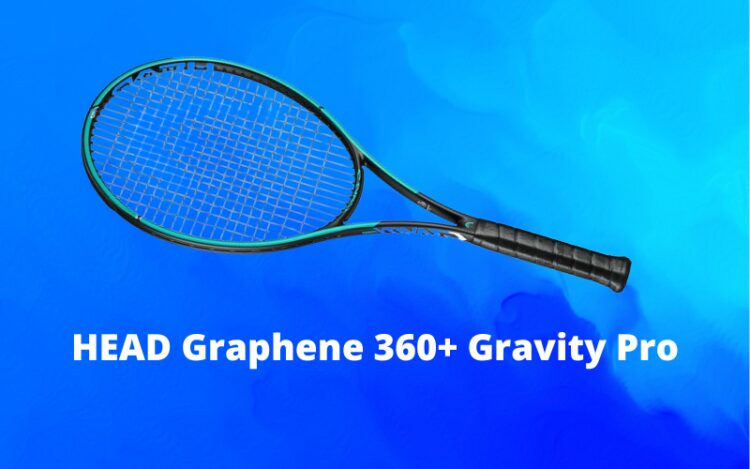 Originally, Zverev used a HEAD Speed racquet until he started a collaboration with Head in 2019. He endorses the brand and has been using their gear throughout his junior career and on all professional matches.
Sascha Zverev currently uses HEAD Graphene 360+ Gravity Pro racquet, which is designed for quality energy transfer, and the racquet's spiral fibers increase flex and feel. Before Zverev switched to Gravity, he used racquets that were almost identical to it, such as HEAD TK263 and the YouTek IG Speed MP. These also had 18 x 20 string spacing.
HEAD Graphene 360+ Gravity Pro racquet specs
Head Size – 100 square inches
Length – 27 inches
Unstrung Weight – 325 g
Strung Weight – 343 g
Balance – 33 cm
Swing Weight – 360 kg.cm2
String Pattern – 18 x 20
Dampener – Head Zverev Dampener
Grip Style – Hydrosorb Pro
Grip Size – L3 (4 3/8)
Stiffness – 64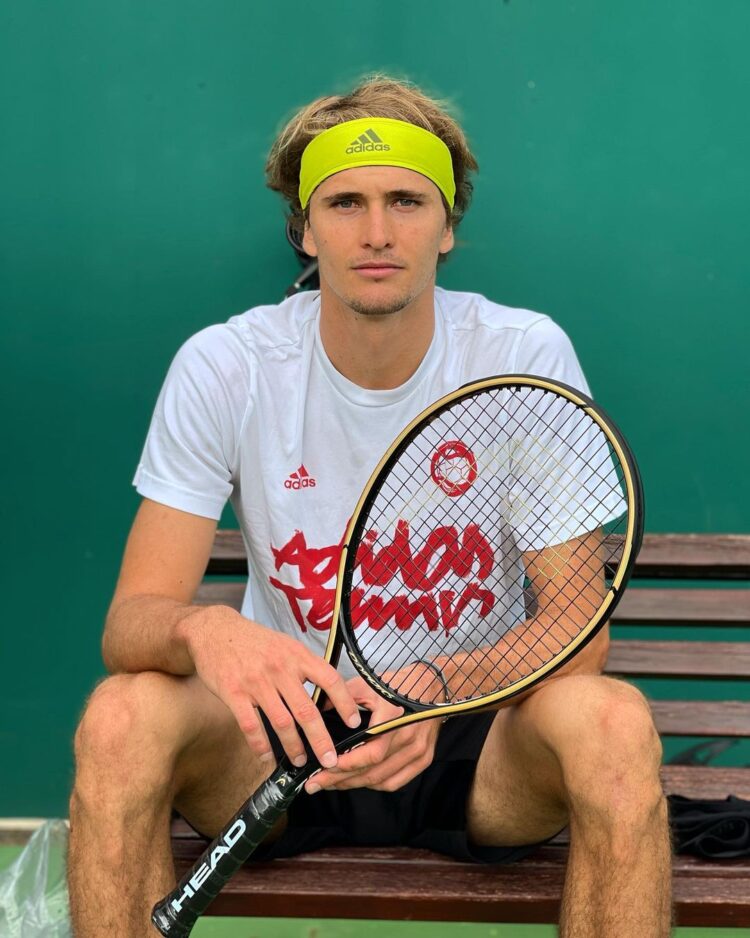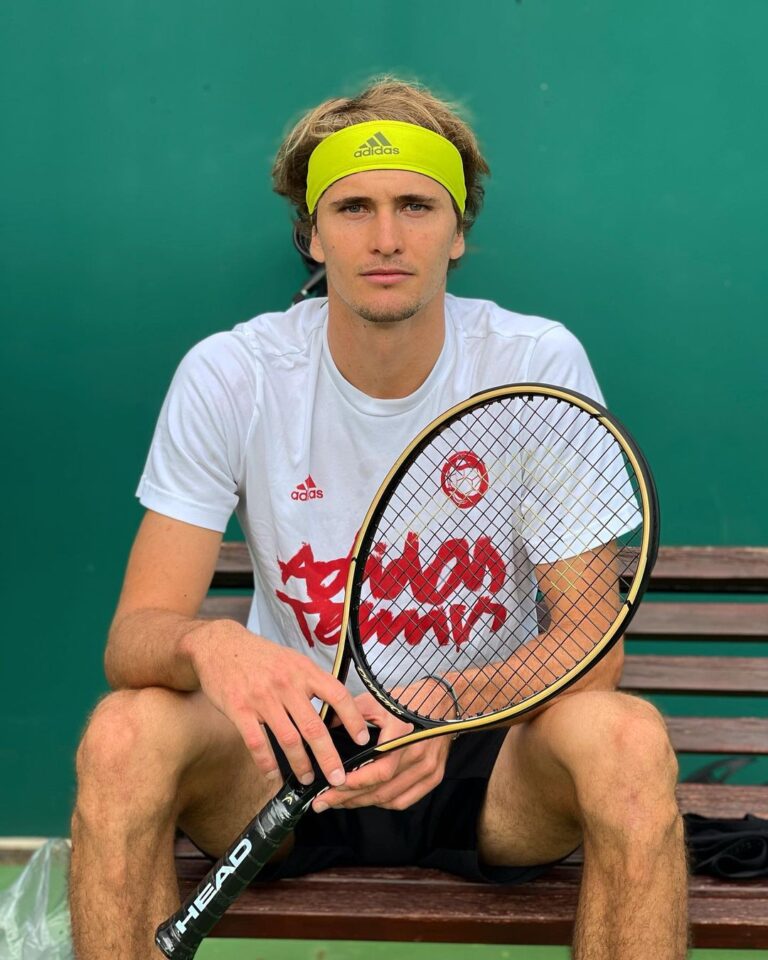 What Shoes Does Alexander Zverev Wear?
Since Zverev plays a very aggressive style of tennis, his game involves a lot of movement and sliding on the court, regardless of the type. Therefore, he gives a lot of attention to his gear, especially the shoes he is wearing.
He currently wears the Adidas Adizero Ubersonic 2. These shoes are excellent for different court types, especially clay. They feel lightweight and provide you with exceptional comfort when moving on the court.
The Adidas Adizero Ubersonic 2 grants support and stability. Their low-to-the-ground feel makes your every step on the court easy, and as many reviewers claim, they feel like you are running with socks only.
Alexander Zverev Quotes
"I know that I have potential. And the opportunities. But I don't say: "I want to win the Australian Open in 2018." It doesn't work that way."

"When I know that I have played as well as I can. It doesn't matter so much whether I have won or lost. But being completely satisfied with myself? That's something that never really happens to me."

"I try to pay as little attention as possible to people who are not part of my team. What counts for me is what my father says because he is my coach. I listen to my brother and my fitness coach. I don't care about anyone else."

"The coaches of some players who are my own age keep saying publically about me: "This guy is going to be one of the greats." I am clever enough to know that they do not truthfully think so. They are trying to shake my confidence. Of course, this is a matter of tactics."
Social Media
On social media, Alexander Zverev is active on Instagram (@alexzverev123), Twitter (@AlexZverev), and Facebook (@alexzverev12345).