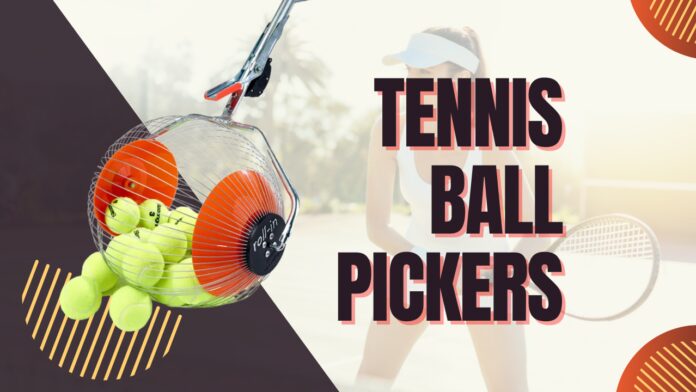 Tennis is a game that demands focus, physical strength, stamina, and determination. As a coach, I've seen firsthand how players must endure rigorous training before they can step onto the court with the confidence of star players.
However, every big success requires attention to detail. One such detail in tennis that every professional and non-professional player needs to consider is the tennis ball pickup and tennis ball hopper.
I remember a time when one of my most promising students was preparing for a major tournament. We were deep into a grueling training session, and the court was littered with tennis balls. The rhythm of our practice was interrupted every few minutes as we had to stop and collect the balls. It was then that I realized the importance of a good tennis ball picker. It's not just about keeping the court clean; it's about maintaining the flow of practice and ensuring that the player's focus remains undisturbed.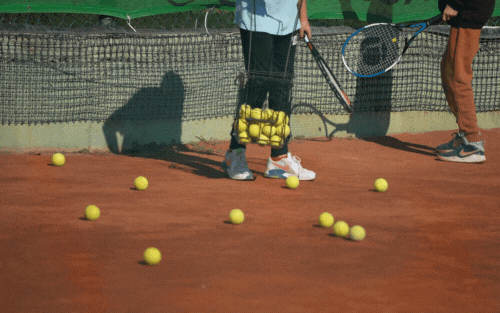 Top Best Tennis Ball Pickers
Manually picking up balls scattered all over the court is not just time-consuming, but it's also physically demanding. The constant bending and stooping can lead to unnecessary fatigue and backaches, which are the last things you want when you're trying to focus on improving your game or coaching a player.
That's where the magic of a good ball pickup comes in. It eliminates this problem, allowing players and coaches like myself to keep our attention where it belongs – on the sport we love. But with so many options available in the market, it can be overwhelming to choose the right product. I've been there, scratching my head in the sports store, trying to figure out which one to go for. That's why I decided to write this post – to guide you through this maze and help you find the best tennis ball picker that suits your needs.
#1 Collectible K-Max 60 Ball Collector Max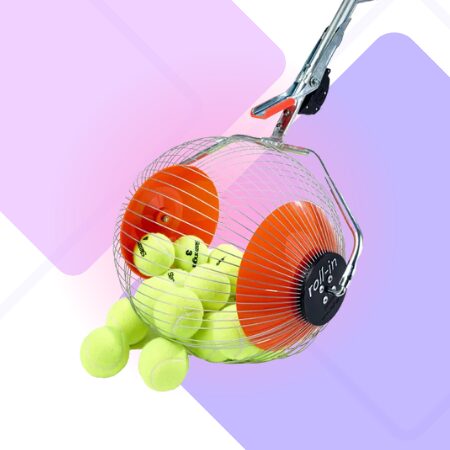 The first tennis ball picker that caught my eye was the "Collectible K-Max 60 Ball Collector Max". I've found this to be an incredibly efficient and quick way to gather up to 60 tennis balls without the usual back-breaking bending. It turned what used to be a tedious task into something almost fun.
I've put this pickup through its paces, and I can vouch for its durability. The wires have proven to withstand more than 10,000 hours of use without any damage or breakage. And the cherry on top? It comes with a one-year warranty, providing peace of mind in case of any unexpected issues.
What I particularly appreciate about this product is its thoughtful design. It's lightweight yet sturdy, capable of performing in all weather conditions and on all types of surfaces, even walls. The design of the hook makes it a breeze to store, and the V-opener makes dispensing the collected balls effortless. The "Collectible K-Max 60 Ball Collector Max" has certainly earned its place in my coaching toolkit.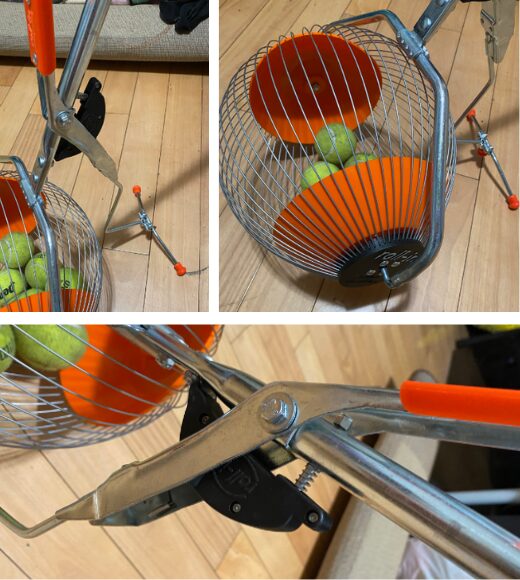 #2 Silfrae Table Tennis Ball Picker Upper Ping Pong Ball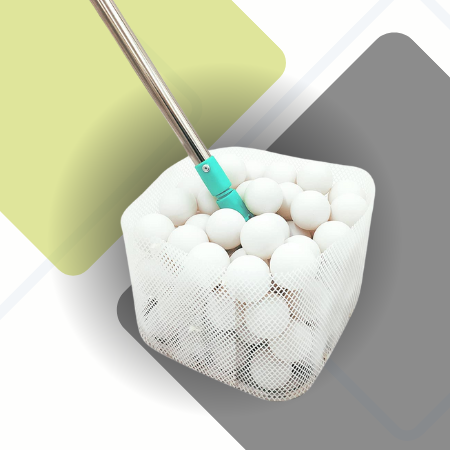 Let's not forget that tennis isn't just a lawn sport. Table tennis, in my experience, can be just as demanding, if not more so. It requires a high level of precision and focus, not to mention the rigorous exercise regimes that players must follow.
To help players excel in this fast-paced game, there are several tools designed to make the process easier and more efficient. One such tool that I've found particularly useful is the Silfrae Table Tennis Ball Picker. This picker is designed specifically for collecting ping pong balls, and it's a game-changer.
This picker has a solid aluminum frame and stainless steel spring. These features make it lightweight, durable, and most importantly, easy to use. I've found it to be a simple yet effective solution – just place the picker over the ball, give it a press, and voila, the ball is picked up into the basket.
One of the standout features of the Silfrae Table Tennis Ball Picker is its adjustable handle, which can be extended from 60 to 90 cm. This makes it suitable for people of different heights, ensuring that anyone can use it comfortably. It's a tool that's earned its place in my table tennis coaching arsenal.
#3 Wotryit Ball Collector Mini | Ball Picker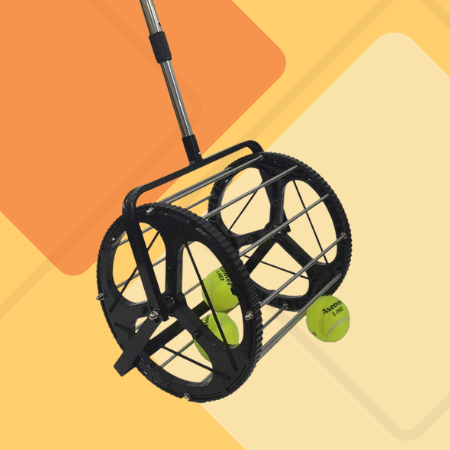 One tool that has made a significant difference in my coaching routine is the "Wotryit Ball Collector Mini | Ball Picker". This two-in-one product serves as both a rolling tennis ball collector and a self-standing ball hopper. It has the smoothest rolling system I've ever used, gliding effortlessly across all types of surfaces, whether it's grass, clay, or carpet.
Impressively, this product has the ability to collect several balls at once. This feature has saved me so much time and energy, reducing the number of trips I have to make across the court to gather all the balls. No matter how large the court, this tool makes the task a breeze.
The rolling drum can store over 50 balls, which is impressive. But it's not just about collection – dispensing the balls is equally important. The Wotryit Ball Collector makes this task a cinch too. It features an elastic band that you simply hook before pouring out all the balls.
Weighing in at just 3.9lb, it's lightweight and easy to carry around the court. This tool has truly streamlined my coaching sessions, and I can't recommend it enough.
#4 Lemin 2 in 1 Tennis Balls Pickup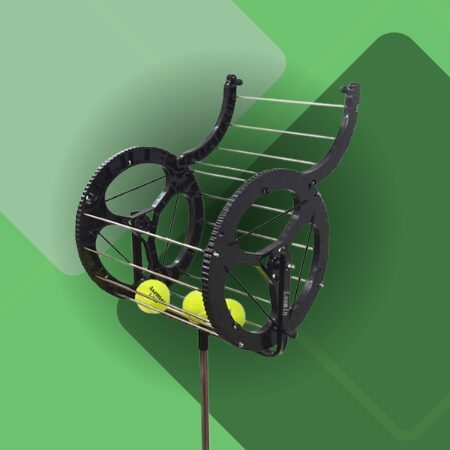 Another tool that has earned its place in my coaching kit is the "Lesmin 2 in 1 Tennis Balls Pickup". This is a tool I believe should be a staple on every tennis court. It has the ability to clear the court within seconds, freeing up more time for serving and practicing the game.
This pickup has incredible speed. Before you know it, the court is cleared of all the balls. It has the capacity to hold 55 balls, which is quite efficient. The quick-release feature is a game-changer, making it incredibly convenient to empty the balls each time. All you have to do is hook the elastic rope on the side of the roller and pour the balls out.
The dual-use functionality of this product makes it even more appealing. It's made of PVC and stainless steel, ensuring durability and longevity. As a coach, I pay close attention to the materials used in the products I choose, as they need to withstand the rigors of regular use on the court. The "Lesmin 2 in 1 Tennis Balls Pickup" certainly ticks all the boxes.
#5 Yaegoo 40 Ball Collector Mini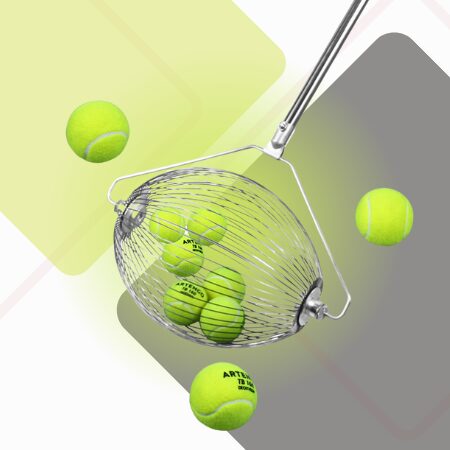 Last but certainly not least on my list is the "Yaegoo 40 Ball Collector Mini". This product seems to have been designed with a clear goal in mind: to transform the often tedious, time-consuming task of ball collection into something fun and exciting.
In my experience, it's incredibly easy to use and gentle on the arms. All you have to do is roll it over a tennis ball, and the ball effortlessly enters the wire cage and stays put without rolling back out. When it's time to release the balls, a simple flip of the side latch does the trick.
My favorite feature about this ball collector is that it doesn't put any strain on the arms, shoulders, or back. It's a tool that respects the physical demands of the sport and aims to reduce unnecessary strain. Plus, it comes with a built-in hook that can be used to hang it on the fence, a small detail that adds to its convenience.
The "Yaegoo 40 Ball Collector Mini" is a tool that has made my coaching sessions more efficient and enjoyable, and I highly recommend it.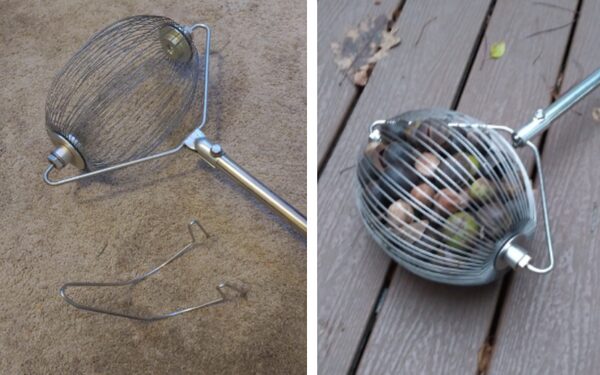 Tennis Ball Pickup Buying Guide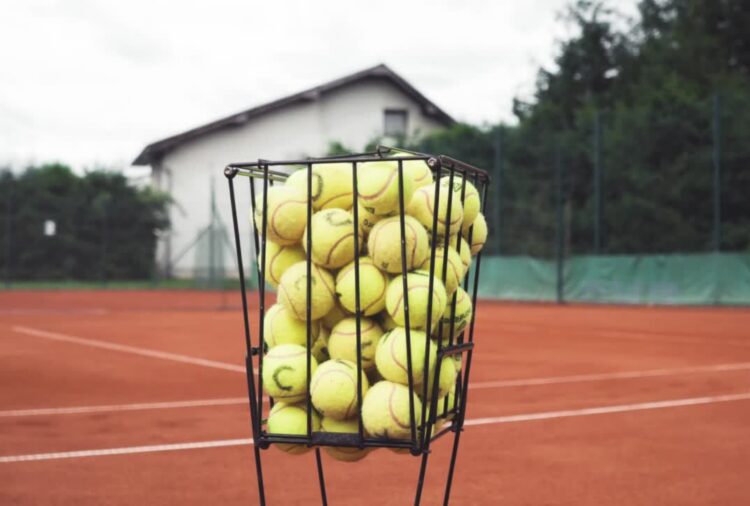 When it comes to buying equipment, even something as seemingly simple as a ball pickup, it's important to understand the basics. I've learned this through years of coaching and purchasing equipment. I value your hard-earned money, so I want to share some key points to consider before you buy a tennis ball pickup.
Durability
Most of the ball pickups on the market are made of wire, but you'll also find some made of polypropylene. Each material has its benefits, but what matters most is durability.
As a coach, I can tell you that this is an item you'll be using regularly, so it needs to be strong and long-lasting.
Portability
One of the main reasons to use a ball pickup is to save your back from the strain of constantly bending over to pick up balls. That's why it's crucial that the pickup is lightweight and easy to carry.
It shouldn't stress your arms, shoulders, or back. The lighter it is, the easier it will be to move around and do the job it's designed for.
Storage
The more balls a pickup can hold, the better. A larger capacity means you can collect as many balls as possible at once, saving you the time of having to empty the storage basket after every few rounds of ball collection.
Affordability
I've learned that a higher price doesn't always mean a better product. There are excellent ball pickups available at all price points. You don't have to empty your pockets to get the best one. Choose the one that best suits your needs and fits within your budget.
FAQ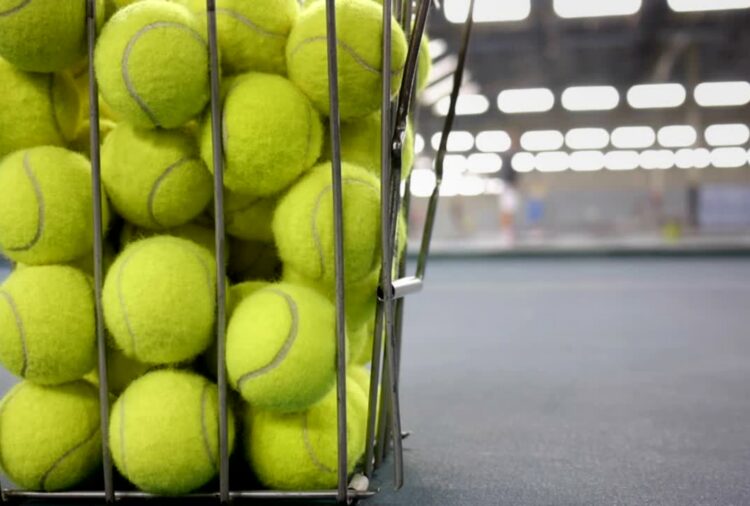 How does a tennis ball picker work?
Using a tennis ball picker is straightforward. You simply place it over the ball and press the picker button to collect the ball into the basket.
These handy tools often come with adjustable handles, making them easy to use for both children and adults.
How many balls can fit in a tennis ball picker?
The capacity of a tennis ball picker can vary depending on the specific model. Generally, they can collect anywhere from 40 to 140 balls per basket.
Can ball pickers work on surfaces such as grass or lawn?
Absolutely. I've used ball pickers on a variety of surfaces and in different conditions. They can be a bit trickier to use on softer surfaces, as they need a solid and hard ground to effectively collect balls into the basket.
Can tennis ball pickers collect baseballs?
The effectiveness of a ball picker largely depends on the shape, size, and weight of the ball. While you can use it to pick up balls similar in size to tennis balls, picking up baseballs can be a bit challenging, especially if the basket is empty due to the weight of the baseballs.
I've found that applying more pressure on the basket when rolling the collector over the first few balls can make the process easier.
Does the tennis ball picker come assembled?
This can vary. Most of the time, manufacturers send these products in pieces.
But don't worry, they usually only consist of a few parts and are relatively easy to assemble at home.
Which tennis ball collector should I purchase?
All the products I've listed here are top-notch, so you should have no trouble finding one that suits your needs. Consider factors like customer reviews, price, and capacity.
Personally, I recommend the Collectible K-Max ball collector. It can pick up to 60 balls, and it's really easy to assemble and use.
Final Words
I hope to have eased any worries you might have had about finding the best tennis ball pickers. I've brought together some of the best options based on my own experience as a coach, as well as what to look for when buying a picker.
My goal is to help you keep your focus where it belongs – on the sport, not on the peripheral tasks. I've been there, and I understand how these seemingly small details can make a big difference in your practice sessions.
So, make sure you take a good look through this post, consider the options, and make the decision that's right for you. Happy playing!