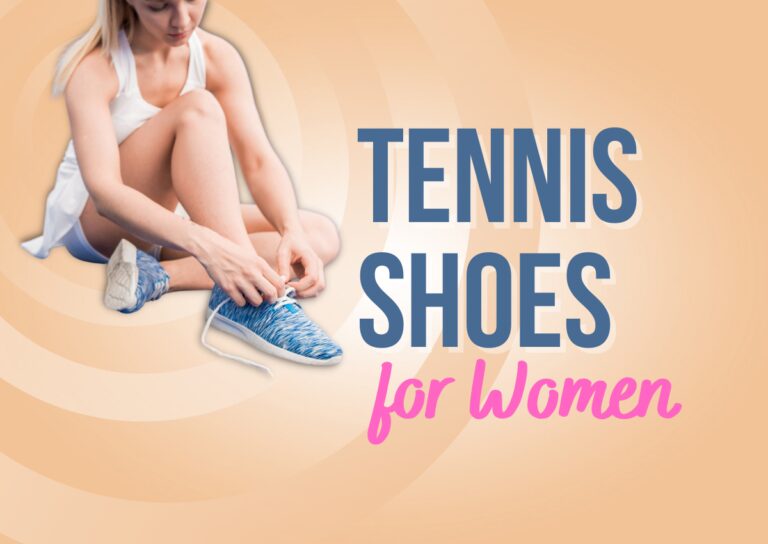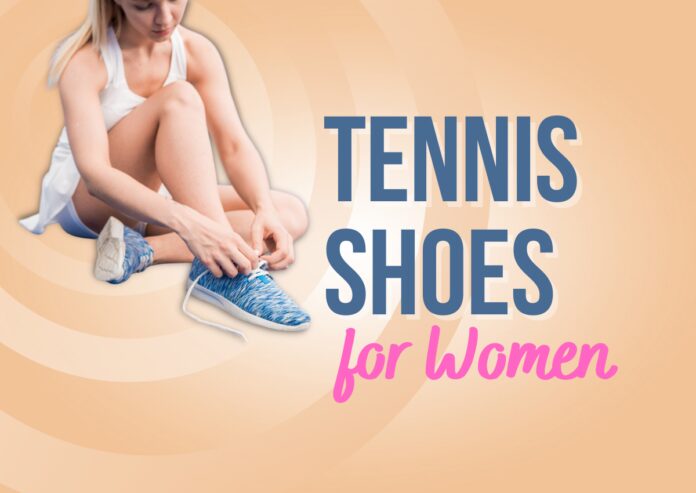 Are you an athletic person or passionate about outdoor activities it is always better to use good-quality shoes that can comfort and support you.
The role of tennis shoes mainly arrives when one requires it for various outdoor or sports activities. Proper tennis shoes should provide traction, stability, and good support to the legs while running or jumping.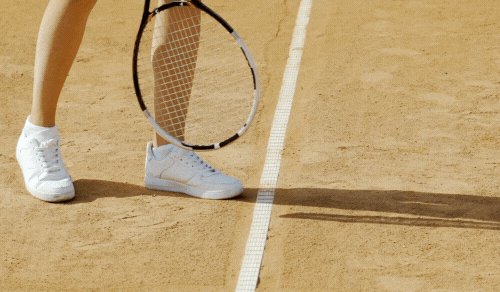 We have compiled a list of the Best Tennis Shoes For Women. The shoes are selected and put on the list after a lot of research.
Reviews provided by specialists and real users are analyzed who have tested these tennis shoes with a variety of conditions, surfaces, and with a variety of body weights and foot types.
In addition, shoe specifications, quality, durability, and price of the product was also taken into account to provide the best list of available tennis shoes for women.
Top Tennis Shoes For Women – Best Brands
Tennis is a game in which a lot of lateral movement is involved. This movement requires a quick response and good body balance that highly depends on the shoes you wear. So, if you want to play tennis like a professional player without any distress, then you need to have the right pair of shoes.
Some shoes are specially designed for this game, which ensures a comfortable and lightweight experience along with additional traction and support. In addition, these shoes should be durable and wearable and easy to clean and wash.
There are ample such products in the market but go with the reliable and reputed ones. Always invest more in buying a good tennis shoe that will give you long-term service. Let us try to sort out some of the best women's tennis shoes.
Generally, women tend to select lightweight shoes with high performance and durability. So, the following are our top pick tennis shoes reviews for women.
#1. ASICS Women Gel-Game Tennis Shoes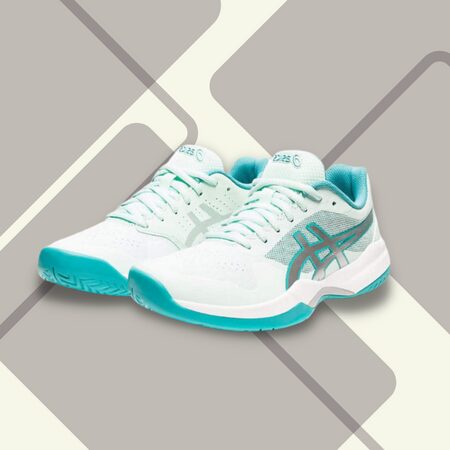 If you are passionate about using the right tennis shoes, it is always best to rely upon the products of ASICS Women's Gel-Game Tennis shoes. It is a hard and strong shoe. It can provide a good grip on any type of surface.
Even you can feel much relaxed and comfortable after putting this shoe on your legs. There is a rubber compound on the sole area of the shoe, and that prevents abrasion.
It also extends the lifetime of the shoe to a good extent. The Forefoot Gel Technology enhances shock attenuation to a good extent. The stitch of the shoe is made by using good quality products. The users can use the shoe for a whole day without any discomfort.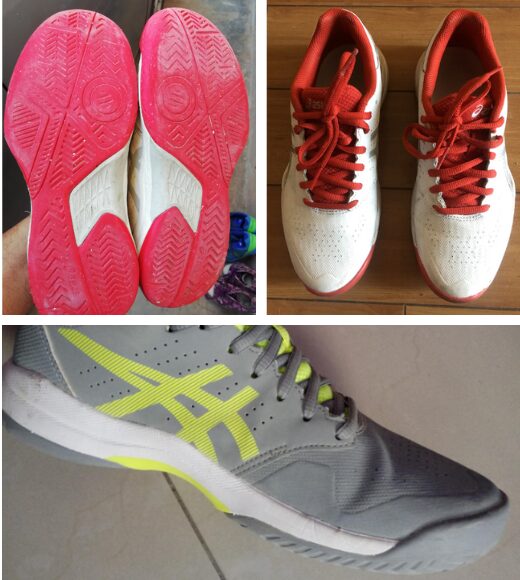 #2. Prince Women's T22 Tennis Shoe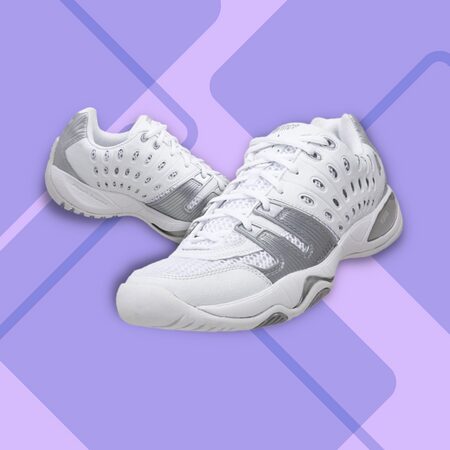 The tennis shoes Prince makes that it is the best one. It is best in the sense it provides great comfort to the legs at the time of playing or any type of outdoor activities.
This shoe is specifically made for players who love comfort, support, and good performance. The shoe is flexible and has good ventilation systems. It has won the hearts of millions of people because of its great breathability.
There is a rash toe cap that prevents the abrasion of the toe. The company started its production in the year 1970 and until now it has been wonderfully creating a good number of products. The shoe also provides a good grip and thus protects the players from getting slipped.
#3. K-Swiss Bigshot Light 3 Women's Tennis Shoe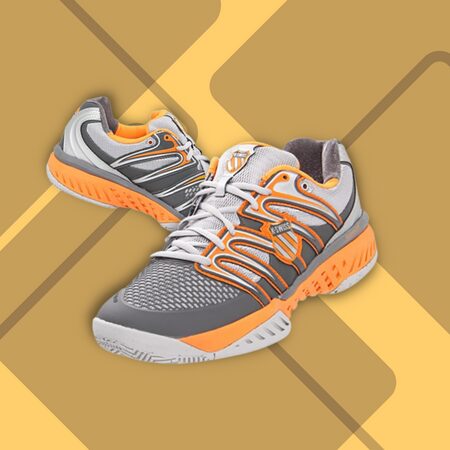 The beautiful and attractive look of K-Swiss Bigshot Light 3 Women's shoe has stolen the hearts of many people all over the world. It is the shoe that provides comfort and support to the legs.
Along with the updated upper, it comes with better ventilation support. The compound outsole is just superb, and it protects the exterior part of the shoe. Players who mainly rely upon support and firmness will always love to put this shoe.
The upper part of the shoe is made of synthetic material that provides support and good breathability. The midsole also provides maximum cushioning and durability to the shoe. The outsole is made in a much better manner. It comes with strong protection and guard for the users.
#4. Adidas Women's Gamecourt Tennis Shoe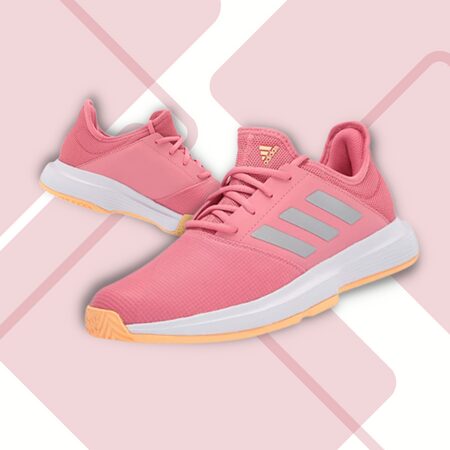 Adidas is one of the most reputed companies in manufacturing tennis shoes for both men and women. This product of Adidas is not only lightweight but comes with an amazing look. The cushioned midsole will keep you active and feel comfortable the moment you will put on the shoe.
On the other side, the outsole is much more durable, and it protects the legs largely. You will experience no discomfort at the moment you will wear it. This shoe is responsible for improving game performance in the field. People are very satisfied with this product. The good breathability feature is something that should be mentioned here.
#5. New Balance Women's 696v3 Hard Court Tennis Shoe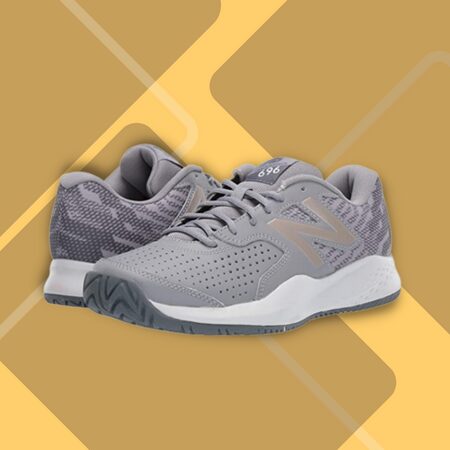 Strike harder with the help of New Balance Women's 69v3 hard tennis shoes. The shoe is manufactured in a harder manner so it can give the best performance for a long time. The whole shoe is made with good quality leather. It is also simple to wash and keep the shoe clean after using it.
The rubber sole is good and of superior quality. It is designed in such a way so that women can perform well in the game. They are available in a wide variety of colors and shapes. One can choose it as per their choice and demand. Almost all the colors are sober and fit for women players.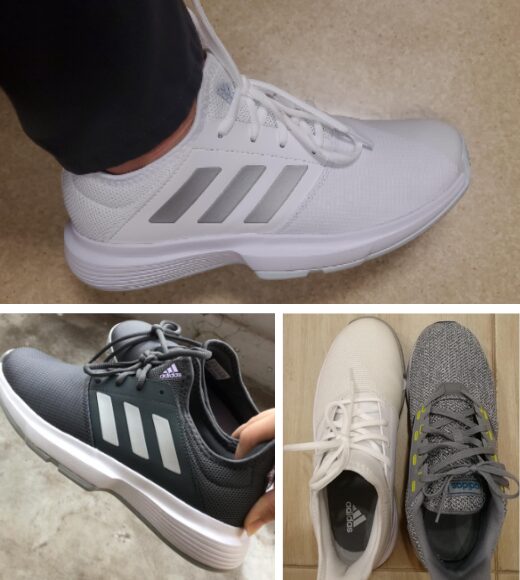 #6 K-Swiss Women's Hypercourt Express Tennis Shoe – (Best Selling Tennis Shoes For Women)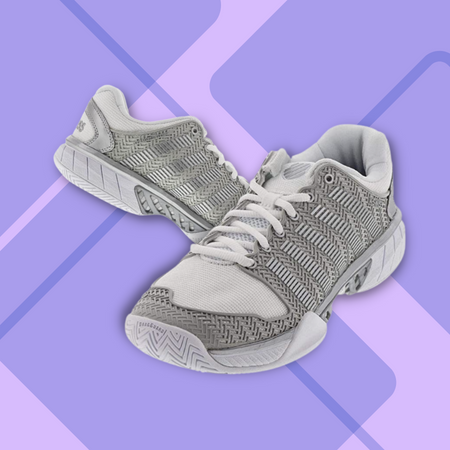 K-Swiss is famous for making some of the most durable and comfortable shoes on the market. It also includes K-Swiss Hypercourt Express women's tennis shoes. It is made with high-quality synthetic fabrics and polyurethane with beautiful printed tops.
The Hypercourt Express is a lightweight shoe that will do more than the work. It has traditional lace; you can get the best fit and experience of these K-Swiss women's tennis shoes.
A custom-designed insole is made from Ortholite that is comfortable and breathable. The shoes are designed by keeping running shoes in mind.
It also provides the support of active footwear but also allowing for the quick movement required in tennis courts. Hypercourts are the editor of choice for the best women's tennis shoes.
Hypercourt Express is the perfect choice for women whose tennis game is rising. A lightweight, airy, and friendly fit means day-to-day comfort for the player.
Hypercourt Express is designed to keep your feet in the right position for field contact. It is inspired by runners and is a great choice for fast and responsive play. It comes in different color combinations.
Main Features:
It is made from synthetic material.
It has a textile/molded and polyurethane/synthetic upper.
Textile Collar Lining
Its outsole is made from Draggaurd Rubber & Aosta Rubber.
Lace Closure
Pros
It supports the arch and ankle
These have the right type of tread, and that will last forever
These shoes are perfect for pickleball
They have a roomy toe box and are better suited for a wider foot
Cons
They are too big in the heel and too padded in the sole
#7 Nike Women's Air Zoom Vapor X Tennis Shoes – (Best Nike Tennis Shoes For Women)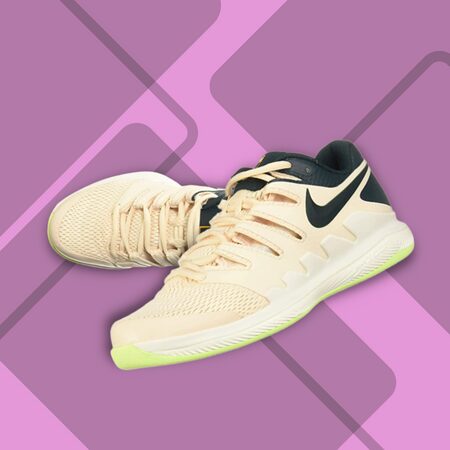 Tennis star Maria Sharapova wears this shoe. The Air Zoom Vapor X has a dynamic system with big toes embracing and adapting to her feet as she sets the rope. Instead of slipping around, you have control over when handling the field.
The combination of complete foot support and responsive paddings ensures that your feet are comfortable and stable. In addition, a rubber sole is built to cover the tips of the toes, so you will have more durable shoes and protect against extra resistance.
You will love these shoes to give you lots of support with lightweight. The Nike Air Zoom Vapor X is more comfortable than the previous model. The newly updated fit system stuck and provides additional support.
The new sole model changes the attractiveness and gives it a different feel in the field. If you are looking for lightweight women's tennis shoes then this is the best choice for you. This is also one of the best-selling tennis sneakers for women's as well.
Main Features:
Nike Dynamic Fit technology combines with lightweight textiles to create a zero-distraction upper.
Padded collar provides added comfort.
Nike Zoom unit in the heel with a Phylon midsole for lightweight, responsive cushioning.
TPU midfoot shank for lateral support and stability.
Nike XDR rubber in a herringbone pattern for excellent hard-court traction.
Generative design places added traction on the perimeter of the outsole to support explosive directional changes on the court.
Pros
It is very lightweight and comfortable
The updated fit system locked in the feet and provide some extra support
The new outsole pattern changed the traction and provided a different feel on the court
They are extremely durable and provide excellent traction
They have shock absorbing ability
Cons
Beautiful shoes with great arch support, but slightly narrow
#8 ASICS Women's Gel-Game 6 Tennis Shoe – (Best Asics Women Tennis Shoes)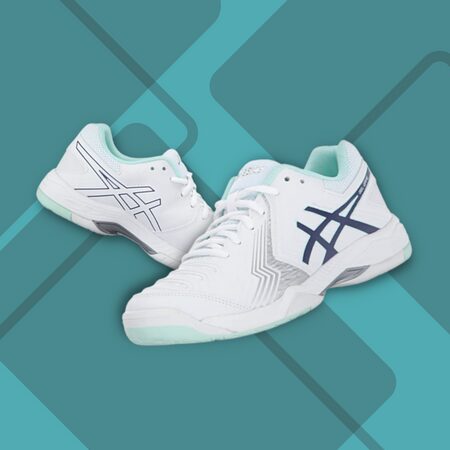 The solid rubber Gel-6 tennis shoe design from the ASICS women offers an appealing appeal.
They will give you the best traction. For the lateral movement of the legs while playing tennis, traction can be a real-life-saving thing. This all-rubber design also makes it durable, against the surface of many tennis courts.
Even with a rubber sole, these are lightweight shoes, which also provide gel paddings in the front foot. With constant shambling, these additional pads make it very comfortable.
Not only that, but the gel cushion makes lateral propulsion easy as it moves backward. Upper is a breathable mesh that can make your feet cool, which means they are more comfortable.
Gel-game 6 shoes are designed for tennis players who are looking for strength and attractiveness, with a solid rubber sole able to resist the texture of the field. The Trusstic System technology in the rear end provides stability in the front.
It is important for lateral shuffling, while breathable mesh vents throughout the upper. It keeps the feet cool and comfortable from first-serve until match point.


Main Features:
It is made of meshed fabric.
Shaft measures approximately low-top from arch
Solid rubber outsole,
Midfoot Trusstic System Technology
Breathable mesh vents throughout the upper
Pros
They provide stability and support in the court
They are highly comfortable
It provides excellent ankle support
Cons
They are tight in the toe area
#9 ASICS Women's GEL-Solution Speed 3 Tennis Shoe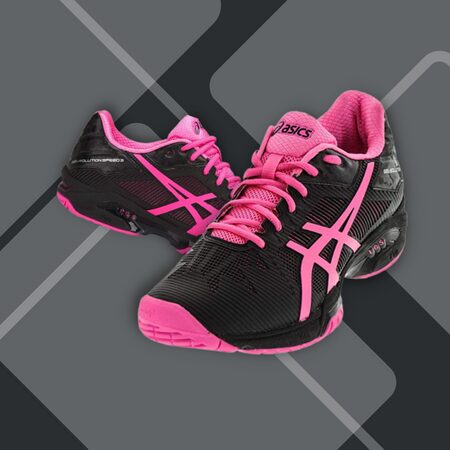 Among the best ASICS tennis shoe designs, ASICS Women's Speed ​​Gel Solution 3 is the one of them. The Speed ​​3 is made of textile and synthetic material with a durable rubber sole.
The gel cushioning of these special ASICS tennis shoes is included on the front and back, unlike other models. If you are looking for lightweight as well as comfortable, this gel technology is unbeatable.
GEL Cushioning Systems reduces the shock during impact and toe-off phases. It allows movement on multiple planes as the foot shifts through the gait cycle.
Another feature that distinguishes these tennis shoes is the PGuard. The technology protects the toes from the stress of propulsion and additional movement with specially designed footwear. But it is not just the characteristics of the gel that make these shoes.
With a low-profile design, these shoes have minimal weight with all the features you need to be dominant on the court. It is indeed the highest-rated women's tennis shoe available in market.
Main Features:
It is made of 100% synthetic material.
It has a rubber outsole.
It has rearfoot and forefoot GEL Cushioning Systems.
It has a PGuard toe protector.
Flexion fit upper, which provides form-fitting comfort without sacrificing support.
It has a Personal Heel Fit collar lining.
Pros
They have a high cushioning ability
An excellent shoe for pickleball
It is very lightweight and extremely durable
There is enough ventilation to keep the foot from overheating
The fit is narrow enough to prevent blisters
Cons
They have not a good fit at all and hurt the feet.
#10 Under Armour Women's UA Remix Running Shoes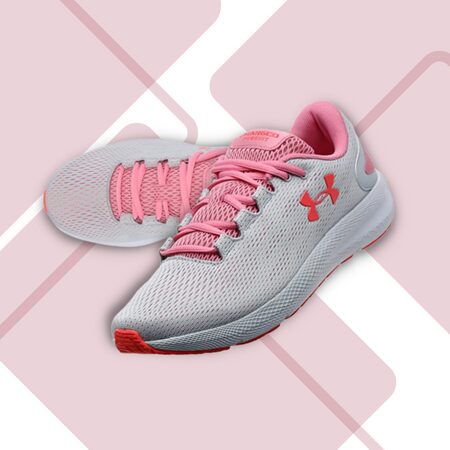 Under Armor is a name synonymous with the best sports shoes. Research by Under Armor on every new model will not be thrown away as they incorporate new technologies that make their shoe wearable.
This also applies to Under Armor women's tennis shoes and UA Remix as a prime example. It creates a workout routine with your sneakers under Armor UA Remix. The upper mesh offers refreshing airflow.
Heel pads, soft textile layers, EVA foam feet cover, and EVA midsole helps to produce great energy and absorb shocks during play.
Featuring a combination of fabrics and synthetic materials, UA Remix stands out from many other tennis shoes. Its upper is meshed and durable. It can also create breathability during the longest day at the court for your foot.
The outsole is made of rubber and provides One that absorbs shock, made of rubber, also gives extra traction and shock-absorbing ability. The padded heels also help eliminate the shock of the fast movement required during your favorite sport.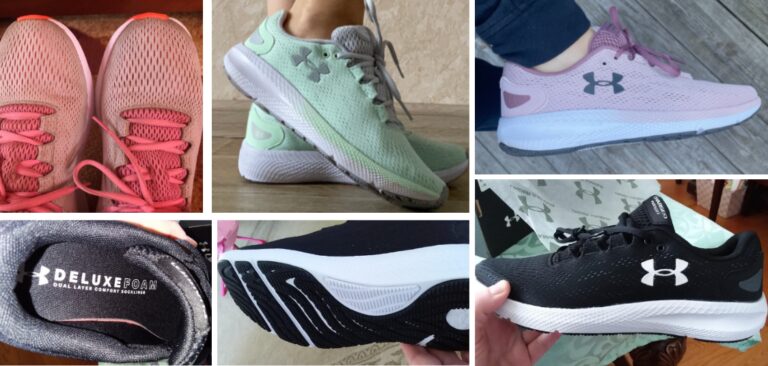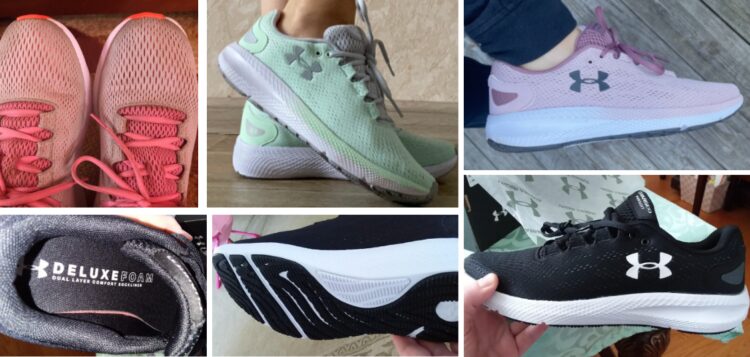 Main Features:
It is made of manmade meshed fabric.
It is made of hard rubber sole.
It energizes your fitness routine.
Its knit meshed upper provides refreshing air flow.
Lace-up adjustability.
Padded heel area.
Pros
It has breathable textile linings
EVA foam cushioned footbed
EVA midsole for high energy return
Shock-absorbing rubber outsole
It is made of soft textile layers
Cons
They feel very uncomfortable.
#11 Adidas Women's Asmc Court Boost Tennis Shoe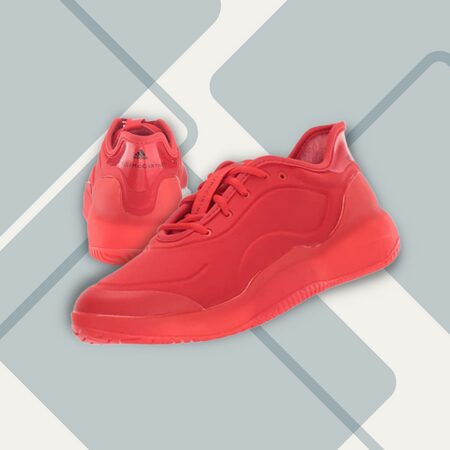 It is designed to be not only the best shoe in the field, but also show high performance. The Asmc Court Boost would be definitely your favorite tennis shoe. It has a full boost unit under the foot and ADIPRENE+ cushioning controls best performance and give respond to every step on the way.
The upper part of the single TPU provides comfort and support for aggressive lateral movement and has a longer lifespan in high wear areas. It has a technology similar to the previous Stella Barricade Boost tennis shoes.
Players will appreciate the support at the middle and durable adiwear 6 sole. It is designed according to the latest fashion and fully functional. This shoe will surely turn heads on and off the court.
It has a 360-degree TPU upper that provides support, comfort, strength and stability. It has ADITUFF materials in high stress areas for longer life. Its midsole is made by BOOST technology that offers convenience and responsiveness at every stage. It has 3D pattern for lightweight support and easy adaptation.
ADIPRENE + midsole adds cushions and rebounds. Rubber outsole is highly resistant to most abrasive courts with modified herringbone patterns to keep the traction with the field.
Main Features:
Soft fabric lining.
Fixed foam insole.
Boost midsole features energy-returning properties to keep every step charged with light, quick and endless energy.
Expanded TPU capsules create distinctive heel cushioning.
ADIWEAR 6 rubber outsole delivers multidirectional grip and lasting wear on abrasive courts.
Pros
They are supportive and durable
They have shock absorbing ability
It glides over the court with agility and style of the adidas
Its seamless knit upper provides enhanced fit and comfort
#12 Adidas Performance Women's ASMC Barricade Boost Tennis Shoe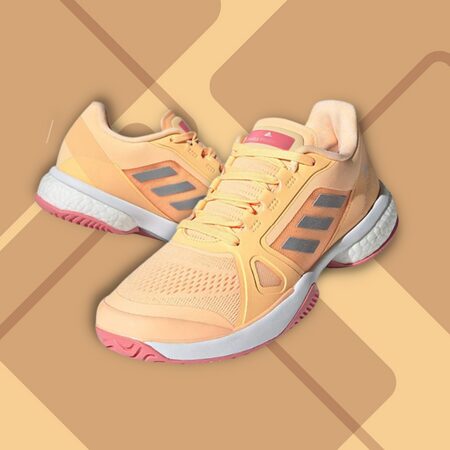 Professional tennis player Caroline Wozniacki wears these shoes during the 2018 Australian Open victory. It is also among the best choice for casual players. In addition to having an elegant appearance on the field, thanks to Adidas's collaboration with designer Stella McCartney.
She also boasts several Adidas high-tech features, including midsole torsion support, durability, and critical ankle stability. They are the most durable tennis shoes.
More importantly, the shoe uses Adidas's "boost" technology developed in 2013. This technology absorbs and produces more than just producing kinetic output. These shoes are really good. The fit is so wide that I like most.
It is lightweight and breathable. I just put them out of the box and use them. They are exceptional in the field with no breaks and no problems. I really like these shoes and would recommend them.
Main Features:
Its ergonomically-shaped TPU heel counter for secure lockdown.
Plush tongue and collar.
Soft fabric lining.
Fixed foam insole.
Boost midsole features energy-returning properties to keep every step charged with light, quick and endless energy.
Expanded TPU capsules create distinctive heel cushioning.
ADIWEAR 6 rubber outsole delivers multidirectional grip and lasting wear on abrasive courts.
Pros
They are supportive and durable
They have shock absorbing ability
It glides over the court with agility and style of the Adidas
It's seamless knit upper provides enhanced fit and comfort
Buying Guide To Choose the Best Women's Tennis Shoes
If you are planning to buy a good tennis shoe, it is important to follow certain rules. Never get attracted to the look or style of the shoe, but people should give special preference on the quality and durability of the shoe.
These factors are the most important ones that should be strictly followed. Apart from this, there are other things that should also be checked as much as possible.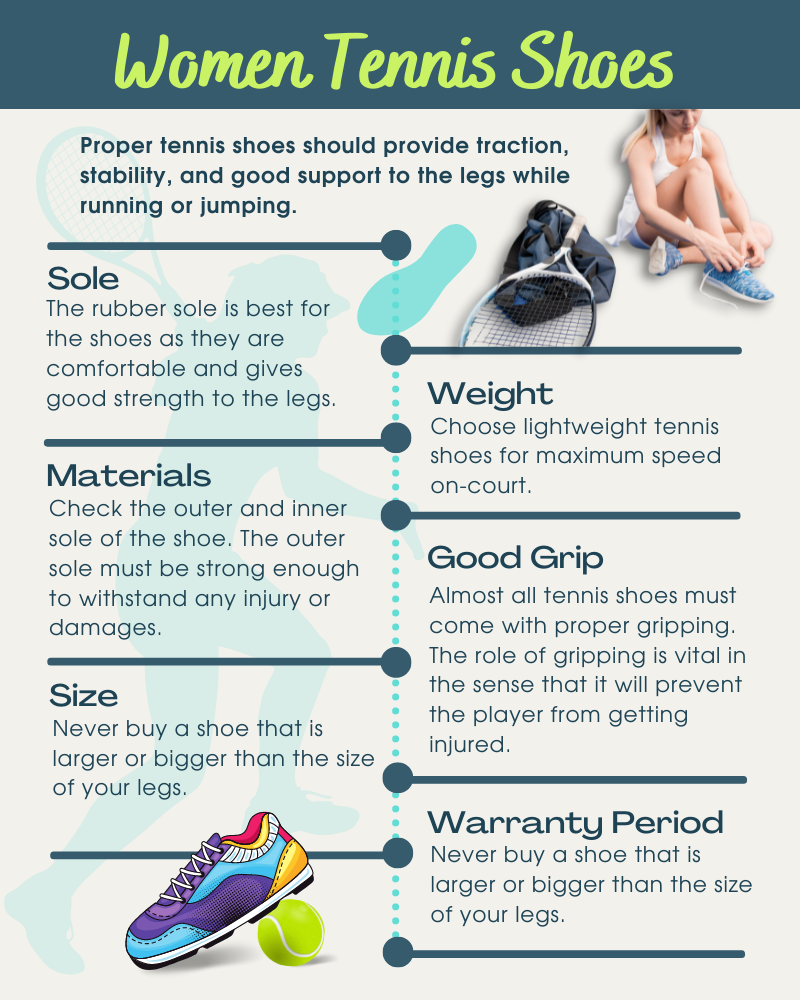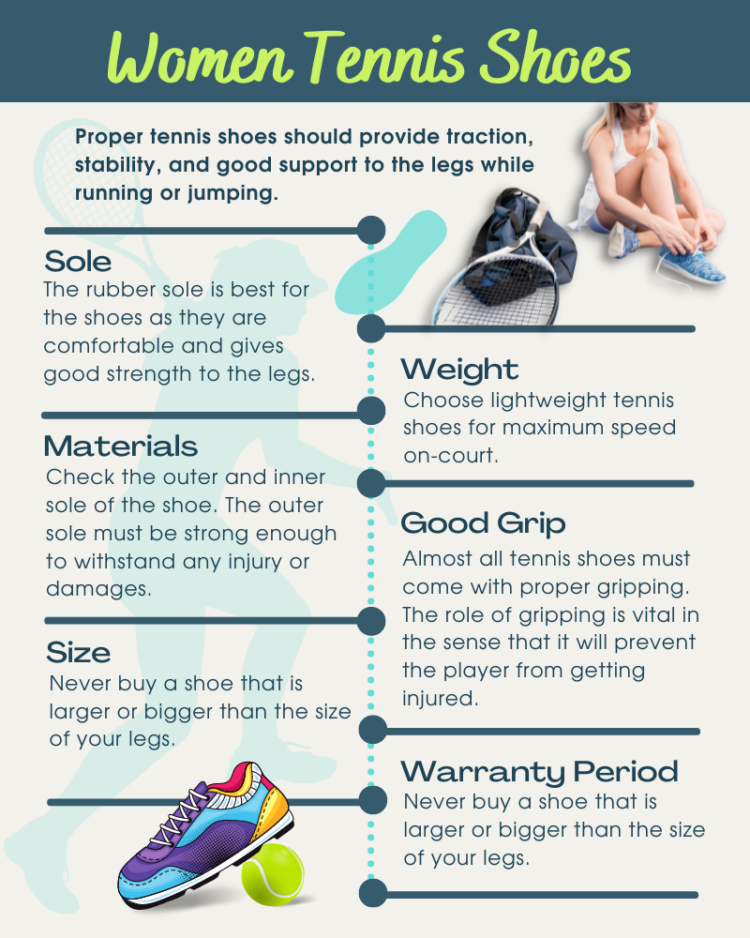 Sole
For shoes, the most important thing is the sole. It is always better if the sole is made of rubber. The rubber sole is best for the shoes as they are comfortable and gives good strength to the legs. Never go with any other shoes that are made of other quality soles.
Weight
Most modern-day shoes are lightweight ones. If it is found to be heavy. Never buy that because it might not give you the best service for a long time. If the weight of the shoe is less, it can be cleaned or washed simply. The drying process also becomes easy.
Materials
Check the materials for the quality of the shoe. In the present time, you can get shoes that are purely made of synthetic or other types of materials. They may not last long or can provide you with poor services.
Check the outer and inner sole of the shoe. The outer sole must be strong enough to withstand any injury or damages.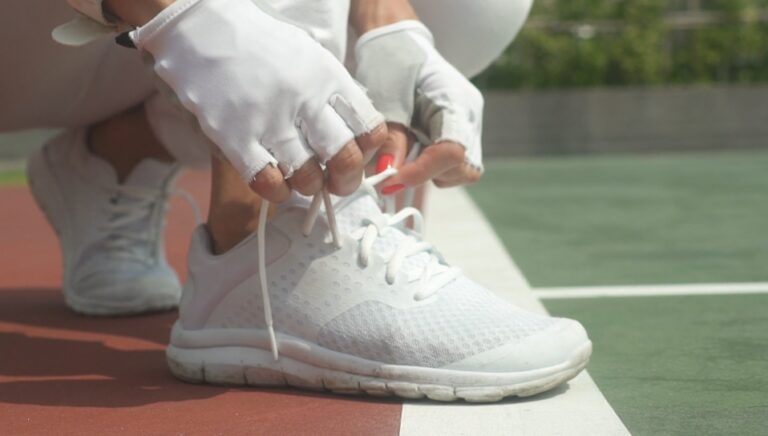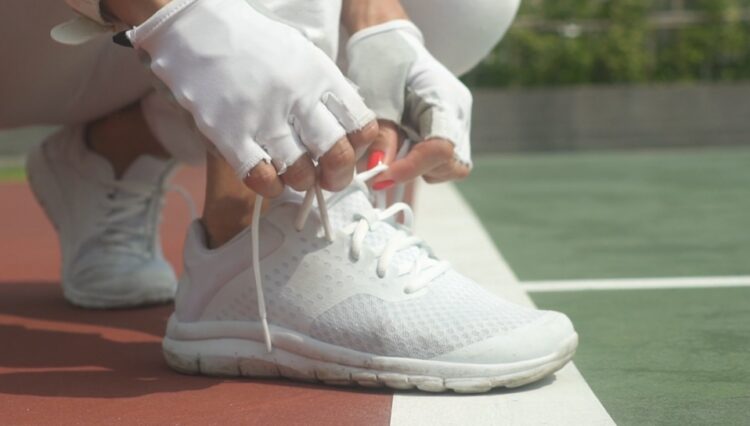 Colour and Size
However, buyers must be cautious while choosing the color and size of the shoes. Never buy a shoe that is larger or bigger than the size of your legs. It will not only look bad, but you may also feel uneasy after putting it.
Regarding color, it can be said that people should choose decent colors for shoes. Because bright or loud colors do not look nice.
Good Grip
Almost all tennis shoes must come with proper gripping. The role of gripping is vital in the sense that it will prevent the player from getting injured. Several accidents are mainly caused because of a lack of proper gripping.
It should be importantly to check under any situation so you can give the best performance in the field. If you get the lower part of the shoe is not having any types of grips or similar other designs, it may not provide that support to you.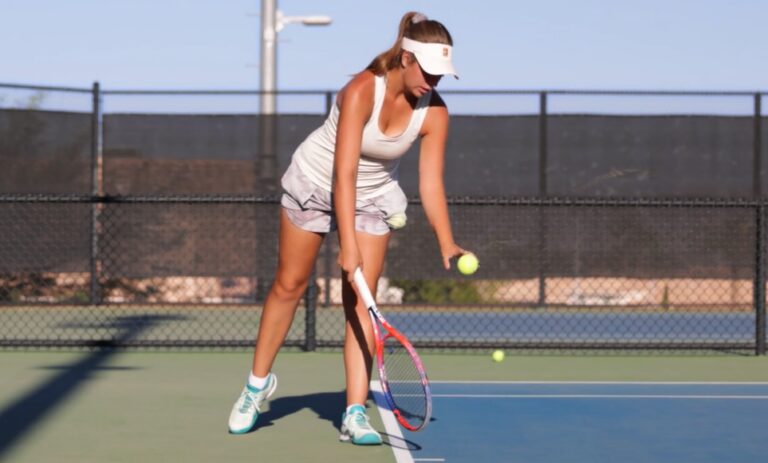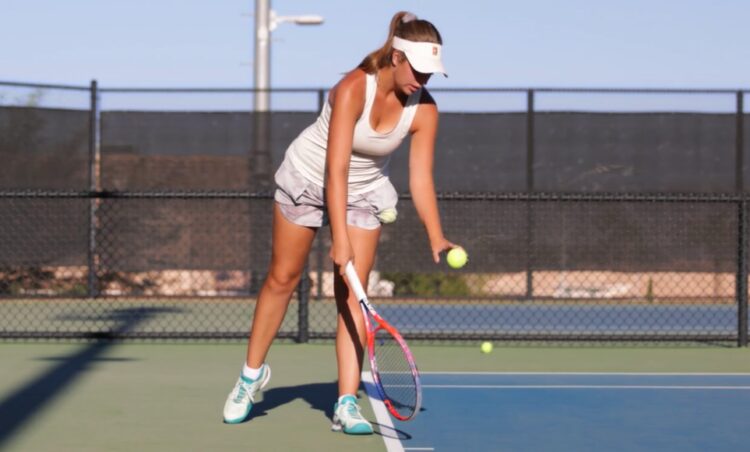 Warranty Period
There should be a minimum warranty period for the shoes that will help to change it. It is important to note the warranty period that begins right from the time of buying the shoe. The warranty should be regarding the sole or the outer material.
Reviews
A good and informative review is helpful while buying a shoe. It is through the reviews that the buyer or the customer can get probable information about the quality and service of the shoe.
It is vital to follow the reviews from various leading sites available in the market. It is better to avoid the fake sites that are involved in this process or job of reviews.
FAQ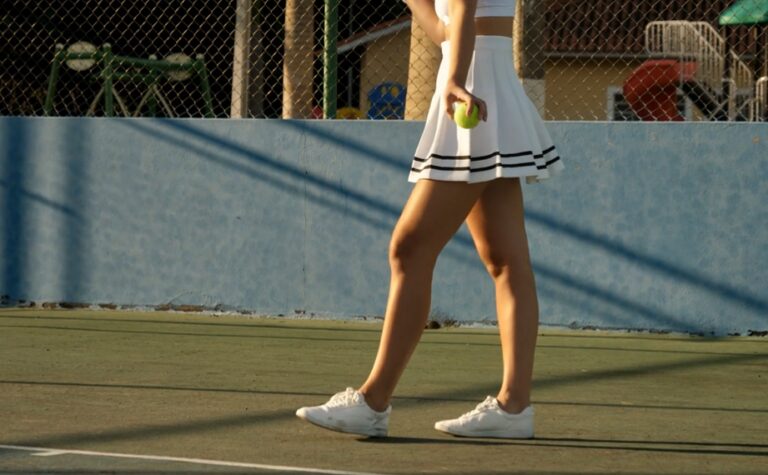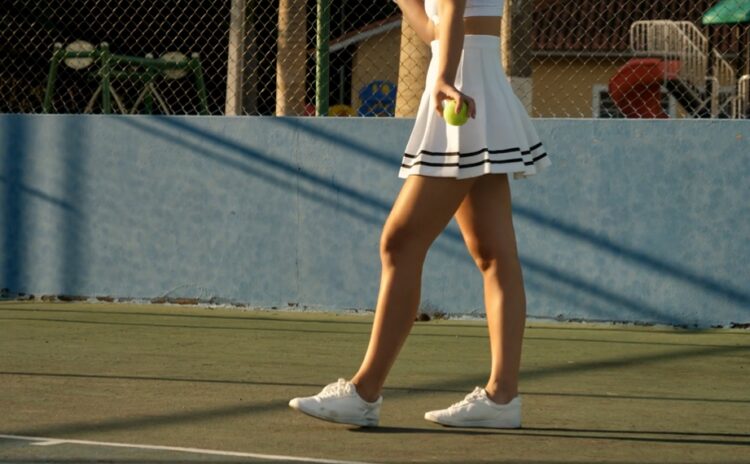 Q.1. What's the best-fitting tennis shoe for a woman?
The best-fitting tennis shoe for a woman is ASICS Women's Gel-Resolution.
Q.2. Which women's tennis shoe has the best arch support?
ASICS Gel-Resolution 7 Tennis Shoe has the best arch support among women's tennis shoes.
Q.3. What is the most durable women's tennis shoe?
Adidas Performance ASMC Barricade Boost Tennis Shoe is the most durable women's tennis shoe.
Conclusion:
All in all, any one of these shoes can be the best tennis shoes for your feet. Of course, finding shoes that are right for you depends on how you feel when trying on shoes. So, buy the best tennis shoes, so you can get the right size and be satisfied with the level of your shoes.
When talking about this list of tennis shoes, one of the best shoes to buy is Asics Women Gel-Resolution tennis shoes. Also, the Gel cushioning system allows your feet to feel like they are in the clouds as long as you wear them.
With shock absorption and stability, these shoes can help you move quickly to avoid unwanted injuries.
Although from first look, these shoes appear to be basic, they provide maximum support to your feet for a long hard match. The Gel cushioning that is also in these shoes provides a high comfort level that will have your feet thanking you at the end of a hard-fought match.
Bottom Line
Mere buying of tennis shoes is not enough, but one should check the basic things that must be present in a high-quality shoe. Remember if you are not buying a quality shoe for your tennis game, you may not perform well in the game.
A tennis shoe should have all the features that are required for a good shoe while playing games or during any other performance.
Check out some of these interesting models available on today's market:
References:
https://www.verywellfit.com/best-tennis-shoes-for-women-4583175
https://www.livestrong.com/article/13768244-best-tennis-shoes-for-women/