Stefanos Tsitsipas was born on August 12th, 1998, in Athens. His parents, Julia and Apostolos, were also experienced tennis players with professional careers. Julia was a top-ranked junior in her youth and represented the Soviet Union as a professional player.
His father, Apostolos, was also pro and same as Julia, worked as a tennis instructor. They had three more kids apart from Stefanos, a daughter Elisavet and sons Petros and Pavlos, who all became tennis pros.
As of 2023, Stefanos Tsitsipas became the youngest player that broke into the top 10 players on the ATP list and is currently placed on career-high fourth rank. These results also make him the highest-ranked Greek tennis player ever. In 2019, he managed to win ATP Finals and became the youngest player to accomplish this in 18 years.
Net Worth – $18 million
Born – 12th August 1998, Athens, Greece
Current Ranking – 4
Father – Apostolos Tsitsipas
Mother – Julia Salnikova – Tsitsipas
Siblings – Sister Elisavet and brothers Petros and Pavlos
Height – 6 feet 4 inches (1.93 m)
Weight – 89 kg
Source of Wealth – Tennis
Spouse(s) – Not married
How Did Stefanos Tsitsipas Get Into Professional Tennis?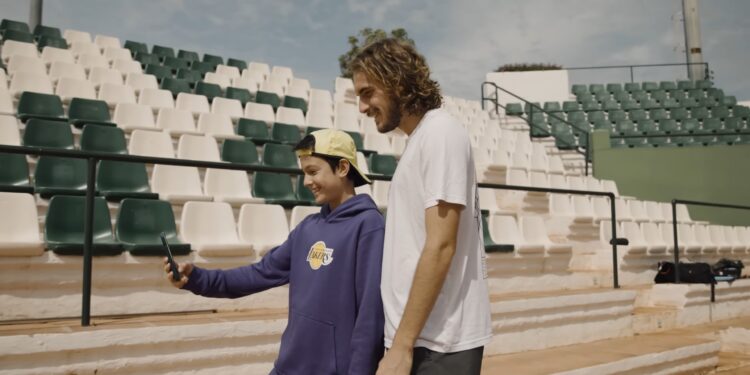 Since Tsitsipas was born into a tennis family, it did not take long until he got interested in playing it professionally. When he was only 3 he started working with his father and played tennis casually. He regularly watched professional tennis matches on TV with his family, which generally got him even more interested in the sports.
Over the course of years, he trained and played various sports, but at the age of nine, he made a decision to pursue a professional tennis career. When he started his training in Athens, his father became his primary coach and stayed in that position to the present day. To help his son the best way he can, Stefanos' father formally studied tennis coaching at the University of Athens.
When he was 14, Tsitsipas first played on the ITF junior circuit in 2013, and by 2015, he had a chance to compete at his first junior Grand Slam tournament. Quarterfinals at the Australian Open were the best result in these competitions for young Stefanos. By the end of the season, he was ranked number 14 junior in the world.
The year 2016 was a breakout year for Tsitsipas. He won his first Grade A tournament at the Trofeo Bonfiglio in Milan and reached at least the quarterfinals on all tournaments he played in 2016, including all four Grand Slams. These results made him a top-ranked junior in the world, and to cement his place, he also won the European Junior Championship.
His only junior Grand Slam title was in Wimbledon, where he was partnered in doubles with Estonian player Kenneth Raisma. He managed to reach the semifinals in both Wimbledon and the US Open and ended the year ranked number two, second only to Miomir Kecmanovic.
Professional Career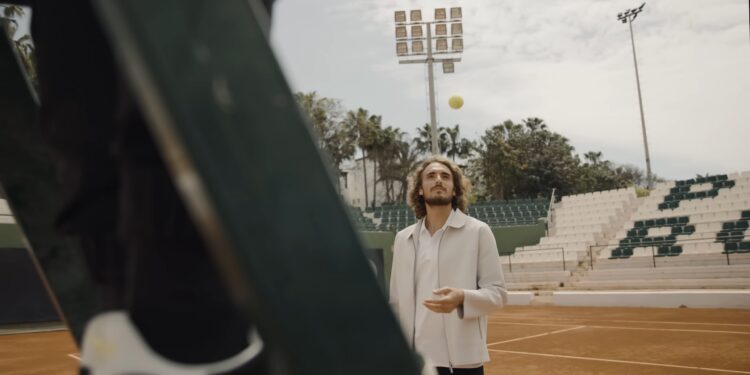 Stefanos Tsitsipas started his professional career in 2017. His first ATP main draw was at the Rotterdam Open, where he made his debut. Since he lost that match and several more after, he had to wait for his first win until he claimed the Challenger title in Genova.
By the time Tsitsipas was 19 years of age, he had managed to break the top 100 on the ATP list. 2018 was a breakthrough year for Stefanos after he reached the Master's final and became the Next Gen ATP Finals champion. By the end of the year, he was pronounced ATP Most Improved Player.
Tsitsipas continued to pile up successes in 2019. He managed to reach the Australian Open semifinals, became ATP Finals Champion, and climbed into the top 5 rankings on the ATP list.
In 2023, Tsitsipas struggled and initially had trouble bringing back the type of performances he had a year before. His biggest accomplishment during this year was reaching the French Open semifinals, and he could not defend his 2019 ATP finals title.
Stefanos managed to reach the French Open finals in 2023. He faced Novak Djokovic, who proved to be too much for young Greek. Tsitsipas put a lot of fight in the game and even led 2 – 0, but ultimately Djokovic bested him in 5 sets. Stefanos also managed to reach the Australian Open semifinals in 2023, which was his second appearance in this stage. He currently sits at a career-high fourth spot on the ATP list.
Endorsements and Sponsorships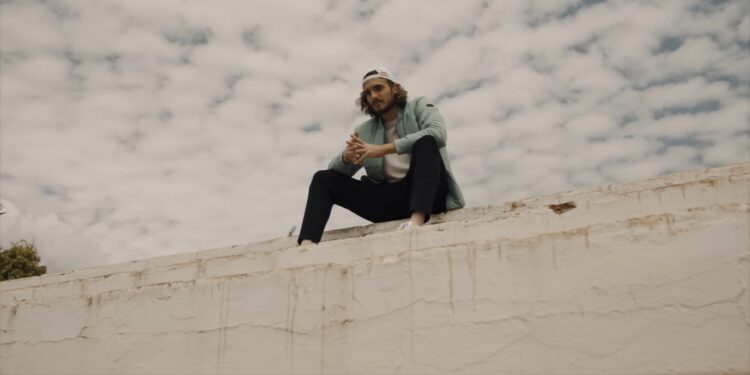 Being one of the most important representatives of the next generation of tennis players, Tsitsipas managed to sign lucrative contracts with some of the world-renowned sponsors. Apart from the sport's gear, Stefanos signed contracts with companies that sell watches, deodorants, even pasta.
Back in 2015, he signed a deal with Adidas, and to this day wears their shoes and clothes on the court. Alongside Alexander "Sascha" Zverev and Dominic Thiem, he became one of the global faces of Adidas gear.
As far as Tsitsipas' racquets go, he signed a deal with Wilson and uses Wilson Custom Blade 98, which we will talk about a bit later in the article. This custom racquet also has Greek national flag colors painted on it.
View this post on Instagram
In 2018, Stefanos signed a deal with Rolex and became the ambassador of this luxury watchmaker company. Tsitsipas is one of the youngest ambassadors for this Geneva-based company. This was an important contract for him because he endorses watches alongside his idols Roger Federer, Juan Martin del Potro, Dominic Thiem, Caroline Wozniacki, and many more current and retired tennis players.
Tsitsipas signed several more deals in 2019. He joined forces with deodorant brand Rexona, and since then, he has been part of their advertisement and commercials. Tsitsipas also partnered up with New Balance during this year, and he marked the occasion by tweeting: "I really like it when the balance is new."
What Racquet Does Stefanos Tsitsipas Use?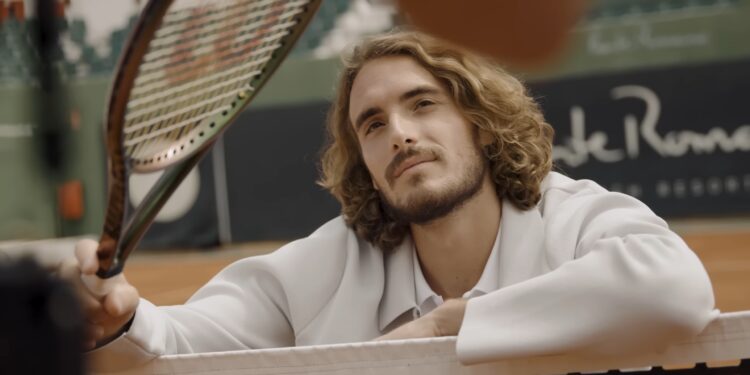 Tsitsipas endorses Wilson and uses their Blade 98 racquet. It is a custom product that Stefanos shaped to suit his well-rounded playstyle. He has used this racquet throughout his professional career so far. Tsitsipas also used an earlier version of Blade 98 when he played on the junior level. This model allowed him to hit the heavy ball on groundstrokes, generating tons of power.
The Blade 98 he uses currently is similar to the retail version, but it comes with some custom details. He added 10g of silicone into the handle witch moved the unstrung weight to 319 g. This model is also painted in Greek flag colors, and in the section below, we have listed its specs.
Head Size – 98 square inches
Length – 27 inches
Unstrung Weight – 319 g
Strung Weight – 337 g
Unstrung Balance – 32.0 cm (~7pts HL)
Swing Weight – ~340 kg.cm2 (strung)
String Pattern – 18 x 20
Dampener – No
Grip Style – Wilson Sublime + Wilson Pro Overgrip
Grip Size – L3 / 4 3/ 8″
Stiffness – 65
What Shoes Does Stefanos Tsitsipas Wear?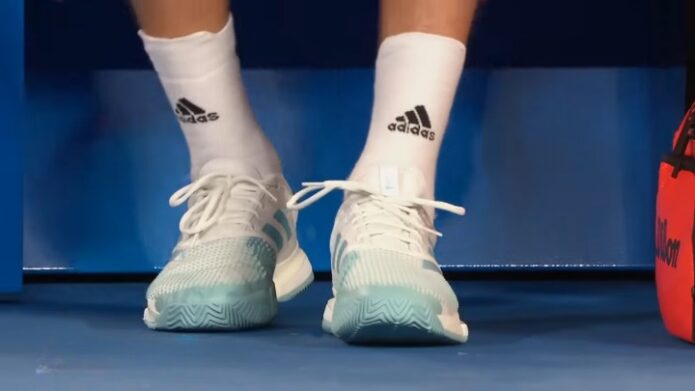 Stefanos Tsitsipas currently wears Adidas Solecourt Boost shoes. This tennis shoe is the third most popular in the world among professional players such as Dominic Thiem, Jo-Wilfred Tsonga, and Fernando Verdasco.
Adidas Solecourt Boost provides you with a lightweight feel without sacrificing support, although shoes in this weight class often struggle to give enough of it. With it being so popular, Solecourt Boost is available to purchase pretty much everywhere. It is suitable for tennis beginners as much as it is for pros.
Stefanos Tsitsipas Quotes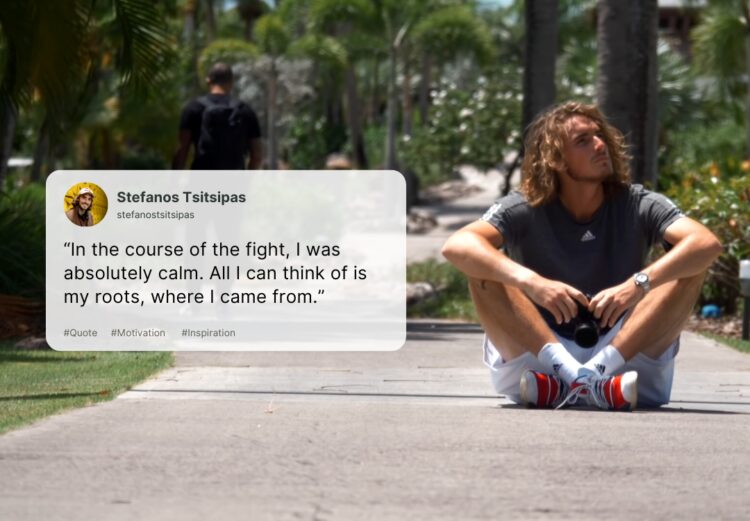 "I understand that our tennis era is changing… and our top three are getting older, and we are the ones that are coming up. Nadal, Djokovic, and Federer have always been there, and they will be there. What I have to do is go the extra mile and surpass them. That's my biggest challenge of the year."
"I'm someone who fights. I was not willing to give up yet. I think I did a few things right that worked in my favor. It was a breath of fresh air, that first game."
"I wanted to win but probably wasn't willing to die on the court for that. My main focus is doing well in the semi-finals, and I did leave something in the tank."
"In the course of the fight, I was absolutely calm. All I can think of is my roots, where I came from."
Social Media
Stefanos Tsitsipas is active on social media, and he is on Instagram (@stefanostsitsipas98), Twitter (@steftsitsipas), and Facebook (@StefTsitsipas).