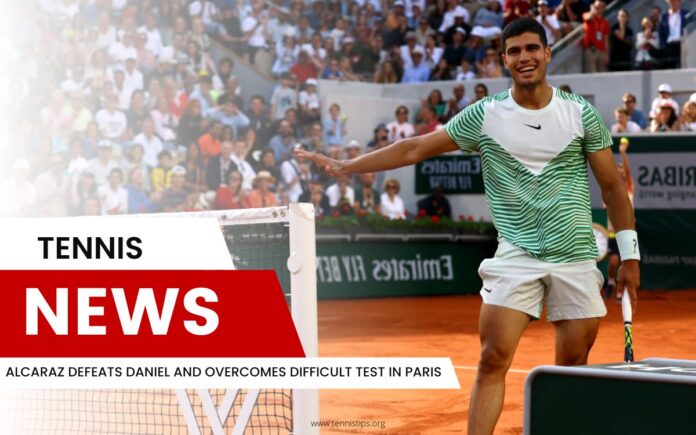 Carlos Alcaraz, displaying his formidable skills once again at French Open, launched into a blazing start against Taro Daniel after his commanding victory over Flavio Cobolli in the previous round. With remarkable precision and dominance, Alcaraz stormed through the opening set, securing a resounding 6-1 win. 
However, Daniel, capitalizing on Alcaraz's sudden errors, swiftly took advantage early in the second set, building a formidable 3-0 lead with relentless baseline hitting. Undeterred, Daniel managed to level the score by triumphing over the faltering Spaniard, securing the set with a score of 6-3. 
Alcaraz, determined to regain control, refocused his energy in the third set and swiftly broke Daniel's serve, eventually clinching the set 6-1. Demonstrating his unwavering resilience, Alcaraz powered through the fourth set with a score of 6-2, effectively sealing his victory. 
In the upcoming round, Alcaraz will face Denis Shapovalov, the 26th seed from Canada, who triumphed over Matteo Arnaldi with a scoreline of 6-2, 3-6, 6-3, 6-3 in an enthralling encounter on Wednesday.