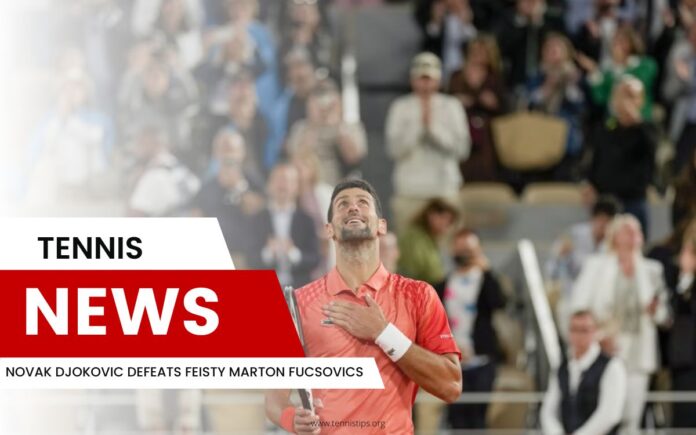 Novak Djokovic showcased his resilience and dominance as he overcame an initial struggle to effortlessly advance to the third round of the French Open. Despite the controversy surrounding his earlier statement, where he boldly proclaimed "Kosovo is the heart of Serbia" on a camera lens, Djokovic opted for a different approach after his triumphant 7-6 (7-2) 6-0 6-3 victory over Marton Fucsovics. 
Choosing not to reignite the contentious discussion, Djokovic simply signed his autograph and drew a cheerful smiley face. Addressing the reporters after the match, Djokovic expressed his stance, acknowledging that while many may disagree, it is a cause he firmly supports. He concluded, "I have said what I needed to say, and I stand by it."
Although Djokovic encountered a formidable challenge in the first set, lasting nearly 90 minutes, he swiftly regained control in the subsequent sets, leaving Fucsovics disheartened. Initially surging to a 3-0 lead, Djokovic faced a resilient Fucsovics who managed to break back, equalizing the score at five games apiece. 
The Serbian tennis star, visibly frustrated, directed his frustration towards his box, but he regained his composure to triumph in the tiebreaker with a commanding 7-2 lead. From that point onwards, Fucsovics' spirit seemed crushed as Djokovic unleashed his superiority, breaking his opponents serve four consecutive times, thus securing a flawless second set. 
Seizing the opportunity, Djokovic took a 1-0 lead in the third set, despite Fucsovics' fleeting resurgence. Undeterred, Djokovic's unmatched skill and finesse prevailed, paving the way for a clash against the Spanish 29th seed, Alejandro Davidovich Fokina, in the upcoming round.