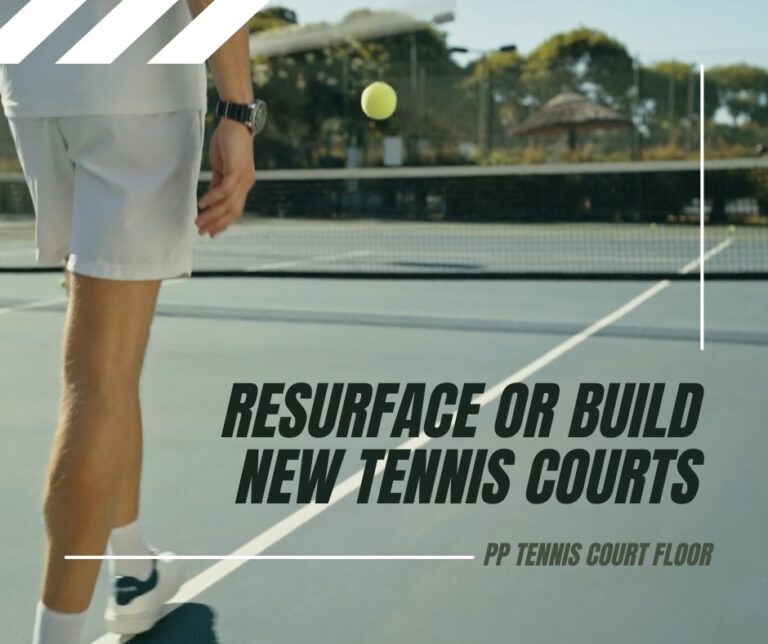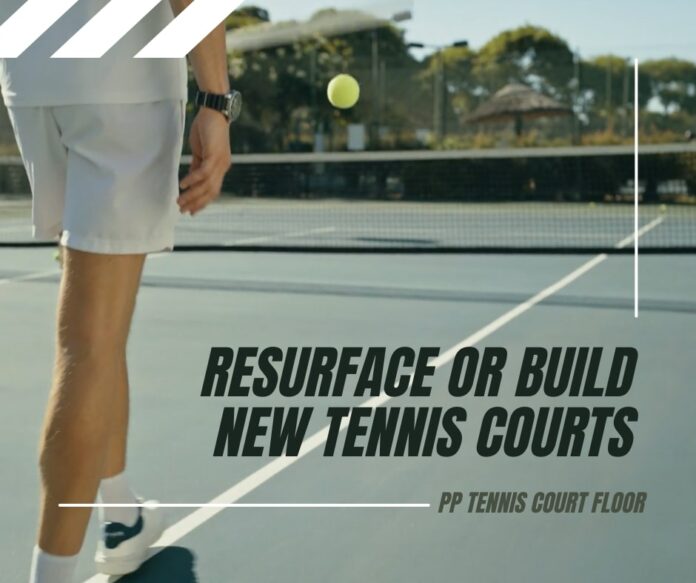 Tennis is a traditional sport with a long history, and it has been loved by many people. There are also different court materials available in the market, for example, grass courts, acrylic tennis courts
Artificial grass tennis courts, modular floor tennis courts. They each have advantages and disadvantages. Then when we comprehensively consider what type of court should be built, the use of modular polypropylene (PP) tennis court flooring has become a top contender and mainstream in the industry, and it is the most popular court construction material in 2023.
When do you need to resurface a tennis court?
If you have used clay courts or acrylic tennis courts, there is this unavoidable problem. With regular use and exposure to the elements, after a few years, even if you maintain your tennis court regularly, its surface is bound to move and cause issues like cracks, faded lines, or inconsistent ball bounce.
Typically, these types of courts need to be resurfaced every 4-8 years, depending on usage, maintenance and environmental factors. If you find that your tennis court has a lot of water after it rains or that your balls bounce in unpredictable directions when playing, you should consider starting to resurface your tennis court at this time.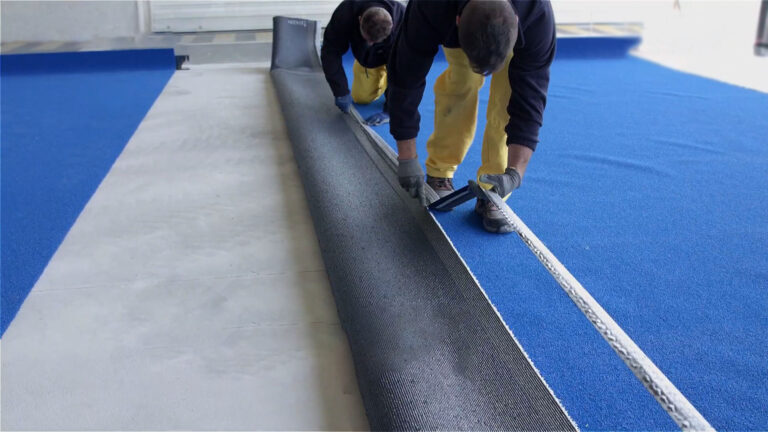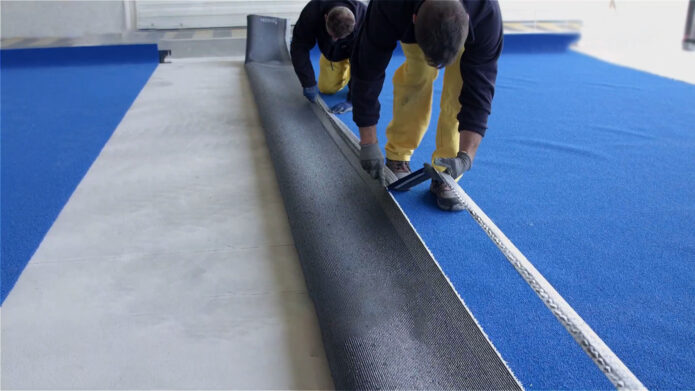 What do I need to do to prepare for a new/resurfaced tennis court?
Before you start building or rebuilding a tennis court, there are a few key steps and preparations you need to consider. First of all, we recommend that you check the flatness of the foundation or the surface of the original tennis court, but if it becomes uneven, it will have a great impact on your resurfacing tennis court.
You can shovel old court material and check that the concrete foundation is level. Second, check the dimensions of the tennis court. According to the ITF, a standard court measures 60 feet wide by 120 feet long. Ensuring that the field is the same size as the playing field is essential if you want to train professionally on it.
Finally, you should make sure that the drainage of the tennis court foundation meets the requirements. We recommend that you ensure that the foundation of the tennis court has a slope of 1% to ensure that rainwater will not accumulate on the ground and damage the surface of the tennis court after it rains.
How to design a new tennis court?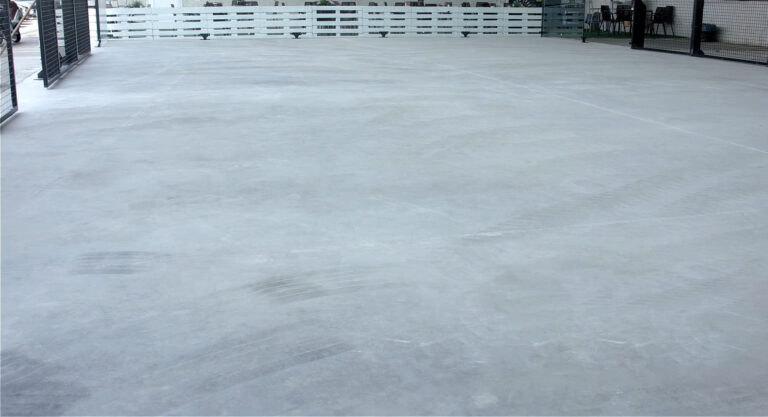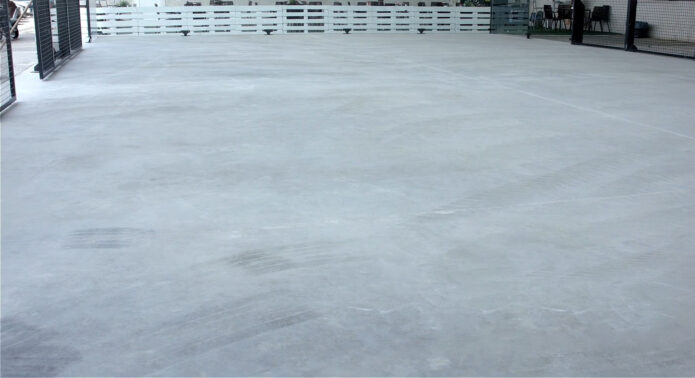 Next, the design phase of the new tennis court should be carefully planned. First of all, we suggest that the tennis court should be oriented north-south, so as to minimize the impact of the sun on the players' eyes. In addition, the color of the surface of the tennis court should also be planned.
Because the pp tennis floor has more than 15 standard colors to choose from, if you mix and match, this will have more than hundreds of options. Choosing the right color to build your tennis court will help increase your enjoyment of the game. Usually, in some sunny areas, we suggest you choose light green and other colors to build your tennis court, which can reduce the reflection of sunlight on the floor and affect the vision of athletes.
Why choose PP tennis floor to build/resurface tennis courts?
PP tennis floor is not a new sports surface material; it has been loved by stadium builders all over the world since 2000. Because it has simple installation and has a good sports experience.
According to ZSFloor Tech, they assume over 500 tennis courts in the US each year using pp tennis floor, and Their tennis court floors have also been applied to the construction of Adidas tennis courts.
So what are the advantages of PP tennis floor? Why it's my best tennis court floor of 2023:
The PP tennis floor is made of polypropylene. After adding some chemical agents, it becomes very durable and resistant to extreme weather.
It can combine the characteristics of grass tennis courts and clay tennis courts and can provide a medium-speed tennis rebound speed, making it not only suitable for personal leisure but also for competitive tennis games.
It is maintenance-free, PP tennis floor is essentially a plastic floor, and compared to clay or grass courts that require frequent watering and mowing, PP courts are also significantly less expensive to maintain. You don't need to spend extra time and money to maintain it, just use a broom and clean water to clean the leaves and ash layer on the surface.
The interlocking system of PP tiles is easy to install and everyone can do it themselves, which contributes to cost-effectiveness.
It has a professional sports experience. As most people know. Moreover, these tiles have a certain degree of flexibility, which can reduce the risk of injury and make players safer on the court. These tiles are also available in a variety of colours, allowing them to be customized to suit individual preferences or to match the colors of the club or school.
How to choose a professional tennis floor?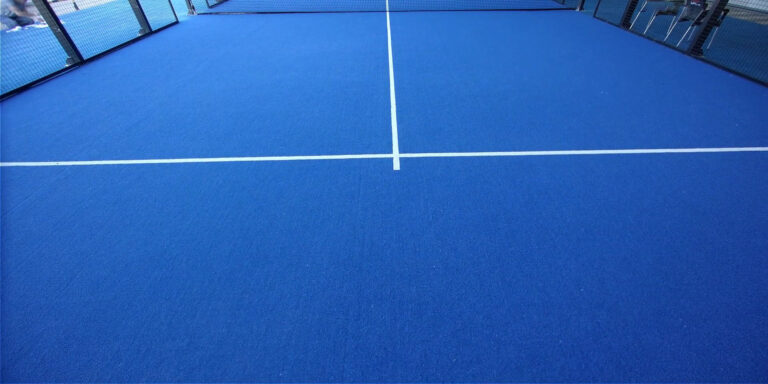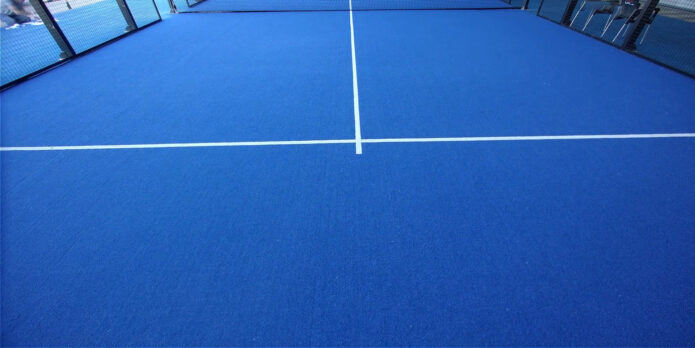 Selecting a professional tennis court supplier is a vital step in the process. Look for a supplier with extensive experience, strong customer reviews, and a comprehensive warranty policy. They should provide guidance on site preparation, installation, and maintenance, and provide solutions tailored to your specific needs.
According to Tennis Court Resurfacing Specialists, they have been developed and manufactured for tennis court flooring for more than 13 years, and provide more than 15 years of warranty. Therefore, we suggest that the flooring supplier's experience and quality assurance can become key considerations in your choice of flooring.
How to install a tennis floor?
When you have finished selecting and purchasing your floor, you need to start installing your new tennis court floor, unlike traditional surfaces, installing a PP court is a quick and straightforward process due to the interlocking system of the tiles. You simply click the tiles together on a smooth, flat surface.
This is best done on a cool, dry day to prevent the tile from expanding or contracting due to temperature fluctuations. Once the floor tiles are laid, it's time to draw the lines on the court. A quality paint that can withstand heavy use and weather conditions is recommended.
Use best tennis floor to make your dream tennis court
With its unique advantages, PP tennis court flooring has become the fastest growing tennis construction material in 2023. Using it to build or resurface tennis courts is not only for its functional advantages, but also for the aesthetic feeling it brings to the game.
Whether you're building a new court or renovating an old one, consider this innovative and sustainable tennis court flooring option.