If you're a tennis fan like me, you know that Rafael Nadal is more than just a player; he's an icon. With his relentless work ethic and unmatched skill on clay courts, Nadal has carved out a legendary career. In this article, we'll look at Rafael Nadal's net worth in 2023, along with key facts about his age, height, and weight.
What is Rafael Nadals Net Worth
As of 2023, his estimated net worth stands at a staggering $200 million. Yes, you read that right! This financial milestone doesn't just come from his tournament winnings, which are impressive on their own. Nadal also rakes in money from endorsements, his tennis academy, and various business ventures.
Brands like Nike, Babolat, and Kia Motors pay top dollar to have Nadal represent them, and it's easy to see why. The man is a living legend, and his name alone can sell products. So, the next time you see Nadal sprinting across the clay court in Roland Garros, remember that his athletic prowess has also made him one of the wealthiest athletes in the world.
How Nadal start his career?
Let's rewind to where it all began for Rafael Nadal. Born in the small town of Manacor on the island of Mallorca, Spain, Nadal was just 4 years old when he swung his first tennis racket. His uncle, Toni Nadal, who was a seasoned tennis coach, spotted his nephew's raw talent and decided to nurture it.
By age 8, Nadal was already making waves, clinching an under-12 regional tennis championship. That's younger than most of us even think about serious competition! He turned pro at 15, and within a year, he was shaking up the ATP tour, reaching the semifinals in his debut tournament.
But let's talk about 2005, a year that's etched in every Nadal fan's memory, including mine. At just 19, he not only reached the French Open but also knocked out Roger Federer in the semifinals and claimed the title. That win wasn't just a tournament victory; it was an announcement to the world that a new tennis legend had arrived.
So, every time I watch Nadal execute a perfect topspin forehand or slide effortlessly on a clay court, I'm reminded of his incredible journey. It's not just about the titles and the prize money; it's about a young boy from a small town who dared to dream big and worked tirelessly to make those dreams a reality.
King of Clay
If you've ever seen him play on a clay court, you know exactly why he's earned this nickname. His mastery over clay surfaces is unparalleled, and Roland Garros has practically become his second home. With 13 French Open titles under his belt as of my last update in 2022, Nadal has set a record that seems almost untouchable.
What makes him so dominant on clay? It's a combination of his incredible topspin forehand, unmatched stamina, and a mental toughness that's second to none. His ability to slide and retrieve balls on clay as if he's gliding makes every match a must-watch event. I've lost count of how many times I've jumped off my couch, amazed at yet another impossible shot he's made look easy.
What Racquet does Nadal Use?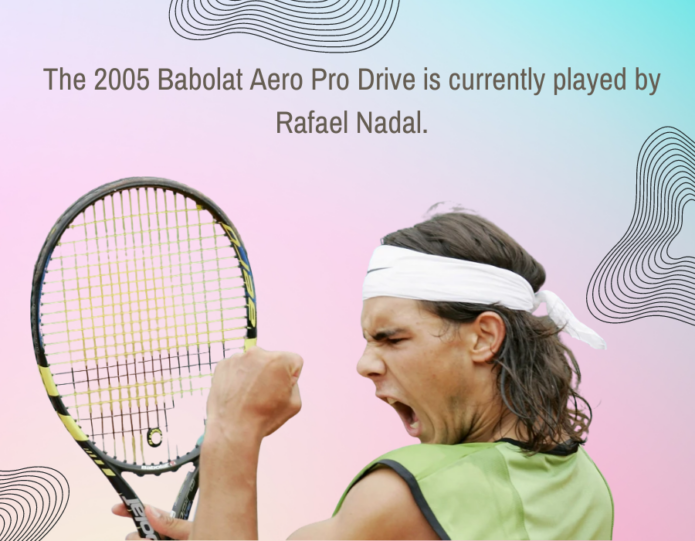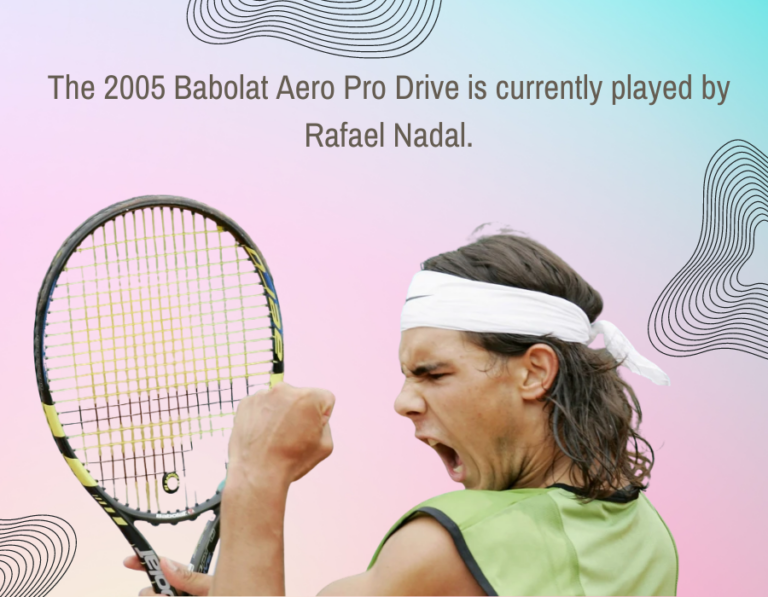 He uses the Babolat Pure Aero, a racquet specifically designed to enhance spin and power. This isn't just any off-the-shelf model, though; it's customized to Nadal's exact specifications. The racquet's aerodynamic frame allows for quick swings, which is crucial for generating the topspin that Nadal is famous for.
I've tried playing with the Babolat Pure Aero myself, and let me tell you, it's a game-changer. While it doesn't magically turn you into Nadal, you can definitely feel the difference in your shots, especially if you're someone who loves hitting with topspin.
What Shoes Nadal Wear?
When it comes to footwear, Rafael Nadal doesn't compromise. He's been sporting Nike shoes for years, specifically the NikeCourt Zoom Vapor Cage 4. These shoes are engineered for durability, support, and quick lateral movements—everything you need to dominate on the court. The unique cage design provides extra protection during slides, which is essential for Nadal's aggressive style of play.
I've had the chance to try on a pair of these Nike Court Zoom Vapor Cage 4 shoes, and the experience was eye-opening. The grip and support are phenomenal, making it easier to move swiftly and change directions on the fly. It's almost like having a secret weapon on your feet.
How Does Nadal Spend his money?
With a net worth of around $200 million, Rafael Nadal has the means to live a luxurious life, and he does—but not in the way you might expect. Sure, he owns a stunning mansion in his hometown of Manacor and a luxury yacht for those times he wants to escape. But what really stands out is his investment in the future of tennis through the Rafa Nadal Academy.
Located in Mallorca, the academy is a state-of-the-art facility aimed at nurturing young talent. It's not just a business venture; it's a passion project that reflects Nadal's love for the sport and his desire to give back. I've always admired athletes who invest in the next generation, and Nadal's commitment to his academy is a prime example.
He's also known for his charitable contributions through the Rafa Nadal Foundation, which focuses on social and educational programs for disadvantaged youth. It's heartening to see a sports icon use his wealth and influence for positive change.
And let's not forget his love for golf and poker. While not extravagant spends, they're hobbies that he thoroughly enjoys and invests in.
Rafael Nadal Quotes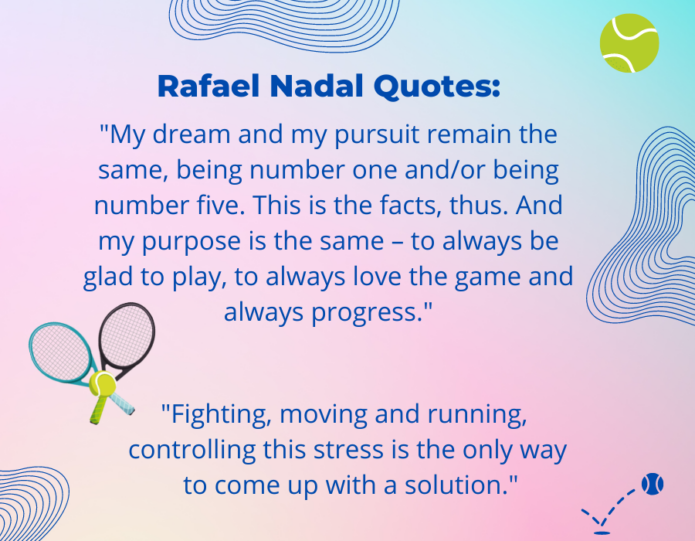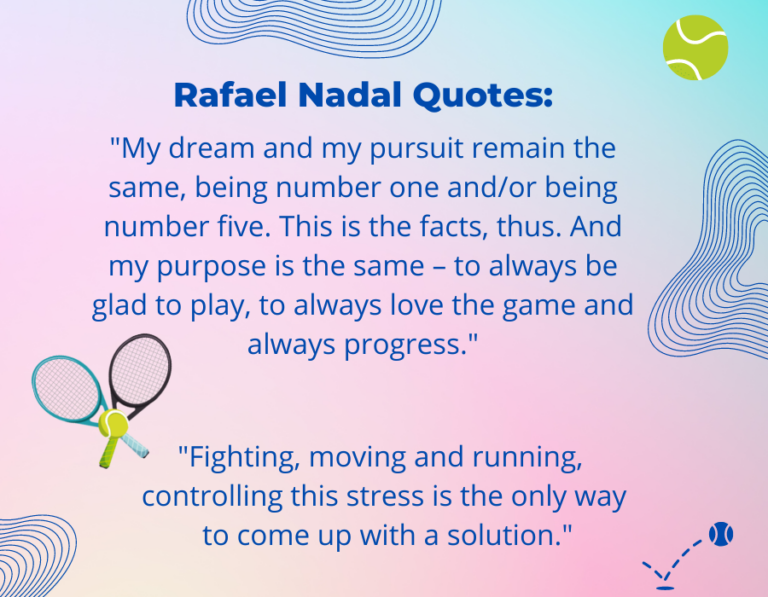 "My dream and my pursuit remain the same, being number one and/or being number five. These is the facts, thus. And my purpose is the same – to always be glad to play, to always love the game and always progress."

"Fighting, moving and running, controlling this stress is the only way to come up with a solution."

"I play each point like my life depends on it."

"I always work with a goal—and the goal is to improve as a player and a person."
Film and Television
While Rafael Nadal is primarily known for his tennis prowess, he's also made a few appearances in film and television that have caught the attention of fans like me. Here's a rundown:
"60 Minutes" – Nadal was featured in an in-depth interview on this iconic American news program. The segment offered a behind-the-scenes look at his life and career, and it was fascinating to see him in a different light.
"Shakira Music Video: Gypsy" – In 2010, Nadal appeared alongside Shakira in her music video for "Gypsy." It was a surprising but entertaining crossover between sports and music.
"Rafael Nadal: The Story" – This documentary delves into Nadal's life, tracing his journey from a young boy in Mallorca to a tennis legend. It's a must-watch for any Nadal fan, and I found it incredibly inspiring.
"Wimbledon Official Film" – Nadal has been featured in the official Wimbledon films, particularly in years when he's had a strong run at the tournament. These films offer a cinematic recap of the event, and it's always thrilling to relive Nadal's epic matches.
Spanish Talk Shows – Nadal has been a guest on various Spanish talk shows over the years, where he often shows a more relaxed and humorous side. It's a treat to see him let his guard down and engage with hosts and audiences.
Rafel Nadal Career Statistics
Grand Slam Titles: 22 French Open: 13 titles, solidifying his status as the King of Clay.
ATP Tour Awards: 4-time Player of the Year. A testament to his consistent excellence on the ATP tour.
Career Singles Titles: 88. Among the highest in the Open Era, showcasing his longevity and skill.
Olympic Medals: 2 Gold, in Singles (2008) and Doubles (2016)
Davis Cup Titles: 5 with Spain. A key player in Spain's Davis Cup successes.
Career Earnings: Over $120 million in prize money alone. Excludes substantial earnings from endorsements and other business ventures.
Biggest Rivalry: With Novak Djokovic. Current score is 30-29 in favor of Serbian player. His rivalry with Novak Djokovic is not only one of the most intense in tennis but also incredibly close, adding another layer of excitement whenever they meet on court.
What are the Key Habits of Rafel Nadal
For fans like me, these habits offer valuable life lessons that go beyond tennis. They're a blueprint for achieving excellence in any field, and they're part of what makes Rafael Nadal not just a great player, but a great individual.
Relentless Work Ethic: Nadal is known for his grueling practice sessions. His commitment to improving every aspect of his game is something I find incredibly motivating.
Mental Toughness: Whether he's down a set or facing a match point, Nadal's ability to stay focused and fight for every point is legendary. This mental fortitude sets him apart from many other players.
Attention to Detail: From the way he arranges his water bottles to his pre-serve rituals, Nadal's meticulous nature extends to all areas of his life. It's a habit that helps him maintain focus and consistency.
Adaptability: Over the years, Nadal has tweaked his game to overcome injuries and adapt to different playing surfaces. His willingness to evolve is a key factor in his long-term success.
Physical Conditioning: Nadal's stamina and physical fitness are second to none. His rigorous conditioning routines enable him to outlast opponents in long matches.
Positive Attitude: Nadal always brings a positive attitude to the court, regardless of the circumstances. This optimistic mindset helps him navigate the ups and downs of a demanding career.
Giving Back: Nadal invests time and money into philanthropic efforts, including his own foundation and tennis academy. This habit of giving back makes him a role model not just as an athlete, but as a person.
FAQ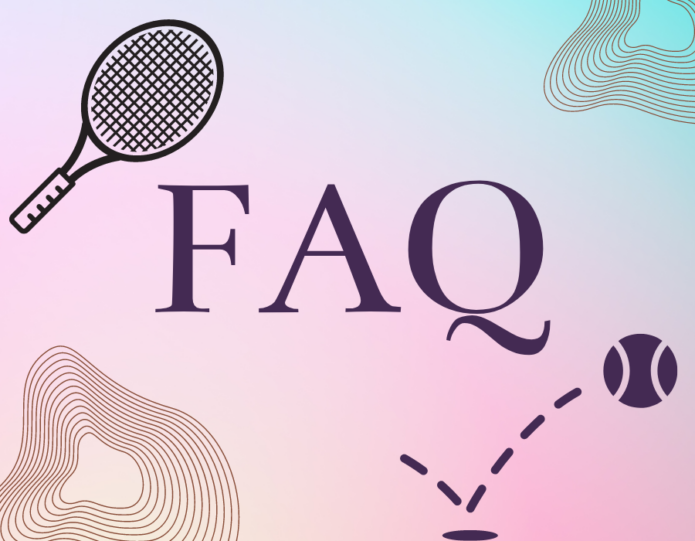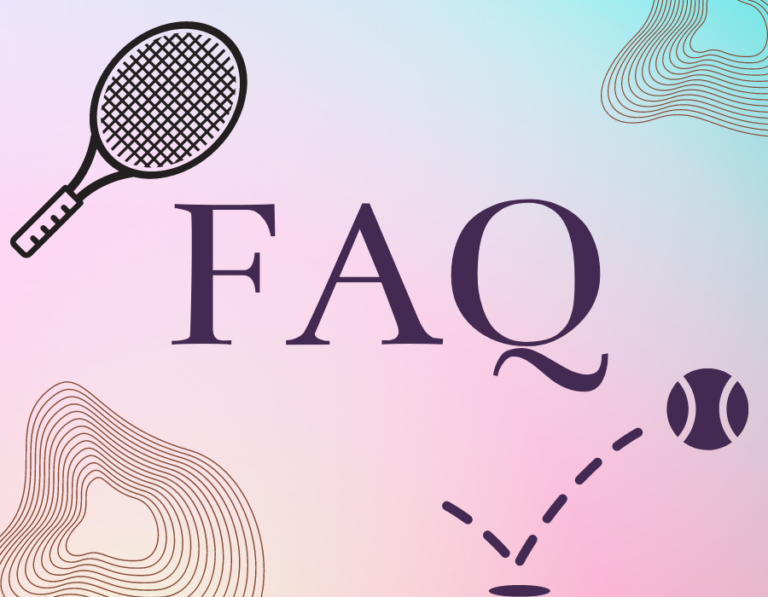 Is Roger Federer a billionaire?
No, as of the latest information available, Roger Federer is not a billionaire. His estimated net worth is around $550 million.
Who is richer, Nadal or Djokovic?
Novak Djokovic is richer than Rafael Nadal. Djokovic's estimated net worth is around $220 million, while Nadal's is approximately $200 million.
Does Nadal own a yacht?
Yes, Rafael Nadal owns a luxury yacht. It's a custom 80-foot Sunreef catamaran named "Great White".
Where does Nadal live now?
Rafael Nadal currently resides in his hometown of Manacor, Mallorca, Spain.
Summary
Rafael Nadal is a tennis icon whose impact on the sport goes beyond his impressive career statistics. Known as the "King of Clay," his mastery of the clay court is unparalleled, and his rivalry with Novak Djokovic is one of the most thrilling in modern tennis.
Off the court, Nadal is a philanthropist and a businessman, investing in the future of tennis through his academy and contributing to social causes. His meticulous habits, from relentless training to mental fortitude, make him not just a great athlete but also an inspiring individual.