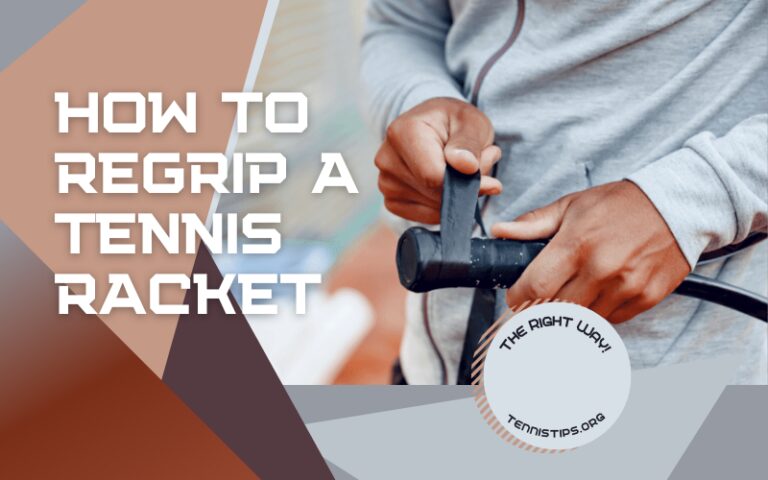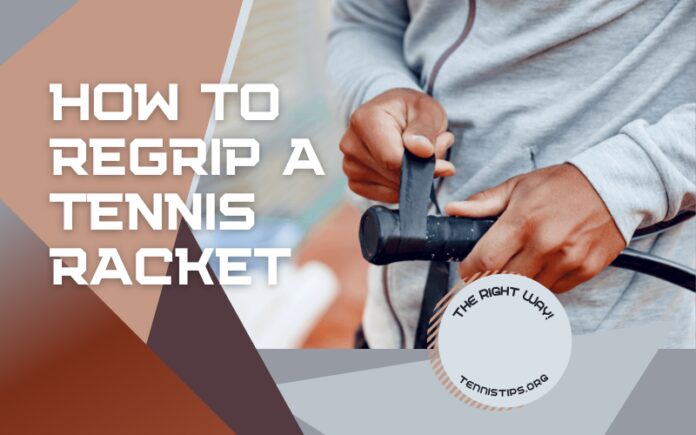 Are you looking for easy and quick ways to regrip your tennis racket without too much of a hassle? We're here to help!
If you're an active tennis player, you already know that a high-quality and good tennis racket is one of the most essential elements. All your equipment should be of excellent quality, but without a good racket, chances are high that you won't be able to perform as well as you want.
That is why you need to learn all there is to know about how to properly hold your tennis racket, but also when it is time to regrip it, and how to do so in the most efficient way.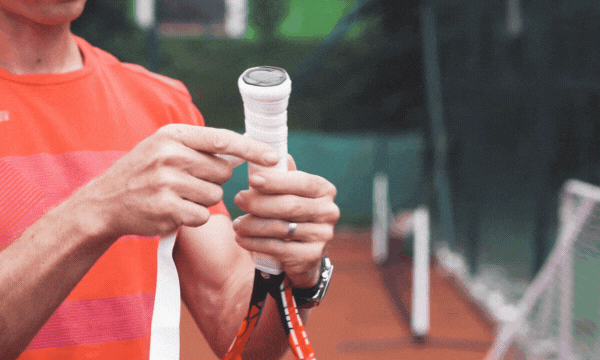 We know that looking for this info on your own can take a lot of time, and if you're someone who's already on a tight schedule, you likely don't have much time to spare.
That is why we provide you with a short step-by-step list that walks you through regripping your tennis racket in no time! Why waste time and struggle on your own when you can get everything done in a jiffy by following our list? Let's hop right into it!
How To Regrip a Tennis Racket in 4 Simple Steps
Contrary to popular belief, regripping your tennis racket doesn't have to be a burden. Even if you're an inexperienced player and are only starting to delve into the world of tennis, you can learn how to regrip your racket with ease. All you have to do is follow these quick and easy steps and you'll be finished in only a few minutes:
1. Take Off the Old Grip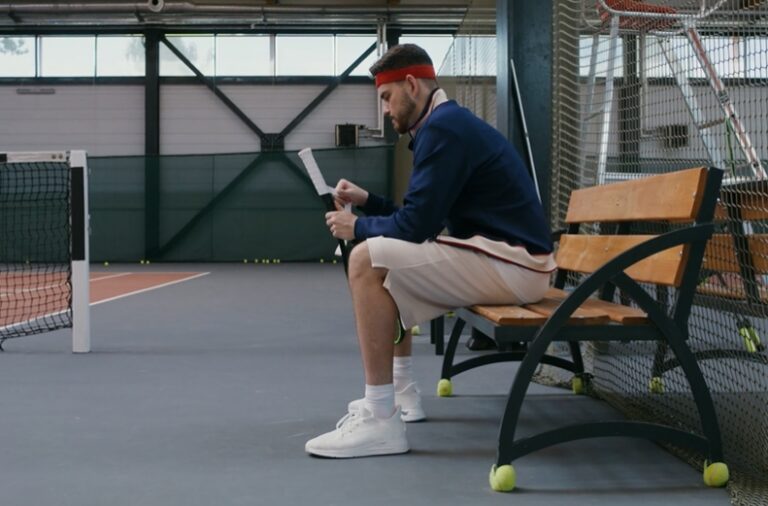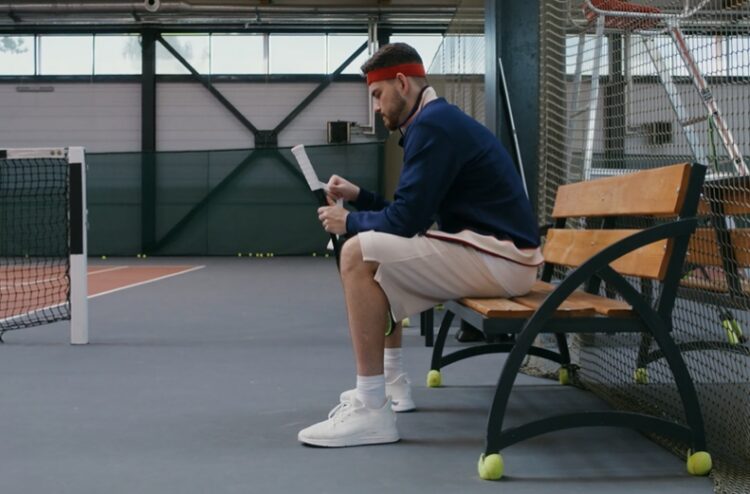 The first step you need to complete is removing the overgrip that is already on your racket. Once you do that properly, the handle of your racket will be ready for the new one.
The reason why you shouldn't simply use several overgrips is that the handle will become rounder and rounder and lose its shape, which can make it much more difficult to use.
Although it may sound easier to just put a new grip over the old one, don't do that. Instead, use scissors to peel off the tape and unwrap the grip entirely.
2. Locate the Tapered Side
Once you successfully remove the old grip, take your new one out of the packaging. When you open it, look for the end with a tapered side. This is usually how overgrips are made by most brands, so yours should definitely have a side that it's tapered.
That side should feature a sticky backing that you need to find and remove. After you do that, you can start the regripping process.
3. Wrap Around the Handle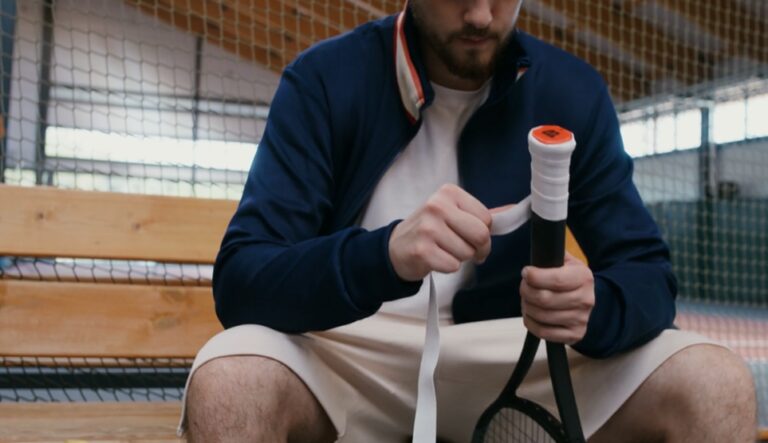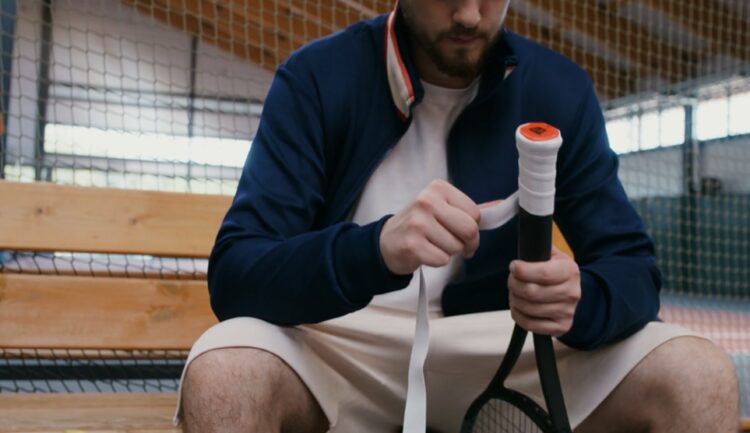 You should begin the wrapping from the bottom of the racket and make sure to angle the tapered side up on a short bevel. Also, make sure not to lay the overgrip over the butt cap. If you're wondering how many times you should wrap your overgrip, the answer is—it depends.
It comes down to your personal preference, so if you want to, for example, increase the width, you should make sure not to pull and wrap too tightly. The more tightly you wrap, the thinner your grip will be.
Depending on your playing style and personal preference, choose what would work best and regrip your racket accordingly.
4. Secure the Tape
Now that you wrapped the handle exactly how you wanted to, it's time for the finishing touches. You should use scissors to snip off the excess that is left after you finished wrapping it.
Stick the grip around the handle using the finishing tape, and you're done! You can start using your racket to dominate the tennis court straight away!
How Often You Should Regrip a Tennis Racket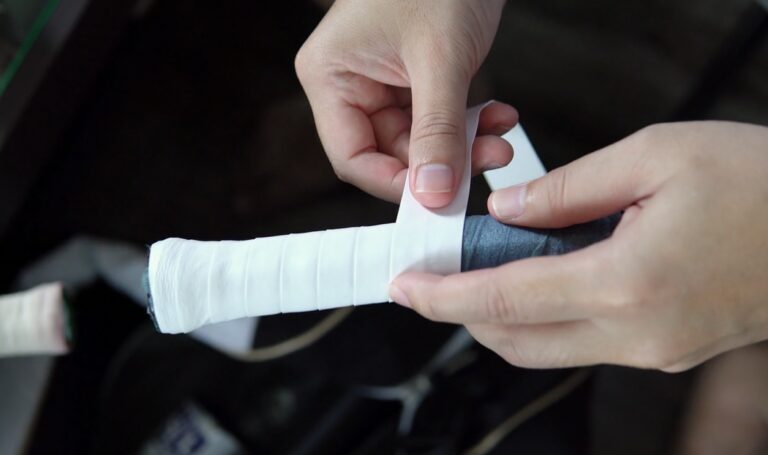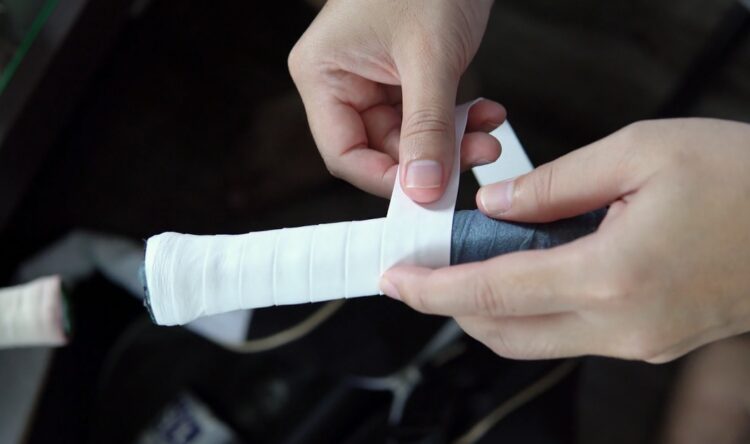 If you're wondering how often you should regrip your tennis racket, there are no exact rules that players follow. As an active player, you will probably be able to tell when it's time to do so by the look and the feel of it. Once your grip starts getting torn, dirty, or loses its tackiness, it's safe to say that you should change it.
However, if you don't want to wait and see when it's time to regrip your racket, you can follow a general rule that says you should change it as many times a month as you play a week. That means that if you play once a week, you will want to change your tennis overgrips once a month.
You can change your grips even if you don't have to, for different reasons. For example, if it feels too thin in your hand and you want to thicken it up, you can totally do so whenever you want to.
You need to make sure that the racket is as comfortable as possible and meets all your requirements before you step onto the court. Only that way can you expect a great performance and a victory.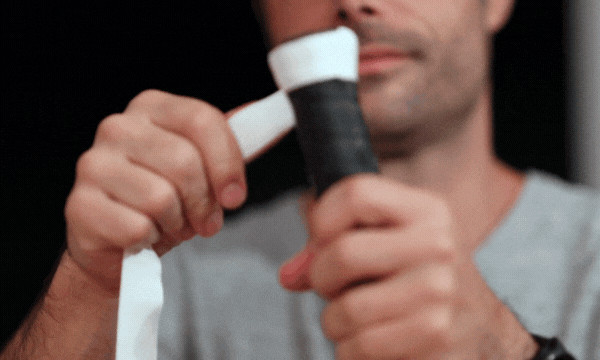 Conclusion
Learning how to regrip a tennis racket the right way is important for more reasons than one. There is no scenario in which a player can easily perform well and beat his or her opponent without having adequate equipment, especially a tennis racket.
As you already know, a racket is a tennis player's weapon, so players need to ensure it fits all their needs and preferences.
Luckily, you don't have to worry about a thing since learning how to regrip a tennis racket using our guide will be a piece of cake! After following 4 simple steps, you'll be able to regrip your racket at any time and anywhere like a real pro!
What's best, you'll learn how to make the grip on your racket as thin or thick as you want to fit your hand perfectly!