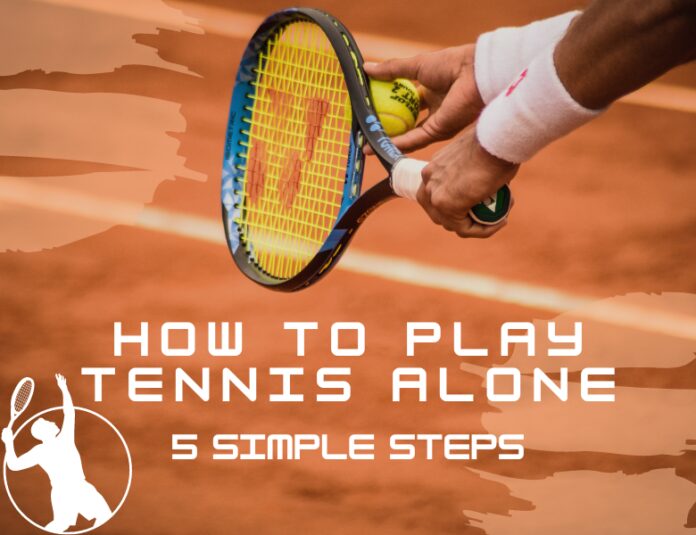 Sometimes to improve your game, you want to practice tennis. But you don't have any partner for this purpose. So, the question arises of how to practice tennis alone? In the modern world, no need to worry about this.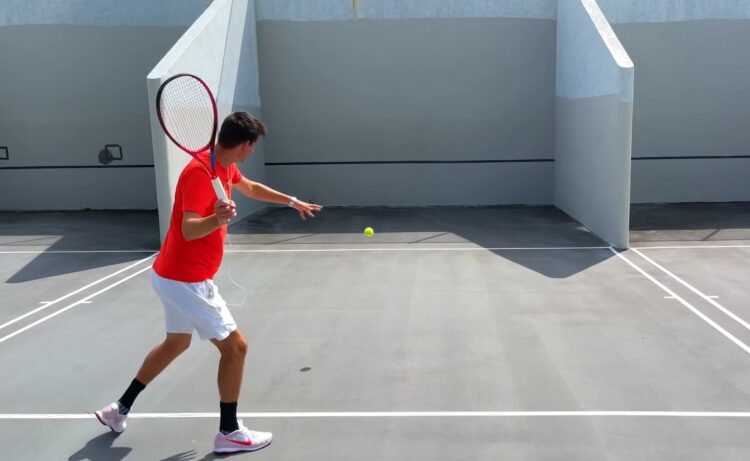 There are many ways to practice tennis alone. No doubt, the ball machine is the best way to practice the tennis games and improve your skill. By using the ball machine, you can improve your groundstrokes, shots, and volleys.
Another way to hit a wall or hard backboard. You can use your footwork to feed balls. It requires time to improve your tennis skills alone. Here we discussed five ways to improve your tennis game alone.
How To Practice Tennis Alone In 5 Simple Steps
1. Practice through a Ball Machine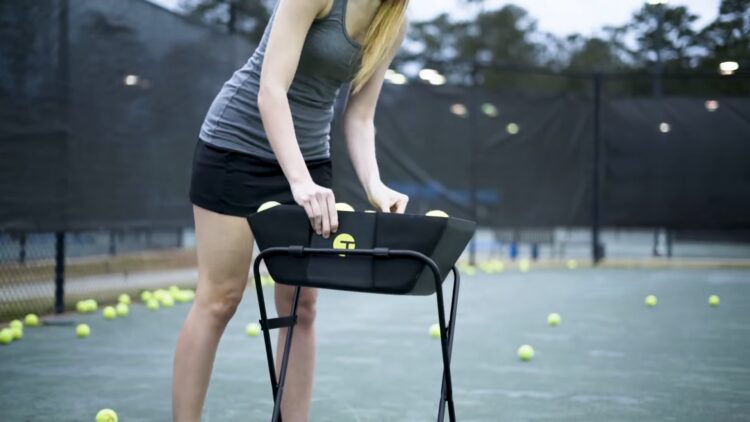 It is the best way to practice a tennis game alone without using any additional equipment. You can improve every aspect of your game with the help of the ball machine. To play groundstrokes and overhead shots, you can adjust your ball machine according to your requirements.
The best ball machine allows you to adjust the speed, timing and angle according to forehand and backhand shot selection.
Ball machines are easily available in the market. You can easily afford it and practice tennis game alone. When you go to buy a tennis ball machine for practice, check the following features.
 Throwing angle
 Throwing time
 Speed
 Strength
 Spin power
 Ball Feed per second
2. Practice by hitting against a Wall or Backboard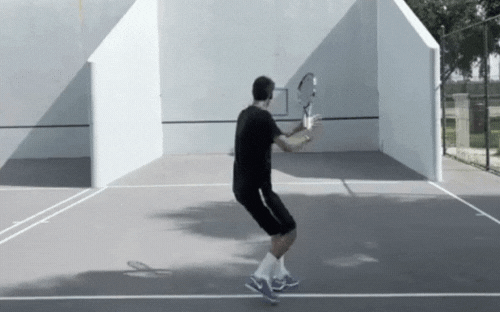 Hitting against a wall or backboard is the best and cheapest way to improve your game. If you have a wall, it means you can practice alone free of cost. If you have a court with a backboard no need to worry about this. You can find a wall without windows and a concrete floor surface.
Another way to find a gym with a wooden floor is to practice tennis alone. One important thing when training against a wall is to constantly target points on the wall. You can also use a few painter's taps (make sure the tape is easy to break) to create a target.
3. Practice Your Own Tennis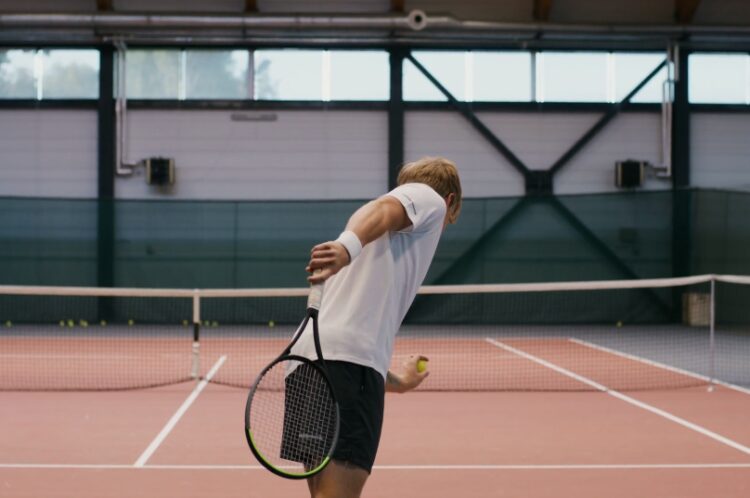 Service is something you do on your own without the need for enemies. Because it is a basic part of tennis games. This is a good time to practice in your first and second services.
You can also maintain your score by monitoring the services you perform or lose. Suppose you get a service, which is considered a point. If you make a second mistake, then it will be a point against you.
If you make a double mistake, it will be a deduction of two points. You can also mark the first one as the first point, the second one for 0, and the second error as -1 or -2, etc. If you want a bigger challenge, you can only score points if there is a target in the service box. For example, along a line, in a deep corner, in the middle, etc.
You can use a cone or sauce if you have it, or a low sticker tape to distinguish the specific part of the box you want to remove. This will help to improve the consistency of the game.
4. Self Feed Balls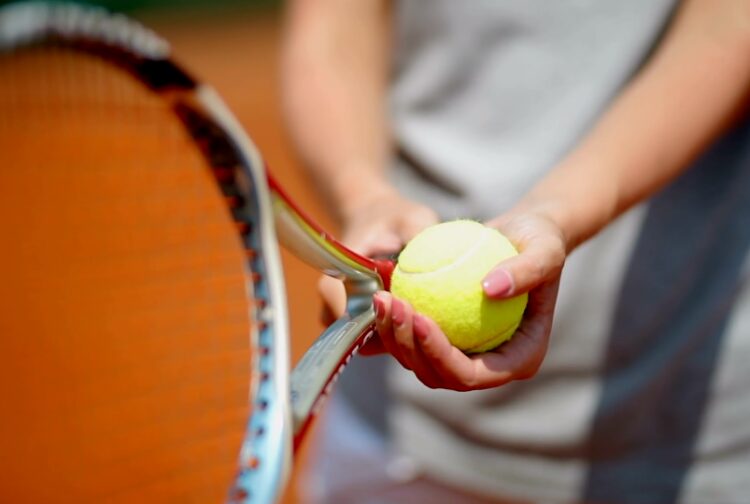 You can improve your shots by giving the ball or self-feed and playing rebounds or one bounce. Just like service training, you want to make sure you are hitting a specific area to make drilling more effective. For example, select where to shoot, deep corner, bottom line, middle line, etc.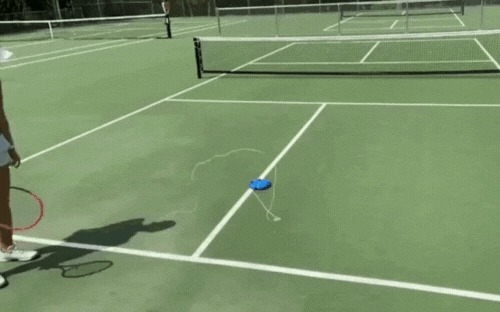 Also, decide on the type of shots you want to shoot: quick shots, high punches, slices, etc. By determining the type of shot and where you want to position it, you can be responsible for the shot you have made.
As for service, non-stick cones, discs or tape can be used to separate areas. Use a tennis basket or hopper to catch the tennis ball when you are working.
5. Practice Your Footwork Skill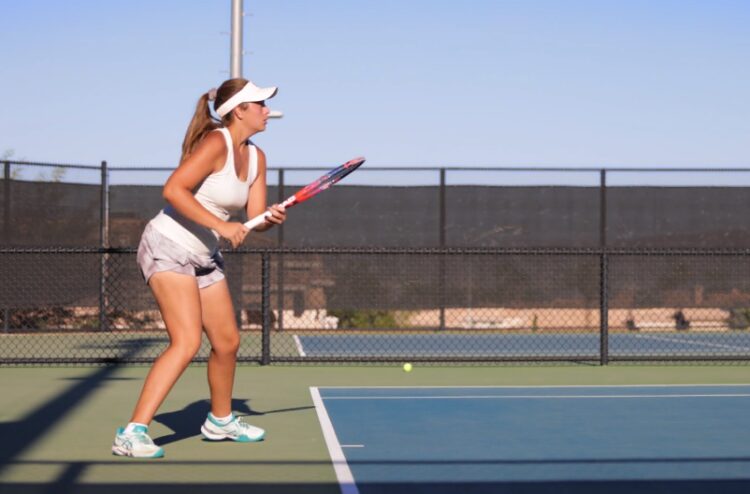 Learning your skills by Practicing your foot skills and training to improve your condition is one of the best things you can do. This is a fundamental part of your development as a player. And you can take the opportunity to practice on your own to do that.
Exercising online can be an effective exercise for increasing the length of your foot. You can also increase your overall stamina by doing long distances. The combination of the two will give you a good balance.
You can use cones or sauces to clear areas of the field and practice footing, sealing, hugging, walking, stopping, and more. Here are some exercises you can do to help improve your footwork skill.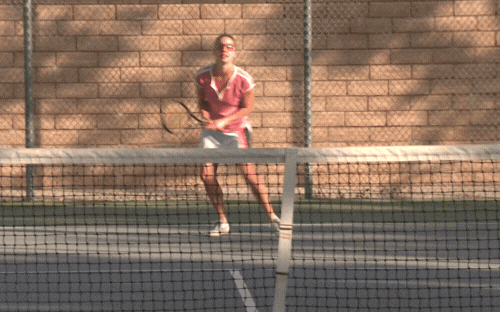 Line Drills
Start at the second corner of the tennis court, where the double and the bottom line intersect. Run from the baseline from one side to the other side.
Once in the corner, switch to the net and continue to the double line and tap to the net.
Return from the net to the service line behind you.
Continue through the service line from the double line to the center line.
Along the center line of the service box, keep shooting and then touch the net.
Turn down the center line until you reach the service.
Continue on the service line until you reach the double line.
Shoot forward in a double line and then tap the net.
The line moves down the line until it reaches your bottom. This is the angle you start from.
In that path, you can repeat the same steps as you like. This helps change the starting angle after about 10 deputies so that you can train your legs and feet thoroughly. Continue drilling until exhaustion.
Saucer Drills
Place the tennis ball or cone or saucer at the bottom of the court and at the center.
Place a ball or cone/saucer in front of the net on each double line and center of the service box.
Finally, place a ball or cone/saucer in the service line in each field of the court.
After placing the tennis ball or cone/saucers, stand in the middle of the field and jump into each other and collect them.
Return to the field in the middle of the court and put it in a tennis basket or hopper.
Continue these steps until the collection of all objects is in an incomplete position.
This is a great exercise to develop not only your sprint skills. But also requires you to throw forward when shooting. The really good part is the bone to the ball, so this will also help strengthen the legs. It's a good idea to replace the legs you put on to train both legs.
FAQs: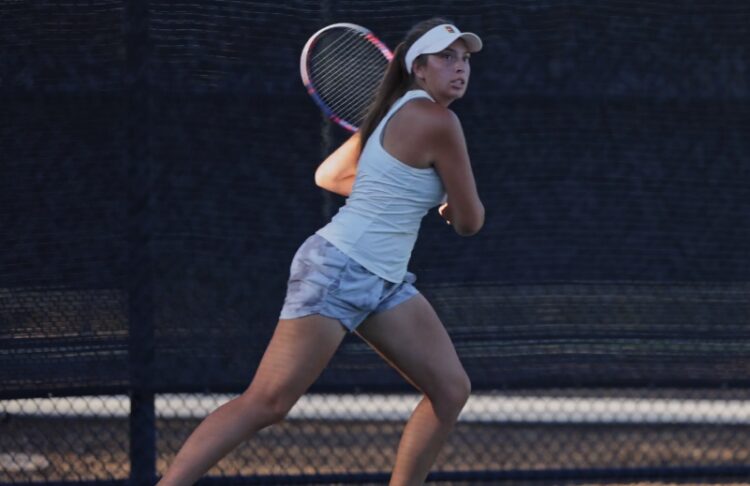 Q.1: Can I practice or play tennis alone?
Yes, you can practice your tennis match at home, in your garage, at the gym or even in the backyard of your home. You do not need a partner or opponent and do not need judgment. The sport will help you to improve your game. So, when you get on the field, you get better performance.
Q.2: What are the steps to practice tennis alone for beginners?
Following exercises are important for beginners and kids
1. Warm-up – Line implementation.
2. Frying Pan practice.
3. The Dribble.
4. Easy and Direct Drum.
5. Drum and Ball Push The forehands and backhands.
6. Forehands and backhands from side to side.
7. Hit and Hold.
8. Relax, Feel and Enjoy forwards and backwards.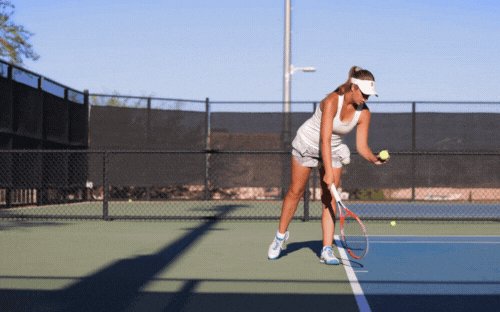 Q.3: How can you improve your tennis skills?
5 ways to improve tennis
1. Get the right front handgrip. Although often not applicable, getting a tennis racket is one of the important aspects of the game.
2. Prepare for weak movements or groundstrokes.
3. Keep your head up while playing tennis.
4. Practice throwing tennis balls.
5. Don't be too difficult during a tennis match.
Q.4: How are the volleys applied to the wall?
Start near the wall and hit the ball slowly. Then slowly come back for about 10 feet. Get your routine started by mixing the front and back explosions. Instead of throwing the ball back, you can also increase the speed of your hand by throwing a few balls in the air and then flinging the ball down.
Conclusion
Strength training in the gym or on the tennis court can also be beneficial to your game. The combination of weights, machines, resistance bands and plyometric exercises fit. Exercise and strength conditioning is hard work.
It may not always be fun, but the benefits of building strength, flexibility and endurance are important not only to improve the game but also to prevent injury.
If done correctly, solo tennis training can help you shoot and even improve your tennis game. Installing a bag in your garage or owning a tennis ball machine and working on endurance and footwork is an easy thing to add to your tennis training regimen.
Make sure you specify the same solo number as the pairing session. This way, you can expand the way you play tennis.
References: