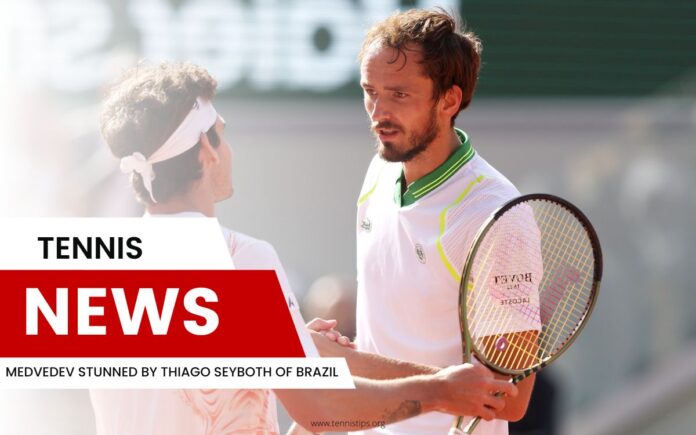 Daniil Medvedev's French Open journey came to an unexpected halt as he suffered a shocking first-round defeat against Brazilian world No. 172, Thiago Seyboth Wild. After an intense battle lasting four hours and 15 minutes, Seyboth Wild secured a remarkable 7-6 (7-5), 6-7 (6-8), 2-6, 6-3, 6-4 victory, dashing Medvedev's hopes of clinching a second Grand Slam title. 
The 23-year-old qualifier impressed the Philippe Chatrier crowd with his attacking style of play, delighting in the fact that he defeated a player he had admired since his junior days. 
Reflecting on his triumph, Seyboth Wild stated, "I watched Daniil play since I was a junior, and beating him on such a court is a dream come true. I tried to use my forehand against his, and it worked pretty well. Despite cramping at the start of the second set, I relied on my mental strength to deliver my best tennis."
Throughout the match, Medvedev grew increasingly frustrated by the crowd, motioning for silence and venting his frustrations towards his box. Following the defeat, he departed the arena without acknowledging the fans. 
When asked about the incident, Medvedev explained, "The only thing was when I asked the umpire to check the mark. It was pretty close, in my opinion. I was just discussing with her where she sees the ball and getting booed for whatever reason. 
I just told them to shut up, and that's it." The contentious atmosphere appeared to affect Medvedev's composure, contributing to his unexpected exit from the tournament.