Most people are shocked when they find out that celebrities like the same stuff they do. We tend to think of famous artists, athletes, and other celebrities just in the scope of their area of expertise. It is easy to forget that they are humans too.
There is even a popular saying that says that "celebrities are just like us", in terms of their private life and the things they do outside of their career. It should definitely not be a surprise then to learn that many of them spend hours of their free time doing their hobbies and activities that they usually cannot.
One of the most popular pastime activities in the world is certainly gambling. There are many forms of gambling and there always have been, but casinos are almost always the most popular. This is especially the case nowadays when there are many different ways to play the classics like poker, blackjack, roulette, and slot machines.
Nobody is immune to their appeal and the fun they give out, not even some of the best athletes in the world. In this article, we focus on tennis stars both past and present who have a history of gambling.
Read on to learn more about this and be sure to check out findyourpokies.com for some amazing online casino games to try out.
1. Rafael Nadal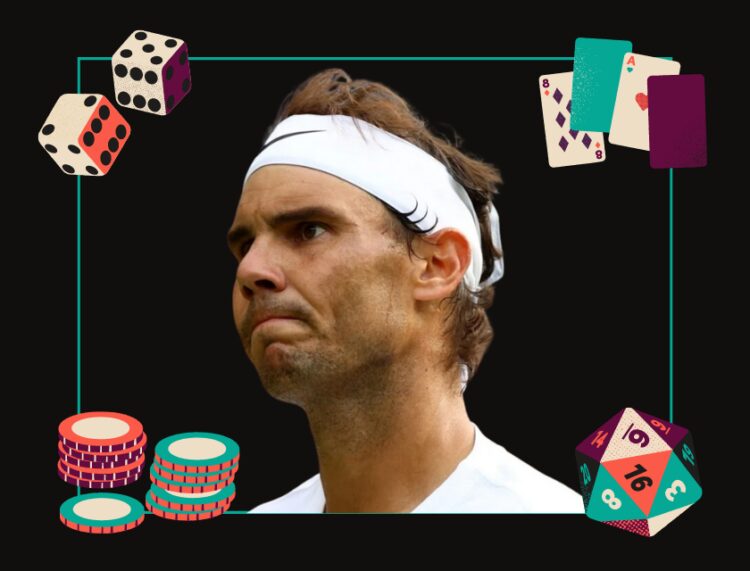 We start things off with a bang. The Spaniard, Rafa Nadal, nicknamed the King of the Clay, is definitely the biggest name on this list, a living legend of the sport who is still adding achieve nets and honors to his extensive resume.
He has won a record 21 Grand Slam Titles thanks to his recent 2nd Australian Open win. He has won Wimbledon 2 times, the US Open 4 times, and the French Open (Roland Garros) an all-time record 13 times. His other achievements include gold at the 2008 Olympics, 36 ATP Tour Masters 1000 titles, and a career record of 1038 – 209 (83.2% win rate). His highest rating is No. 1, but he is currently No. 5 at the time of writing.
But what about his free time passions? We know he is good at football and that he likes to show it off, but what about gambling? We are here for that right? Whenever he is not playing, Rafa enjoys playing poker. This is by far his favorite gambling game and he enjoys spending time at the Monte Carlo Casino playing with professionals.
He even played against Vanessa Selbst, the only woman to be the number one player in the world. He lost of course, but it was always about the experience and the fun of it. In 2012, Nadal became a PokerStars ambassador and won a tournament one time, one that came with a prize of $100,000 which he gave to a charity.
2. Boris Becker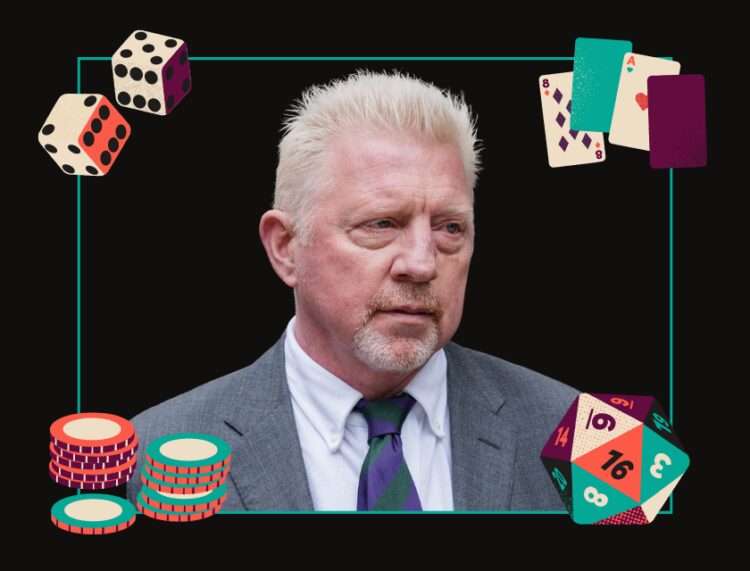 One of the all-time greats, the German has been retired for a while now. He retired in 1999 but has remained active in the tennis community as a coach, a commentator, and a TV personality. He can be seen every once in a while at the biggest tennis tournaments cheering on his fellow stars. Since 2017, he has served as the head of the German Tennis Federation.
Regarding his career success, the former No. 1 won 2 Australian Open titles, 3 Wimbledon titles, and one US Open. He never won Roland Garros, but he has managed to win 13 ATP Masters Series titles and a gold medal in doubles at the 1992 Olympic Games. His career win rate is 76.9%, a record of 713 wins and 214 losses.
He was a very successful coach to none other than Novak Djokovic, coaching him to 2 Australian Open, 2 Wimbledon, a French Open, a US Open titles, 2 ATP World Tour Finals, and 14 ATP World Tour Masters 1000.
Becker hit it big while still very young, winning most of this biggest titles by the age of 22. His first Grand Slam came when he was only 17. The early success and fame caused him to have a turbulent life, a time when he discovered gambling.
Later on, after his career, he became a PokerStars ambassador. He participated in many major European poker tournaments from 2007 onwards. He describes his poker-playing style as patient and says he can read his opponents quite well.
Becker won about $70,000 from the tournaments, pennies compared to the $25 million tennis prize money. Not bad for a hobby though despite being a millionaire!
3. Jimmy Connors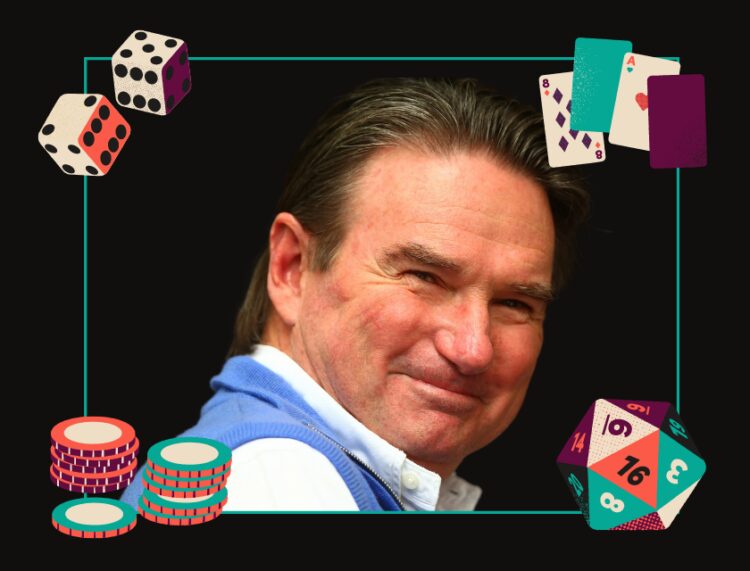 Connors retired in 1996 after a very successful career where he won 1274 matches (an Open Era record) and lost only 283. This is an amazing win rate of 81.8%. He won 109 career titles, which is a record in the Open Era. Regarding Grand Slams, he won a single Australian Open title, 2 Wimbledon titles, and 5 US Open titles (joint Open Era record).
Connors never managed to win the French Open, his best results being four semifinals. He also won three year-end championships and 17 other major titles. He still holds the Open Era record for most matches played, 1,557. That is four major records that nobody has managed to overcome yet. Following his playing career, he coached Andy Roddick, Maria Sharapova, and Eugene Bouchard.
The most popular American tennis star and the third former No. 1 on our list was known for his love of casinos and gambling games. He always went in big and had a reputation of a high-roller. Some even go so far as to compare his love for gambling with that of Michael Jordan, perhaps the greatest gambler among professional athletes. Connors even wrote a book, The Outsider, about his gambling and described all of the things he wagered on.
It is a very good read for anyone who likes casino gambling and wants to learn a thing or two from a passionate enthusiast. It can be said that Connors had a gambling addiction too, which he admits to in the autobiography.
He said that he bet on his own matches on many occasions and that he often only stopped gambling when he was broke. In 1992, he bet $1 million on himself to win a game against Martina Navratilova, which he did, 7-5, 6-2.
References: