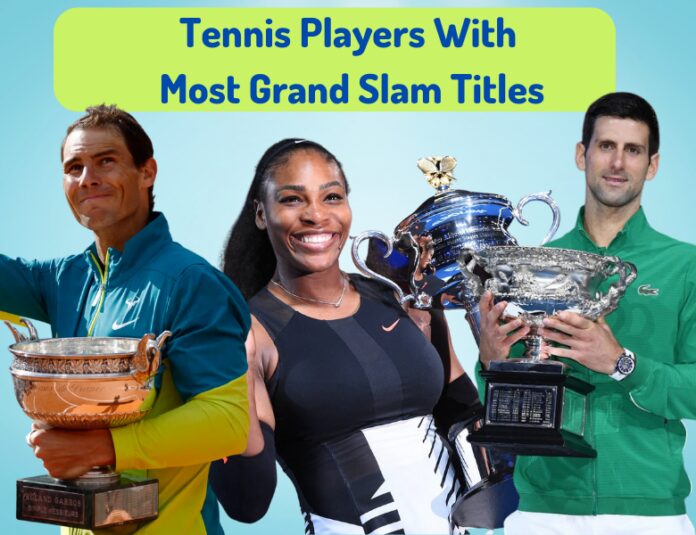 FIFA in soccer, 20-over and 50-over World Cup in cricket, FIBA World Cup in basketball, and the list goes on for the biggest tournaments in different sports.
These international-level championships and tournaments boost the competitiveness of players and bring out the real essence and spirit of a sport.
Similar to these world-class tournaments in respective sports, grand slam titles mark one of the finest achievements of tennis players.
This title is awarded when a player wins the most crucial and significant tournaments or championships in the same year (calendar year). These four championships include Australia, France, Wimbledon, and the United States.
List of 8 Tennis Players With The Highest Grand Slam Titles
The following list highlights the tennis players (both males and females) who have won the most Grand Slam titles.
1. Serena Williams (23)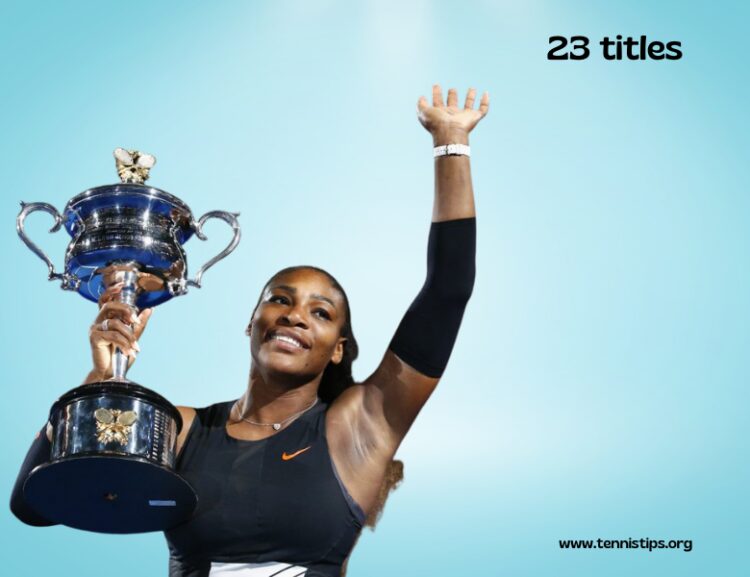 Everyone knows how great a player Serena Williams is. She can undoubtedly be crowned one of the greatest players in tennis history. Grand slam titles are a significant indication of her excellency in the sport.
Winning 23 titles, she tops this chart beating the finest players in the race. She has appeared and played in an impressive 33 grand slam finals. Many people believe that there is an era and period of Serena Williams. She defines a tennis revolution with her extravagant and dominating style.
She bosses the charts by having 23 titles to her name in the open era. Moreover, she also has a magnificent record of having a minimum of one grand slam title in each decade. This shows the running and rolling period of the player.
Apart from these, she has also clinched the record of winning the highest number of matches of a Grand Slam (in the women's category), i.e., 331. With an exceptional stint in the sport, she has won seven Australian Open titles, three French Open, and an impressive seven Wimbledon victories.
Moreover, she has also bagged six US Open victories. Her achievements seem unrealistic to many sports enthusiasts, but she continues to be one of the most successful Grand Slam players.
2. Steffi Graf (22)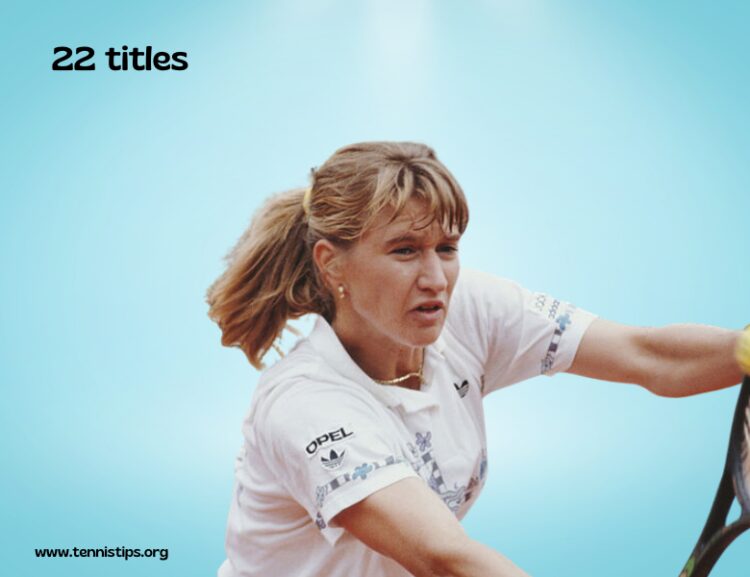 Recognized as one of the most powerful stroke makers in the 1980s and 90s, Steffi Graf has an exceptional record in the Gram Slam list. There are 22 Grand Slam victories to her name. She had numerous charismatic performances during her playing career.
The Women's Tennis Association (WTA) placed her in the 1st spot in the singles category for an impressive period of 377 weeks. Apart from these achievements, she has her name in the golden books by winning 'The Golden Slam' and the Olympic gold for Germany in the same calendar year, i.e., 1998.
'The Golden Slam' is a term used when a person gains victory in all the four Grand Slams. Apart from this, she is also the only player (in both male and female combined categories) to have bagged all four Grand Slam tournaments a minimum of four times.
Graf was determined to make a name in the tennis world at a very young age. She first proved her abilities when she was 13 by becoming the second youngest player to bag an international ranking.
After Graf retired in 1999, she ensured to grab the limelight by being involved in numerous charitable causes. She also married the renowned tennis player, Andre Agassi in 2001, which presented both in the headlines. As a mark of respect and honor, Steffi was remembered in the Tennis Hall of Fame in 2004.
3. Rafael Nadal (21)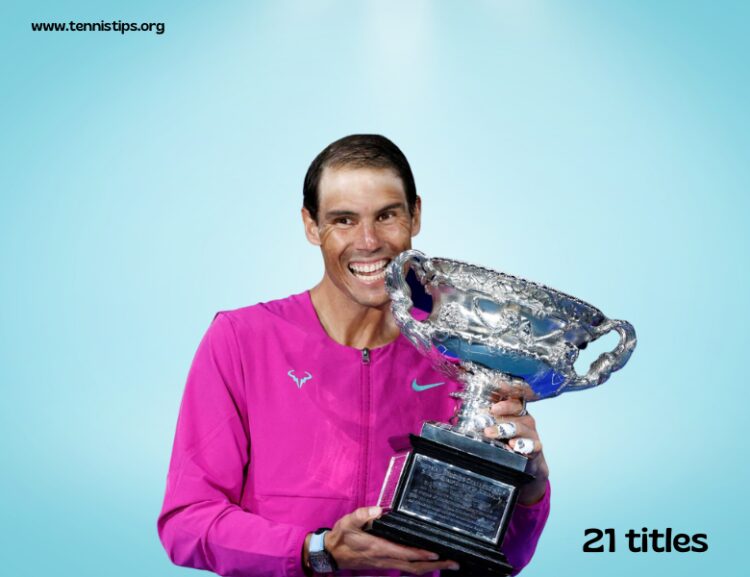 Rafael Nadal has become a household name for many tennis enthusiasts, leading the men's tally of Grand Slam victories. Nadal has entrenched himself as a player with grit, determination, passion, and a supreme player.
He has bagged a whopping 21 Grand Slam titles against his name. He has proved his mettle in the game by winning 13 French Open titles. He had sports in his blood as his father was already a professional football player.
From the age of four, Nadal showed interest in the game. Every tennis enthusiast knows Rafael's trademark one-handed forehand stroke. His on-court rivalry with another tennis great, Roger Federer, is an amazing treat to watch.
In 2005, he was in the news for breaking several records and beating Federer (placed higher in the rankings) in the semifinals.
He also has an Olympic gold to his name (2008, Beijing). He snatched the top rank from his competitor Federer in the same calendar year. Being struck with injuries, he lost his streak of winning at least one Grand Slam title in a year.
However, chronic injuries did not hamper his determination. In 2023, he won his 21st title, which garnered him praise for being the male tennis player with the most Grand Slam titles.
4. Roger Federer (20)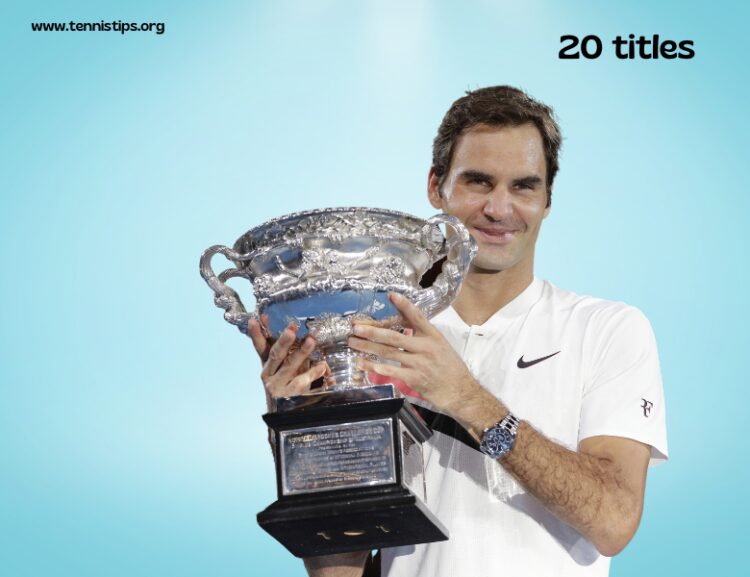 Having a record 20 Grand Slam titles, Federer equals the number of his fellow tennis competitor Novak Djokovic. The Swiss player has many eye-catching records to his name. In 1999, he became the youngest player to make to the list of the top 100 players of the year.
He is an all-around player who usually gets on and off the court due to multiple injuries. He also enjoys a considerable share of success by having eight Wimbledon victories. Moreover, he is also the first player to grab 20 Grand Slam titles (in the men's category).
Launched into the sport at a tender age, he became Switzerland's junior stalwart in tennis in the year 1995. He also played once at the Olympics (Sydney), where he finished losing the bronze medal match.
Additionally, over a two-year period (2003 to 2005), he had a record 24 consecutive finals. He won the Australian Open and the US Open for three straight progressive years. He was the first tennis player to achieve this feat. In the history of over 100 years, he became the first player to have five straight Wimbledon victories.
5. Novak Djokovic (20)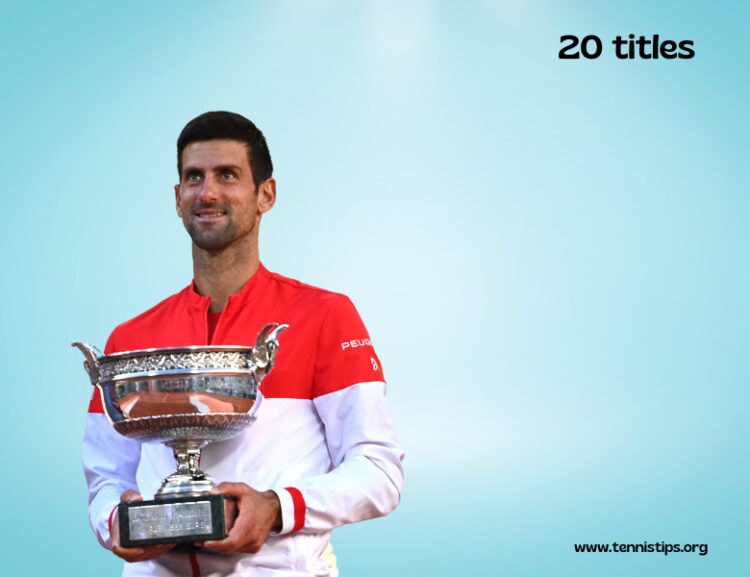 Djokovic is a favorite of many sports fans because of the record of being the only player to have a career Grand Slam double to his name. He is one of the most exciting and fantastic players who define the sport in the 21st century. He holds a master's degree from the Australian Opens where he has won a total of nine championships.
He bagged his first Association of Tennis Players (ATP) event in 2006 after making an impressive entry to the top 100 players. In 2007, he played exceptionally well in the US Open and reached the finals, but was crushed by the extraordinary Roger Federer.
His winning stint in the Grand Slam titles started in 2008 when he bagged his first Grand Slam title (Australian Open). He was in great form, and this was seen in the Beijing Olympics, 2008. Here, he secured a bronze medal. He states that the most crucial element for success is belief, and a person should have true faith and belief in themselves.
After 2008, his excellent form was short-hauled. In the subsequent three years, he had only ten ATP men's singles titles. In this period, he did not excel in the Grand Slam tournaments either, making it to the finals only once.
However, after 2010, he went on to announce his return by having a 43-match winning streak. In 2011, he also broke through the 1st rank after besting Nadal to clinch the Wimbledon. Starting from the age of 4, he is truly an inspiration for many and a master of the sport.
6. Martina Navratilova (18)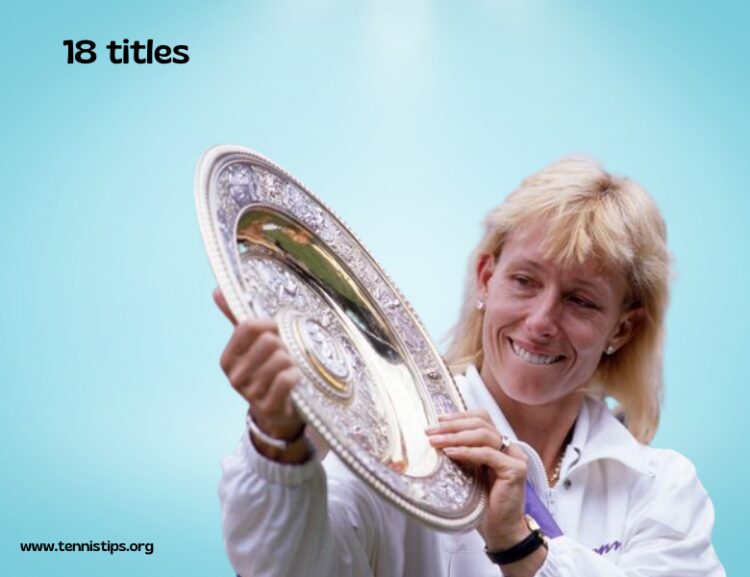 An impressive left-handed tennis player, Martina Navratilova had a decent outing in her career and remained on the top of the charts for most of the period. She dominated the 1st rank for three continuous years (1972 to 1975).
Her heroics were also seen in the 1975 Federation Cup when she took her team to the glorious victory. She has dual citizenship in both the Czech Republic and America. In 1978, she marked her dominance in the sport by clinching the Wimbledon singles and doubles title.
She had an unbeatable streak of 41 matches in 1982. She had an unbelievable winning ratio with 90 victories in 93 matches in the same year. In the next year, she became more powerful and bagged 86 wins out of 87 matches.
In this year, she took home the US Open singles, the Wimbledon singles, and the Australian Open singles.
The period also witnessed the greatest rivalry between Navratilova and Chris Evert. In 80 matches against the opponent, Martina managed to defeat 43 opponents, showcasing her immense potential.
She achieved a great achievement in 1986 when she became the second player to have 1000 tennis wins. She bid goodbye to the game with remarkable career stats, bagging 167 titles in total. She was honored with various awards and recognitions after that.
7. Chris Evert (18)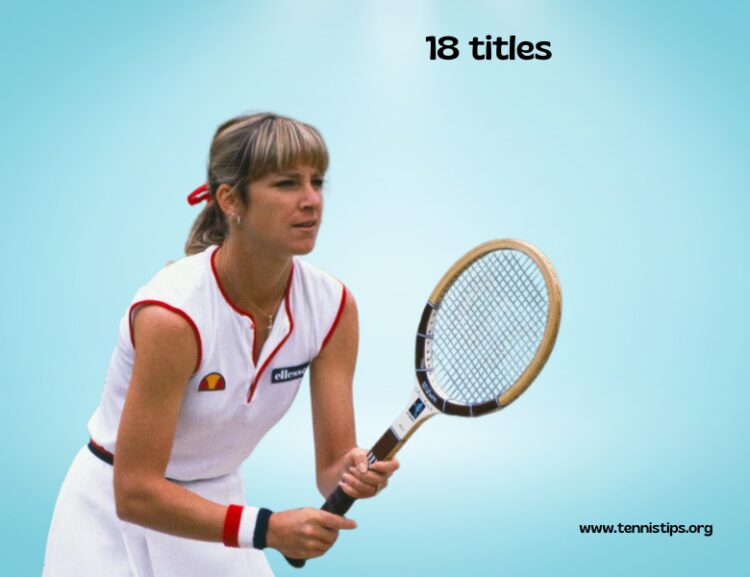 Chris Evert was undeniably one of the most destructive and strongest competitors for most tennis players in the period of 1980s. Specializing in the two-handed backhand stroke, Evert had a precise, accurate, and consistent shot selection.
She links her record of winning 18 Grand Slam titles to her name with fellow champion Martina Navratilova. She was keen to take up tennis from her childhood as her father was a tennis player.
The most noteworthy thing about her playing style was the untraceable concentration level. The opponents of the match never used to expect the return stroke so powerful due to her playing style.
She achieved the incredible feat of becoming the youngest tennis player to make it to the semifinals of the premier championship, the US Open, in 1971. However, her championship victory first came in the year 1973.
She is also known for her unbeatable 56-match-winning streak. This streak consisted of a Wimbledon Grand Slam Title. She was majorly in the limelight when she and her fellow champion Jimmy Connors were in a love affair.
The media captured every detail of their engagement. However, the affair did not turn out to be fruitful, as the pair soon parted ways.
She bagged her second Wimbledon triumph in a stupendous play in 1976. Although her records on grass courts do not justify her talents, she was splendid in clay-court matches.
Her statistics on clay court indicate that she won 118 matches spread over 24 tournaments on clay court. After her retirement (1989), she was recognized as the greatest woman athlete in the past 25 years by the prestigious Women's Sports Foundation.
8. Pete Sampras (14)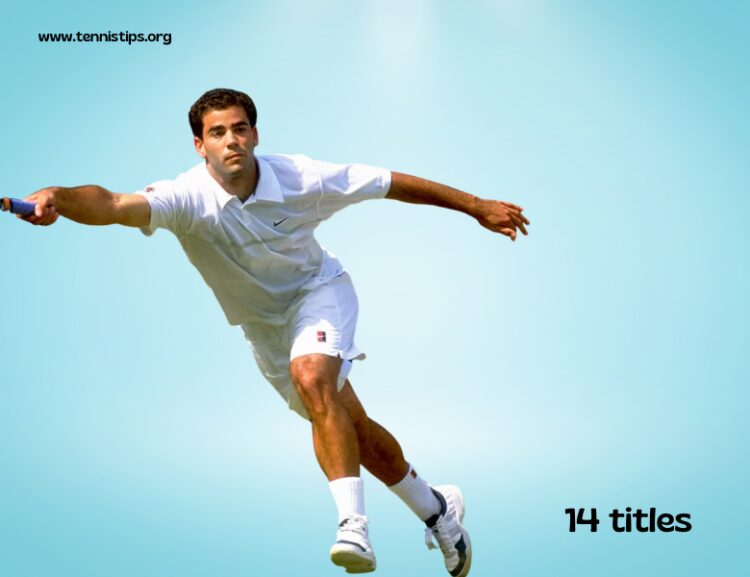 Pete Sampras is one of the American legends of the game and is an idol for many tennis geeks. He was incredible with his all-around game, which got him various accolades and awards. Until 2009, he had the highest tally of Grand Slam titles in the category of men.
In the total 14 Grand Slam titles, he bagged seven Wimbledon victories, five US Open titles, two Australian open championships, and a French Open victory. His unique style and aggressive stroke play got him immense appreciation, placing him with the tennis legend and extraordinary Rod Laver.
In 1990, Sampras came into the limelight when he bested Andre Agassi in the US Open. From hereon, he emerged as one of the most impactful players in the phase.
Opponents who played with and against Pete describe him as a ferocious, aggressive, and consistent player. His accuracy and speed were remarkable.
Sampras was also a part of the US team that bagged the attractive Davis Cup in 1995. He ruled the charts of the Association of Tennis Professionals as he rested on the 1st spot for almost five years (1993 to 1998).
With his exit in 2003, he went on to inspire uncountable tennis players. He was also remembered and identified in the International Tennis Hall of Fame in 2007.
Conclusion
There are many pro and experienced players who have marked their names in tennis permanently. They serve as idols for many emerging budding tennis stars.
This fame and recognition are significantly imprinted by winning different championships, especially the Grand Slam title.
The top eight stars described above give an ultimate reason for tennis's rising competitiveness and popularity.
Their phenomenal records and game style have earned them different awards. Moreover, their tally of the most Grand Slam victories highlights their dominance in the sport.
FAQs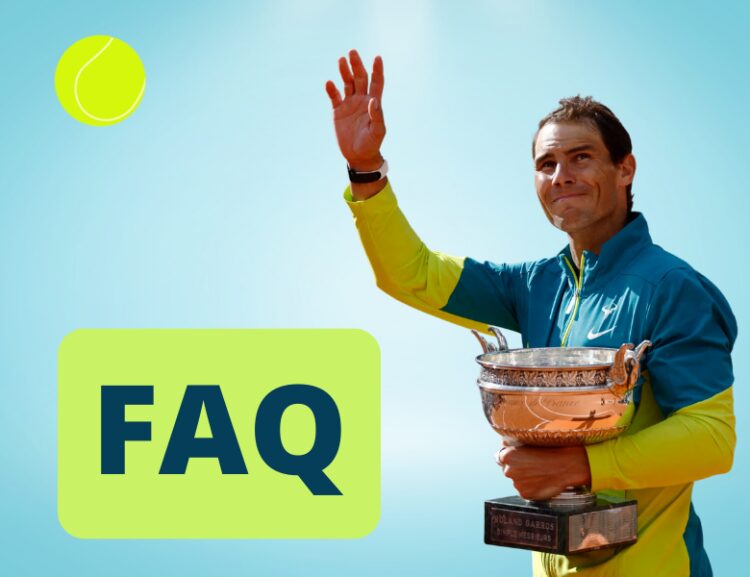 What is the highest number of Grand Slam titles won by an individual in the sport?
The highest number of Grand Slam titles are bagged by the ultimate champion, Serena Williams. She has a total tally of 23 victories to her name, defeating the top-notch players. It is followed by Steffi Graf with 22, and Rafael Nadal with 21 titles.
What does a Grand Slam title signify in tennis?
There are four major tournaments being held every year. These are the Australian Open, the French Open, the US Open, and the Wimbledon.
When a person wins all these tournaments in a year, he/she has crowned the prestigious Grand Slam title. This marks the success of a player.
References:
https://www.statista.com/statistics/263034/male-tennis-players-with-the-most-victories-at-grand-slam-tournaments/
https://www.sportingnews.com/us/tennis/news/top-grand-slam-winners-all-time-who-has-won-most-titles/wplsrohfkbipd1hv3nvaclun
https://www.si.com/tennis/2022/01/30/mens-tennis-players-the-most-grand-slam-singles-titles-australian-open