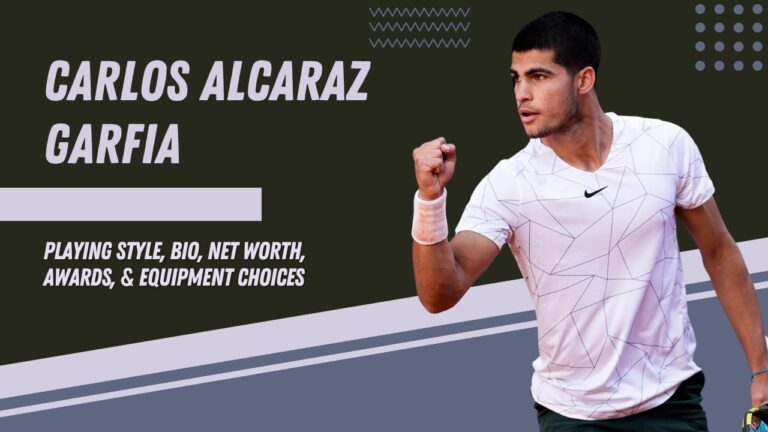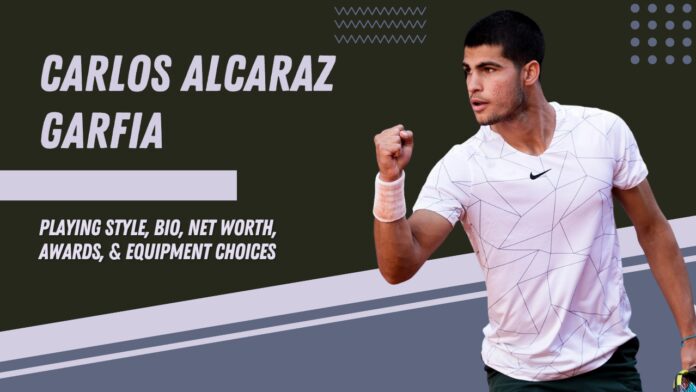 If you're a fan of Carlos Alcaraz Garfia and you're on a search for more info regarding his playing style, bio, and more, we got you! You don't have to spend days searching for info on your own when you have our summarized guide to walk you through all you need to know!
There is no shortage of extremely talented and successful tennis players out there. Finding more info about them, their playing style and technique, as well as their background, can help you get to the top as well. If you're not looking for a way to climb up the ladder and rank higher but you simply want to learn more about your favorite tennis player, this article will walk you through all there is to know!
Searching the Internet trying to find the answers to your questions can be very time-consuming and tiresome. That is why we decided to do all the research in your stead and provide you with the necessary info. With our guide on Carlos Alcaraz Garfia, you'll find out all about his playing style, biography, net worth, equipment choices, and more! Let's not waste any time and begin right away!
Carlos Alcaraz Garfia – Biography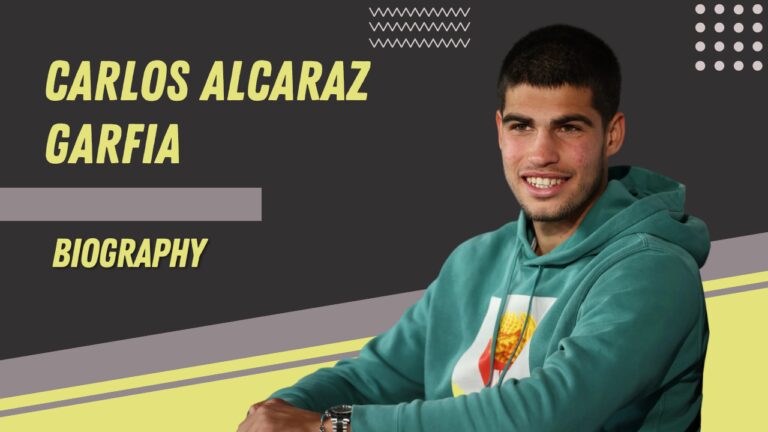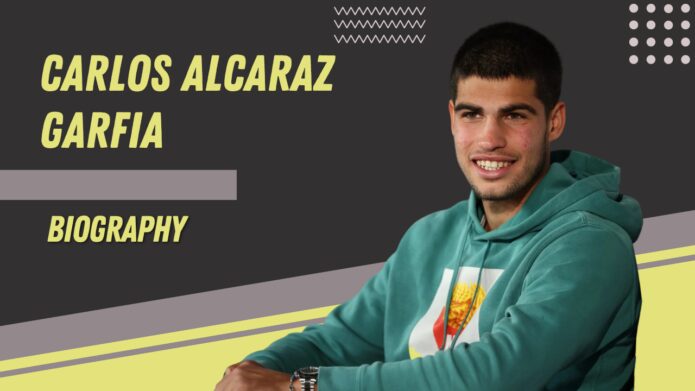 Carlos Alcaraz Garfia is a professional tennis player from Villena, Spain. He was born in 2003 and has 3 siblings. Carlos started playing tennis very young—when he was only 3 years old. He was always supported and influenced by his father who was an avid tennis player himself, and also a former top-40 player in Spain.
Considering the type of influence Carlos had from a very young age, it's no surprise that he started taking tennis seriously and wanted to make it his profession. He set a certain goal for himself and slowly worked toward reaching it.
Carlos was also very influenced by his role model Rafael Nadal, who's also a Spanish tennis player, and also one of the greatest tennis players of all time, alongside Djokovic and Federer. This so-called Big Three is made of the three best tennis players to grace the court, so it's no wonder that Carlos followed them closely growing up.
In 2018, at the age of 15, Carlos started playing tennis professionally. He received a wildcard at the 2020 Rio Open where he won his first match but ended up losing in the second round. However, he did manage to win the 2023 Open de Oeiras III, which allowed him to break into the ATPs top 100 for the first time in his life.
Carlos reached a career-high ranking of 6th in the world when he was only 19 years old, which made him stand out and gain a lot of popularity. Many people believe he's on a great road to success and that he is one of the brightest young talents at the moment.
Carlos Alcaraz Garfia – Playing Style & Equipment Choices
Now it's time to talk about Carlos Alcaraz's playing style and equipment choices and to understand part of the reason why he became as successful as he is so quick. The answer lies in his playing style, of course.
Carlos is considered one of the most exciting new talents that stepped onto the court and made a name of themselves. He's widely recognized for his aggressive play style, as well as his powerful and heavy forehands and backhands.
He hits his heavy forehand with a straight arm which reminds us a lot of how his role model, Rafael Nadal, performs a forehand. After all, he tried to learn from the best, and it seems like it has totally worked in his favor.
Carlos focuses on hitting powerful and very clean and precise strokes. He also turns up aggressive when he is under pressure. Another reason why he is so dangerous as an opponent is his incredible footwork. He is able to move around extremely fast which, combined with his firepower, makes him a very difficult opponent to beat.
When it comes to Carlos' equipment choices, he usually relies on Babolat equipment. The racket that he chooses is the Babolat Pure Aero VS, and the overgrips Babolat Tour Original. Although a lot of players use customized versions of popular rackets, customized in a way to fit their specific needs, Carlos doesn't. He uses this Babolat racket as it is manufactured and without any modifications.
Carlos Alcaraz Garfia – Awards & Net Worth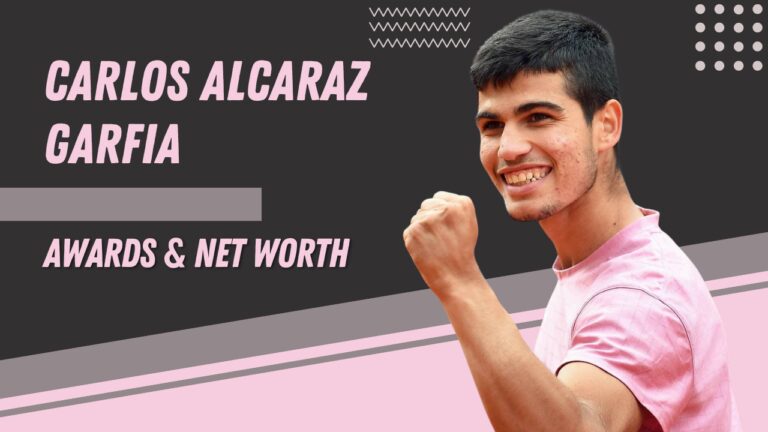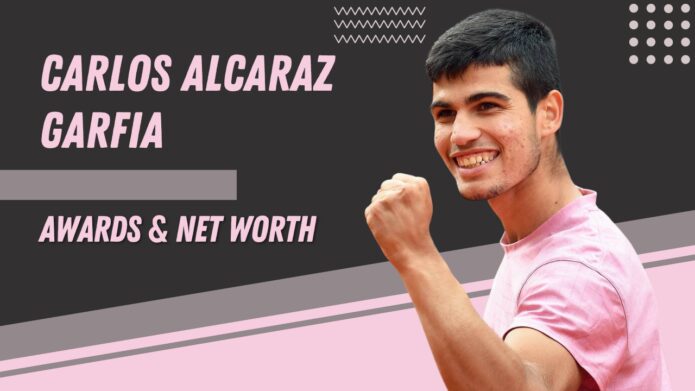 As for the awards that Carlos has managed to claim, there is no shortage of those. He's climbing the ladder to success quite quickly, so he's still getting new rewards and awards often. Some of them include the 2020 ATP Newcomer of the Year award, as well as Vanity Fair and Men's Health media awards he's gotten.
Regarding his net worth, it is estimated at around $5 million at the moment. He is continuing to get quite impressive results in different matches, so the prize money he's receiving is getting even higher. Also, his prize money isn't his only source of income. Carlos is sponsored by Babolat, Rolex, and Nike as well, so his estimated net worth is more likely around $6 million, if not higher.
Conclusion
Learning more about your favorite tennis player can be very fun, but it can also be more than that. It can be beneficial and help you improve your tennis skills to a great extent. After all, even Carlos Alcaraz Garfia had a role model—Rafael Nadal, and when we look at where he is now, it is safe to say that he did not make a mistake in looking up to him.
Similarly, if Carlos is your role model and you want to play tennis as well as he does it, you can totally do it! Use the info we provided in this article to learn all there is to know about Carlos' skills and playing style and start practicing right away! With enough practice, you'll be able to climb up the ladder in no time!
Read our article to see if Carlos Alcaraz is the next big thing in tennis.
References:
https://tennistonic.com/tennis-news/394836/updated-carlos-alcarazs-bio-net-worth-family-coach-and-his-girlfriend/
https://www.atptour.com/en/players/carlos-alcaraz/a0e2/overview
https://thesportsgrail.com/carlos-alcaraz-garfia-biography-age-height-family-girlfriend-tennis-career-racquet-coach-net-worth/