I've tested seven tennis ball machines and found the Spinshot Player to be the best substitute for realistic match play.
Having played Tennis for a long time I've found that the best practice partner will always be another person. But of course, not everyone has a partner to rely on.
Although, a good tennis ball machine can be a great tool for many players to use to replicate match play. The tennis ball machines we've reviewed below vary in cost and functionality. So, rest assured that you're sure to find one that suits you're specific needs.
Let's get into it!
Best Tennis Ball Machines: Our Top Picks
Spinshot Player
Sports Tutor Tennis Cube
Spinshot Pro
Tennis Tutor – ProLite
Lobster Sports Elite 2
Spinshot Plus
Wilson Tennis Machine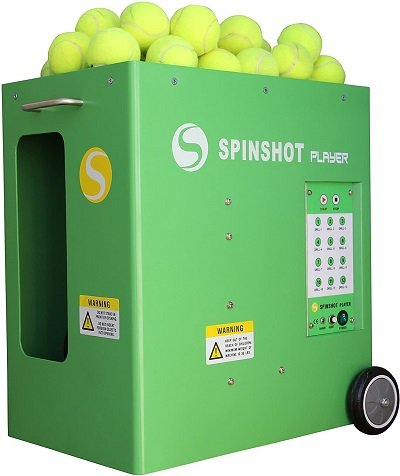 As we've already set out, our top pick is the Spinshot Player. The Spinshot Player tennis ball machine is number one on my list for many reasons, starting with the fact that it offers training capabilities like no other. 
This tennis serving machine comes with the ability to pre-program your drills that offer an array of shot positions. What makes it even more convenient is that you can adjust these drills, depending on your playing level, and do it all from your drill maker app. The Drill Maker App is a free download for Android or iPhone users and is also compatible with your Apple Watch. 
Each of the customizable drills can be suited to anyone you choose, including the height, spin, direction, or speed for each set of 6 shots. With the convenient app, it's easy to adjust your Spinshot Player's settings right from the court, which allows you the freedom to play according to your specifications or reduces the difficulty of playing with your kids. 
The weight of this tennis ball launcher is around 41 pounds, making it perfect for transport. The speed of this machine allows you to up your game with a ball speed range of 18-68 mph. The feed rate is from two to ten seconds and can hold 120 balls. All of these options and more are why I chose the Spinshot Player to be the number one pick for improving your game.
Specs:
Ball Capacity: 120 +
Feed Rate: 2-10 seconds
Oscillation: vertical and horizontal
Speed: 18-68 mph
Spin: backspin and topspin
Custom Drills: yes, it can create up to 12 preset drills – six shots per
Control: iPhone or Android App (plus Apple Watch which can start and pause)
Size: 20h x 18l x 12w (inches)
Weight: 42 lbs (46 lbs w/battery)
Power: Comes with rechargeable battery included; sent separately (lasts two to three hours)
Pros
Suitable for any skill level
Create custom drills right from your phone
Adjust spin, speed, trajectory, and feed rate
Good support from the manufacturer
Side oscillation
Light enough to transport
Cons
Max speed of 68 mph may not be high enough for experienced players
Limited App support (only for iPhone and Android)
Sports Tutor Tennis Cube Ball Machine (Best for Beginners)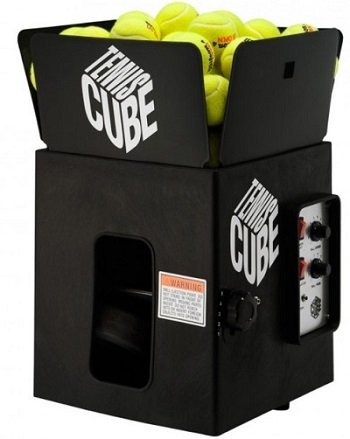 Looking to build on your tennis game without spending a fortune? Then the Sports Tutor Tennis Cube Ball Machine is perfect for you. This golf ball serving machine is an excellent choice for tennis players just beginning to learn or who want something easier to keep up with.
The Tennis Cube is light enough to carry to the court you favor and feeds at the pace of a beginner. The height of this ball machine can be adjusted, and the ball feed frequency and the direction can be altered.
This is an ideal machine for beginners, such as children you wish to teach or players that are new to the game. The feed only reaches 50 mph, and it does not allow the player to control or vary a spin; therefore, it is not great for players of an advanced nature.
Pair this tennis ball dispenser with a quality racket, and you have an outstanding machine for beginner to intermediate tennis players.
Specs:
Ball Capacity: 70
Feed Rate: 2-10 seconds
Oscillation: vertical and horizontal
Speed: 10-50 mph
Spin: no
Custom Drills: no
Control: machine or panel
Size: 15h x 12l x 13w (inches)
Weight: 24 lbs 
Power: Comes with rechargeable battery – charger, included
Pros
Value for money
Customize elevation and feed rate
Oscillation is random and forward and back
Three-year warranty
Beginner-friendly
Cons
Not the best for experienced players
Low ball capacity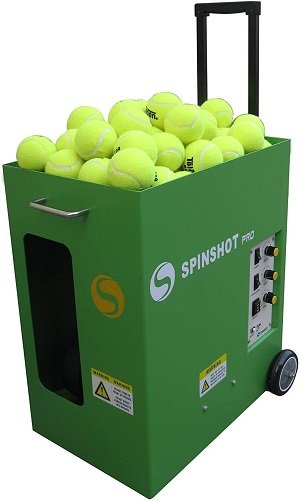 The Spinshot Pro tennis ball machine offers a full-body workout as you race to hit balls from side to side. This machine doesn't offer customization, but it can send a variety of shots to you. It's a solid choice for the player who wants to up their cardio while improving their swing.
If you are comfortable with ability but just want the practice, then this machine is a perfect choice and a decent value. It is compact and offers varying speeds and spin options, so you will be able to improve your game for hours, as it offers a long battery life.
You can work on your backhand and forehand swing as this machine feeds balls from side to side, although oscillation doesn't hit short and deep balls at random. To change the setting of the shots, you change settings from the control panel on the ball machine.
The Spinshot Pro is the perfect machine for anyone serious about upping their tennis game and investing in a quality machine.
Specs:
Ball Capacity: 120+
Feed Rate: 2-10 seconds
Oscillation: elevation control and random horizontal oscillation
Speed: 19-68 mph
Spin: backspin and topspin
Custom Drills: no
Control: 2-button remote included or panel
Size: 21h x 20l x 14w (inches)
Weight: 44 lbs (with battery)
Power: Comes with rechargeable battery included; sent separately (lasts two to three hours)
Pros
Tennis balls are fed in a range of spins and paces for all levels of play
Engaging cardio workout with horizontal oscillation
Decent value for any level of player
Extremely mobile
Cons
No customized drills
Must set the depth of balls feeding on panel; cannot oscillate randomly
Tennis Tutor ProLite Ball Machine (Best Under $1,000)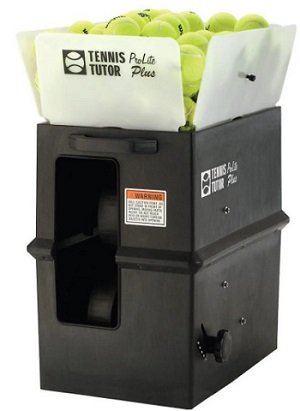 The Tennis Tutor ProLite is a great machine for under $1000. This machine is portable and weighs only 29 lbs. The Tennis Tutor comes with horizontal oscillation to practice your backhand and forehand, but it does not offer the ability to create drills.
Any player of any skill level can enjoy this machine and benefit from the feed rate that can be set at a low 1.5 seconds so that you get a fantastic workout. This machine allows you to manually adjust the elevation so that you can practice volleys, groundstrokes, or overhead lobs.
This machine serves the ball up to 60 mph, which is a great speed for most players. It does not have a backspin or topspin adjustment.
Specs:
Ball Capacity: 125
Feed Rate: 1.5-10 seconds
Oscillation: horizontal oscillation (random)
Speed: 10-60 mph
Spin: backspin and topspin
Custom Drills: no
Control: a manual control on the unit (remote can be purchased separately)
Size: 12h x 19.5l x 18w (inches)
Weight: 29 lbs 
Power: Rechargeable battery included; sent separately (will last up to three hours)
Pros
Side to side oscillating
Lightweight and portable
Good value
Three-year manufacturer's warranty
Height adjustment, manually, for trajectory change
Cons
Not backspin or topspin
No drill customization
No vertical oscillation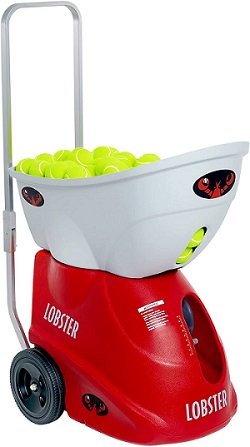 Much like a golfer goes to the driving range, the Lobster Sports Elite 2 is the perfect tennis ball dispenser for anyone who just wants to practice hitting a lot of tennis balls. This portable tennis ball machine is excellent for getting your exercise in, along with a lot of practice as you hit various spins at different elevations and at varying speeds.
This machine is perfect for anyone, even pros, with a high capacity and a speed of up to 80 mph. But don't worry; if you are a beginner, you can slow it down to 10 mph. The oscillation, elevation, and feed frequency are perfect for all levels of tennis players.
The ball machine feeds with random oscillation, either horizontally, vertically, or both. You can vary this ball machine to either forehand or backhand, and set it to both horizontal and vertical feeds at random, so you never know what to expect, sending you all over the court. 
While this ball machine will give you a fantastic workout and good practice, you are not able to customize the drills. Also, the remote control is available, but for an extra cost.
Specs:
Ball Capacity: 150
Feed Rate: 2-12 seconds
Oscillation: vertical and horizontal
Speed: 10-80 mph
Spin: backspin and topspin
Custom Drills: no
Control: remote control for an additional cost
Size: collapses to 21h x 29l x 15 ½ w (inches)
Weight: 44 lbs
Power: Rechargeable battery included with charger
Pros
Range or spins and paces for all levels of player
Side to side feed, also short
Handle and larger wheels make it easy to maneuver
Can adjust the height for different shots, including overhead
Cons
Remote sold separately
The battery can be worn if left in the charger
No custom drills or pre-set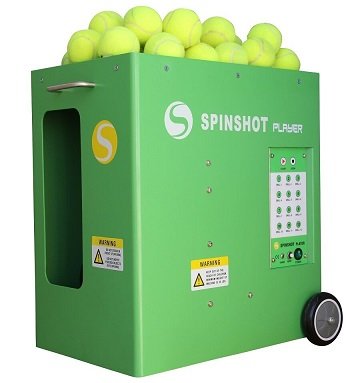 The Spinshot Plus is not unlike the Lobster's Elite 2. It's well-suited for any player who wants to invest in any area of their game.
This ball machine has an average ball capacity of 80 and has a modest serve speed of up to 68 mph, which is great for intermediate players. The Spinshot Plus is compact, so you can take it to your favorite court. With an air conditioning option, there is no worry about the battery overheating.
Turn on the oscillation mode to practice groundstrokes, overheads, and volleys, and improve your game and put yourself through a thorough workout. Once again, Spinshot's app is perfect for easy and convenient control of this machine.
This is a fun little serving ball for the money, but if you're willing to spend a bit more, you may want to go with the Spinshop Player for the preset drills that you can customize. This machine is adequate for all levels of players and is well worth the investment.
Specs:
Ball Capacity: 120+
Feed Rate: 2-10 seconds
Oscillation: 5 modes (control elevation from panel)
Speed: 19-68 mph
Spin: backspin and topspin
Custom Drills: no
Control: panel is on the machine (iPhone App optional) 
Size: 21h x 20l x 14w (inches)
Weight: 46 lbs with battery)
Power: Comes with rechargeable battery; sent separately (charge lasts two to three hours)
Pros
Well-placed for upping your game
Compact and mobile
App on mobile makes controlling it easy
A variety of shots are feed through the machine
Cons
No preset customized drills
Maximum speed is low for seasoned players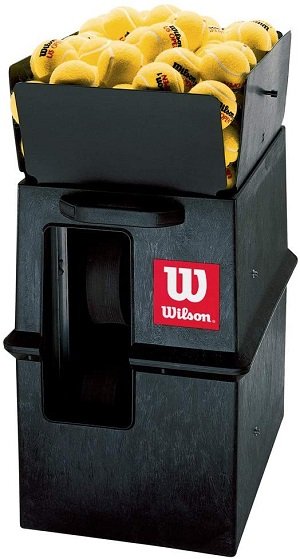 Our final spot goes to the Wilson Tennis Machine for several reasons. This portable machine is fantastic for advanced players, and it is a well-made machine. One of our favorite features is that you can adjust the spin to directly correlate with your level of play.
The elevation control is also a highlight of this tennis machine and something that anyone who owns this machine will certainly say is a bonus. This feature allows the player to adjust the trajectory of the ball to go anywhere from a lob down to a groundstroke. 
This unit has a rechargeable battery that can last up to an impressive four hours with just one charge, and the charger shuts off automatically after the charge is complete to avoid overheating. In just six hours, this unit will be charged and ready to go.
This quality unit will enhance your game immensely, giving you the practice you need at any level, and the truly compact nature of this impressive machine makes taking it places easier than any other on our list.
Specs:
Ball Capacity: 110
Feed Rate: 2-10 seconds
Oscillation: random
Speed: 10-75 mph
Spin: backspin and topspin
Custom Drills: no
Control: 2-button wireless remote
Size: 20h x 22l x 14w (inches)
Weight: 38 lbs (with battery)
Power: Comes with rechargeable battery (lasts up to four hours)
Pros
Comes with an integrated oscillator
Long-lasting battery
The smart charger doesn't allow overheating
Well made; sturdy
Easy to move around
Cons
In the higher price bracket
How to Choose a Tennis Ball Machine
There are a variety of factors that will go into choosing a tennis ball machine, depending on the level of player you are, the reason you want the ball machine, and the price point that you are willing to pay. Some things to look for in a tennis ball machine are listed below.
Price/ Budget
Like anything, it's wise to know your budget when you begin looking for a ball machine. Some tennis ball machines can be purchased for as little as $500 and can get to be well over $5000. If you are an avid tennis player and experienced at it, you may want to go as high as you can afford, as the more you spend, the more features it will have.
If you are looking for a tennis ball machine that doesn't have all the bells and whistles and takes up less space, then you can go with a less expensive model. A portable and space-saving model will typically cost less.
Frequency of Use
If you are using a tennis ball machine frequently, you will want to invest in a good quality model, which will run you a bit higher prices than a lesser-made machine. If you are putting your machine to frequent use, especially on higher settings, you want to invest the money into a solid, top-of-the-line model, so you aren't replacing it often.
Skill Level
Again, if you are a beginner or using the machine to teach your kids and just have fun, you don't have to buy a model with all of the features for a large price tag. In this case, you can go with a lighter model and still have it last a long time.
On the other hand, if you are an advanced tennis player, you will want to invest in a durable model with all of the features that help build up the skill level of your game. This type of model will have high ball capacity, varying oscillation, etc. Don't go cheap if you are looking for a tennis ball dispenser that will boost your already great game.
Portability
If you aren't blessed to own a tennis court, which most of us are not, then you will want a tennis ball machine that is easily portable for you to take to a tennis court, either at a facility or at your local school or park. 
Some machines are as light as 28 lbs, while others are quite heavy at over 50 lbs, so you will want to take into consideration how much you can carry and how safe it is for you to lug a huge machine around with you. 
A smaller, more easily moved model would be appropriate for most, but if you desire, there are the larger models that will do well for your game if you can maneuver them around. Again, with the smaller models, there tend to be fewer perks.
Ease of Use
It doesn't matter if you are a beginner or an advanced player; everyone wants a machine that is easy to use. The more expensive models tend to have remotes or even apps that are accessible from your phone to give you complete ease while using your tennis machine.
If you don't mind having to walk up to the machine periodically to program the settings or adjust the speed, then a less expensive model (they usually come without an available app or remote) will do just fine.
Features of Tennis Ball Machines to Consider
Before you invest in a tennis ball machine, there are certain features you need to consider to get the machine that works best for you.
Ball Speed
All ball machines are going to have varying speeds that can be adjusted. Some have a range that tops at 80 mph, while others go to around 60 mph. You will vary the speed, depending on whether you are teaching, practicing your swing, or a skilled tennis player who wants to go at the max. In the latter case, you will want a machine that can deliver a high-speed set.
If you are a beginner, have kids, or are a tennis coach for new players, you will most likely be fine with a machine that has a modest speed set for balls. Even a machine that serves at a lower speed can give you excellent practice and a good workout.
Spin
The spin of the ball in tennis is important, as it changes the entire behavior of a ball and can see you racing across the court or swinging low. Because of this, your tennis machine needs to simulate this maneuver by adding the topspin or backspin to the ball.
Ball spin will come on virtually all machines today, even on the machines that cost the least. They should also allow you to adjust the intensity of the spin on the ball. Just like speed, this spin adjustment will vary in every machine, so you must find one that works for you.
Feed Rate
The feed rate can also play a very important role in the practice that you need and desire in your tennis ball machine. The feed rate is how quickly the ball is served or the time between the serves. If you are an advanced player, you will likely want the least amount of time between the serves. The option is usually around two to ten seconds, with 1.5 being the fastest.
To add some diversity to your training, adjust the speed rate frequently, so you are well accustomed to going after serves of varying speeds. Beginners will likely want to keep the speed rate high, so they have more time between the balls being served.
Oscillation
Horizontal oscillation is the ability of the machine to serve balls to either side of the tennis court. Some machines are only able to feed the ball in one direction, while the advanced machines can feed to both the backhand and forehand side.
Vertical oscillation is the height at which the ball is being fed, which is important for drilling. Overhead hits, high lobs, and low volleys are all things that you will want to practice to up your game. You will want a machine that can do the vertical oscillation for each shot.
Capacity
For anyone who wants to practice without having to worry about frequently filling the ball machine, you will want to look for a high-capacity machine. The higher capacity the machine has, the less frequently you will have to worry about refilling the machine. This may seem minor, but the time you don't waste chasing down balls to refill, the more time there is for practicing.
Battery Life
Usually, tennis ball machines run on rechargeable batteries, and when they last longer, it usually means a more costly, albeit better quality, machine.
It is important to also pay attention to the charger that the tennis ball machine comes with. If you get a lower quality battery with the machine, you may be able to buy a better battery and use that instead, meaning that you will get to practice longer without the need for charging.
Remote Control
Some, usually the mid to high price tennis machine models, come with a remote control that allows you to program settings or control the machine from far away. This means that you can easily change the speed and frequency of the balls being served, as well as the trajectory, without budging.
The app available on the Spin Shot models makes it extremely easy to control the tennis ball machine from anywhere you are. This is a great feature, but it comes at a higher cost.
Warranty
The fact of the matter is that tennis ball machines will break down from time to time, so you'll want to check into the warranty. Some come with a limited warranty for a year, while others have up to three years. If you are playing tennis a lot and mean to frequently use your tennis ball server machine, a long warranty is worth looking into.
Conclusion
While the Spinshot Player is our top choice for a tennis ball machine, some comparable models would do for advanced and beginners alike. A tennis ball server machine will allow you to hone in on your skills as a tennis player without emptying your bank account like you would on lessons. 
To get the most out of your money, look into various models to see what you need and what you can do without, according to your budget, space, and purpose of use. Whether you are a new or seasoned player, a quality tennis machine can help you polish your game and provide amazing exercise.